Crispy Asparagus With Sriracha Mayo was sponsored by General Mills.
Fresh asparagus is probably my all-time favorite vegetable. I usually roast the spears in the oven and it always turns out delicious. I also love grilled asparagus.
But, sometimes I just need a little more crunch. That's when I make my Crispy Asparagus with Sriracha Mayo. It's still roasted in the oven, but it takes asparagus up a few notches.
When I was in Publix a few days ago, I made sure Progresso® Panko Crispy Bread Crumbs was on my grocery list so I could make crispy asparagus.
The Story Behind Progresso
I always like to learn the story behind a product; how it came to be, etc. Here's the story behind Progresso®:
In the late 1800s in the small Sicilian village of Salemi, young Giuseppe Uddo grew up surrounded by the authentic flavors and traditions of classic Italian cooking. At age 9, he quit school to help support his family by visiting nearby villages to sell olives and cheeses from a horse-drawn cart.
The Progresso Name
Here's the condensed version from Progresso's website, "After World War I, Giuseppe's operations expanded to include a factory in California, which became the first plant in the United States to make canned foods that were previously available only in Italy. Giuseppe soon partnered with his wife's cousins and expanded from Louisiana to connect with food-loving Italian communities in New York City. They decided to name their new joint venture Progresso.
Today, more than 100 years after Giuseppe Uddo's first journey to America, Progresso keeps finding new ways to deliver quality meals that match the unique needs of individuals and families. Progresso's Heart Healthy soups offer tasty, ready-to-serve options for those with dietary goals.
The Progresso Light line is the only soup brand endorsed by Weight Watchers. The introduction of broths and foods such as Panko bread crumbs also delivers premium ingredients for everyday cooking.
Progresso Panko Bread Crumbs, a Japanese-style bread crumb with larger flaky crumbs, creates a light and crunchy coating that is perfect for breading fish, poultry, seafood, and vegetables. It can be used to add a delicious crispy topping on baked dishes such as macaroni, casseroles and even works well on many desserts."
How To Trim Asparagus
A long time ago, I learned a quick and easy way to trim asparagus. Hold an asparagus spear firmly on each end. Bend until it breaks. It will break exactly where the tough, woody place ends and the tender delicious part begins.
Discard the tough, woody end.
Crispy Asparagus Ingredients At A Glance (full printable recipe down below!)
For The Sauce:
mayonnaise
1/4 cup buttermilk
Sriracha
fresh lime juice
Breading for asparagus:
Progresso Panko Crispy Bread Crumbs
garlic powder
ground red pepper
salt
all-purpose flour
egg whites, beaten
1 lb. fresh asparagus, trim
Crispy Asparagus With Sriracha Mayo
The asparagus is dipped in flour, egg whites, and bread crumbs before baking.
And here's the finished product: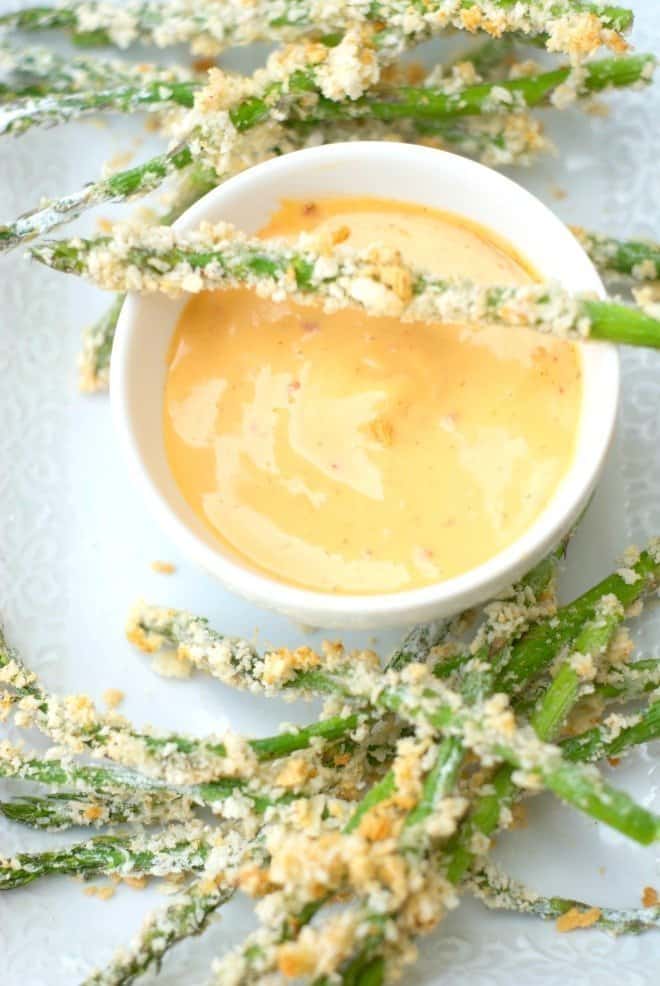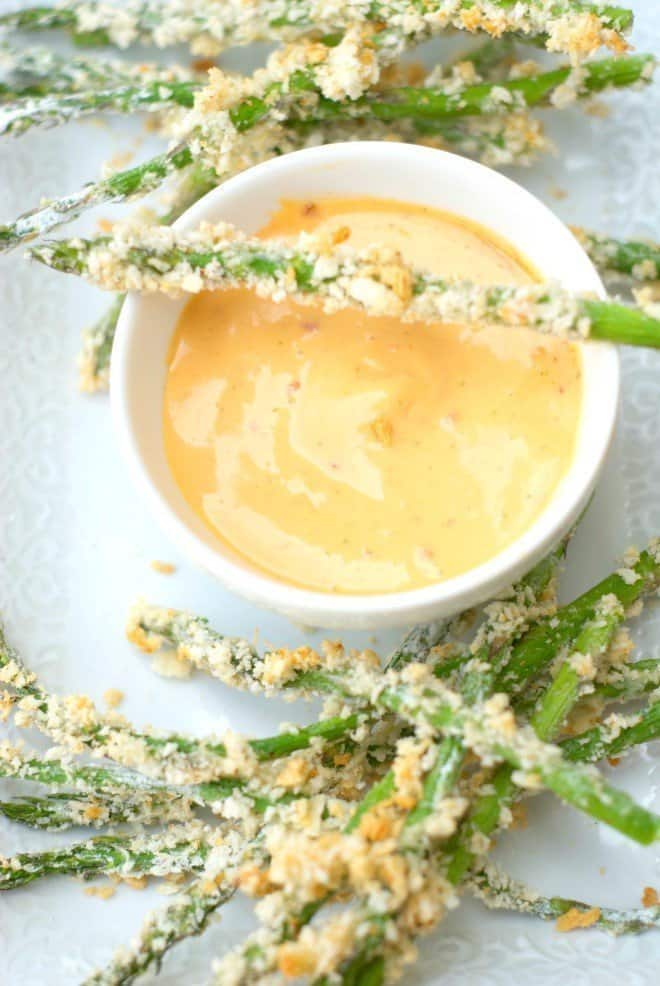 Yield: 2-4 servings
Crispy Asparagus with Sriracha Mayo
Crispy Asparagus is tender with a nice crunch on the outside.
Ingredients
For Sauce:
1/4 cup mayonnaise
1/4 cup buttermilk
2 teaspoons Sriracha
1 tablespoon fresh lime juice
Breading for asparagus:
2-1/2 cups Progresso Panko Crispy Bread Crumbs
1 teaspoon garlic powder
1/2 teaspoon ground red pepper
1/8 teaspoon salt
1/2 cup all-purpose flour
4 large egg whites, beaten
1 lb. fresh asparagus, trimmed
Instructions
Preheat oven to 375º.
Combine mayo, buttermilk, Sriracha, and lime juice in a small bowl. Cover and chill.
Place flour, panko bread crumbs & egg whites in 3 separate shallow dishes.
Add garlic powder, salt, and red pepper to panko crumbs.
Dredge half of the asparagus spears in flour. Dip in egg whites and dredge in panko crumbs.
Place asparagus on a baking sheet. Repeat with remaining asparagus.
Bake at 375º for 8-10 minutes or until crispy.
Serve with Sriracha Mayo.
If you like Crispy Asparagus with Sriracha Mayo, you'll love these recipes!
Originally posted in May 2015 and updated in April 2021