This is the best stuffed french toast! Thick slices of bread are stuffed with cream cheese and peach preserves before dipped in an egg and milk mixture, browned in a skillet, and finished off in the oven.
I love to serve french toast on Saturday mornings, especially when we have weekend guests. Best Stuffed French Toast is always perfect for holidays and special gatherings. Or, just because!
If you're a french toast lover like I am, you have to try my Overnight French Toast With Praline Topping. You make it up the night before and bake the next morning. It's another winner!
Secret To Making French Toast For A Crowd
I don't like soggy or cold french toast. That's why I brown stuffed french toast in a skillet. It gets all crispy, then I put it in the oven to finish baking. That way it's done all the way through (no soggy toast) and it all gets done at the same time.
This recipe serves six but you can easily double or triple the recipe if you have a large crowd to feed.
Ingredients For Best Stuffed French Toast
Thick Sliced Bread (one inch thick slices)
Peach preserves
Cream cheese
Eggs
Milk
Vanilla extract
Brown sugar
Ground cinnamon
Unsalted butter
Vegetable oil
Helpful Hint: You can use strawberry preserves in place of peach preserves.
What kind of bread should I use for french toast?
You want to use day-old dry bread that is sturdy and spongy enough to hold together and not fall apart. Remember, we want creamy on the inside and a crunchy texture on the outside.
Arrange the bread on a wire rack for an hour before making french toast. If the bread is too soft, you won't be able to cut pockets in the bread without it tearing.
The best types of bread to use for french toast is:
French Bread
Brioche
Sour Dough
Challah
Thick-Sliced Plain White Bread
Texas Toast
How To Make The Best Stuffed French Toast (full printable recipe card below!)
Preheat the oven to 275ºF.
Slice the bread 1 inch thick and stuff it with the cream cheese/peach preserves mixture. Be careful not to cut through the sides and ends of the bread. You just want to make pockets in the bread.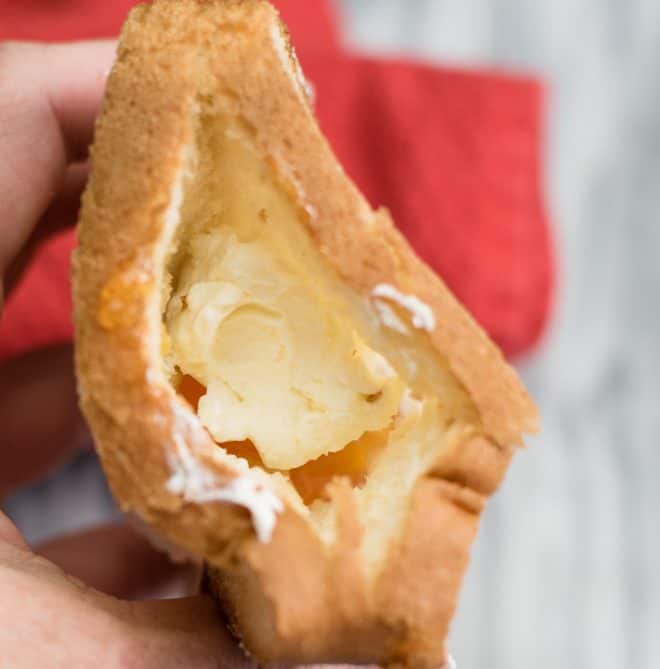 Whisk together the eggs, milk, brown sugar, and cinnamon. Transfer to a shallow baking dish. Soak the stuffed bread for 25-30 seconds per side.
Heat a heavy skillet on medium-low heat. Cook 3 slices of stuffed bread for about 3 minutes per side or until golden brown.
Whisk the egg mixture again before coating the second batch of bread.
Place the first batch of golden-brown french toast on a baking sheet and place it in the oven while the remaining french toast is browning. Once all the toast is done, place all the toast back in the oven and bake for 15 minutes at 275º F.
Serve with your favorite syrup or dust with confectioners sugar.
Note: One slice of Stuffed French Toast is a serving and this recipe makes 6 servings. It's easy to double or triple this recipe.
Yield: 6 servings
Stuffed French Toast
Stuffed French Toast is filled with peach preserves and cream cheese before dipping in an egg/milk mixture, browned in a skillet, and baked until creamy on the inside and crispy on the outside.
Ingredients
6 slices 1-inch thick bread (such as french, challah, or brioche)
3/4 cup peach preserves
6 Tablespoons cream cheese, at room temperature
5 large eggs
1/2 cup milk
1 teaspoon vanilla extract
2 Tablespoons light brown sugar
1 teaspoon ground cinnamon
2 Tablespoons vegetable oil
2 Tablespoons unsalted butter
Instructions
Arrange six slices of bread on a wire rack and let dry for 1-2 hours.
Preheat oven to 275º F.
Carefully make a pocket by cutting into each bread slice horizontally to within one inch of edges. Do not cut all the way through. Fill each bread slice with two Tablespoons peach preserves and one Tablespoon softened cream cheese.
In a large bowl whisk eggs, milk, sugar, vanilla extract, and cinnamon together. Transfer to a shallow dish.
Preheat a heavy skillet over medium-low heat. Place one Tablespoon butter and one Tablespoon vegetable oil in the skillet.
Dip three pieces of bread in the egg mixture for 25 seconds per side. Place the bread in the preheated skillet and cook for 3-4 minutes per side until golden brown.
Transfer the toast to a baking sheet and place in preheated oven. Repeat step 4 with the remaining three pieces of bread. Transfer the browned toast to the baking pan and bake for an additional 15 minutes. Serve warm with your favorite topping.
Notes
Make sure you use day-old bread and dry out the bread on a wire rack. If the bread is too soft it will tear when you cut the pockets for the peach preserves and cream cheese.
Recommended Products
As an Amazon Associate and member of other affiliate programs, I earn from qualifying purchases.
Nutrition Information
Yield
6
Serving Size
1
Amount Per Serving
Calories

407
Total Fat

19g
Saturated Fat

7g
Trans Fat

0g
Unsaturated Fat

10g
Cholesterol

211mg
Sodium

290mg
Carbohydrates

48g
Fiber

2g
Sugar

24g
Protein

11g
Try More Of My Delicious Recipes