DIY Fall Mosaic Candy Jar has been compensated by Collective Bias, Inc. and its advertiser. All opinions are mine alone. #EatASNICKERS #CollectiveBias
A few weeks ago I found a little meme that totally describes me when I'm hungry.  It went a little something like this, "I'm sorry for what I said when I was hungry."  Yes, I admit it.  I tend to get a little grumpy when I'm hungry, especially if there is absolutely nothing to snack on in the house.  (Thank you, dear hubby!).
So I decided to take back my snack by making a quick and easy DIY Fall Mosaic Candy Jar. It's the perfect place to hide store my SNICKERS® bars.  I figured if I camouflaged my candy jar with a fall mosaic pattern, I could fool the rest of the family into thinking I had simply pulled out some more fall decor.
DIY Fall Mosaic Candy Jar
It's so easy (and cheap) to make my DIY Fall Mosaic Candy Jar. Feel free to personalize it by using your favorite colors, shapes, etc.  You will need:
a decoupage medium such as a glass jar or vase
small paintbrush
tissue paper (You can find everything you need at your local Walmart store.)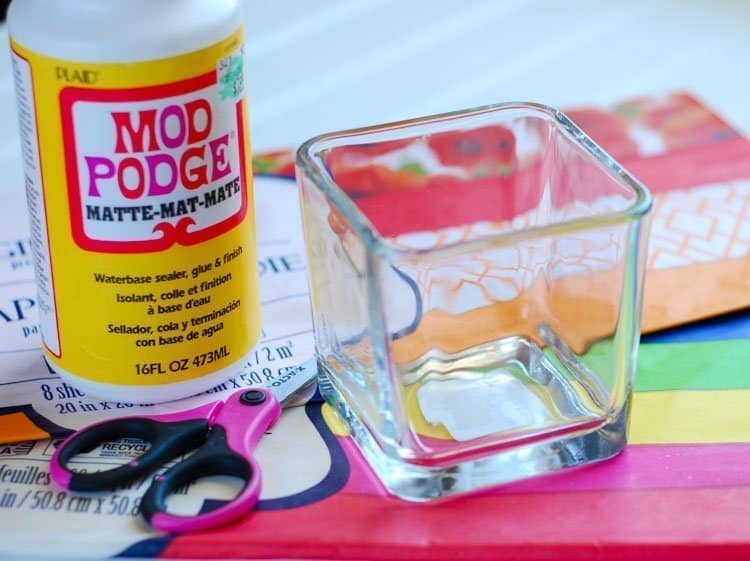 Cut the tissue paper into little squares, triangles, or whatever shape your little heart desires.  They don't have to be perfect.
Use a small paintbrush and work with a small section at a time. Brush a thin layer of decoupage medium onto the vase/jar. Add tissue paper squares.
Once the surface is covered with tissue paper squares, carefully brush another layer of decoupage medium over the entire surface of the vase.  Let dry.
These DIY Mosaic Candy Jars can be used to hold candy or fall flowers – fresh or faux.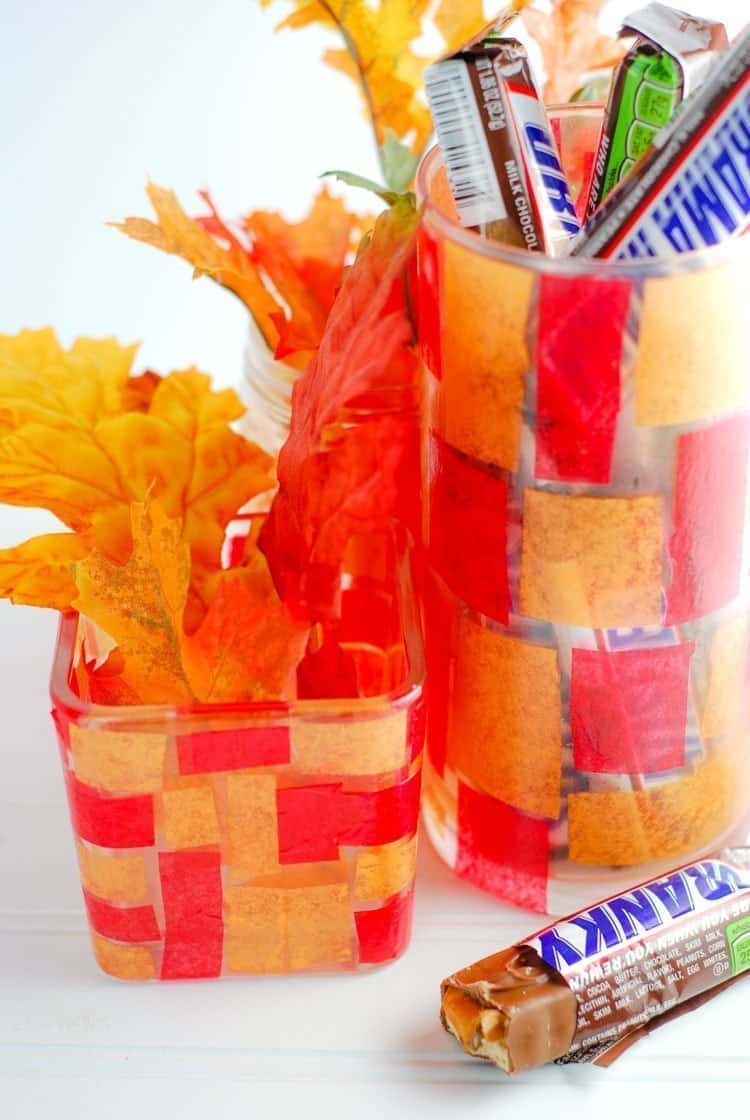 Fall Mosaic Candy Jar
Ingredients
1 glass vase or jar
Decoupage medium (like Mod Podge)
Orange, yellow and red tissue paper
Small paintbrush
Instructions
Using scissors, cut the tissue paper into squares or rectangles.
Brush a thin layer of Mod Podge over a section of the jar.
Arrange the squares of tissue paper in whatever pattern you desire. Repeat until the jar is covered.
Once the jar is covered with tissue paper squares, carefully brush another layer of Mod Podge over the entire jar, covering the leaves.
Let dry and fill with SNICKERS®!
Head to Walmart
After my jar was completed, I stopped by Walmart to buy some full sized SNICKERS® to fill my jar.  The full sized bars are located up front near the registers.   I admit I sorta got carried away reading all the words on the back of the SNICKERS® bar wrappers.
I love the Drama Mama saying on the SNICKERS bar below!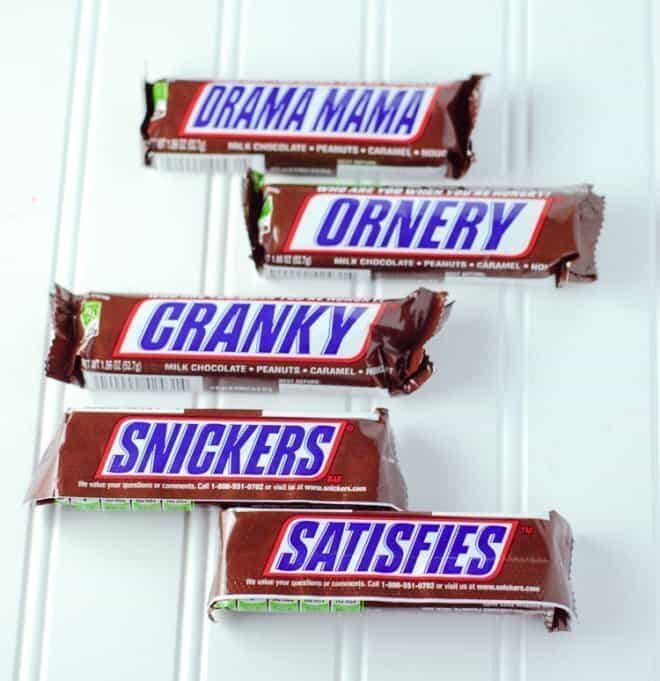 Of course, once I read all the different words, I had to take the short quiz to find out who I am when I'm hungry.  (I'm a quiz fanatic!)
After taking the fun quiz, I found out I'm a princess when I'm hungry.  And I don't think that's meant as a compliment.  You can take the quiz right now, right here!
So, who are you when you're hungry?
You May Also Like