Father's Day Gift Basket has been compensated by Collective Bias, Inc. and its advertiser. All opinions are mine alone. #DadsMyHero #CollectiveBias
Father's Day will be here soon and I've put together the perfect gift for my dad.  I've also been reflecting on all the wonderful memories he's helped create. 
Dad was born on the 11th day of the 11th month and weighed in at 11 lbs. and 11 oz!  I never tire of hearing him tell that story.  My dad is truly my hero!
When I was a little girl, my dad would get down on the floor and fly me to the moon and back, or at least that's how it felt. My younger sister and I would take turns as dad would lift us high in the air and fly us back and forth.  We would always beg for just one more flight as we soared through the air, giggling, wiggling and flapping our arms.  
The Most Powerful Memories of My Dad
My dad started the Little League program in my hometown and it's still going strong!  I learned how to run the concession stand, keep score and help my mom announce the starting lineups over the loudspeaker when I was in elementary school.  It was a lesson in leadership.
When I was growing up, my dad attended every one of my sports events.  Every single one.
On my 18th birthday, on my own and living in Atlanta, my dad went with me to buy my first brand-new car (and made the down payment!).  He also called often to remind me to get the oil changed.  It was irritating back then, but looking back, I realize he called because he cared.
A few years ago I had surgery.  Mom and dad drove over six hours to look after me and cook my favorite meals.
My dad makes the best sour cream pound cake in the world. After retiring, he taught himself how to cook.  Before then, he barely knew where the kitchen was located. (My mom will disagree about him teaching himself how to cook.  She'll say she taught him!)  Here he is making his pound cake!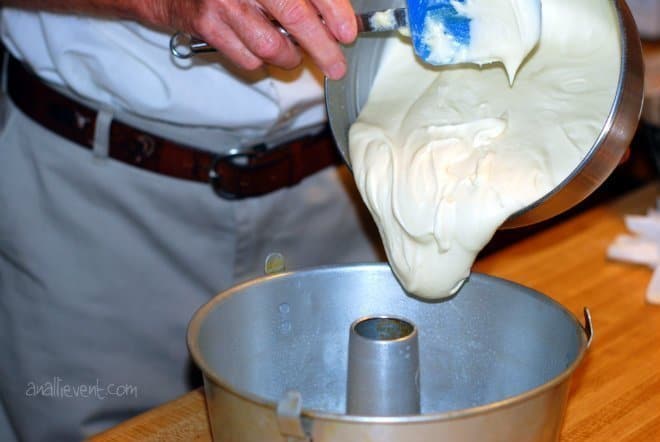 Once, at a little league game, I was jumping off the top of the bleachers onto the ground.  I had taken my shoes off and on my last jump, I landed on a large shard of glass and it went all the way through my big toe.  My dad had to stop the game and rush me to the Dr. to get it removed.  I still have the scar AND I didn't get fussed at for jumping off the bleachers or taking my shoes off.
My Dad is a Master Gardener!
My dad's also a master gardener and is always tinkering with his tractor and I'm sure many of his tools are now old and rusty. He can fix anything!  So I decided to make him a Father's Day gift basket filled with shiny new tools.
Use a Small Toolbox Instead of a Basket
My dad's not really into baskets, so I decided to skip the traditional basket and use a toolbox.  It's small enough to keep in the shed right next to the tractor.  It's bright red so dad will be able to spot it immediately.
The star of dad's gift basket is an Energizer headlight that I discovered at my local Target.  I found it next to the flashlights.  What I love about the headlight is that dad will be able to tinker to his heart's content and do it all hands-free!  I have a feeling I'll be his favorite child after he receives this gift!
Add a few tools – don't forget the candy!
I added a few other tools, some candy (all gift baskets must include candy) and dad's Father's Day Gift Basket is complete!
Dad's going to love his gift, especially the Energizer headlight.
Free Printable Gift Tag
If you want to use my gift tag, you can download it here!  Print it on cardstock, cut it out, punch a hole for the ribbon and you're good to go.
You can customize this Father's Day gift and include the tools and candy that your dad loves best. Check out more great Father's Day gift ideas using my affiliate link below. If you make a purchase, I may receive a small commission with no extra cost to you.


You May Also Like
Nautica Father's Day Gift Basket
Fun & Unique Father's Day Gift Ideas