This shop, Nautica Life Father's Day Gift Basket, has been compensated by Collective Bias, Inc. and its advertiser. All opinions are mine alone. #NauticaforDad #CollectiveBias –
This post also contains affiliate links. If you click a link and make a purchase, I may receive a small commission at no extra cost to you.
Perfect Father's Day Gift Basket
I always try to come up with the perfect Father's Day gift basket for my husband. There have been some hits and misses in the past, but this year I nailed it!
Since he loves the ocean almost as much as I do (no one loves the ocean more than me) I decided to create a nautical-inspired gift basket with a twist. Hello, Nautica Life!
My Husband's Favorite Fragrance – Nautica Life
Since Nautica has always been my husband's favorite fragrance AND his favorite casual clothing line, I decided to head to Macy's. Southpark Mall in Charlotte is the perfect place to find a new Nautica fragrance. I hit the jackpot.
Nautica Life Father's Day Gift Basket
Nautica Life is a romantic fragrance blend of fresh, mysterious aromatics, and seductive woods. Included in the gift pack is a 3.4 oz Eau de Toilette, 2.5 oz Aftershave Balm, 2.5 oz Shower Gel, and 1 oz Eau de Toilette. And the smell is simply delicious. It's the perfect fragrance for our tropical island getaway next month!
How To Include Grown Kids When Making A Father's Day Gift Basket
I thought I'd add a little twist to this basket.
So, what's the twist? I know that my husband is the best husband and father in the entire world, but what do our children think? I wanted to include their thoughts in the Nautica Life gift basket so I sent them a group text (they just LOVE my group texts) and told them:
What Did They Say About Their Dad?
Of course, the perfectionist daughter (#2) had her answer to me within a nanosecond. Daughter #3 had her's to me within a few hours. Son #2 wrote a book (I'm going to edit that one like crazy) and I'm drumming my fingers and waiting for the fly-by-the-seat-of-their-pants daughter #1 and son #1 to get back to me.
Here's what they said, in their own words (in the order I received the texts):
Daughter #2
"When I was growing up, Dad was my spiritual anchor. No matter what winds of temptation came along, his prayers always brought me back. When I think of the word anchor, it makes me think of strength. Dad's always been a strong presence in my life. He provided for us, taught us to have high self-esteem, and to be a leader. I love my daddy!"
Daughter #3
"Dad always encouraged me to think for myself and do for myself – to be levelheaded and grounded, always believing I could do anything. haven't always succeeded in this, but knowing he believes I can figure it out causes me to believe it, also. His belief in me has become an anchor – keeping me grounded."
Son #2
(condensed version) "Dad has served as an anchor in my life by showing me how not to place limits on myself and to always strive for more. He always pushes me to give new opportunities a chance. He's always given great advice and shared experiential knowledge. Though I've experienced some ups and downs, it has never altered dad's endless/unconditional love for me. Thanks, dad! I love you!"
Daughter #1
"To me, an anchor invokes an image of something solid and unmovable . . . and that's my dad! Whenever the storms of life have dealt its best blows, dad has always been there for me – solid and steady. He is the constant I can depend on. Whether it's coming to my rescue after being stuck in an airport for days or knowing just what encouragement to give at the perfect time, dad can always be counted on and I love being his favorite daughter (he tells us all that!)."
Son #1
(A man of few words) "Dad is my anchor because I can rely on him for anything. He taught me how to be a gentleman and how to always treat women with respect. He loves me unconditionally and is always there for me."
Here's the whole family! We were instructed to jump. I promise I jumped.
Putting Together a Father's Day Gift Basket
I added a Nautica hat, t-shirt, swim trunks, and a beach towel, and my Nautica Life Father's Day Gift Basket was done.
This should win a prize for the best Father's Day present. Maybe my husband will take me shopping at Macy's! I saw a pair of to-die-for sandals, but then remembered I was shopping for my husband, not me.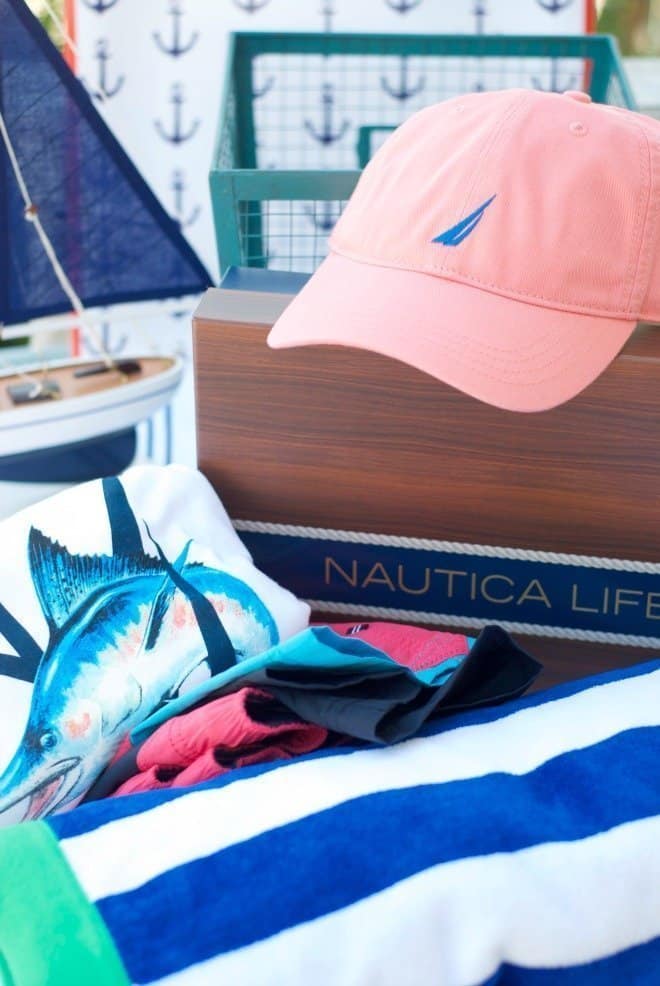 I can hardly wait until my husband sees his Father's Day Gift Basket and reads all the sweet words from the kids!
My husband is clearly the anchor in our lives! Who's the anchor in yours?
Sorry, the Father's Day Gift Basket giveaway has closed!


You May Also Like