Honey Drizzled Baked Brie was compensated by Collective Bias, Inc. and its advertiser. All opinions are mine alone.
I absolutely love cheese. I enjoy trying the different textures and tastes of cheeses from around the world. Someone needs to give me a cheese of the month subscription.
I once served a beautiful cheese tray to 70 women during a 7-course French meal that I prepared from scratch. I enjoyed watching them try cheeses they had never tasted.
Brie Cheese
There's one cheese that's always the star of my charcuterie board and that's Brie. It's a soft, mild, cow's milk cheese that's named after Brie, the French region from which it originated.
I drizzle the Brie with honey, place it in the oven for about 5-6 minutes, and top it with walnuts and cherries. Forget dinner, just give me the cheese tray! I truly understand why it's referred to as "The queen of cheese."
Ingredients For Honey Drizzled Baked Brie (Full Recipe Below!)
1 (8 oz.) Wheel of Brie cheese
Honey
Walnut halves (shelled)
Baguette Slices or Assorted Crackers
Fresh Cherries, pitted and halved
Balsamic vinegar
Helpful Hint: When baking Brie, be careful not to overcook it or it will melt completely and you'll have a pool of cheese. On the other hand, I might enjoy diving into a pool of cheese.
I like to serve this Brie on a charcuterie board. Baked Brie is deliciously served with thin baguette slices. Or add some assorted crackers.
Updated Recipe for Honey-Drizzled Baked Brie
I posted my original recipe for baked brie back in 2015. Because I love cherries, I've recently updated this recipe. So, you have a choice. You can make the original recipe or try adding the cherries.
You'll need a 3/4 cup of pitted, halved fresh cherries and a teaspoon of balsamic vinegar.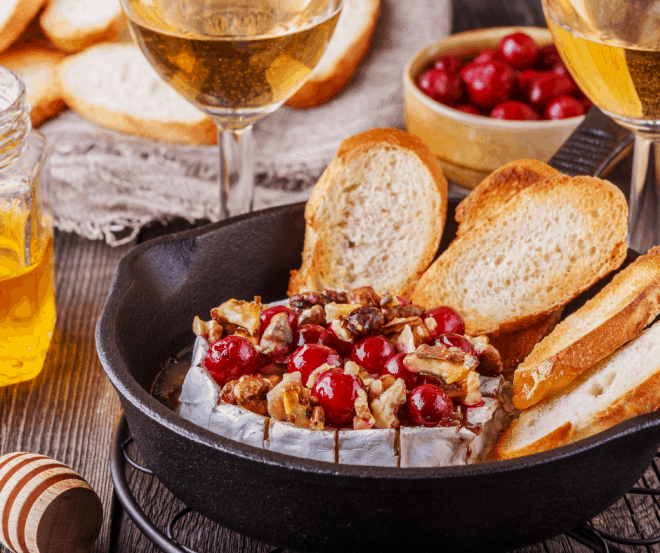 Fre Merlot Pairs Perfectly With Honey-Drizzled Baked Brie
Honey-Drizzled Brie pairs perfectly with Merlot and I always receive rave reviews on an appetizer that only takes a few minutes to put together.
I also include a chilled bottle of Fre Chardonnay, in case someone wanted a glass of white wine. As a rule of thumb, reds are served at room temperature and whites are served chilled. Fruit and assorted crackers complete the cheese tray and give it a finished look.
Here's the deal: I really like the taste of wine, but I don't consume alcohol. I am elated about Fre Alcohol-Removed Wines. Fre is the perfect beverage to enjoy during the summer.
I spent a little time on Fre's website (it's really pretty and has some great recipes) checking out the variety of alcohol removed wines and was fascinated by the process involved in removing the alcohol.
The winemakers use a "revolutionary spinning cone column to remove alcohol while preserving the delicate fragrances and flavors of the wine.
The finished product is a fresh, delicious beverage with all of the characteristic aromas and flavors of premium wine, but with less than 0.5% alcohol and half the calories of traditional wine." I'm thoroughly impressed.
Fre Merlot & Honey Drizzled Baked Brie really does satisfy my cheese & wine craving. You'll also find mocktails and all kinds of great info when you follow Fre over on their Facebook page.
Yield: 8 servings
Honey Drizzled Baked Brie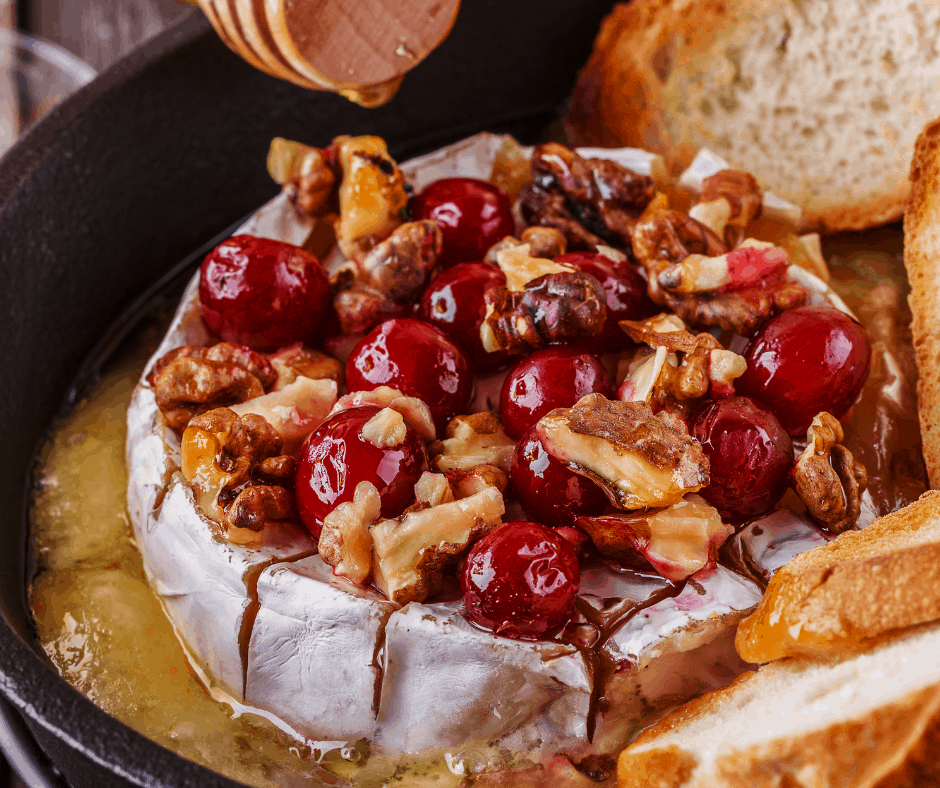 Baked Brie is baked until creamy and topped with cherries, walnuts and a drizzle of honey.
Ingredients
1 (8 oz.) Wheel of Brie cheese
1 Tablespoon Honey
1/4 cup walnut halves (shelled)
3/4 cup fresh cherries, pitted and halved
1 teaspoon balsamic vinegar
Assorted crackers Or thinly sliced Baguette
Instructions
Preheat the oven to 350º.
Combine the balsamic vinegar, honey, and cherries in a small saucepan over medium heat. Bring to a boil and reduce heat to simmer, stirring occasionally, for 10-12 minutes, until the juices are slightly thickened.
While the cherries cook, remove Brie from the wooden box, unwrap and place on a parchment paper-lined baking pan. Leave the white rind on the Brie. Bake for 6 minutes.
Remove brie to a serving dish and top with the cherries and walnuts.
Notes
If you don't like cherries, you can leave off the cherries and balsamic vinegar. Just bake the brie according to the recipe directions. Drizzle the baked brie with honey and sprinkle with walnuts before serving.
Recommended Products
As an Amazon Associate and member of other affiliate programs, I earn from qualifying purchases.
Nutrition Information
Yield
8
Serving Size
1
Amount Per Serving
Calories

35
Total Fat

1g
Saturated Fat

1g
Trans Fat

0g
Unsaturated Fat

1g
Cholesterol

4mg
Sodium

26mg
Carbohydrates

6g
Fiber

0g
Sugar

4g
Protein

1g
I Think You'll Love These Recipes, Too!
Originally posted in August 2015 and updated on July 29, 2021