If you're tired of the same old boring side dishes or need an easy, delicious casserole for a potluck or family get-together, my Mexican corn casserole fits the bill.  It's comfort food to the max!
Every single time I serve this casserole, there is zero leftovers.  None.  Ever.  And it makes 12-15 servings.  The smell of this creamy, corn infused casserole wafting through the house just screams deliciousness! It's a spoon bread on steroids, in a good way.
My recipe calls for regular cornmeal and baking soda because I'm well aware that self-rising cornmeal is not available in some areas.  Since I live in the south and self-rising cornmeal is always available, I use self-rising cornmeal mix and omit the baking soda.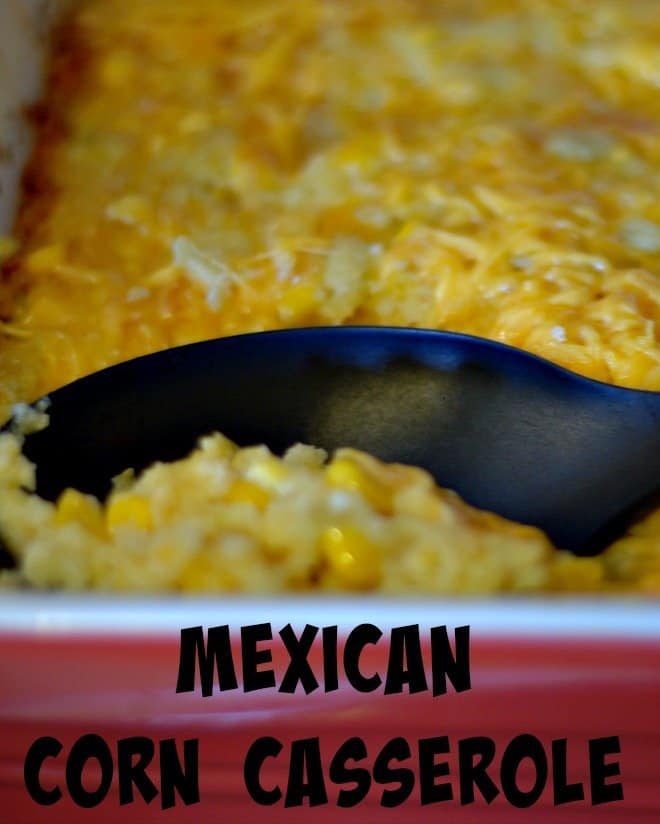 Mexican Corn Casserole
Ingredients
4 eggs
1 can (15-1/4 oz.) whole kernel corn, drained
1 can cream style corn
1-1/2 cups cornmeal
1-1/4 cups buttermilk
1 cup butter or margarine, melted
2 cans (4 oz. each) chopped green chilies
1 large onion, chopped
1 teaspoon baking soda
3 cups shredded cheddar cheese, divided
Instructions
Spray a 13" x 9" x 2" baking dish with cooking spray. Set aside.
Preheat oven to 325.
In a large bowl, whisk eggs.
Add the next 8 ingredients and mix well.
Stir in 2 cups cheese.
Pour into the greased baking dish and bake, uncovered, for 1 hour. Top with remaining cheese.
Let stand for 10 minutes before serving.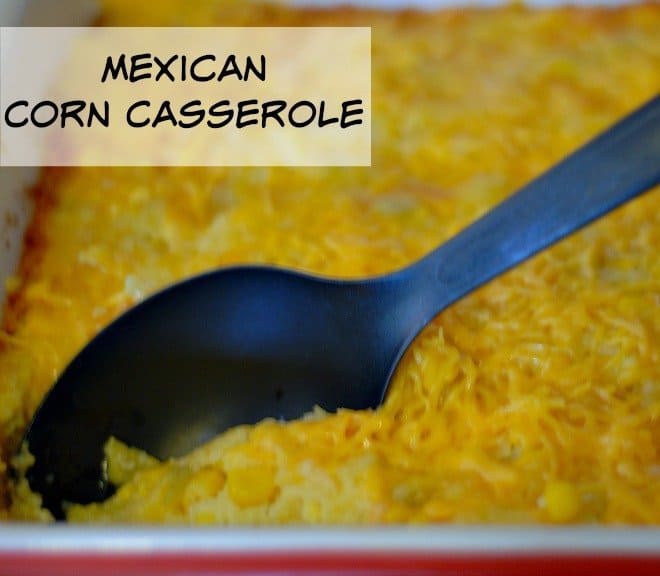 Helpful Hint:  Usually buttermilk is used in recipes not just because it has a more complex flavor than regular milk, but because it's more acidic than milk. The acidity allows buttermilk to react with ingredients such as baking soda or baking powder to produce carbon dioxide bubbles and that equals light, tender and delicious.
If you don't have any buttermilk on hand, you can easily create a substitute by pouring 1 tablespoon of lemon juice into a liquid measuring cup. Add milk to reach the 1 cup mark. Allow the mixture to sit at room temperature for 5-10 minutes.
No lemon juice? Use white vinegar instead and follow the same directions.  You can also use sour cream or plain yogurt mixed with 2 Tablespoons of milk or enough to create the consistency of buttermilk.
Mexican Corn Casserole is my favorite fall/winter comfort food.  What's yours?

Print Friendly