Thanks to Sverve & Smucker's® for sponsoring this post. All opinions are my own. #SundaeFundae
A few weeks ago, I shared my thoughts about Mondays always getting a bad rap and decided to start a crusade to get rid of the Monday blues. Then I was off to Kroger to stock up on Smucker's® toppings so I could Make Monday a Fun Day for a Sundae.  I even shared photos of all the tasty toppings I found.
A Monday Sundae Bar doesn't have to be elaborate or break the bank.  I mean, come on, it's Monday. It's family.  It's all about being together and enjoying the day. When your kids (and husband) hear that dessert is a sundae bar, all of a sudden Mondays become a whole lot sweeter and their eyes will actually light up.  Try it and see!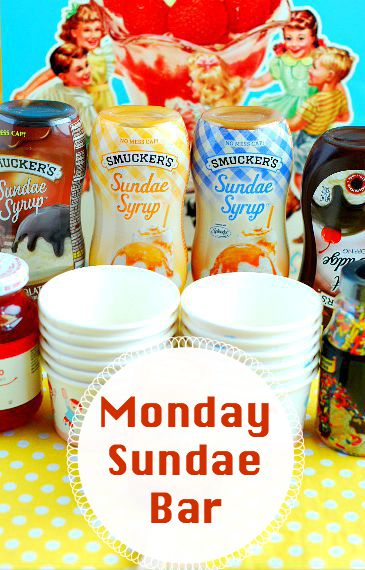 When planning my Monday Sundae Bar, I decided to go with an easy vintage style.  I found the cutest little cups (disposable), and the most adorable sign to prop on the dessert table.  I added a selection of Smucker's® toppings, including chocolate, butterscotch and caramel.
No sundae bar would be complete without sprinkles, nuts and a maraschino cherry to top it off.  I even included waffle cones in addition to the ice cream cups.  Oh, and don't forget the ice cream!  I settled on 2 flavors – vanilla and cookies and cream.
I enjoyed watching the kids top their sundaes with their favorite Smucker's® toppings and they enjoyed eating them.  I thought they would stick to the chocolate and caramel sauces, but they all actually liked the butterscotch, too.
My Monday Sundae Bar was such a hit, I think I'll start a tradition.  Blue Mondays will be a thing of the past and Mondays will finally get the respect they deserve.
What's your favorite ice cream topping?