Makeup Tips for Women Over 50 includes affiliate links to some of my favorite makeup brands. I earn from qualifying purchases and I only recommend products I use and love.
I admit it. I'm over 50. Actually, I'm now barely over 60! I know, I know, I don't look a day over 45. Just kidding.
I'm sure you are asking yourself why I'm sharing makeup tips for women over 50 when I usually share recipes and party tips. Because I've learned a few makeup tricks over the years and I thought I'd share them with you.
Note: I've linked some of my favorite makeup products at the bottom of this post.
I'm also sharing my five-minute all-natural no-makeup look down below. Keep reading! It's the second bonus tip!
What Do I Know About MakeUp And Skincare?
Way, way back in the day, I dabbled at selling Avon (for about 2 weeks, if I recall correctly) and I was a Mary Kay consultant for a couple of years. That was all before I realized I am not a salesman. Saleswoman? Salesperson?
My daughter is a for-real makeup artist. She was taught by some of the top makeup artists to the stars and other prominent instructors in the field. Yes, she's even done a couple of runway shows. So that makes me an expert by association, doesn't it?
Most of what I know about makeup and skincare is by trial, error, and a whole lot of research (including talking to my daughter!) You can find her makeup tips on her Youtube channel.
Makeup Tips For Women Over 50
Is it just me or have you noticed that most magazines (besides AARP, sigh) always have articles about what to wear when you're 20, 30, and 40? They also have makeup tips for when you are in your 20s, 30s, and 40s. I mean, really?
Do they think that the over 40 crowd just crawls in a hole somewhere and curls up and dies? Do they not know that it's the baby boomers that usually have the money to spend on cosmetics and that we need it the most?
You may be sitting there thinking, "I'm not anywhere near 50!" It's never too early to learn how to take proper care of our skin. Just yesterday I was 39 and holding!
Wearing makeup to make ourselves look Au naturel seems to be an oxymoron. I do try to look natural, just not as natural as I really am.
8 Makeup Tips For Women Over 50
I never wore foundation until I was in my mid 30's because I didn't need it. My complexion was as smooth as a baby's behind. Now? Not so much.
I sure wish I had been using sunscreen back in the '70s instead of iodine and baby oil. And I rue the day I ever touched my tush to the icy cold glass-covered light bulbs of a tanning bed, much less eventually buying (and later selling) my own. What was I thinking? Southerners really like their tan! Free Tip: Fake Bake. It rocks!
But regrets will get us nowhere fast. So let's move on to my top 8 makeup tips. I had 5, but then I kept thinking of more. So I stopped at 8 and then added two important bonus tips.
The idea is to not look like a clown but to look refreshed. An old barn certainly needs a new coat of paint every once in a while. Just kidding.
1. Adopt a skincare routine and stick with it.
A skincare routine is important, especially as we age. Of course, it's always best to begin a skincare routine when you're young and thinking you'll never get old and you'll always have a beautiful, blemish-free complexion.
I thought that too and I don't have many wrinkles (just those pesky parentheses around my mouth). I contribute it to always having a good skincare routine.
The older I get, the drier my skin gets so moisturizer is my best bud. I'm also trying out different anti-aging face serums, but that's a whole different story.
The one thing I drilled into my daughters when they became teens was to never go to bed with makeup on. Never. Ever. Our skin needs to breathe. Clean that face every night and moisturize the daylights out of it. What do I use? Not soap! Regular soap has never touched this face.
Over the years, I've tried all types of skincare products. When my daughter was a manager for Lancome, I used Lancome because I could. For free. And free is always best.
Alas, she changed her line of work and I eventually stopped using their skincare products (because I had to pay full price – LOL) but I have to say, they are great.
I now use Mary Kay Timewise Repair. My Mary Kay consultant attends my church and I buy the skincare products from her. The set seems a little pricey, but it lasts a long, long time.
2. Primer rules!
When I'm making a personal appearance complete with my bodyguard – wait a minute – for a moment there I thought I was a real celebrity talking about my makeup routine.
What I meant to say: When I go out in public, I always use a dab of primer AFTER applying my daytime moisturizer and that stuff that makes the parenthesis around my mouth look less noticeable. I'll think of what it's called in a bit and I'll come back and insert it. Or not.
My favorite primer (actually I have two): Smashbox Photo Finish and Monistat Chafing Relief Powder Gel. The Monistat is not really a primer, but it works just like one. Try it. I double-dog dare you!
3. Concealer is your friend.
I'm not talking about the concealer of the '70s that looks like one thick streak of Morticia-applied ultra-white lines under each eye.
Here's a two-for-one: Blend, blend, blend. There's a sponge for that. I've linked my favorite makeup sponge at the end of this article.
Make sure it's a creamy concealer. I use two. That's right. One under my foundation and one on top. (My daughter says I shouldn't put concealer under my foundation, but it works for me.)
My favorite concealer is at your nearest drugstore, Target, or Walmart. Makeup doesn't necessarily have to be expensive to be effective.
I use Maybelline Instant Age Rewind Eraser. You can purchase this concealer at Walmart, Target, or your favorite drug store.
I use a medium shade to go under my eyes and to line my parenthesis (to reflect the light away from problem areas) before applying foundation and I use a lighter concealer under the eyes after I apply my foundation, eye shadow, liner, and mascara.
The trick is to make a triangle under the eye area so that it doesn't look like half-moons. And blend, blend, blend by lightly patting the concealer with a damp makeup sponge. Never tug the undereye area. It's delicate.
4. Matte (rhymes with and means flat) eye shadow loves you back.
If our eyelids are starting to show our age, the last thing we want to do is scream, "Look how old my eyelids really are." And that is exactly what sparkly eye shadow will do.
A little shine is fine when you're all glammed up for that big night out on the town, but over-the-top sparkly should be left to girls, unicorns, and art projects. I use drug store brands and big-name brands and I can't tell a whole lot of difference.
Lately, I've been wearing cream eye shadow and I really like it. It doesn't settle in the creases of my eyes. Remember, a little eye shadow goes a long way. I also stick to neutral colors. And again, gently blend.
I also adore cream blush.
My Favorite Mascara
In the mascara department, I have the length, it's the volume I need. I need to fatten those lashes up! So I use Hypnose Drama Instant Volume by Lancome. It comes in waterproof, too.
Or, I sometimes use Loreal Paris Voluminous Mascara. They are both owned by the same company. And I can't tell too much difference between the two mascaras. Of course, the Loreal (their drugstore brand) is much cheaper.
Helpful Hint: I don't use mascara on my bottom lashes and I don't use eyeliner at all. If you do use eyeliner, make sure you only line the top lashes and not the bottom. Eyeliner around the bottom rim of your eye just makes you look older or like an old raccoon.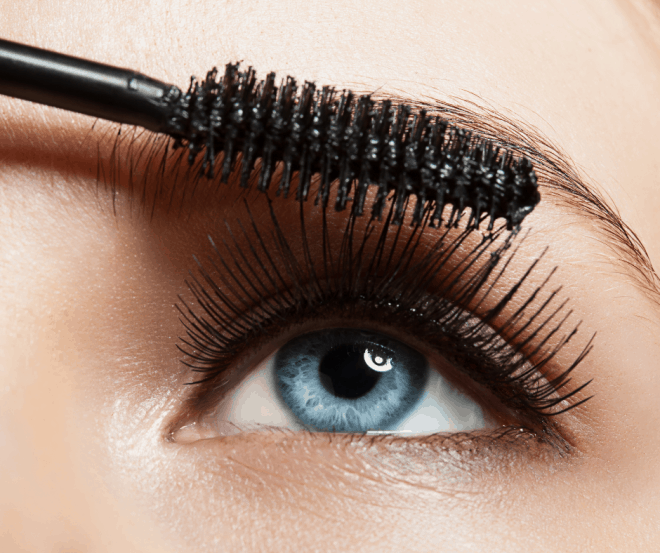 5. Don't over-tweeze those eyebrows.
I once worked with an older lady who shaved her eyebrows and drew new, much higher arches. She always looked surprised and made me think of McDonald's. If in doubt, seek help. See a professional.
Anastasia is my favorite brand when it comes to eyebrow care.
6. Find the right foundation and the correct shade for your skin type.
And again, blend, blend, blend, especially around the jaw area. I use a foundation to even out my complexion and to offer a little coverage.
Don't overdo it when it comes to foundation. BB Creams are like a tinted moisturizer on steroids and is perfect if you just need light coverage. Personally, I need a bit more coverage.
I'm always trying something new, but at this moment I'm using It Cosmetics CC+ Cream With SPF 50+.
I always use a foundation brush or beauty blender and I never, ever use face powder. It's just too drying for my skin type. And drying is aging.
After applying everything, I sometimes use a makeup finishing spray by Mary Kay. Just make sure you close your eyes before applying a finishing spray. Trust me on that one.
Add a Little Blush – My favorite makeup tip for women over 50
Blush should be applied with a light hand and blended, as well. As my daughter tells me often, "Mom, you need color on those cheeks!" Yes, we want and need color! Just use enough to look like a natural blush.
During the summer, I use a good bronzer to get that sunkissed look. Keep in mind that over-applying bronzer can make your face look dirty. Again, being light-handed is the key.
7. Line those lips. Just Don't Go Overboard!
Just please use a light hand and a nude color or the same color as your lipstick. Nothing ages a mature woman as much as wearing a dark lip liner and pale lipstick.
Our lips tend to thin as we age, so I use a lip plumper – not all the time, just for special occasions.
I'm too chicken to get collagen injections and most of the ones I've seen just don't look natural or very well done. That's just my opinion.
I like Lip Injection by Too Faced. It glides on and I must warn you that it tingles like crazy and some people can't stand it. It doesn't bother me. I only use it on special occasions.
Helpful Hint: Keep it on your lips and don't get any on your face. Trust me on that one, too.
When it comes to lipstick, I have several brands that I love. It's important to find a good color that flatters you. I can't wear bright red or peach. I stick to lipsticks in the pink/plum family.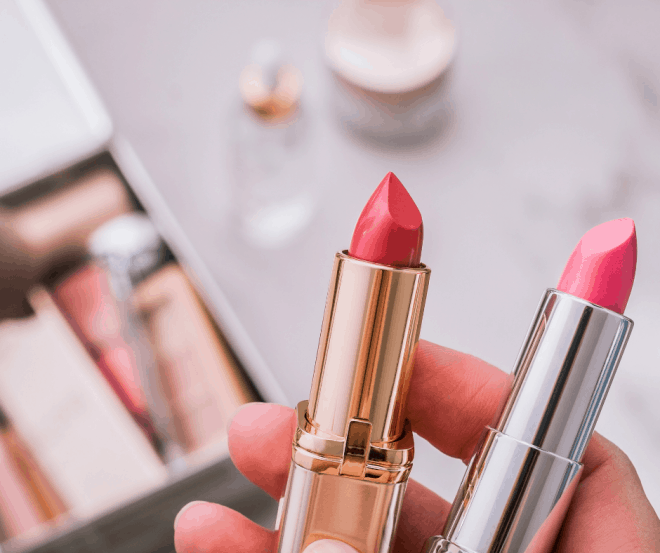 Find a tone of lipstick that matches your inner lip or gums and you're good to go. Remember, these are tips for age 50 and up, but they can apply to younger women as well.
8. When in doubt, toss it out.
Sadly, or gladly, makeup doesn't last forever. If it did, I would still have that ice-blue sparkly eyeshadow from high school.
Bonus Makeup Tips For Women Over 50
Good skin care begins on the inside! When it comes to skincare, it's so important to get enough sleep and to stay hydrated – Get enough z's and drink plenty of water!
Wear sunscreen, exercise, and try to eat right 80% of the time.
Another Bonus Tip! Boomstick Trio By Cindy Joseph
Several months ago I saw a Facebook ad for Boom! by Cindy Joseph. I was intrigued so I purchased the Boomstick Trio. They are very pro-age and believe that less is more. I totally agree.
I am not affiliated with Boom! at all but I really like the Boomstick Trio, especially when I need to make a grocery store run. It's perfect for everyday wear. Just keep in mind, Boom does not cover. It enhances.
The Boomstick Trio comes in a cute little bag that you can tuck in your purse. I'm in love with the color stick.
You can use this trio as your blush, lipstick, eyeshadow, highlighter, and moisturizer. These all-natural products can also be used as a cuticle cream, body cream, and more.
Note: The Boomstick Trio is perfect for everyday wear and I love, love, love this trio during the summer when I don't want to wear makeup at all.
Would I use just this product if I was attending a wedding or special event? No. Remember, it enhances but doesn't cover.
Products I Love – Makeup Tips for Women Over 50
Just click the pics below to shop from this page.

You May Also Like
This article, Makeup Tips for Women Over 50, was written in February 2014 and updated in February 2021.