I've never met a dessert with pecans that I didn't like. This caramel pecan pie recipe is easy to make and includes melted caramels and lots of chopped pecans. There is no corn syrup in this pie. Just sugar, eggs, and all that good stuff.
Dixie's Pecan Pie Cobbler has remained my top post since 2017. There's a reason. It's amazing! But there are times when I don't need that big ole cobbler and that's when Caramel Pecan Pie comes into play. It's the perfect dessert.
Caramel Pecan Pie Ingredients At A Glance
Scroll down to the end to see the complete printable recipe card!
caramels (11 oz.)
water
butter
eggs
salt
sugar
vanilla
chopped pecans
deep-dish pie crust
How To Make A Caramel Pecan Pie
Add caramels, water, and butter to a medium saucepan and cook on low. Stir until smooth. Remove from heat and set aside.
Beat eggs in a medium-sized bowl with a fork or whisk.
Add sugar, salt, and vanilla. Stir in chopped pecans. Add the caramel sauce and mix well.
Pour into an unbaked deep-dish pie shell.
Bake at 350º for 35-40 minutes or until golden brown and set. Allow the pie to cool on a wire rack before serving.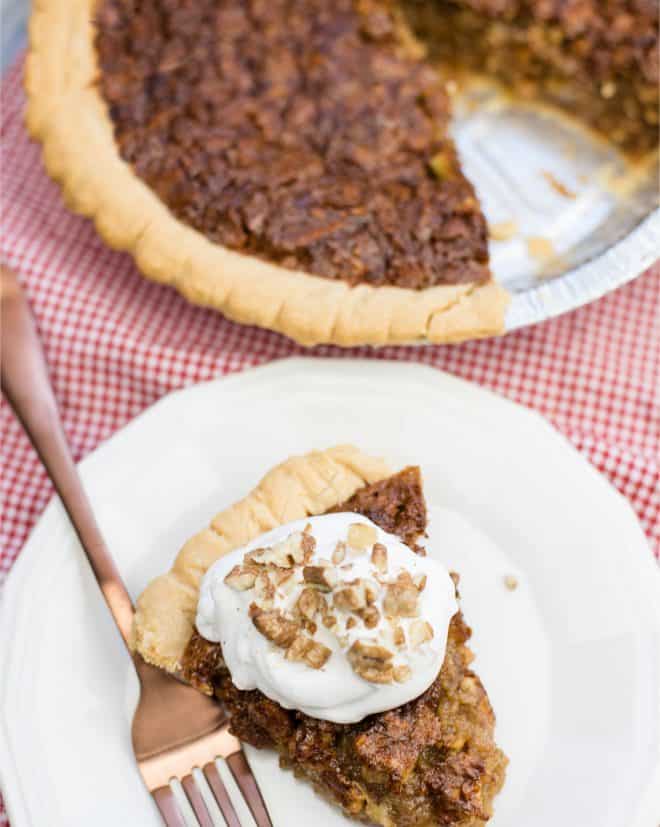 Note: I start checking the pie at the 30-minute mark. Look for a medium brown color on the pecans. A pecan pie is done when the center is just very slightly jiggly (kind of like jello when you give it a gentle shake) and the edges are stable and set. The pie will continue to cook and fully set when the pie has cooled for a couple of hours.
You May Also Like These Recipes
Yield: 8 servings
Caramel Pecan Pie
Caramel Pecan Pie has a creamy caramel and pecan filling in a crisp crust.
Ingredients
11 oz. caramels (about 36-37 caramels)
1/4 cup water
1/4 cup butter
3 eggs, lightly beaten
1/8 teaspoon salt
3/4 cup sugar
1/2 teaspoon pure vanilla extract
1-1/2 cups chopped pecans
1 deep-dish 9" pie crust, unbaked
Instructions
Preheat oven to 350º F.
Unwrap caramels. Combine caramels, water, and butter in a small heavy saucepan. Cook over low heat until smooth, stirring often. Remove from heat and set aside.
In a medium-sized bowl, lightly beat eggs, Add the sugar, salt, and vanilla extract. Stir until well combined. Add the chopped pecans and caramel sauce and mix well.
Pour into a deep-dish 9" unbaked pie shell. Bake for 35-40 minutes or until golden brown and set.
Cool slightly before serving.
Notes
I use Kraft caramels in this recipe.
Recommended Products
As an Amazon Associate and member of other affiliate programs, I earn from qualifying purchases.