I've been on a no-churn ice cream kick lately. It's probably because I donated my ice cream freezer a few years ago and now I've found I really don't miss it. So, say hello to No Churn Peach Ice Cream.
If there's one recipe (OK – there's many) I wish I had written down before my mom graduated to heaven, it's her homemade peach ice cream recipe. I remember way back in the day before electric ice cream freezers were a thing. We had a hand-crank ice cream freezer and I remember that thing cranking out some really good ice cream.
Every Sunday afternoon during the spring and summer, we'd host a softball game in grandpa's cow pasture right next door to our house. Extended family and neighbors in our Kramer community would show up and we'd all play softball.
The kids, the adults, everyone got to play ball on those sultry summer Sunday afternoons. I won't even tell you about the time my Aunt Jean got her nose broke while playing the position of catcher. These were some serious games!
Afterward, mom would haul out the ice cream maker, the rock salt, and the ice. She'd mix up the peach ice cream base complete with fresh Georgia peaches. Once everything was in place, we'd take turns turning the handle. The ice cream was ready when the crank would barely turn. It seemed to take forever back then.
Since I don't have mom's recipe and I no longer have an electric ice cream freezer, I came up with my own version of No Churn Peach Ice Cream. I also don't have any Georgia peaches, but I can't wait until summer and South Carolina peaches picked at their peak from McLeod Farms. I'm glad McLeod's is not far from me. I can have fresh peaches all season long.
No Churn Peach Ice Cream
Mix together sweetened condensed milk and peach preserves. Set aside.
Beat heavy cream and vanilla extract until stiff peaks form. Fold the sweetened condensed milk mixture into the heavy cream until combined.
Stir in chopped peaches.
Freeze for at least five hours or overnight, until firm.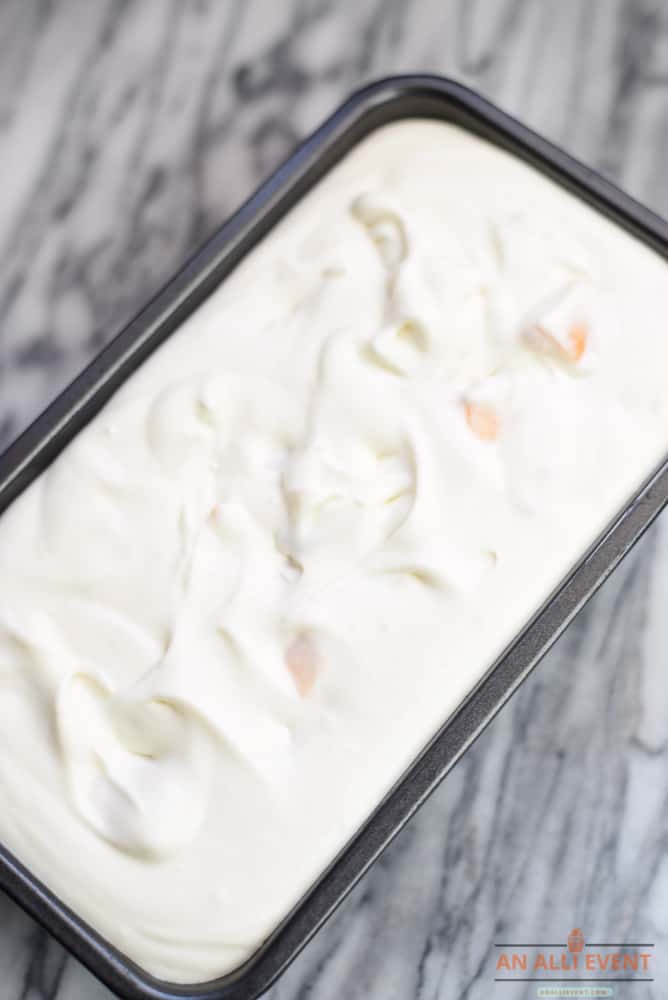 Helpful Hint: I always make the ice cream the night before I plan on serving it and let it hang out in the freezer overnight.
That's it!
Yield: 8
No Churn Peach Ice Cream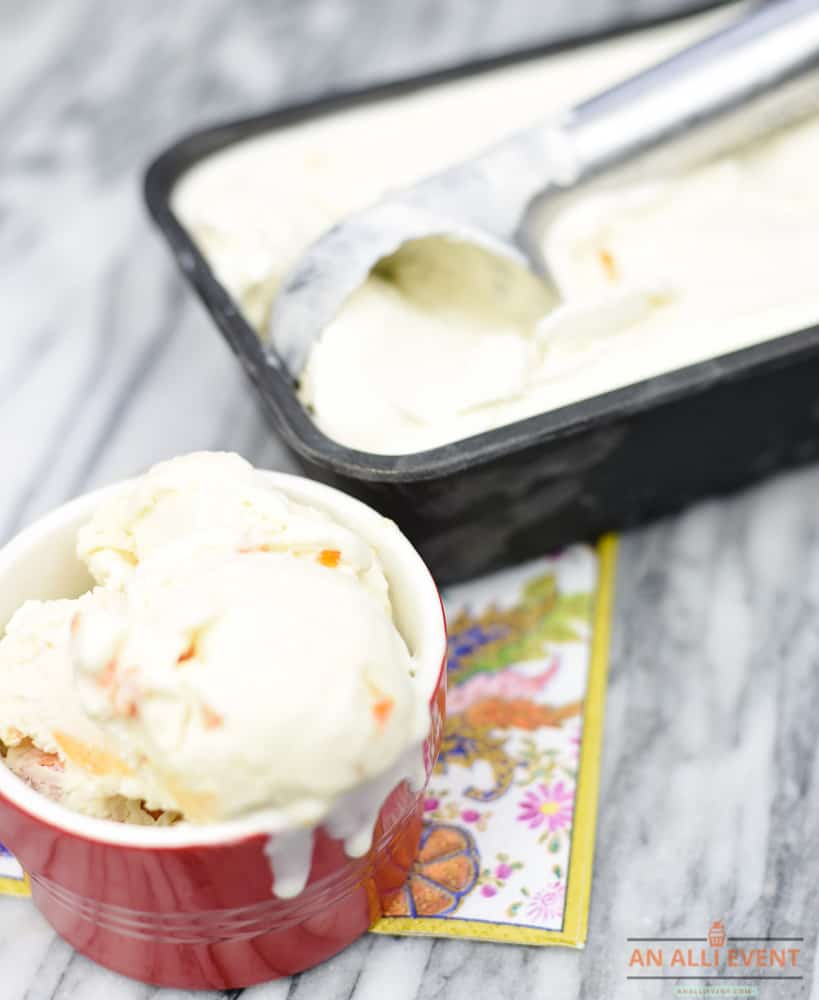 No Churn Peach Ice Cream is so easy to make and it's so refreshing on a hot summer day.
Ingredients
1 can (14 oz.) sweetened condensed milk
1/2 cup prepared peach preserves
2 cups heavy whipping cream
1 teaspoon vanilla
4 peaches, peeled and rough chopped
Instructions
In a small bowl, combine sweetened condensed milk and peach preserves. Set aside.
In a mixing bowl, add whipping cream and vanilla. Beat until still peaks form.
Fold the sweetened condensed milk mixture into the whipped cream.
Fold in the chopped peaches.
Freeze in a freezer proof container until frozen, about 5 hours or overnight.
Nutrition Information
Yield
8
Serving Size
1/2 cup
Amount Per Serving
Calories

309
Total Fat

22g
Saturated Fat

14g
Trans Fat

1g
Unsaturated Fat

7g
Cholesterol

69mg
Sodium

29mg
Carbohydrates

26g
Fiber

2g
Sugar

21g
Protein

3g
What's your favorite ice cream flavor?
If you love no-churn ice cream, you will love these recipes:
No-Churn Red, White & Blueberry Ice Cream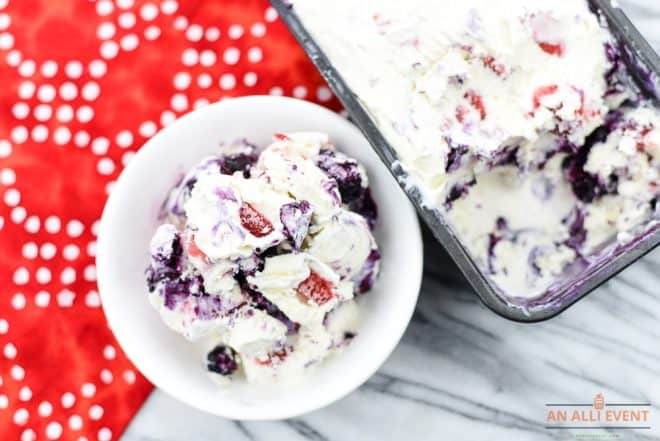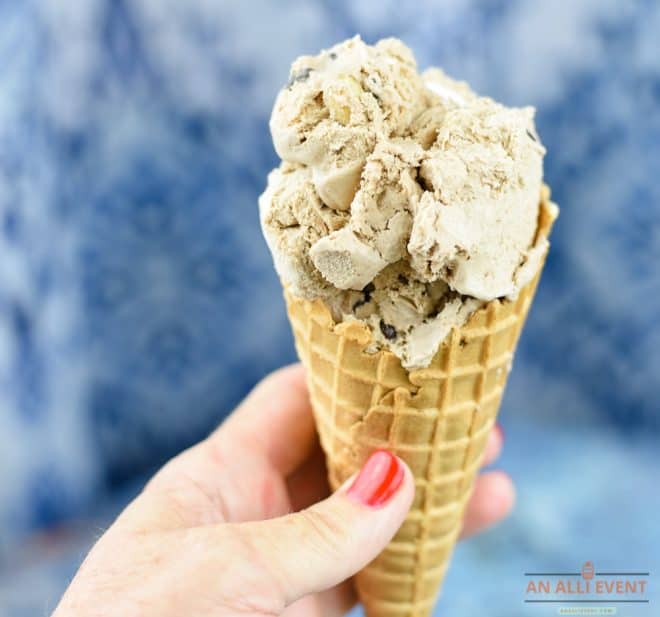 3-Ingredient Lemon-Lime Sherbet