If you need something easy and delicious to contribute to a Christmas party, this is it. My mom made Pecan Caramel Chocolate Turtles for years – way before recipes on the internet were even a thing.
We always have turtles at Thanksgiving, Christmas, family beach vacations, and, well, every single time we've ever visited mom and dad. You can see more of my favorite candy recipes here!
To see my collection of recipes featuring pecans, check out my Best Recipes Featuring Pecans.
These days, I'm making everything I can think of that mom used to make. Memories are too precious to forget.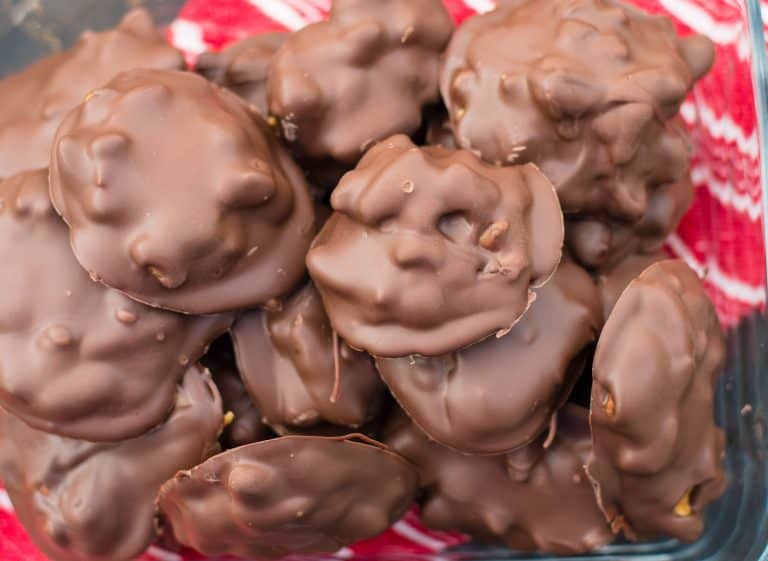 Once upon a time, mama made turtles that actually looked like turtles. Eventually, she took a shortcut and never looked back. The first time I tried these, I skipped an important step and they weren't mom's.
Finally, I've nailed it and I have to share it with the world or at least my little corner of the world. Here goes!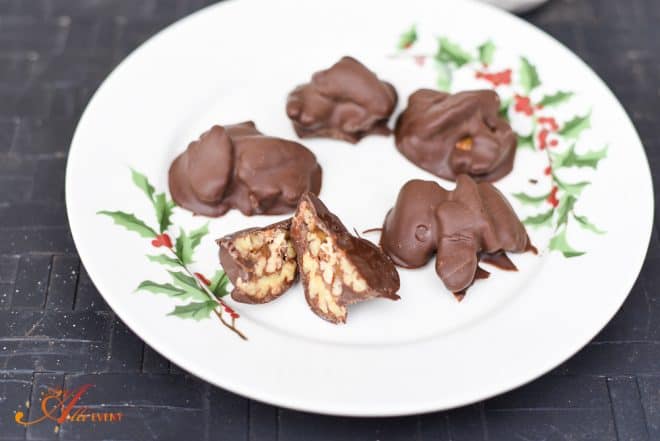 Pecan, Caramel Chocolate Turtles
Yield: Approximately 24
Pecan, Caramel and Chocolate Turtles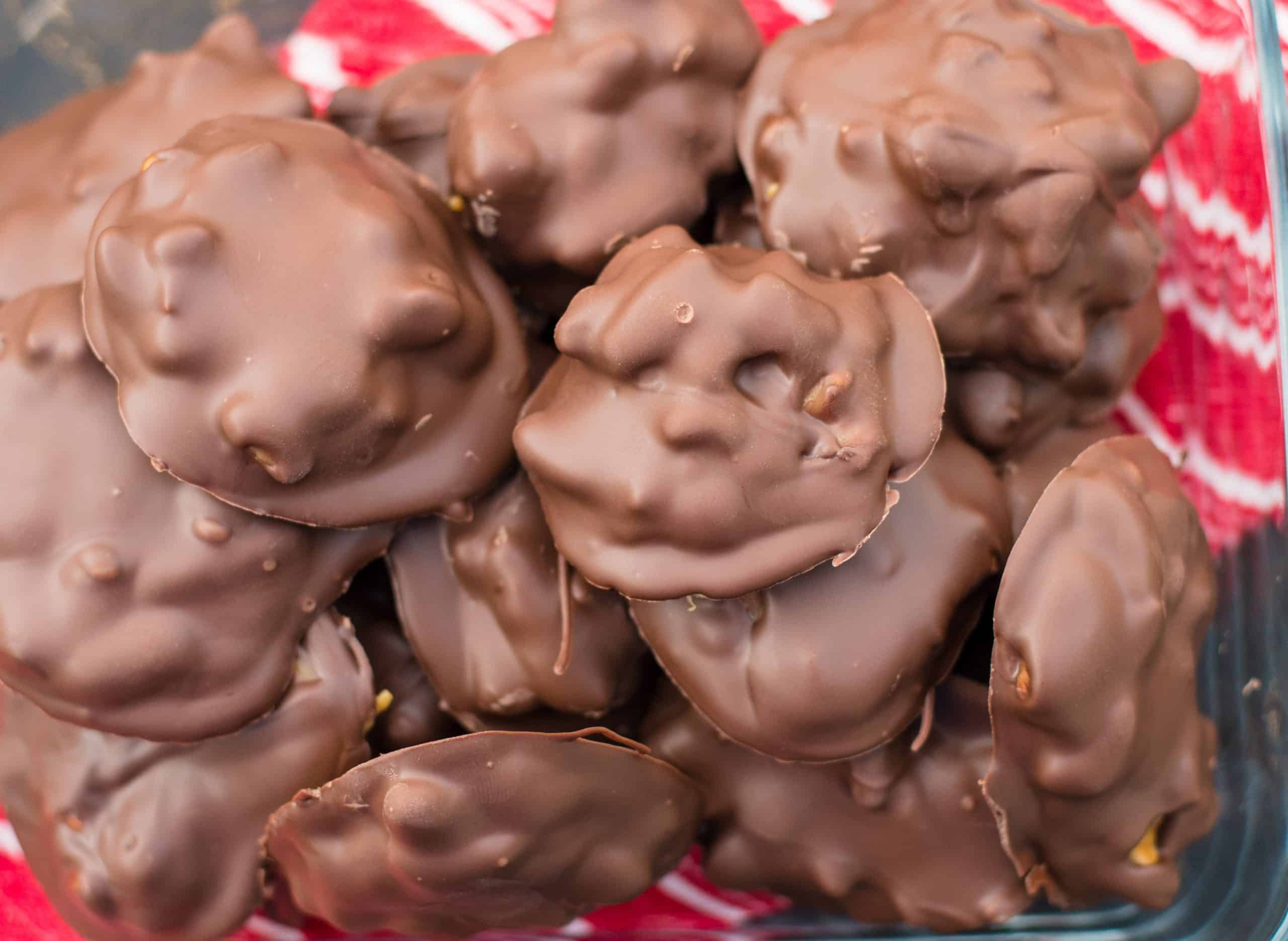 My mom always made Pecan Caramel Chocolate Turtles during the holiday season. Toasted pecans and creamy caramel are mixed together, allowed to harden, and dipped in melted chocolate.
Additional Time
30 minutes
Ingredients
2 cups pecan halves
1 package chocolate Candiquik
One package caramels (11 oz)
2 Tablespoons water
1/4 cup butter
Instructions
Remove the caramels from the wrappers.
Preheat oven to 350ºF. Place pecans in a single layer on a baking sheet and bake for 5-7 minutes or until toasted. Watch carefully! Set aside.
In a heavy saucepan, melt caramels, water, and butter on medium-low, stirring constantly, until melted.
Add pecans to the caramel mixture and mix well.
On lightly greased wax paper (or parchment), spoon tablespoons of caramel/pecan mixture. Let harden.
Heat Candiquik in the microwave according to package directions.
Dip each candy into Candiquik with a fork and let excess drip off. Place on wax or parchment paper and let harden. Store in an airtight container at room temperature.
Notes
Serving size is approximate, based on how large or small you make the candies.
Candiquik is a premium candy coating. You can also use chocolate almond bark. Candiquik brand is my favorite candy coating.
Recommended Products
As an Amazon Associate and member of other affiliate programs, I earn from qualifying purchases.
Nutrition Information
Yield
24
Serving Size
1
Amount Per Serving
Calories

90
Total Fat

8g
Saturated Fat

2g
Trans Fat

0g
Unsaturated Fat

6g
Cholesterol

5mg
Sodium

23mg
Carbohydrates

4g
Fiber

1g
Sugar

2g
Protein

1g
These are great for taking to Christmas parties. I usually make a batch of these and a batch of Puttin' On The Ritz Cookies.
Puttin' On The Ritz Cookies – Bonus Recipe!
Puttin' On the Ritz Cookies are the cookies that you add peanut butter between two Ritz crackers. Continue making the peanut butter and crackers until you've used 1-1/2 sleeves. Dip each peanut butter cracker into melted vanilla Candiquik and let harden on wax paper. How easy was that?
Pecan Caramel Chocolate Turtles
Believe it or not, out of all the candies, cookies, etc. I make these during the Christmas season, my kids love the Turtles and Ritz ones the best and they are the easiest of all to make.
When Making Mom's Candy I Have All The Feels
PS – It's not a post unless I overshare so here goes! A few days ago I found a voicemail on my iPhone that my mom left me back in October 2015 (she unexpectedly went to heaven on May 7, 2016).
My daughter, Caitlin, and I were headed down to mom's house to attend my niece's wedding. She called to let us know she was headed to the rehearsal but would leave the back door unlocked (small-town love). She told us to drive safe, she loved us and could hardly wait to see us.
Normally, I delete voicemails as soon as I listen to them. However, this is one time I'm glad I didn't. When I'm having a rough day or just need to hear her voice, I play the voicemail. I've saved it in several places to make sure it never gets deleted.
What's your favorite holiday candy or memory? Please share! I read all comments.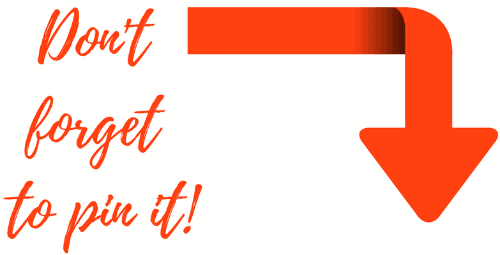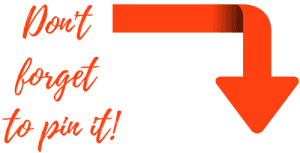 You may also like:
Melinda's Buckeyes (AKA Peanut Butter Balls)