This Peter Cottontail Easter Tablescape is fun, whimsical, and easy to recreate.
Creating the tablescape is always my favorite part of planning a party, especially when it's a party for kids.
Every Easter I try to do something a little different for the grandkids. Last year was an Easter Candy Buffet. One year I made homemade baskets out of boxes of PEEPS®. (I had just started blogging, please forgive the horrible pics!)
I also created Disney Marvel Easter baskets and planned a garden party, including an egg hunt.
This time around, I dreamed up the cutest Peter Cottontail Easter Tablescape.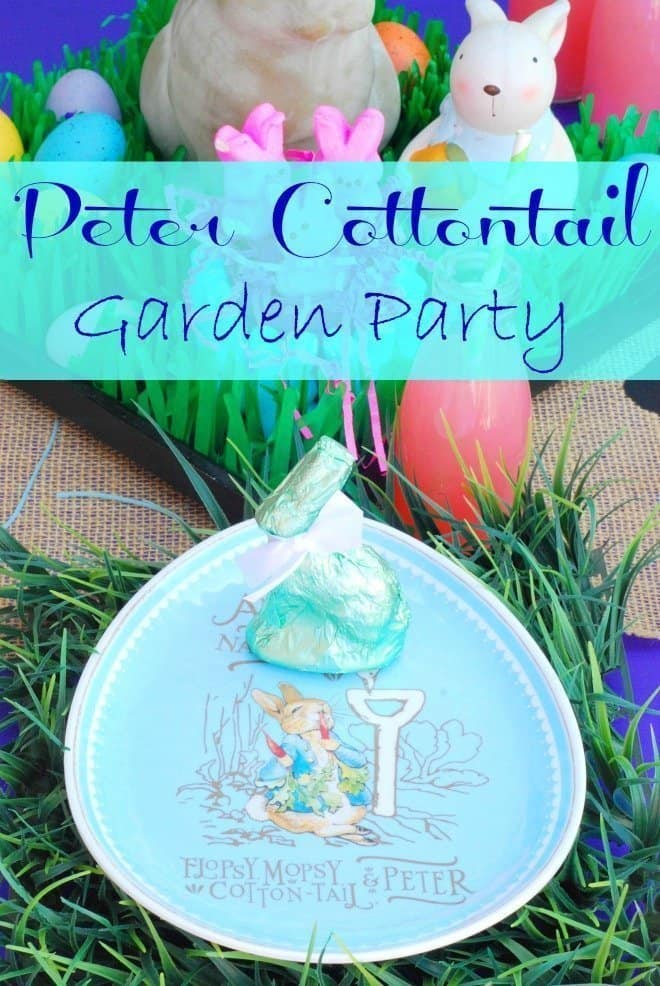 Table Runner For Petter Cottontail Garden Party
My table runner was completely free because everything I used was leftovers from other projects. It pays to keep those little bits and pieces of leftover ribbon, fabric, etc.
I've included links to some of the products I used so you can shop straight from this post. As an Amazon Associate, I earn from qualifying purchases.
You'll need black cotton fabric and fusible web (brand names – Wonder Under, Heat-n-Bond, etc.) to make the bunny silhouettes. Actually, you can use any color but I like the black against the burlap for a classic silhouette look.
What Is Fusible Web?
A fusible web is a fiber placed between two pieces of fabric that will melt when heated. When it melts, it fuses the two pieces of fabric together. I love how easy it is to use.
Follow the instructions on the fusible web to attach the web to the cotton fabric.
Print out a bunny image, cut it out, and tape or pin it to the cotton fabric that has the fusible web attached. Carefully, cut the fabric around the bunny pattern. Discard the pattern.
Iron the fabric onto the burlap. Hot glue was used to attach the pink bunny tails. I think it's simply adorable and it only takes a few minutes.
Never place a hot iron directly on the fusible web. It will ruin your iron.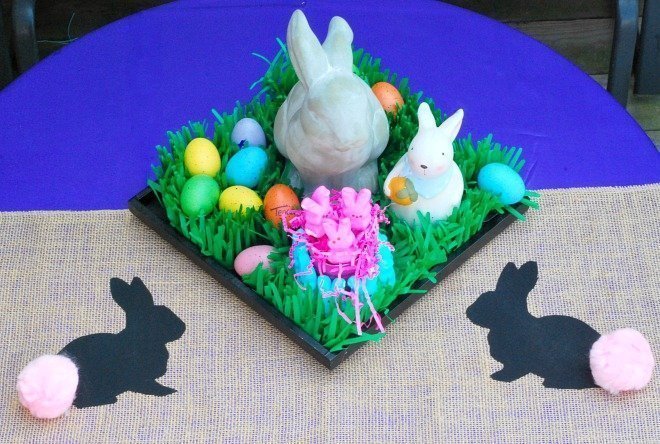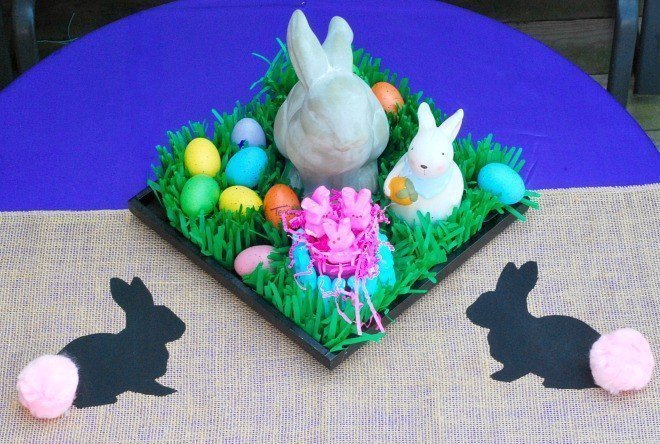 Centerpiece For Peter Cottontail Garden Party
My simple centerpiece is a couple of bunny rabbits that I've had for years and PEEPS® Pops. Those bunnies have been hanging around my house forever. I remember buying them on sale and I love them as much today as I did the day I brought them home.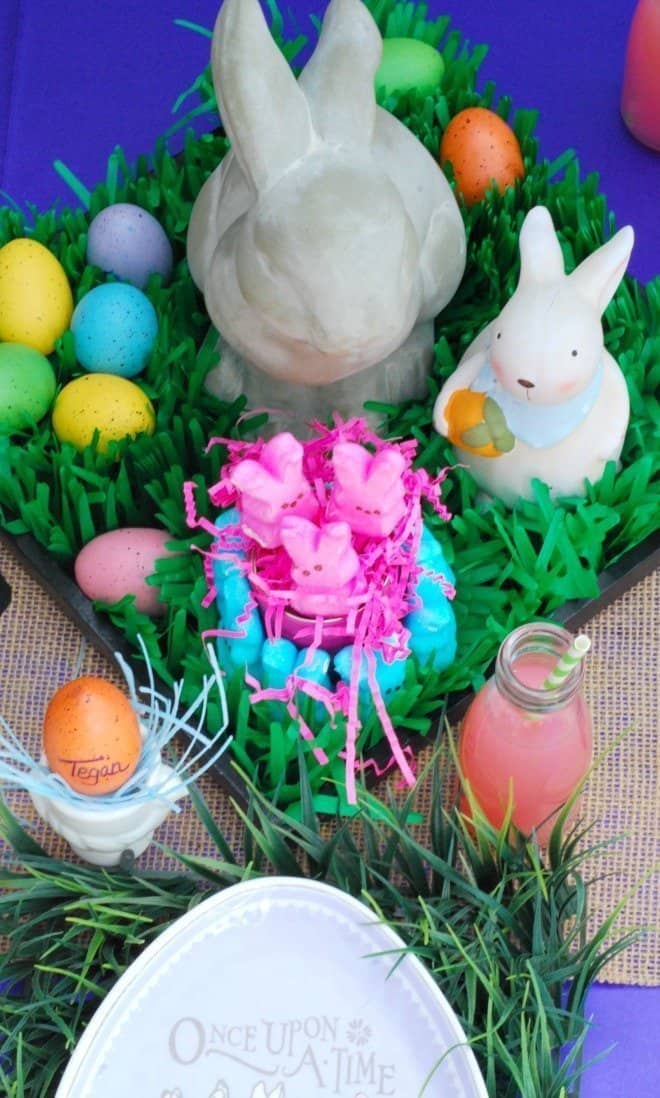 Helpful Hint: It's best to shop for seasonal/holiday items right after the holiday. You'll grab the best deals. Just make sure you have somewhere to store the items year-round.
Place Settings for Peter Cottontail Easter Tablescape
I love using squares of faux grass for the placemats.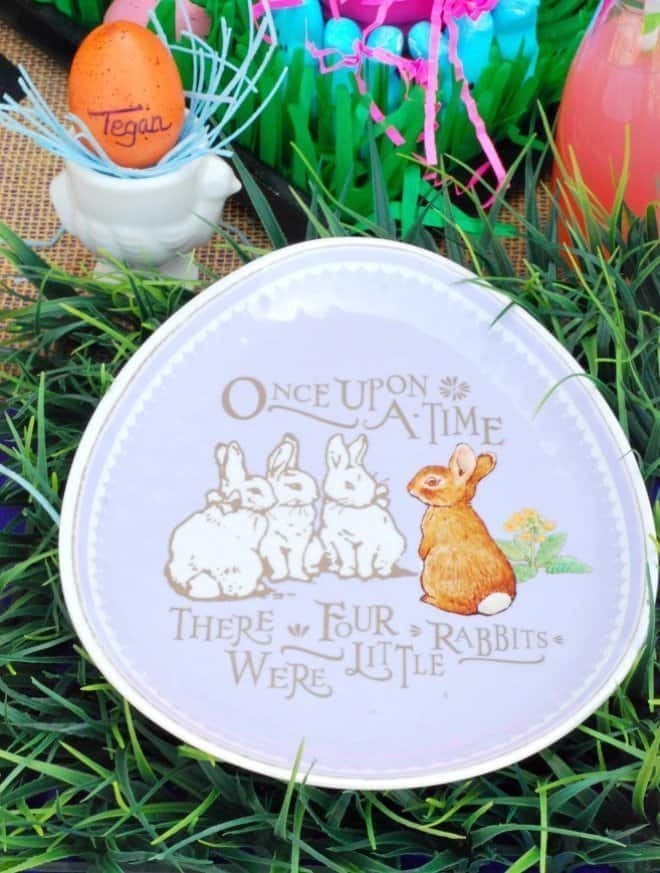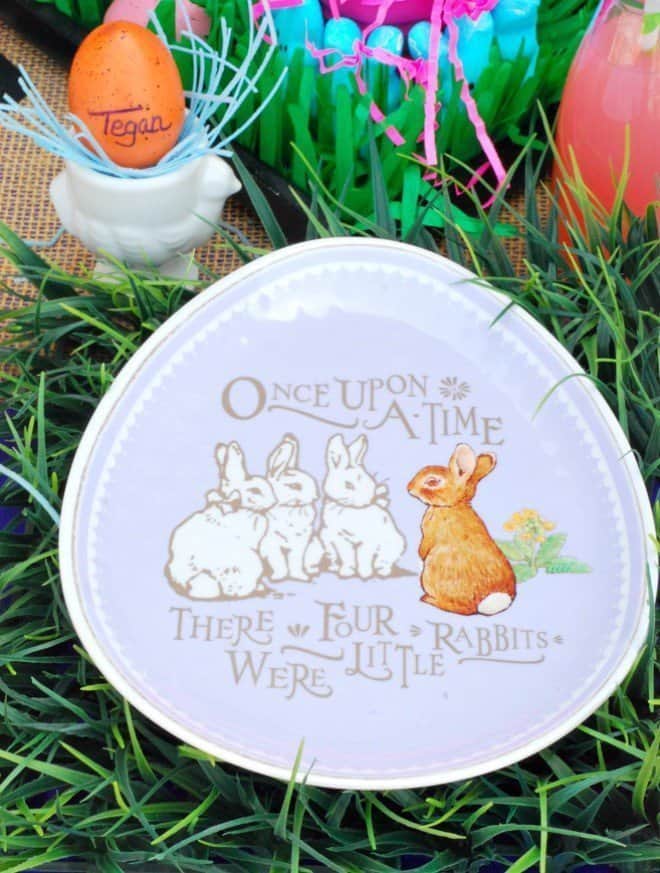 The little chick egg cups are ideal to use instead of place cards. The blue "grass" is completely edible!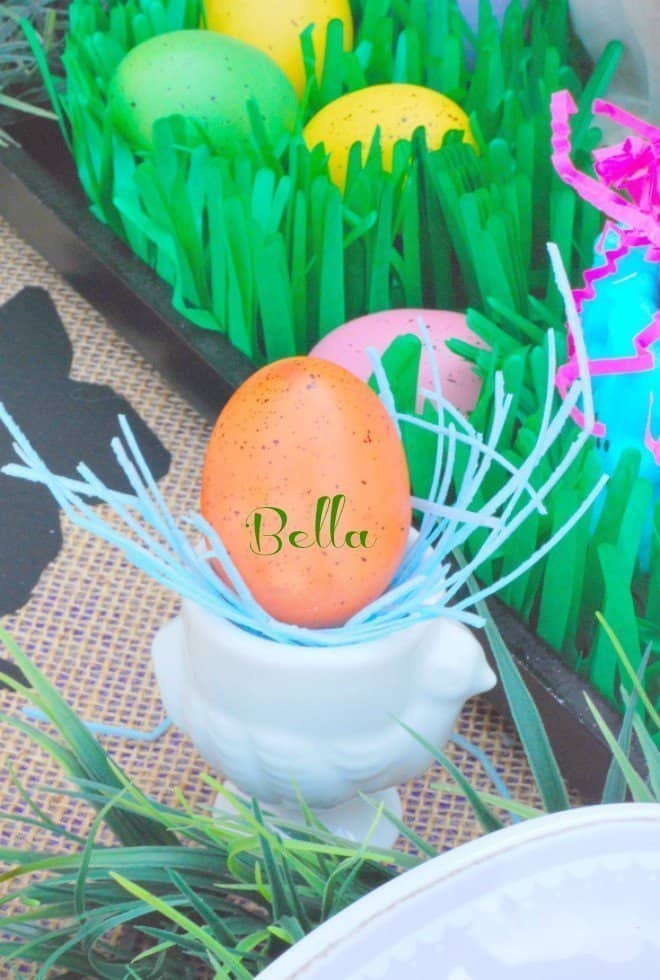 These plates from Pottery Barn Kids are adorable. It was love at first sight and I knew they would be perfect for my table.
I do think these plates have been discontinued, but Pottery Barn has the cutest Easter baskets and other tableware that will work perfectly. Shop this look at the end of the post!
Helpful Hint: Always shop your own home first when planning a party. You'll be surprised at what you'll find.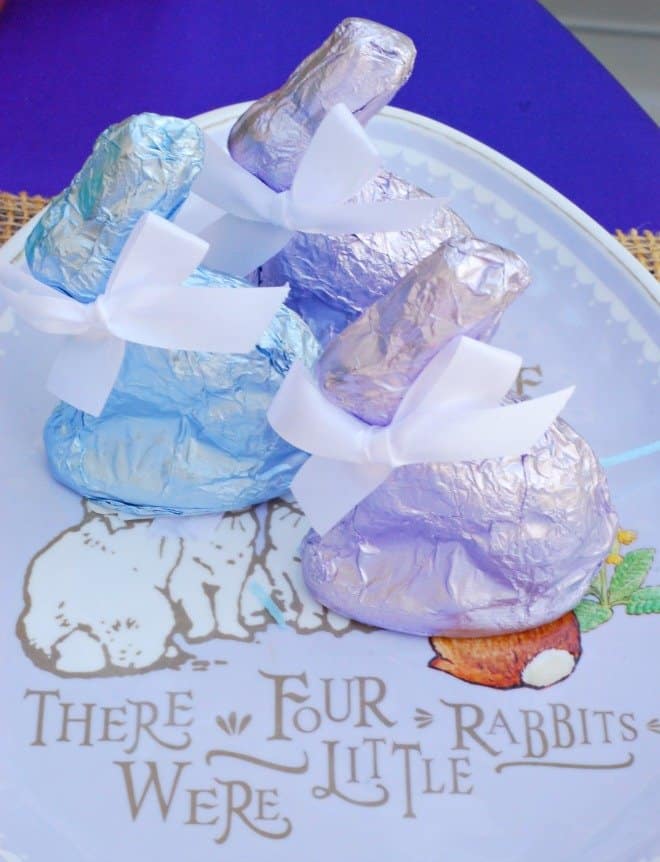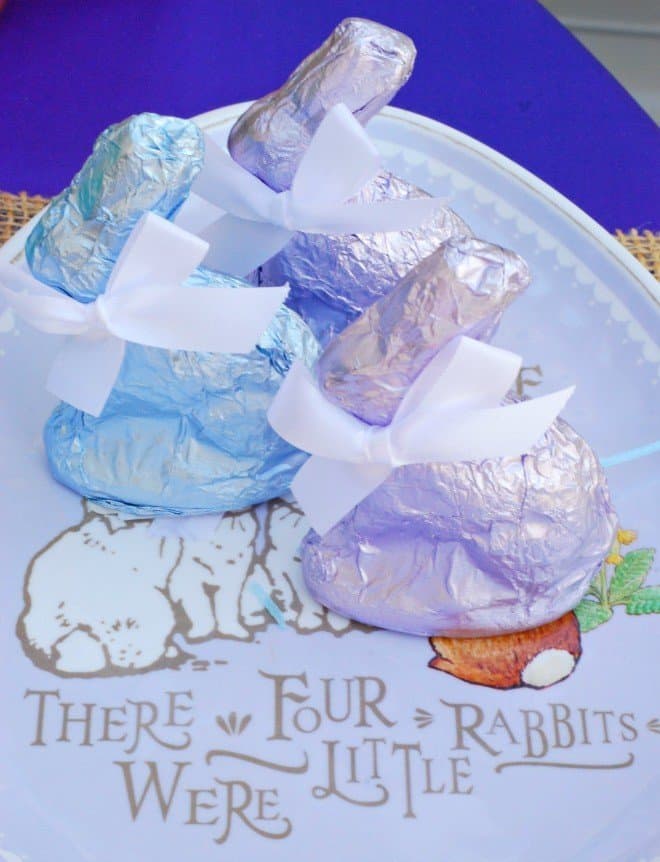 The grandkids love this simple, whimsical Easter centerpiece and table runner. They can even help make them.
Edited to Add: I created the cute bunny silhouette table runner in 2015 and I'm still using it in 2021. And it looks great.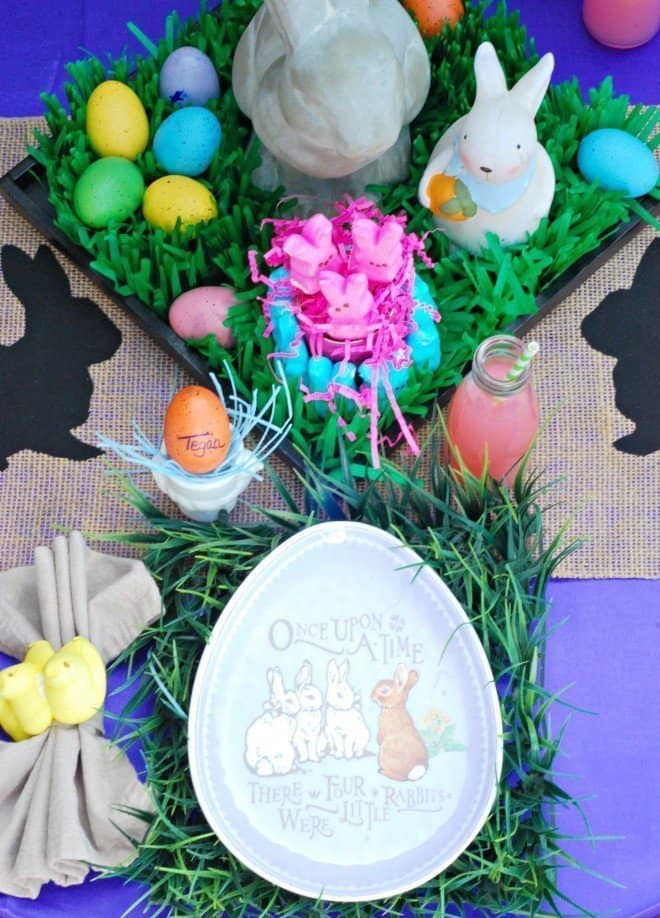 I've got an egg hunt to plan, so I'd better hop to it! What are some of the ways you celebrate Easter?
You Will Also Love These Easter Themed Posts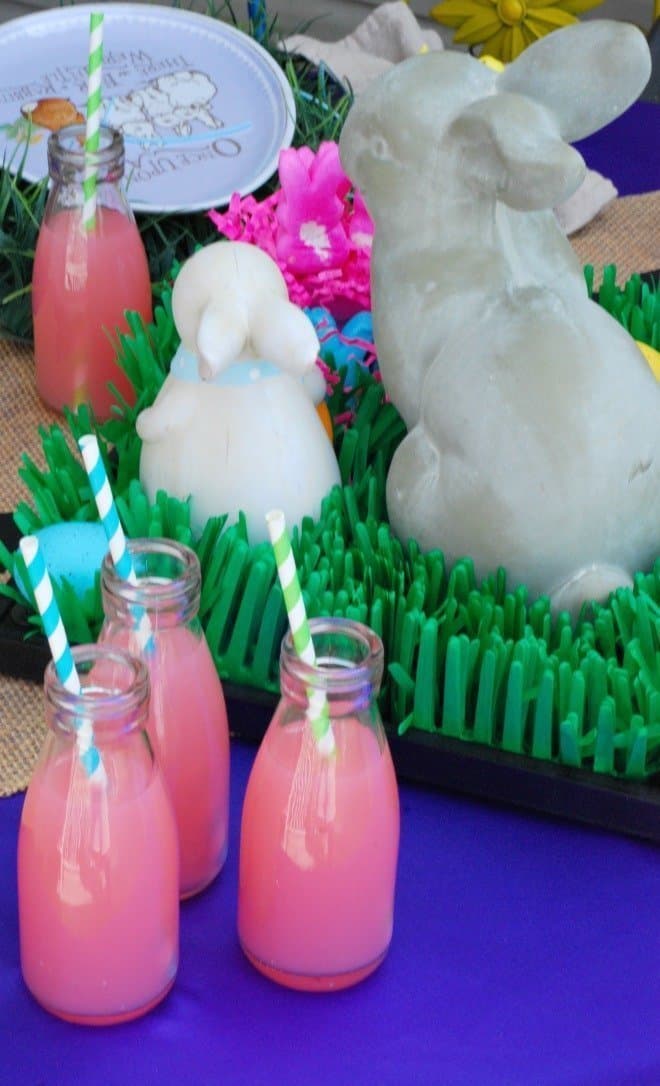 You can shop these adorable Easter-themed items below by clicking on the pics!