Strawberry Lemonade Layer Cake is so good! A tender lemon layer cake is filled with strawberry-lemon jam and topped with cream-cheese strawberry frosting.
I love Southern Living magazine. If you live in the south, you are required to subscribe to Southern Living – it's actually young, hip, cool, chic – well, you get the picture. One month, the cover photo of a Strawberry Lemonade Layer Cake captured my attention immediately! I knew I had to make it.
Lemon is one of my favorite flavors and strawberries are always a big hit with my taste buds, so just imagine the two flavors married together in a cake.
Of course, I have to change a few things up when I try a new cake recipe.
Strawberry Lemonade Cake Ingredients At A Glance
How To Store Strawberry Lemonade Layer Cake
Store this cake in an airtight container at room temperature for two days. You can also store it in an airtight container in the refrigerator and let it come to room temperature before serving.
The layers can be cooled, wrapped in plastic wrap and foil, and frozen for up to a month.
Need to wow someone? This cake does, indeed, have the wow factor and is the perfect ending to a special meal.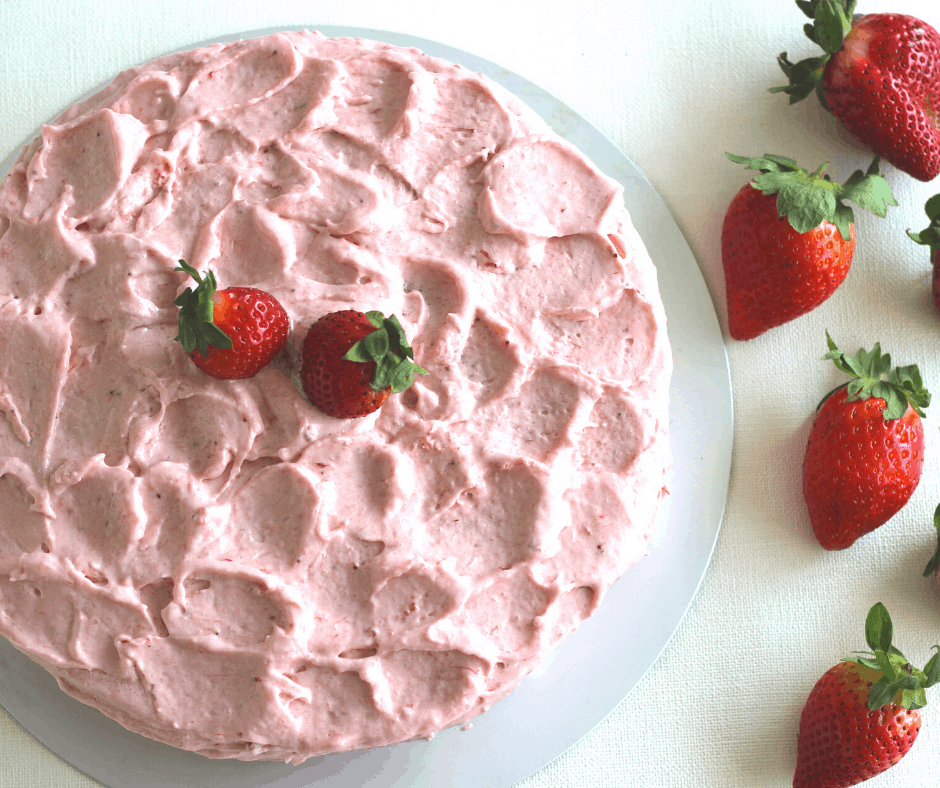 This cake is always a big hit!
Yield: 12 Servings
Strawberry Lemonade Layer Cake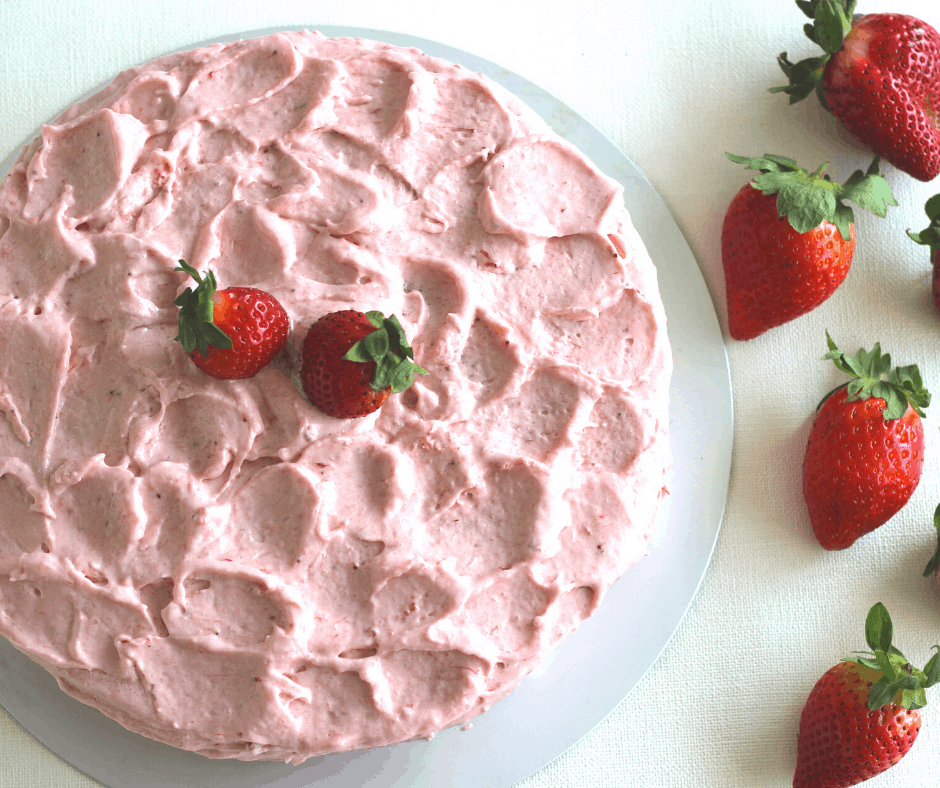 Strawberry Lemonade Cake is tender, delicious, and filled with a strawberry-lemon jam and topped with a cream cheese strawberry frosting.
Total Time
1 hour
40 minutes
Ingredients
1 cup butter, softened
4 large eggs, separated
2 cups granulated sugar
3 cups cake flour
1 Tablespoon baking powder
1/8 teaspoon regular table salt
1 cup milk
1 tablespoon lemon zest
1 tablespoon fresh lemon juice
Strawberry Lemonade Jam
1 cup seedless strawberry jam
2 Tablespoons fresh lemon juice
Strawberry Frosting
1 (8-oz.) package cream cheese, softened
2/3 cup granulated sugar, divided
2/3 cup chopped fresh strawberries
1 1/2 cups heavy cream
3 tablespoons fresh lemon juice
Instructions
Preheat oven to 350º F. Grease and flour (or use cooking spray with flour) four 9-inch round cake pans.
With an electric mixer, beat butter on medium speed until creamy. Add sugar gradually, beating until light and fluffy. Add egg yolks, one at a time, beating after each addition. Stir together flour, baking powder, and salt. Add to butter mixture alternately with milk, beginning and ending with the flour mixture, beating at low speed until just blended. Stir in lemon zest and juice.
Beat egg whites in a large bowl, at high speed, until stiff peaks form. Stir 1/3 of egg whites into the batter. Fold in the remaining egg whites.
Spoon batter evenly into the greased and floured cake pans. Bake for 18-20 minutes or until a wooden toothpick inserted near the center comes out clean. Cool in pan on wire racks for 10 minutes before removing from pans and cooling completely on racks.
In a small bowl, stir the strawberry jam and 2 Tablespoons lemon juice together in a small bowl. Set aside.
To make the frosting, beat the cream cheese and granulated sugar together until smooth. Add the chopped strawberries and beat on low until combined.
In a separate bowl, beat the heavy cream and lemon juice until stiff peaks form. Fold the cream mixture into the strawberry cream cheese mixture and fold until combined.
To assemble the cake, place one layer on a cake plate and spread the layer with the strawberry-lemonade jam. Repeat with the second and third layers. Top with the 4th layer and frost with strawberry frosting.
You May Also Like These Delicious Strawberry/Lemon Desserts!
Just click on the links below to go straight to the recipe.