My daughter, Rebekah, is a very good cook and a wonderful mom to my four precious grandsons.  A few years ago she decided to make and sell fudge for the holiday season.  She got busy in her kitchen and promptly created several original fudge recipes and she was in business.   After giving birth to her 4th and last boy a couple of years ago, she has been way too busy to keep her little fudge business going (maybe she will do a restart later) but after much cajoling, she gave me one of her recipes to share here.  She kept debating whether she would share her Birthday Cake Fudge or her Cookies and Cream Fudge.  In the end, Rebekah's cookies and cream fudge won out.
This fudge is not only delicious, but it's best made a couple of days ahead of time.  Enjoy!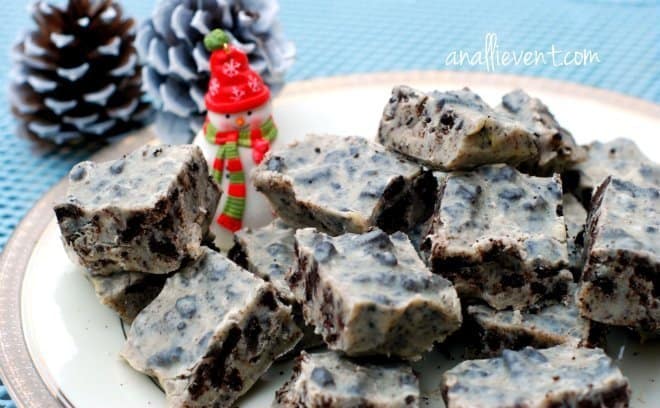 Rebekah's Cookies and Cream Fudge
Ingredients
2 T butter
1 can sweetened condensed milk
1 bag white chocolate chips (12 oz.)
1 tsp. vanilla extract
½ package crushed Oreos
Instructions
Line a 9" x 9" pan with foil and butter the foil. In a medium saucepan over medium low heat, combine sweetened condensed milk and butter until the butter is melted. Stir constantly. Add white chocolate chips and continue to stir until chips are melted. Remove from heat and stir in the vanilla and crushed Oreos. Mix well and pour into buttered pan. Smooth top and place in the refrigerator for 24 hours (or longer) to harden. Cut into small squares before serving.
Do you make fudge?  If so, what's your favorite fudge recipe?  The only fudge I ever make is Fast Fudge.  But after taking these pictures of Rebekah's cookie and cream fudge, I may just have to try to recreate her recipe.  I'm wondering if mine will be as good and look as pretty.

Print Friendly