My favorite fall dessert recipes usually include pecans. Chocolate Fudge Pecan Pie combines two of my favorite foods – pecans and chocolate. Stir pecans into a chocolate custard, bake in a pie crust and serve warm with vanilla, chocolate or coffee ice cream. This is a comfort dessert to the max.
For even more recipes with pecans, check out my Best Recipes Featuring Pecans.
I always serve pecan themed desserts at Thanksgiving and Christmas. During the holiday season, I bake traditional pecan pies, Dixie's pecan cobbler, and Chocolate Fudge Pecan Pie.
My dad's pecan trees haven't produced in the last couple of years and I've about depleted my stash of frozen pecans. GA pecans are the best in the world and my fingers are crossed for a good crop next fall.
For this recipe, you can use a premade pie crust or make it yourself. I have to admit that pastry is not my strong suit. So, I usually buy pre-made pie crusts. You can find them in the refrigerated section of your local grocery store.
Pie Crust Recipe for Chocolate Fudge Pecan Pie
If you want to make your own pie crust for this chocolate pecan pie, here is the recipe. It makes one pie crust.
1 cup all-purpose flour
1/2 teaspoon salt
1/4 cup plus 2 tablespoons shortening, chilled
2-3 tablespoons cold water
In a medium bowl with a fork, lightly stir together the flour and salt. Using a pastry blender, cut in the shortening until mixture resembles coarse crumbs, about the size of peas.
Sprinkle in cold water, a tablespoon at a time, mixing lightly with a fork after each addition until the pastry just holds together. Shape the pastry into a ball. Wrap in plastic wrap and refrigerate for 30 minutes.
On a lightly floured surface, roll pastry into a 1/8″ thick circle, 2 inches larger (all around) than the pie plate. Roll half of the pastry circle gently onto the rolling pin and transfer to pie plate. Unroll, easing into bottom and sides of plate.
With kitchen scissors or a sharp knife, trim the pastry edges, leaving a 1″ overhang. Fold overhang under and pinch to form a high edge. Use your fingers to flute edges.
Secrets To A Perfect Pie Crust
The secret to a good pie crust is to use shortening (not butter) and ice-cold water. Cut in the shortening until the mixture resembles coarse crumbs. But don't overmix!
Chocolate Fudge Pecan Pie
It doesn't take very long to mix all the ingredients together for this pie. I always start with a clean kitchen and all the ingredients. You can whisk the ingredients right in the saucepan. It doesn't get any easier.
Prepare the pie crust and set aside. Preheat the oven to 350ºF.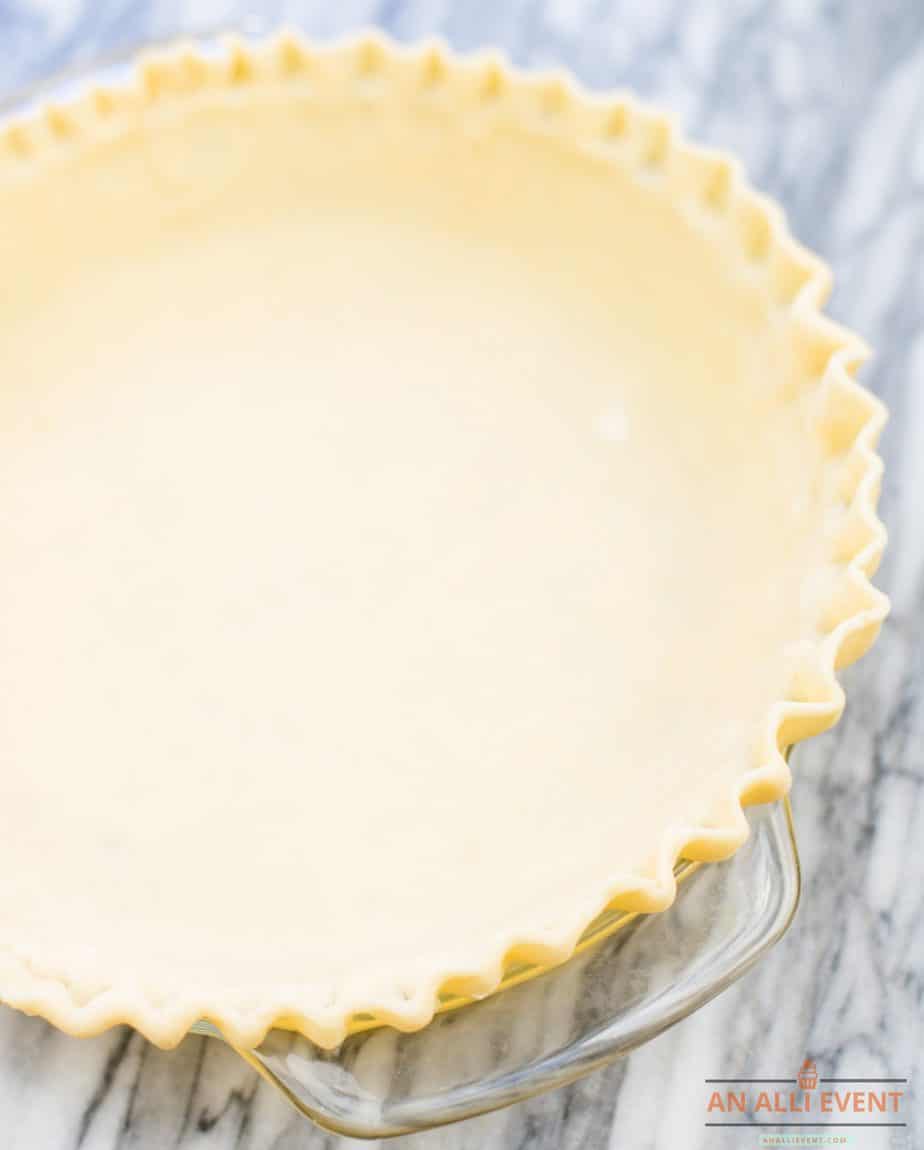 Melt two squares of chocolate and butter in a saucepan over low heat, stirring often, until just melted. Remove from heat.
Add the two sugars, milk, corn syrup, vanilla, salt, and eggs. Mix well with a wire whisk. Make sure to use a silicon-coated wire whisk if you use a nonstick saucepan. Stir in pecans.
Pour the pecan mixture into the pie crust and bake for 50-55 minutes or until filling is puffed.
I always place the pie plate on a baking sheet before baking. It makes it easier to remove the pie from the oven.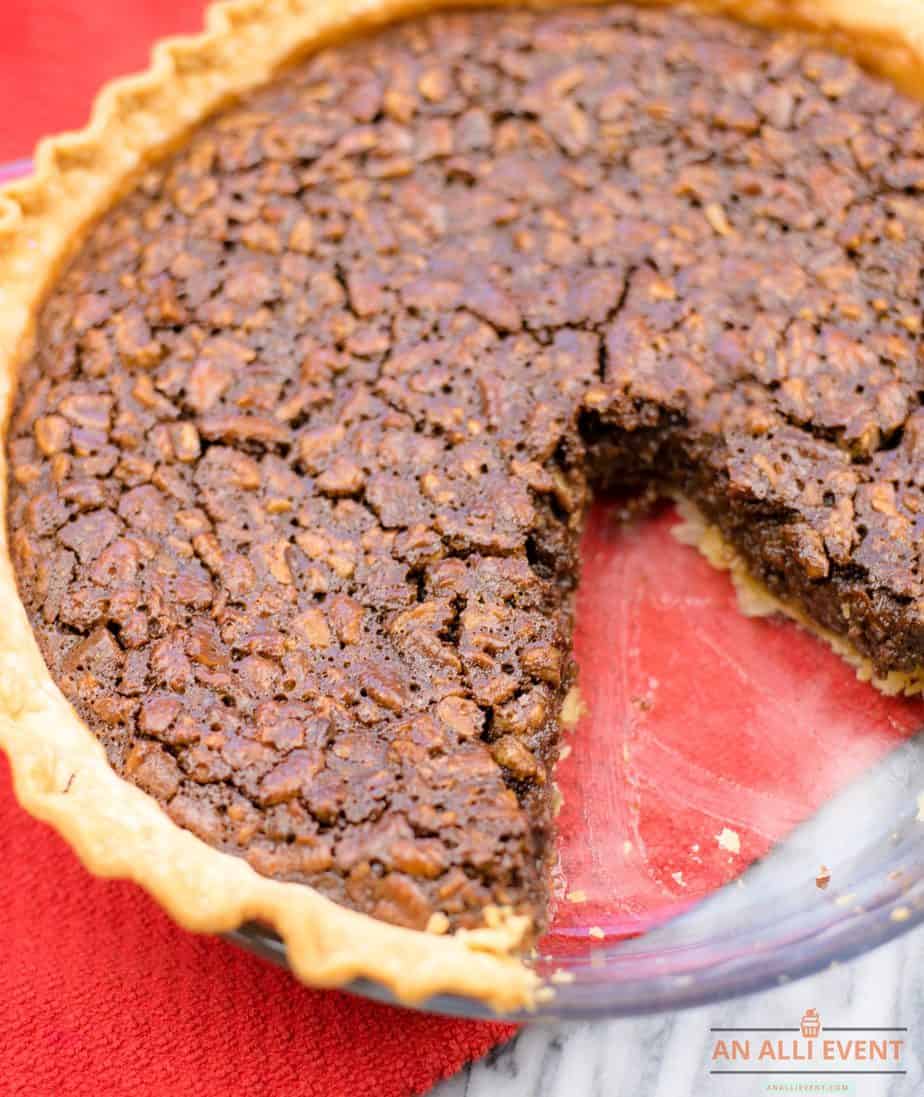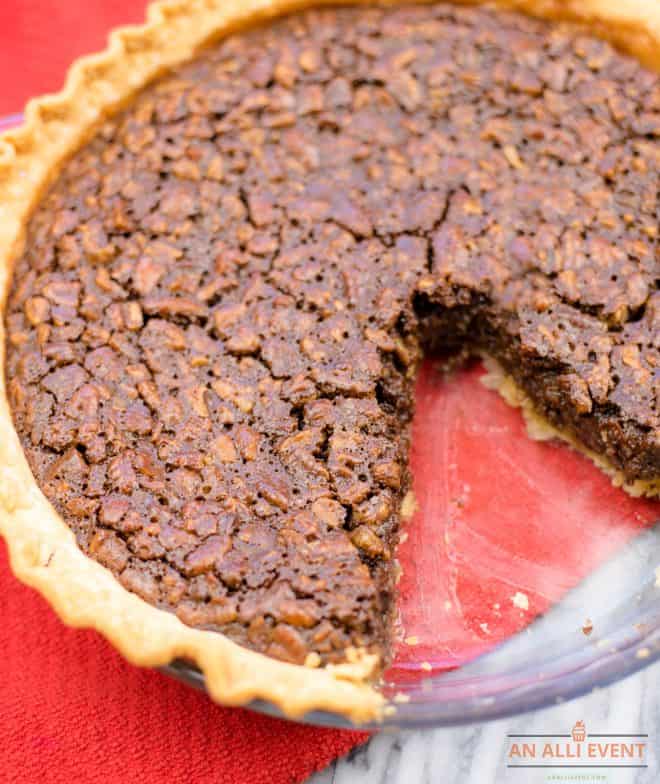 Yield: 8 servings
Chocolate Fudge Pecan Pie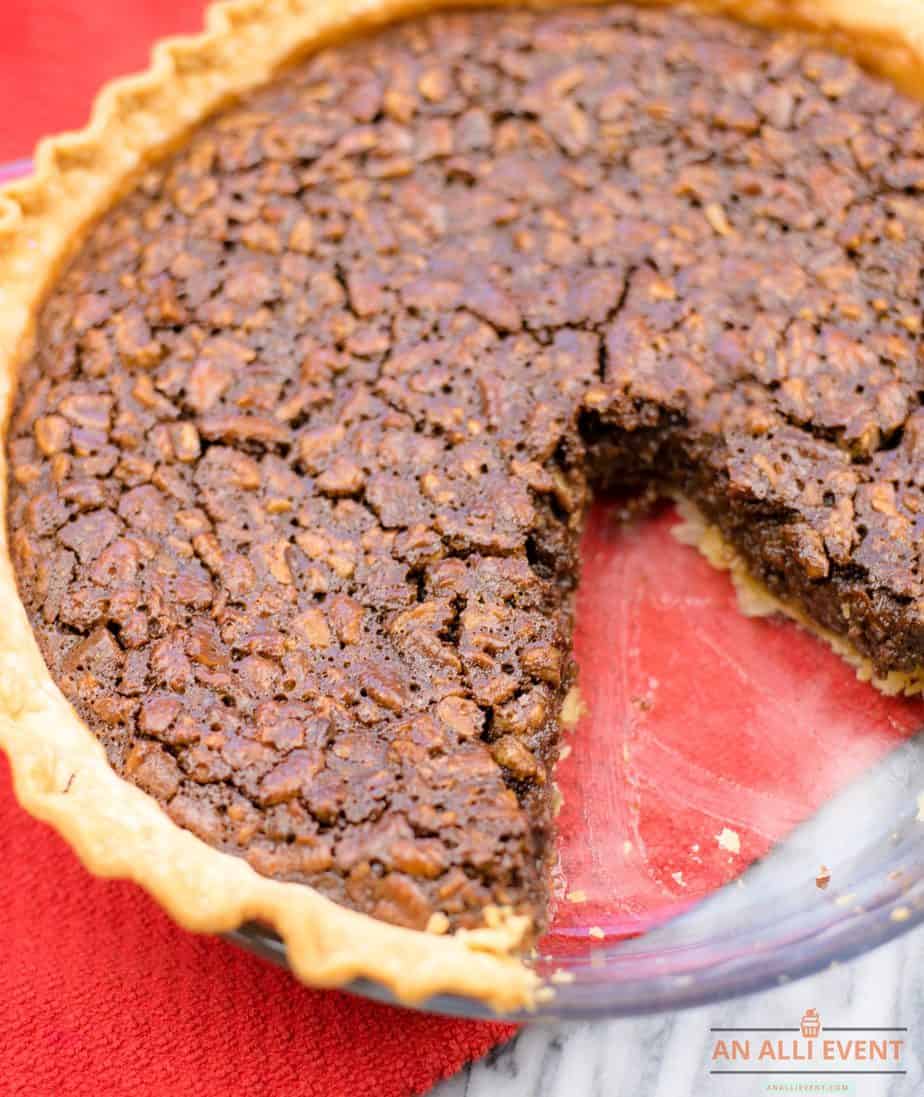 Chocolate Fudge Pecan Pie - Pecans are stirred into a chocolate custard, baked in a pie crust and served warm with vanilla ice cream.
Ingredients
1 9-inch unbaked piecrust
2 squares (2 oz.) unsweetened chocolate
1/4 cup butter
3/4 cup sugar
1/2 cup packed light brown sugar
1/2 cup milk
1/4 cup corn syrup
1 teaspoon vanilla extract
1/4 teaspoon salt
3 eggs
1 cup chopped pecans
Instructions
Preheat oven to 350ºF.
In a two-quart saucepan over low heat, heat chocolate with butter just until melted. Remove from heat.
Add sugar and brown sugar, milk, corn syrup, vanilla, salt, and eggs. With a hand mixer or whisk, beat until well mixed. Stir in the chopped pecans.
Pour mixture into piecrust. Bake for 50-55 minutes until filling is puffed. Cool. Serve with vanilla, coffee or chocolate ice cream, if desired.
Nutrition Information
Yield
8
Serving Size
1
Amount Per Serving
Calories

472
Total Fat

27g
Saturated Fat

9g
Trans Fat

0g
Unsaturated Fat

16g
Cholesterol

86mg
Sodium

248mg
Carbohydrates

54g
Fiber

3g
Sugar

40g
Protein

7g
You May Also Like