My grandkids always say that I make the Best Oreo Truffles. I never tell them how easy these are to make.
I've been making Oreo Truffles for years! Adults love these truffles just as much as the kids do. They are perfect for holiday parties and I usually double the recipe.
I've included affiliate links for your convenience. As an Amazon Associate, I earn from qualifying purchases.
My Oldest Grandson's Favorite Desserts (Including Oreo Truffles)
A few weeks ago, I asked my grandkids what they wanted for Sunday dessert. My oldest grandson immediately named his top 5 desserts that I make. Here they are (in no particular order):
When I made Oreo Truffles for dessert, the grandkids said they were taking the leftovers to school the next day to sell to their classmates. It was a joke (I think) and I laughed so hard. I thought they were going to fight over them.
Ingredients for Oreo Truffles (full printable recipe at the end of the post)
Oreo Cookies (not double stuff)
Cream cheese
Candiquik (chocolate or vanilla) OR melting wafers
Why I Always Use Candiquik As A Dipping/Coating Chocolate
One reason I use Candiquik is convenience.
You can use melting wafers or Candiquik in this recipe. I always use Candiquik. You can find it at your local grocery store, Target, or Walmart. It's located in the baking aisle. You can also find Candiquik on Amazon!
Candiquik is easy to melt. It comes in a microwavable tray so there's no fuss or mess. Candiquik can be reheated and reused. It contains premium ingredients and all-natural flavors.
My grandkids prefer the Oreo balls dipped in vanilla Candiquik. The last time I made them, I only had chocolate on hand. Believe me, there were no complaints. I had some white chocolate chips so I melted those and drizzled over the chocolate.
Tips for Making Oreo Truffles
Back in the day, I would roll the cream cheese/oreo mixture into balls. These days, I use this cookie scoop and I just scoop them out and plop them down on a wax paper-lined cookie sheet before placing in the freezer for 15 minutes to chill. This is a game-changer when making truffles!
Don't leave the balls in the freezer for longer than 15 minutes. If they freeze, it can cause the dipping chocolate to crack.
I use a fork to dip the balls, but I don't spear them. I place the fork under the balls, dip them into the chocolate and then let the chocolate drip back into the tray before placing the truffles on the cookie tray to harden.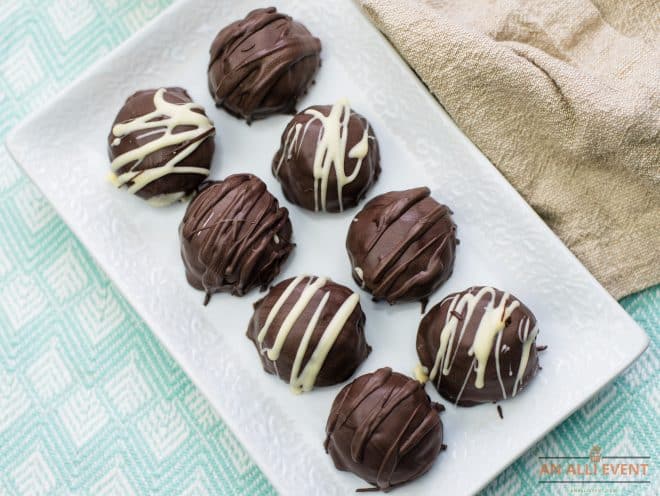 You May Also Like To Try These Favorite Recipes
Yield: 32 Truffles
Oreo Truffles
Oreo Truffles - Oreo crumbs are mixed with cream cheese and rolled into balls before dipping in chocolate.
Additional Time
15 minutes
Ingredients
36 Oreo cookies
8 oz. block of cream cheese, softened
Candiquik Chocolate OR Vanilla Coating
Instructions
Place Oreos in a food processor and pulse until you have fine crumbs.
In a stand mixer, beat softened cream cheese on medium speed until smooth.
Add the Oreo crumbs to the softened cream cheese and mix on low speed until well combined.
Scoop the cream cheese/oreo mixture with a 1-1/2 Tablespoon cookie scoop and place on a parchment or wax paper-lined cookie sheet. Place in the freezer for 15 minutes.
Melt Candiquik in the microwave according to package directions. Remove the Oreo balls from the freezer and dip each ball in the Candiquik coating, covering completely. Let harden on the paper-lined cookie sheet.
Once the truffles are completely dry, store at room temperature in a dry, sealed container.