This post, Heart Healthy Turkey Chili, was sponsored by Collective Bias, Inc. and ConAgra Brands. All opinions are mine alone.
February has a special place in my heart. It's Heart Health Month and I'm finally ready to tell the story of my own heart. I also want to share my family's favorite Slow Cooker Heart Healthy Turkey Chili. Here goes!
Psst: If you don't want to read my story, feel free to click "Jump to Recipe" at the top of this page!
September 13, 2011, will be forever imprinted on my mind. It's the day a stent was implanted in the left anterior descending artery (LAD) of my heart. When the main artery down the front of the heart (LAD) is totally blocked or has a critical blockage, it is often referred to as the Widow Maker. Mine was 99% blocked. Yikes!
When people ask me what symptoms prompted me to rush to the emergency room on the night of September 11, 2011, I immediately blurt out, "Severe heartburn."
Let's Back Up and Start at the Beginning
In late August of 2011, I was enjoying a week at the beach with the entire family. Our condo is on the 7th floor and I'd take the stairs instead of the elevator in order to get my daily steps in.
My son-in-law noticed I was out of breath one day after walking up seven flights of stairs and asked me if I was OK. I exercised on a fairly regular basis and I joked that I must be more out of shape than I thought.
I Thought It Was Heartburn
After we returned home, I began having constant indigestion. I've never suffered from indigestion before and thought it a little strange. Then the "heartburn and indigestion" got worse.
Then It Happened!
On the evening of September 11, I was busy packing my suitcase for a business trip the next day. I ran out to the mailbox (I mean I really ran, not walked) to check the mail and when I returned to the house, I was out of breath. The heartburn was worse and I felt a tingling pain running down my left arm.
My husband had been bugging me to make an appointment with my doctor. I kept telling him it was heartburn and would eventually go away.
I'm so stubborn! When the tingling began in my left arm, my husband rushed me to the emergency room.
The emergency room takes heart-related pain seriously, so I was immediately taken back to a room. As they prepared to run an EKG, I kept telling them it was just severe heartburn.
The EKG showed that something was up and they took me to a room that was a step up from the emergency room for overnight observation.
The Saga of my Heart Continues
At 5 AM on September 12th, a cardiologist stopped by to check on me and informed me they were taking me to the Cath Lab to have a look around. A catheter was inserted into a vein in my wrist and threaded through my blood vessels to my heart. That's when they found out my Widow Maker artery was 99% blocked.
Because the hospital I was in didn't actually perform stent implants, I had to be transferred to a larger hospital. On September 13th, the stent procedure was done.
Thankfully, all went well. My doctors and nurses kept saying I was too young to go through this and had no pre-existing reasons for me to have a clogged artery.
It was beyond scary and I admit I cried off and on for two solid weeks after having the procedure done. I'm so glad that I didn't have a heart attack because of my husband's insistence that I go to the emergency room. After that ordeal, I decided to get as healthy as possible.
Heart Healthy Turkey Chili
These days I try to eat right 80% of the time and I've learned to tweak my favorite recipes in order to make them more healthy for my heart.
For instance, my Heart Healthy Turkey Chili is delicious and the family doesn't know that it's better for them.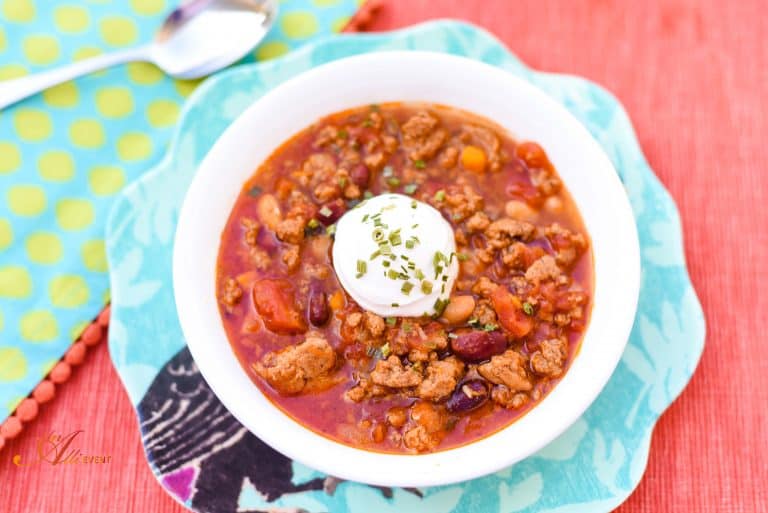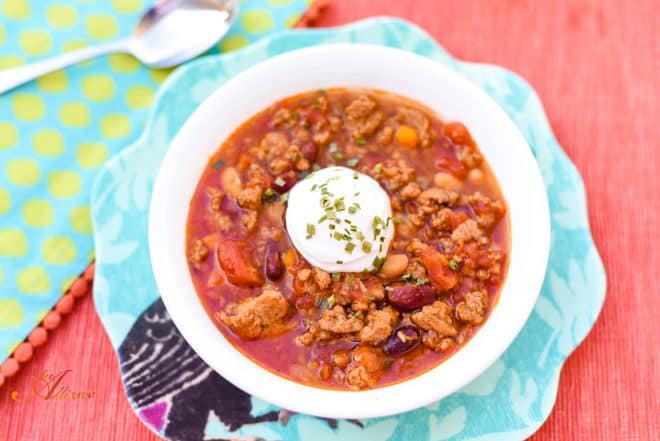 Whenever I'm shopping at Walmart, I always stock up on fresh produce and Hunt's Tomatoes. I've found that keeping my pantry stocked with staples that are good for me keeps me on track when it comes to fixing healthy dishes for my family.
Slow Cooker Heart Healthy Turkey Chili
In a large skillet, brown the ground turkey, chili powder, and diced onions over medium-high heat. Drain and place the turkey mixture in a slow cooker.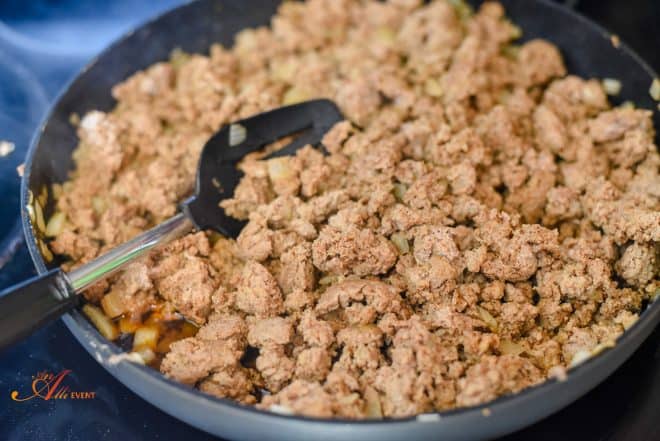 Add the Hunt's Diced Spicy Red Pepper Tomatoes, peeled and diced sweet potato, beans, chipotle chilis, chicken broth, and spices.
Stir to combine and cook on low for 6-7 hours or on high for 4 hours.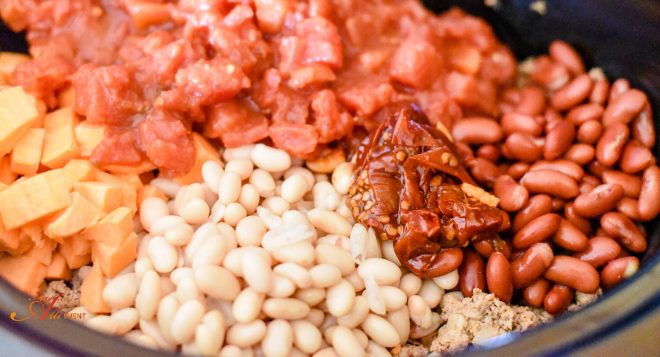 How To Freeze Turkey Chili
My Heart Healthy Turkey Chili is even better the next day. If I'm planning on eating leftovers for lunch the next day, I store the chili in an airtight container in the fridge.
You can also freeze the leftovers in family-sized portions for up to six months. Scoop each portion into a freezer container or bag, leaving 1/2″ empty space at the top.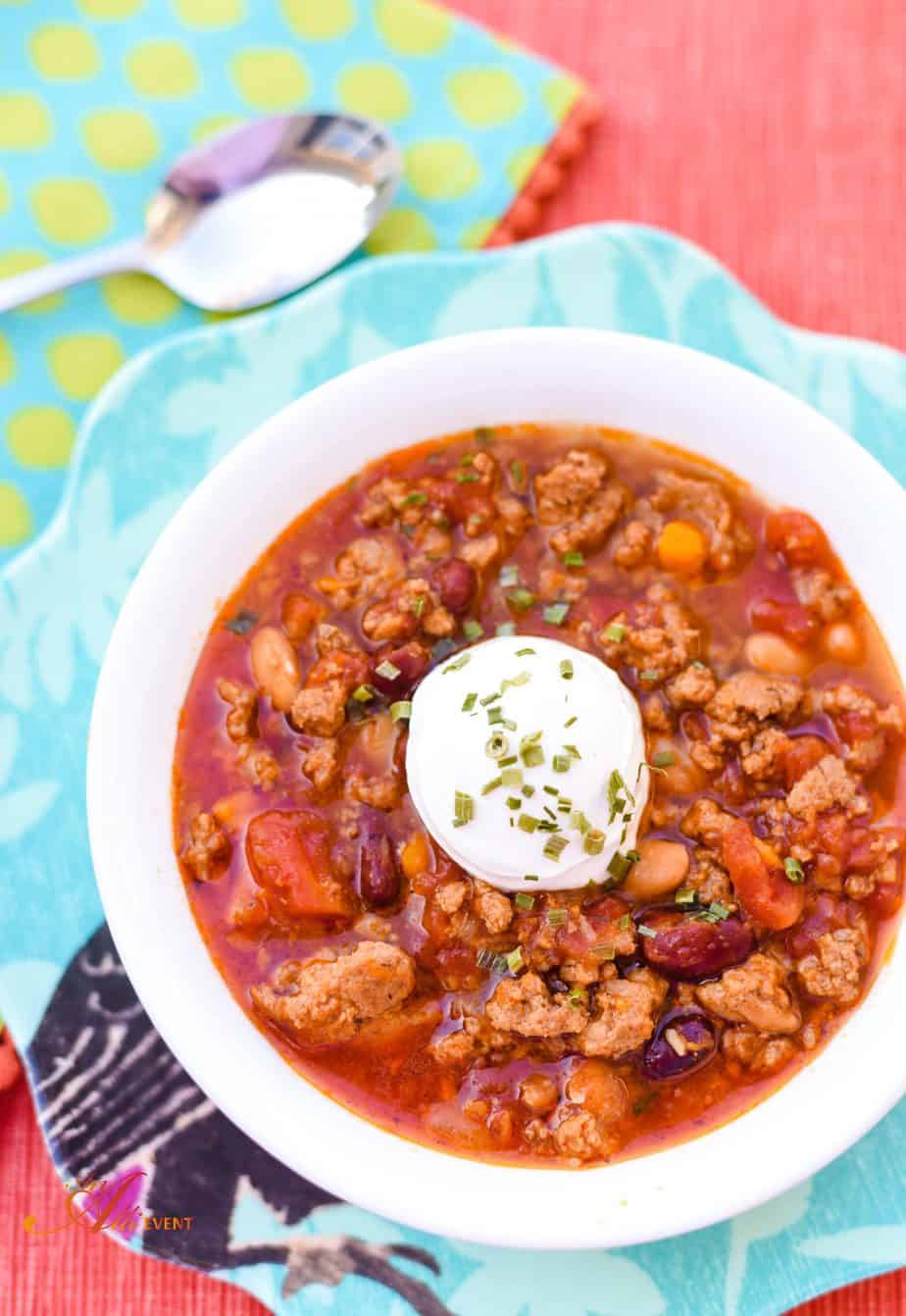 Yield: 8-10 servings
Slow Cooker Heart Healthy Turkey Chili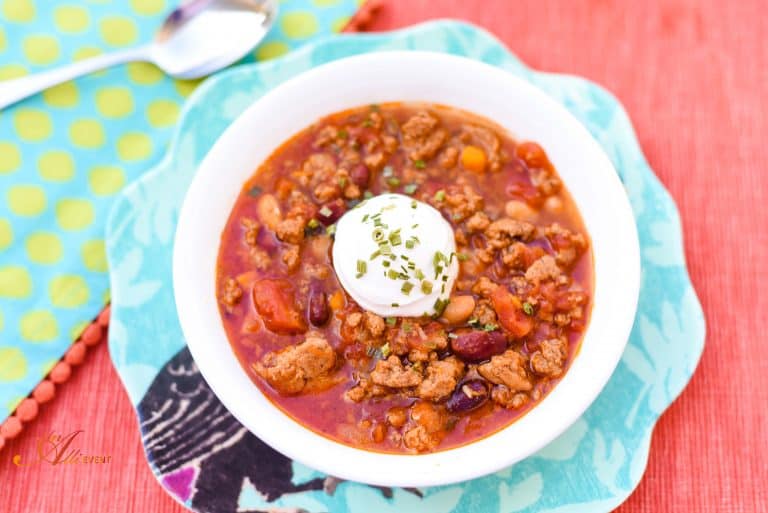 Heart Healthy Turkey Chili simmers in the slow cooker all day. The seasonings, beans, and tomatoes add the best flavor to this chili.
Total Time
6 hours
15 minutes
Ingredients
2 pounds ground turkey
1 medium onion, diced
3 tablespoons chili powder
1 can (15.5 oz.) white beans, rinsed and drained
1 can (16 oz.) kidney beans, rinsed and drained
2 cans (14.5 oz. each) Hunts Diced Tomatoes
1 medium sweet potato, peeled and cubed
1 can low-sodium chicken broth (14.5 oz.)
2 Tablespoons chipotle chilis in adobo sauce
1 teaspoon minced garlic
2 teaspoons ground cumin
1 teaspoon salt
Instructions
In a large skillet, add the ground turkey, diced onion and chili powder. Cook on medium-high heat, stirring occasionally, until the turkey is browned.
Place the ground turkey mixture in the slow cooker. Add all the remaining ingredients. Stir.
Cook on low for 6-8 hours or high for 4 hours.
Garnish with low-fat sour cream, if desired.
Nutrition Information
Yield
10
Serving Size
1
Amount Per Serving
Calories

323
Total Fat

17g
Saturated Fat

4g
Trans Fat

0g
Unsaturated Fat

11g
Cholesterol

97mg
Sodium

613mg
Carbohydrates

18g
Fiber

4g
Sugar

7g
Protein

27g
Be sure and try my Heart Healthy Turkey Chili. It's delicious, nutritious and a family favorite.
If you like this recipe, you'll love the recipes below!
Homemade vegetarian taco soup!
How To Roast A Turkey And Use The Leftovers For Turkey Panini
Originally posted in February 2017 and updated on Oct. 18, 2021