My St. Patrick's Day Lunch features a Reuben Sandwich. This Reuben is a family favorite and easy to make.
Take a wee bit of Irish (9%), mix with more than a bit of English (69%), and throw in a little Scandinavian (22%), and you've created me. To honor my Irish ancestry, I've created an easy, casual little lunch menu.
Technically, the Reuben sandwich is not an Irish thing, but corned beef is an American-Irish delight, so there!
Actually, some say that the Reuben is definitely Jewish, while others say that it's most certainly German. Whatever the case, I say it's scrumptious, so I'm featuring it for my St. Patrick's Day Lunch.
The Origin of the Reuben
This is what I found as I was researching the main event for my St. Patrick's Day Lunch: The origin of the Reuben is the source of much dispute. One story holds that Arthur Reuben invented the sandwich in 1914 at his New York City restaurant.
Another account says that a grocer named Reuben Kulakofsky created the sandwich in Omaha, Nebraska in the 1920s to feed a group of poker players at a late-night game.
I don't really care who invented the Reuben sandwich, the end result is a delicious and popular sandwich found at many delis nationwide and often in my kitchen. It's one of my husband's favorite sandwiches!
Ingredients For Reuben Sandwich (Full Printable Recipe Card Down Below)
Russian dressing (if you can't find bottled Russian dressing, here is an easy recipe.)
12 rye bread slices (this recipe makes six sandwiches)
12 Swiss cheese slices
refrigerated sauerkraut, drained
shaved deli corned beef
mayonnaise
butter
This Casual St. Patrick's Day Lunch Menu Includes:
Toasted Reuben Sandwiches

Tangy Cole Slaw
Homemade Potato Chips
Shamrock Milkshake Cupcake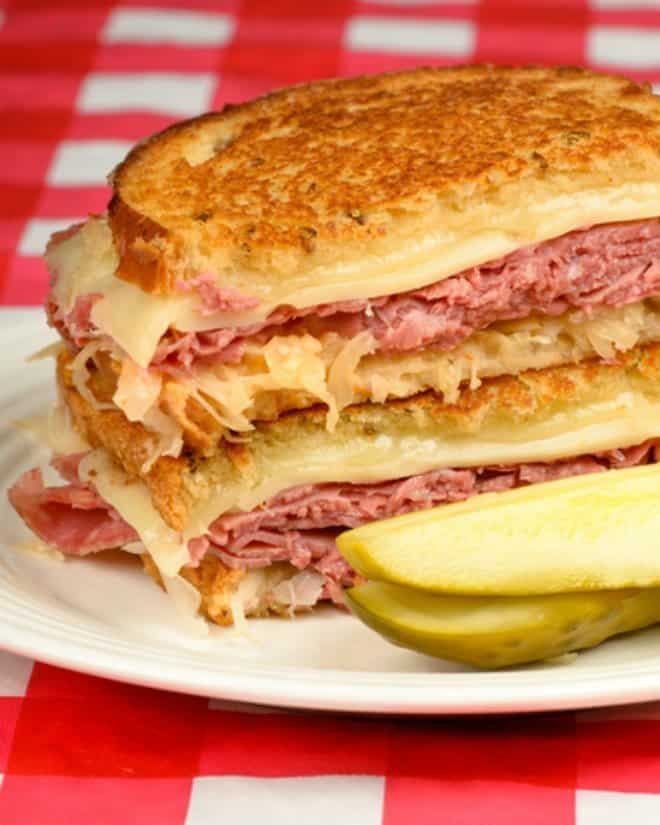 Recipe for Tangy Coleslaw for St. Patrick's Day Lunch
1/2 cup mayonnaise

1/4 cup dill pickle relish

1 T malt vinegar

2 T capers, drained

1 T spicy mustard

1 tsp. fresh tarragon, chopped

1/2 tsp. pepper

1 (10 oz) package finely shredded cabbage

1/2 cup thinly sliced green onions
Stir together the first seven ingredients in a large bowl. Add cabbage and onions and toss well. Store in the fridge.
Find the homemade potato chips here! They are scrumptious! But you can also buy some fancy, gourmet chips, already made!
Find Shamrock Shake Cupcakes here!
Hope you love my St. Patrick's Day Lunch as much as we do!
Yield: 6 servings
Reuben Sandwiches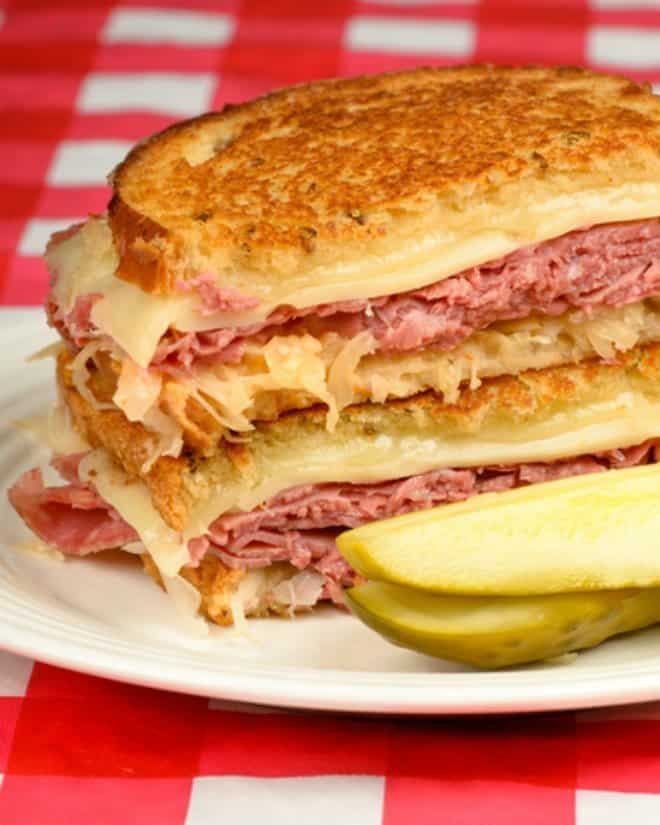 Reuben Sandwiches are family favorites and so easy to make.
Ingredients
1/3 cup Russian dressing
12 rye bread slices
12 Swiss cheese slices
1 cup refrigerated sauerkraut, drained
3/4 lb. shaved deli corned beef
1/3 cup mayonnaise
1/2 cup butter, softened
Instructions
Spread dressing on one side of six bread slices.
Top with one cheese slice, sauerkraut, corned beef, and another cheese slice.
Spread mayonnaise on one side of the remaining six slices of bread.
Place bread slice, mayo side down, on top of the cheese. You will have six sandwiches. Spread both sides of bread with softened butter.
Heat a large nonstick skillet or griddle over medium heat. Cook sandwiches, in batches, 2 minutes per side until bread is golden and cheese is melted.
Try These Delicious Recipes Below!