Tuna Fruit Salad is sponsored by Tonnino Gourmet Tuna. All opinions are my own.
Tuna Fruit Salad with Greek Yogurt Dressing is full of colorful fruits and tossed with a creamy yogurt dressing. It's the perfect salad for spring and summer.
During the summer months, I like to serve salads that are light and fresh. It's a bonus if they have fruit and yogurt in the mix. Tuna Fruit Salad is perfect for lunch or for a light dinner.
It's way too hot in my South Carolina kitchen to turn on the stove, so this is my go-to recipe for a light lunch.
Tuna Fruit Salad
In a large bowl, stir together vanilla Greek yogurt and orange peel. Add peeled and sectioned oranges, honeydew melon, halved strawberries and green onions.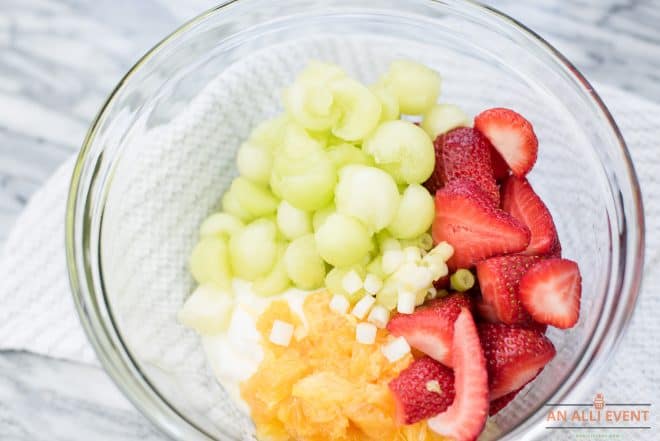 Toss gently to coat. Add drained and flaked tuna. Cover and chill for 2-4 hours.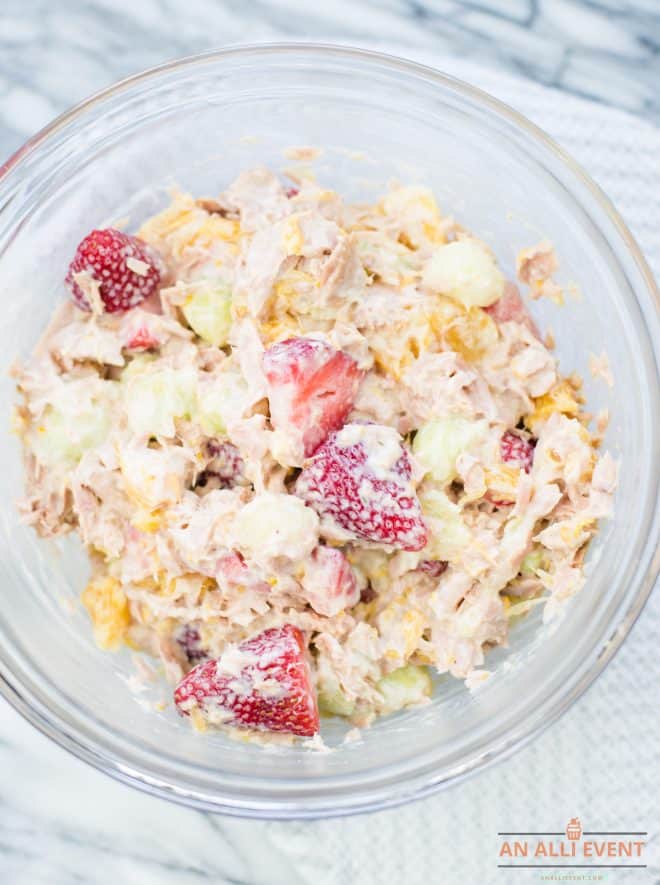 I like to serve this tuna fruit salad on lettuce leaves. Sprinkle the salads with toasted pecans before serving.
How to Toast Pecans
Toast the pecans in a dry skillet over medium heat. Shake the pan or stir the nuts occasionally until lightly browned and aromatic – about 5 minutes
Tuna Is Good For You
When it comes to tuna, I prefer Tonnino Gourmet Tuna®. Tonnino Tuna is the leader of the finest cuts of wild-caught yellowfin tuna.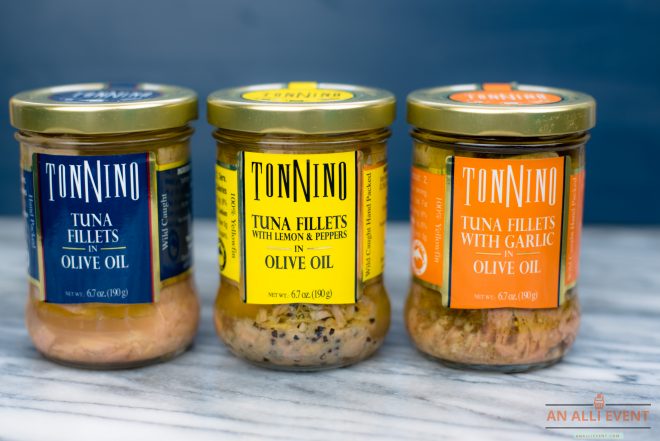 I love that Gourmet Tonnino Tuna Fillets are 100% yellowfin tuna, low-mercury, dolphin-safe, and wild-caught.
Plus, a serving of tuna contains less than 1 gram of fat and is less than 100 calories.
Tuna is a good source of protein and is also good for our hearts. Plus, studies have shown that tuna is loaded with vitamins and minerals and helps lower blood pressure and cholesterol.
Fruit Substitutes
If you don't have time or inclination to segment the oranges, substitute an 11-ounce can of drained mandarin oranges. You can substitute the honeydew with cantaloupe or buy already cubed fruit in the produce or deli area of your local grocery store.
You can also use a melon baller instead of cubing the honeydew. I have a melon baller that has two different size ballers on each end. I use the small one for the honeydew melon.
Make sure you drain the tuna well. Also, pat all the fruit dry with a paper towel before making this salad.
How To Store Leftovers
This salad is best served the same day you make it. It can be stored in the refrigerator for 2-3 days. It tends to get watery the second day because of the fresh fruit.
Yield: 6 servings
Tuna Fruit Salad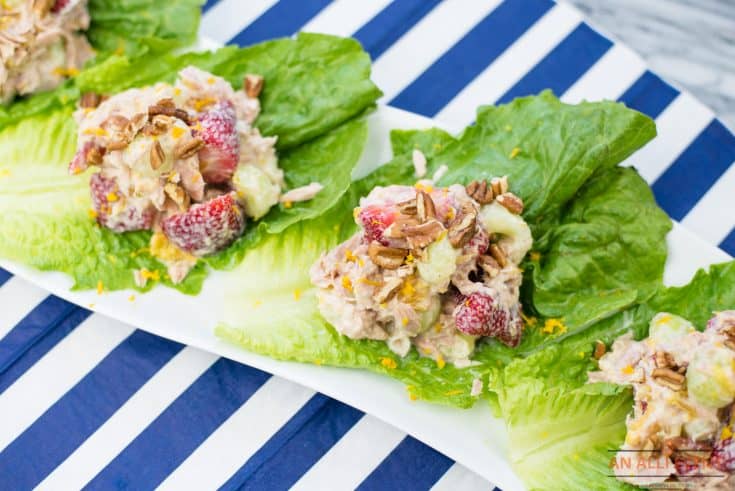 Gourmet tuna is tossed with colorful fruit and a Greek yogurt dressing and chilled for 2-4 hours. Serve on lettuce leaves.
Total Time
4 hours
20 minutes
Ingredients
1 (8 oz.) carton Greek vanilla yogurt
1 teaspoon orange zest
2 oranges, peeled and sectioned
1-1/2 cups cubed honeydew melon
2 Tablespoons thinly sliced green onions
1-1/2 cups strawberries, hulled and sliced
1 jar Tonnino Tuna Fillets with Lemon & Pepper, drained and flaked
1/4 cup chopped pecans, toasted
Lettuce leaves, for serving
Instructions
In a large bowl, stir together the yogurt and orange zest. Add orange sections, honeydew, strawberries and green onions. Toss gently to coat.
Add tuna. Toss gently. Cover and chill for 2-4 hours.
Place a lettuce leaf on each salad plate. Spoon tuna fruit salad onto the lettuce leaf. Sprinkle salads with toasted pecans.
Notes
You can substitute an 11-ounce can of drained mandarin oranges for the two fresh, segmented oranges. Also, I pat all the fruit dry before mixing with the Greek yogurt.
Nutrition Information
Yield
6
Serving Size
1
Amount Per Serving
Calories

123
Total Fat

4g
Saturated Fat

0g
Trans Fat

0g
Unsaturated Fat

3g
Cholesterol

7mg
Sodium

61mg
Carbohydrates

17g
Fiber

3g
Sugar

12g
Protein

8g
You can find Tonnino Tuna at Whole Foods. Make sure to follow along on
Facebook
and
Instagram
for more great recipes.
You May Also Like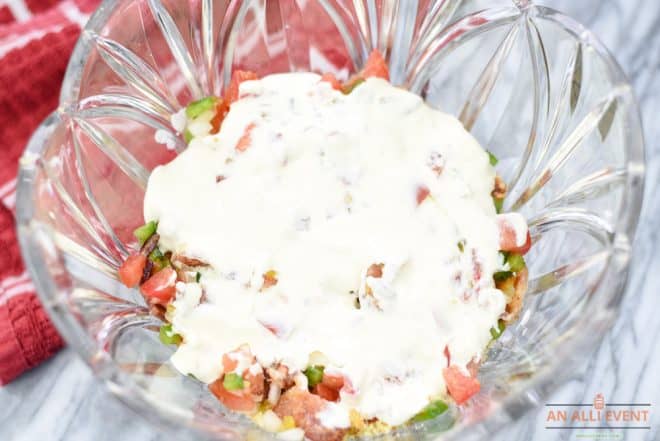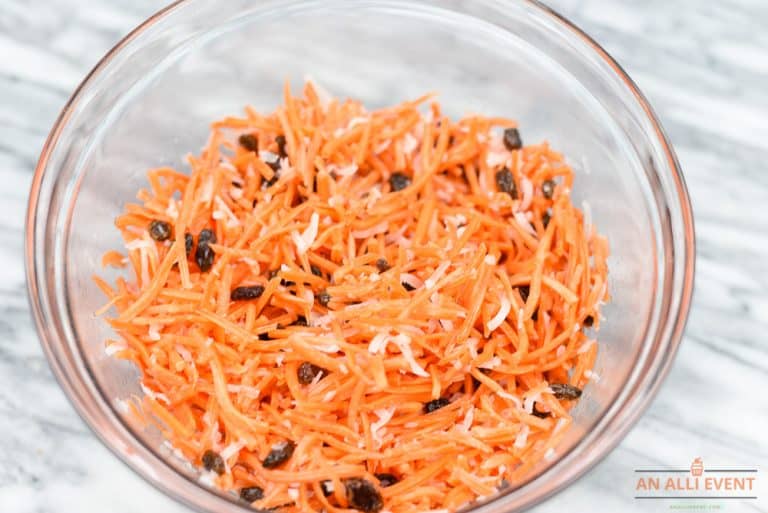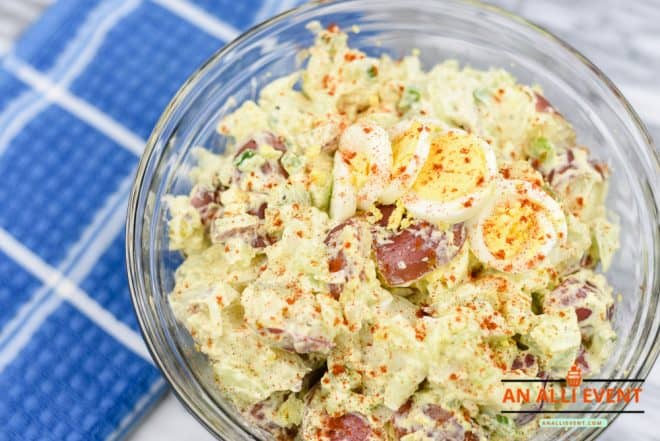 Tropical Cheesecake Fruit Salad