A summer get-together calls for delicious potato salad. Whether you're planning a picnic, grilling out or planning a family reunion, potato salad must be on the menu.
This Cajun Potato Salad is my favorite way to prepare potato salad. I also refer to this recipe as potato salad with a twist.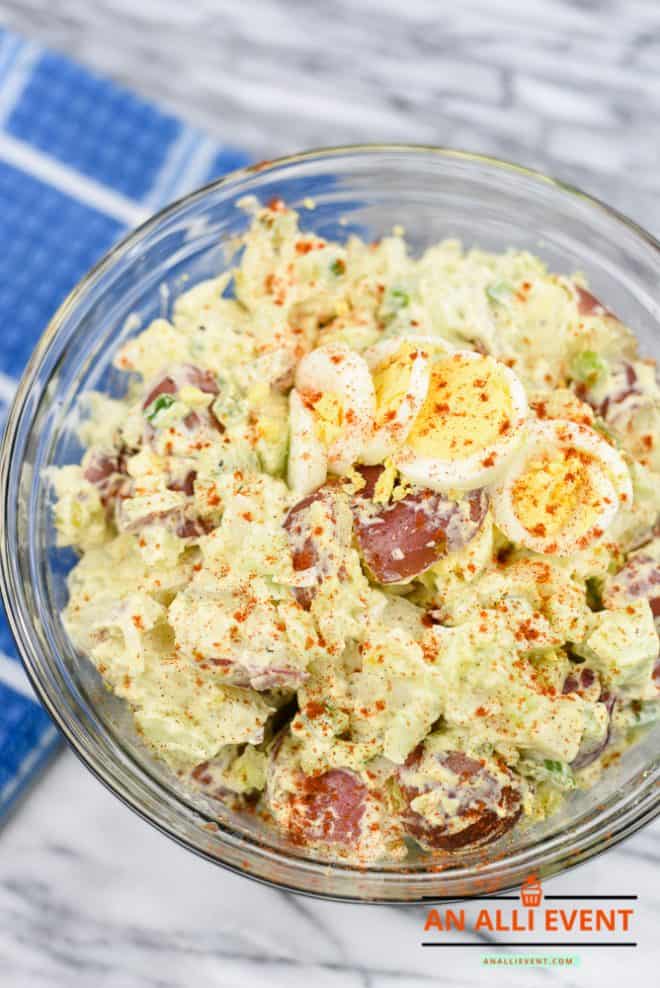 When it comes to potato salad, recipes vary from one good cook to the next. Some potato salad recipes are heavy on the mayo. Some are heavy on the mustard. Others are vinegar-based. This salad dressing includes it all, plus some ingredients that may surprise you.
Cajun Potato Salad Ingredients At A Glance
Yukon gold potatoes (or small red potatoes)
hard-boiled eggs
diced onion
diced bell pepper
celery
radishes
cucumber
pepperoncini pepper (the ones in a jar)
cajun seasoning
salt to taste
Homemade Cajun Potato Salad Dressing Ingredients
mayonnaise (I use Duke's)
Worcestershire sauce
prepared mustard
pepperoncini juice
How To Make Cajun Potato Salad
I prefer using Yukon Gold or red potatoes when I'm making Cajun Potato Salad. I scrub the skins and leave them on because I like it that way. If you don't like the skins, peel the potatoes before boiling.
Scrub the potatoes and cut them into bite-sized chunks. Place the potatoes in a saucepan, cover with water and bring to a boil.
Once the water is boiling, add a generous amount of salt. It should take between 10-15 minutes to cook the potatoes. Drain well.
Don't overcook the potatoes or you'll have seasoned mashed potatoes! You want them to be fork-tender.
You'll also need three hard-boiled eggs. You can buy eggs already boiled, but I like to do it myself. It's so simple.
Place three eggs into a medium-sized saucepan. Cover with water and bring to a boil. Cover with a tight-fitting lid and remove from heat. Let eggs sit in the water for 18 minutes. Drain eggs and put them in a bowl of ice water. Peel the eggs once they have cooled.
Place cooked potatoes in a large bowl. Add two chopped eggs, diced onion, bell pepper, celery, radishes, cucumbers, and pepperoncini peppers. Sprinkle with 1/4 – 1/2 teaspoon Cajun seasoning.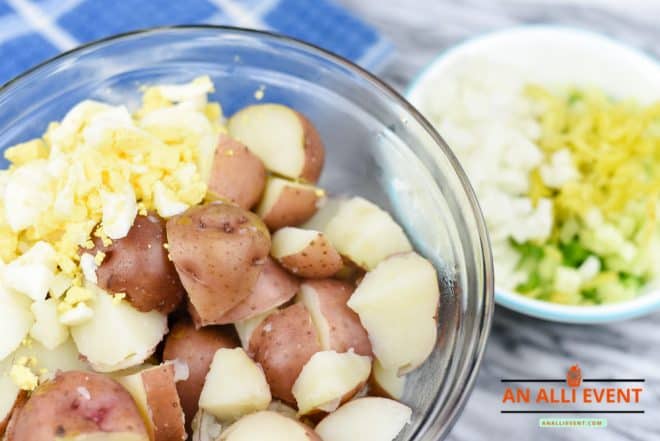 Stir in the salad dressing.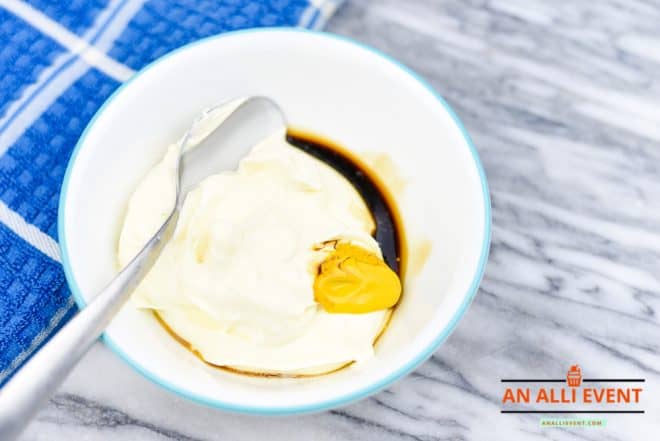 Garnish with the third egg. You can also sprinkle a little paprika over the potato salad before serving.
I like to make this ahead of time to allow the flavors to blend. Keep refrigerated.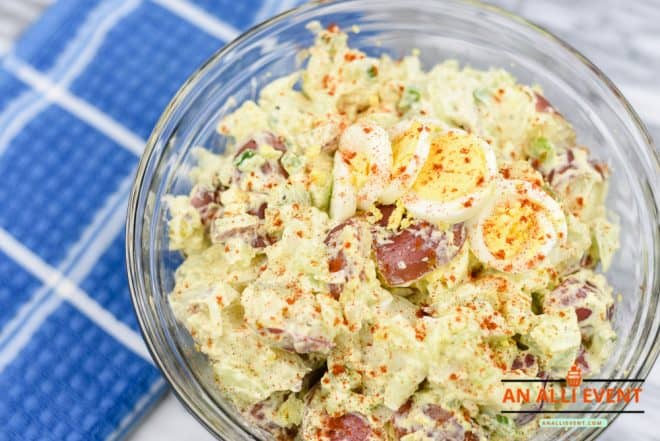 Yield: 6 servings
Cajun Potato Salad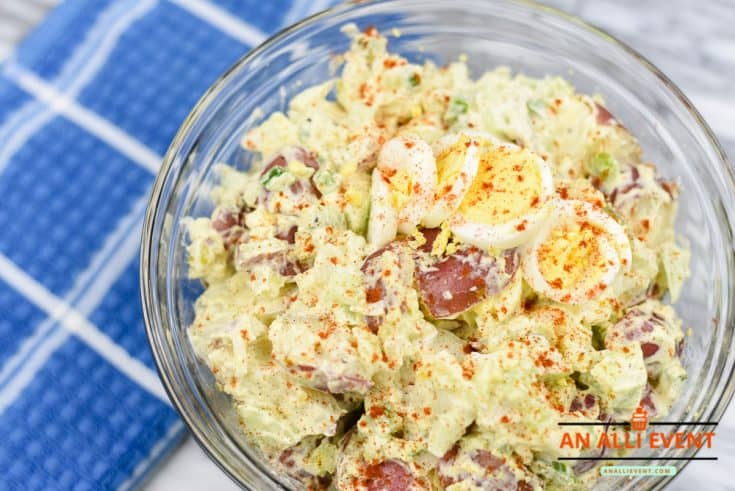 Cajun Potato Salad is bursting with flavor and has just the right amount of seasonings. This potato salad is perfect for cookouts, weekends, or any time you want a delicious side dish.
Ingredients
1 and 1/2 pounds red or Yukon Gold potatoes , cubed and cooked
3 hard-boiled eggs
1 small onion, diced
1/2 bell pepper, diced
2 stalks celery, diced
6 radishes, sliced
1/2 cup cucumber, diced
1 Pepperoncini pepper, minced
1/4 - 1/2 teaspoon Cajun Seasoning
Salt to taste
Salad Dressing
1 cup mayonnaise
1 1/2 teaspoons Worcestershire sauce
3/4 teaspoons prepared mustard
1/2 teaspoon Pepperoncini juice
Instructions
Add cooked potatoes to a large bowl. Chop two eggs and add along with the other vegetables.
Sprinkle with Cajun seasoning. Salt to taste.
Salad Dressing
Mix together the mayonnaise, Worcestershire sauce, mustard and Pepperoncini juice. Gently stir into the potato and vegetable mixture.
Make a few hours ahead of time to allow the flavors to blend. Store in the refrigerator.
Recommended Products
As an Amazon Associate and member of other affiliate programs, I earn from qualifying purchases.
Nutrition Information
Yield
6
Serving Size
1
Amount Per Serving
Calories

360
Total Fat

30g
Saturated Fat

5g
Trans Fat

0g
Unsaturated Fat

24g
Cholesterol

109mg
Sodium

659mg
Carbohydrates

17g
Fiber

2g
Sugar

7g
Protein

5g
I served this Cajun Potato Salad for Sunday lunch and everyone kept talking about how good it is. It's my favorite way to make potato salad.
Try These Delicious Recipes Below!