It's definitely soup weather at my house! For the past few days, it's been colder here in South Carolina than at my sister's house in Colorado. I've been making all of my favorite soups, including my favorite baked potato soup and delicious sweet potato soup.
I'm a sissy when it comes to cold weather. I often tell my husband that the cold makes my bones hurt and I want to move to the Caribbean and never face another cold day. He kinda rolls his eyes and chuckles.
On the coldest of days, you can find me working from home in sweats and wrapped in a soft throw blanket. You'll also find me dreaming of soup, especially Sweet Potato Soup.
So, let's get on with the recipe.
Sweet Potato Soup
This is an easy recipe, once you chop all the sweet potatoes. You need about 14 cups of peeled and cubed sweet potatoes. So, do that first.
Heat canola oil in a dutch oven over medium heat. Add chopped onion, ginger and garlic and cook until softened, about 5 minutes.
Add sweet potatoes, vegetable broth (easy, homemade recipe below), salt, turmeric, lemon zest and cayenne pepper. Bring to a boil over medium-high heat. Lower the heat to medium-low and simmer for about 20 minutes or until potatoes are tender.
Skim 1/4 cup thickened coconut cream from the top of coconut oil, whisk with 2 tablespoons lemon juice and set aside.
Whisk the remaining coconut cream and one tablespoon lemon juice in a bowl until smooth. Add to the soup.
Carefully place soup in a blender (in batches). Remove the centerpiece of the blender lid to allow the steam to escape. (I took this photo after I had pureed one batch so excuse the mess!)
Place lid on blender and cover the open center with a clean dish towel. Puree until smooth, about 30-40 seconds. I do this in three batches. Be careful, the soup is hot!
To serve, pour soup into bowls and drizzle with the reserved coconut cream mixture. Top with cilantro. This Sweet Potato Soup makes about 8 servings.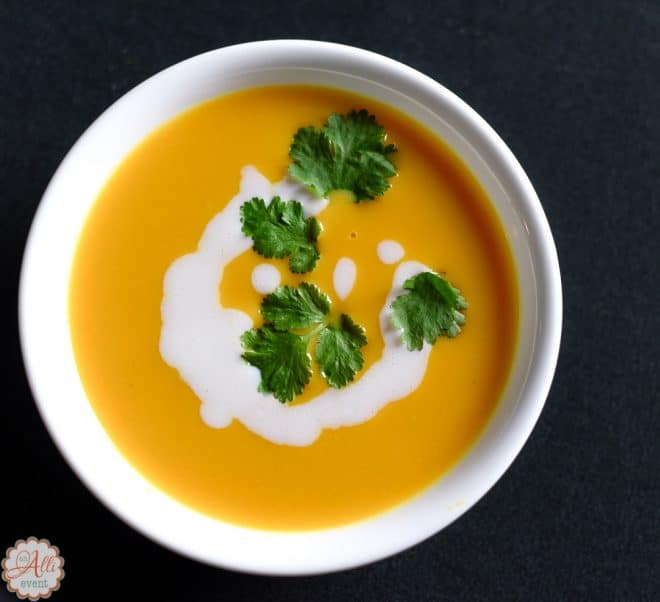 Sweet Potato Soup
Ingredients
2 Tablespoons canola oil
1 medium onion, chopped
Lemon zest from one lemon
1 Tablespoon chopped fresh ginger
4 cloves garlic, chopped
5 cups vegetable broth (recipe below)
3 1/2 lb. sweet potatoes, peeled and chopped into 1" pieces
1 teaspoon salt
1/2 tsp. ground turmeric
1/4 tsp. cayenne pepper
1 can (15 oz.) coconut milk
3 Tablespoons lemon juice from 2 lemons, divided
Garnish with fresh cilantro, if desired
Instructions
Heat oil over medium-high in a dutch oven OR large stockpot. Add onions. Cook, stirring often, until softened, about 5 minutes. Add ginger and garlic and cook, stirring, for one minute.
Add broth, sweet potatoes, lemon zest, salt, turmeric, and cayenne pepper. Bring to a boil over medium-high heat and then reduce heat to medium-low. Cover and cook until the potatoes are tender, about 20 minutes.
Skim 1/4 cup thickened coconut cream from the top of the coconut milk. Whisk with 2 Tablespoons of lemon juice and set aside.
Whisk the remaining coconut milk with one Tablespoon lemon juice and stir into soup.
In batches, place soup in a blender. Open the lid in the top of the blender to allow the steam to escape. After placing the top on the blender, cover the opening with a dish towel. Puree for about 30 seconds. Repeat with remaining batches of soup.
Serve soup in bowls with a drizzle of the coconut cream mixture. Garnish with cilantro (optional).
I invited my daughter and son-in-law over to watch the Georgia-Alabama game (we lost) and served this soup along with other munchies and I had to make sure it was Whole 30 compliant since my daughter is on her 4th round of Whole 30 (not 4 consecutive rounds). She's very health conscious so I also had to make sure the vegetable broth was compliant, so I made it myself. (Insert a huge eye roll). It's so easy to make.
You can actually make the vegetable broth ahead of time and freeze until ready to use.
Vegetable Broth
Ingredients
2 onions, peeled
3-4 carrots
4 stalks celery
1 bay leaf
4 sprigs fresh thyme
Instructions
Wash vegetables and give them a rough chop.
Add vegetables to a large stockpot and cover with enough water to be able to stir the vegetables around.
Bring to a boil over medium-high heat.
As soon as the vegetables start to boil, cover and turn the heat down to medium-low.
Cook for an hour and a half, stirring occasionally.
Remove the pot from the stove and take out all the vegetables with a slotted spoon.
Set a strainer over a large bowl and line with coffee filters.
Carefully pour the stock through the strainer.
Once the stock has cooled, you can divide into freezer containers and freeze for 4-6 months.
If you love sweet potatoes, you need to try this recipe. What's your favorite soup?
You May Also Like: