Ahoy, Mates! A Princess & Pirate Tea Party is so much fun for the kids (and the adults)! I've included links for some of the party items. If you click a link and make a purchase, I may receive a small commission with no extra cost to you.
In August, I threw a back-to-school Princess & Pirate tea party for the kids at church. I wanted an event that would be special for the boys and girls. And I knew there was no way a boy was going to a tea party without something enticing – hence the pirate part – Argh!
This event is perfect for tots – aged 10 (or older). This particular party was held on a Saturday from 11:00 until 12:30.
I've observed over the years that most people plan children's parties to last entirely too long. A party for kids should be loads of fun, but the length of the party should correspond with the age of the child.
Pirate & Princess Party
The Dreaded Pregnant Pause
Have you ever been to a child's party (or any party) that was not very well organized and there was a lot of just sitting and looking around and yawning . . . . just a lot of bored people?
Well, let me say that I just hate pregnant pauses unless it's in a comedy routine! So an hour and a half – not over two hours – is the perfect length for a party for small children. Trust me on this one!
Planning!
This party was for our church kids, so I had a sign-up sheet on the INFO table weeks in advance. I announced it each Sunday and made sure the kids knew it was going to be fun! I usually do this about a month before the party and have a cut-off date to sign up about a week before the party.
Note: Of course, if this is not going to be a church event, you can skip the sign-up sheet and send out cute invites!
We ended up with about 20 children and several parents.
Important Note: Some people will show up that did not sign up or RSVP. Some people will not show up that did sign up. Trust me, after over 30 years of doing this, it's a given. So, plan on having a few extra place settings, prizes, etc.
Cheap, Colorful Ceiling Decor
The theme colors are pink and black. My son-in-law helped me with the easy ceiling decor. All you need are pretty balloons and plastic table covers in your theme's colors. Drape the table covers from the center out and add balloons.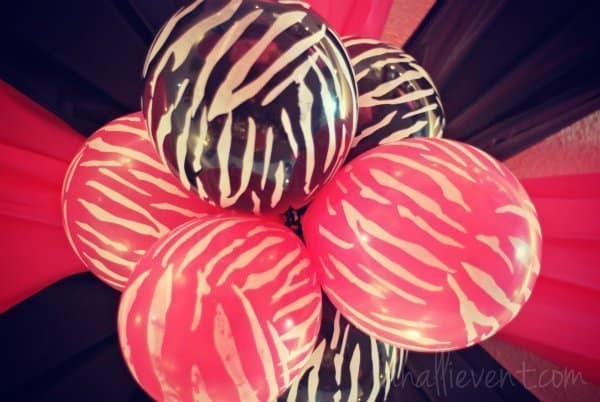 Pirate ships are perfect centerpieces for a princess and pirate party.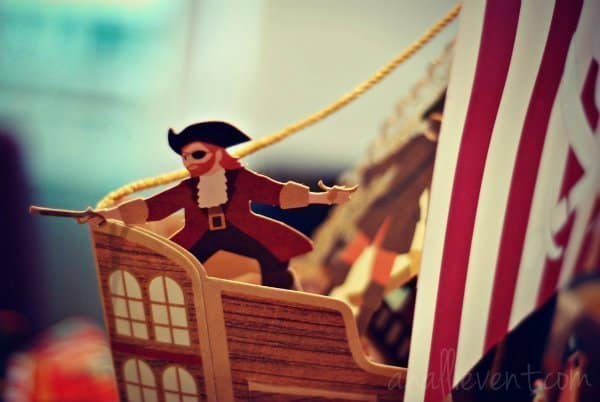 See how excited the kids are!
As the children arrived, each place setting had color sheets and a box of crayons (take home, also). A pirate hat or tiara and a princess or pirate mug (to drink out of and take home) make excellent favors.
Once they are suited up, settled down and quietly coloring (well, not so quietly, but it's not a party if it's quiet), let the party begin!
Table skirt
Pink tulle is a great fabric to use as a table skirt. It has a lighter pink overlay for the girls. A black table cloth with a pirate map is the perfect runner for the boys' table.
A few pirate "coins" sprinkled down the map/runner adds even more detail.
Let the Games Begin!
We had a real OK – make-believe – pirate and princess on hand to oversee the games. Believe it or not, musical chairs remains a favorite with most children. Prizes were given to the winners and applause was given to all! Of course, no child left the party without a bag of loot!
Time to Eat!
After lots of fun, games, prizes, and laughter, it was tea party time.
Menu
Peanut Butter & Jelly Party Sandwiches (No one at this party had allergies – make sure before serving)
Ham & Cheese Party Sandwiches
Goldfish & Teddy Grahams
Grapes
Clear fruit punch (no stains)
Note: I've learned – with kids – to keep the menu simple and kid-sized.
How To Sneak In A Lesson On Manners
While lunch was being served (hint: the children were served at their tables. Buffet lines don't work so well with small hands trying to balance cups and plates), I had a simple hand-out to give the kids about basic table manners.
It was a simple color sheet and then we sang a song about proper manners and went through the worksheet.
Later, a mom told me that they went out to dinner that night and her little 3-year-old daughter said, "We must put our napkins in our laps before we eat." That made my day!
Dessert Bar
Caramel Apples are take-home gifts!
Dessert was funfetti princess cupcakes and pirate peanut butter ball cupcakes with peanut butter buttercream frosting. You can find the peanut butter cupcakes here. The caramel apples were a take-home favor (no messy drips on princess dresses or floors).
Princess and Pirate Treasure Hunt
Then, after the tea (punch) party, we had a princess and pirate treasure hunt! This was a team treasure hunt. Yes, they had to employ teamwork – one for all and all for one kind of thing.
I mad made up five clues and placed them in locations to correspond with the clue.
So, the first clue was given to them and each clue was a little poem that told where to find the next clue, etc.
They had to go inside, outside, to the basketball court, the fountain, etc. The treasure hunt ended in the children's church classroom (how fitting). (And I can't believe I'm actually posting this pic of me with the weird face I'm making!)
The boys received pirate backpacks full of prizes – pirate patches, pirate hats, coloring books, pencils, crayons, candy, etc.
The girls received princess bags full of fun prizes, scented girly bath stuff, etc.
When they returned to the party area, we helped them put their caramel apples, crayons, just washed mugs, manners hand-out, and coloring sheets into their backpacks/bags. They got a bunch of loot!
Note: Parents received a caramel apple favor, as well. We all like take-home favors!
Where did I shop?
Tableware, balloons – Party City
Centerpieces – The Pirate Ship was ordered from Amazon.com. The Princess centerpieces were a tea set, tiara, princess shoes, mirror, brush, all on a pedestal – all from Ross. AFTER the party, I saw a princess castle at Walmart (party section) that would have been perfect for the princess table. Oh, well. 🙂
Backpacks, Princess totes, mugs, prizes – Oriental Trading Company (online)
The ceiling decoration was plastic table covers and balloons – inexpensive, but impressive! I found the idea on Pinterest.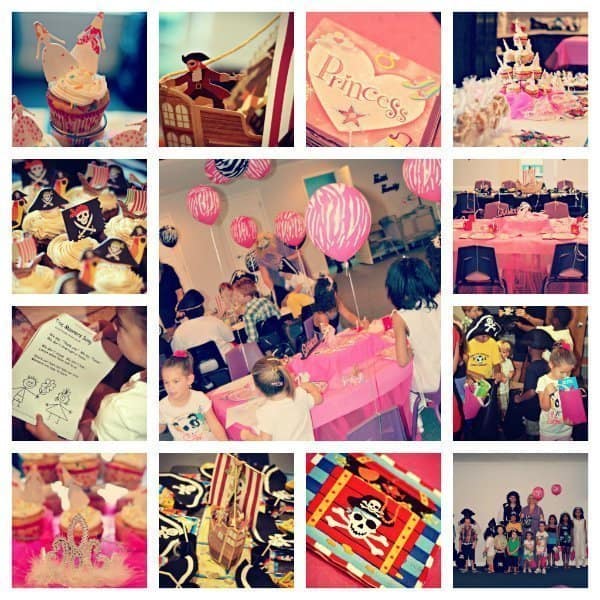 Looking for more pirate party ideas? Check out 30 Incredible Pirate Party Ideas!


You May Also Like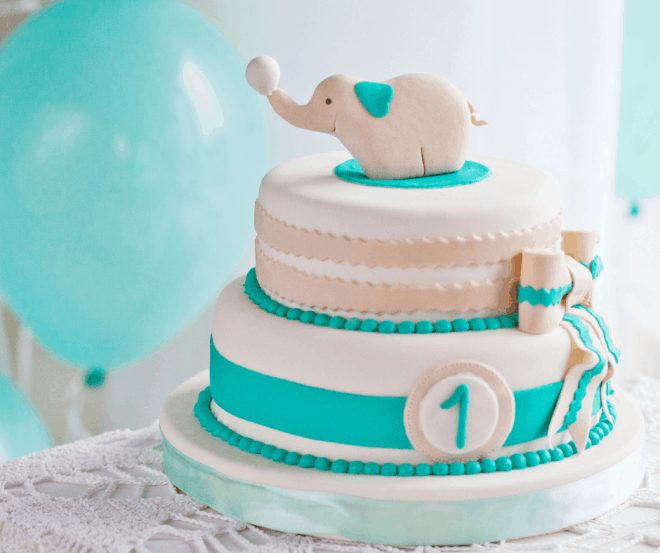 How the Grinch Stole Christmas Party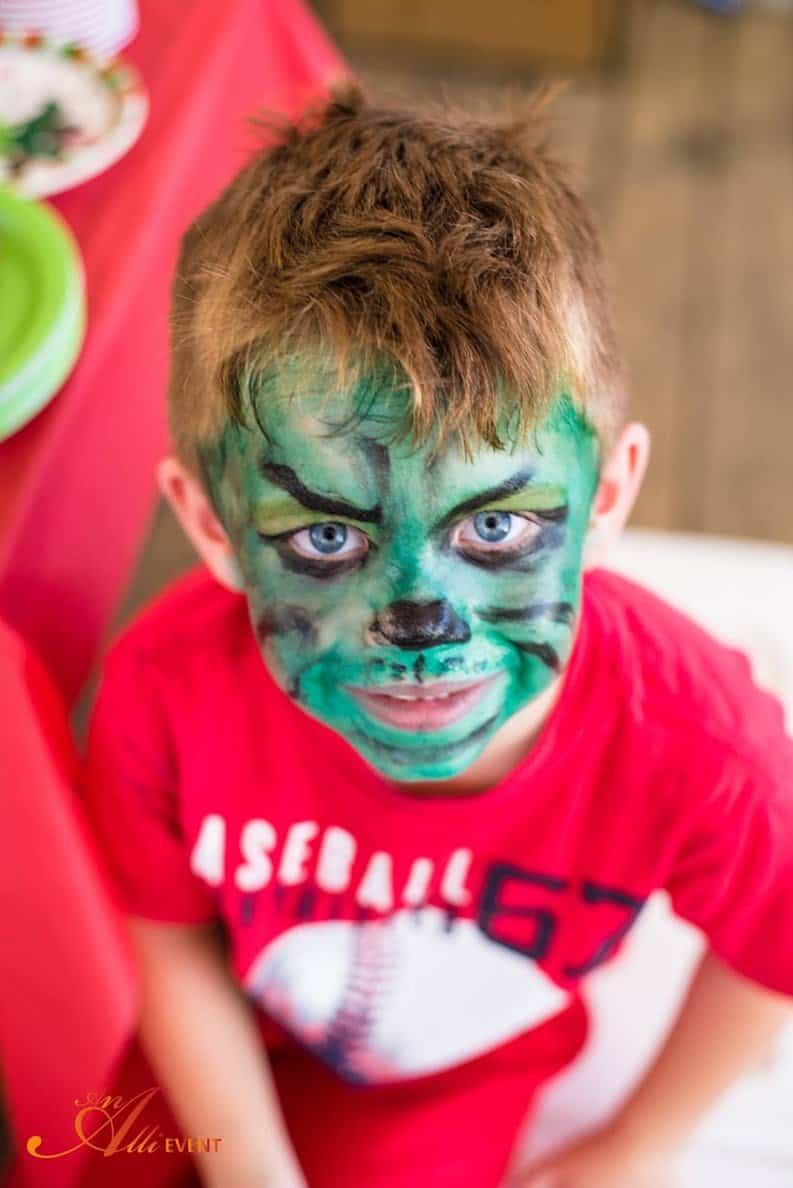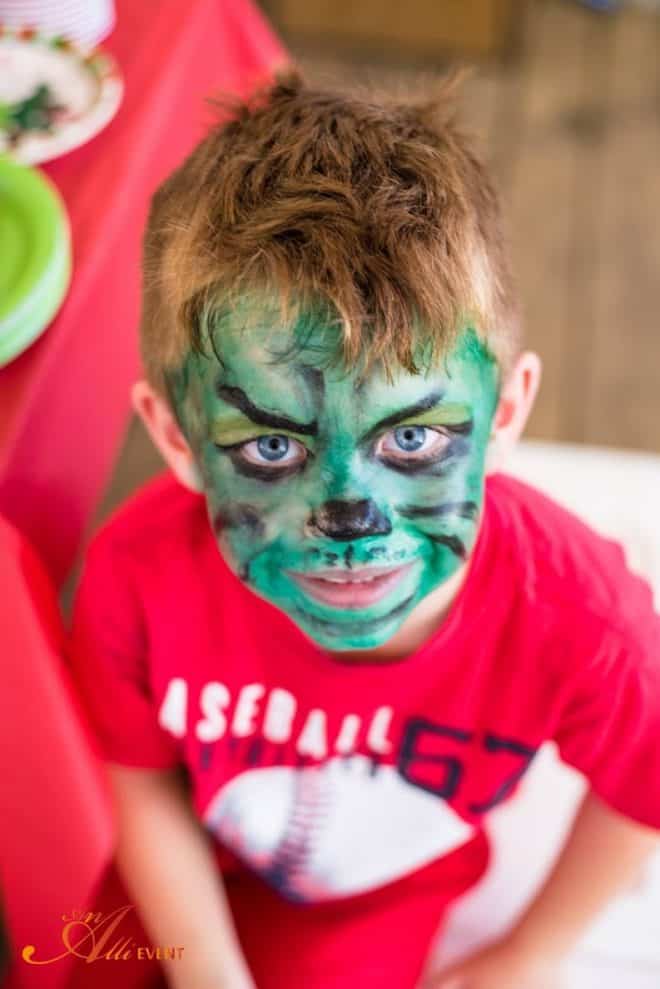 Best Birthday Party Games and Tips