Air fryer carrots are an easy and delicious side dish. Peeled carrots are tossed in oil, lightly seasoned, and cooked to perfection. These tender carrots are even great as a snack!
When I first thought about trying to air-fry air carrots, I didn't know how they would turn out. Were the carrots going to end up with a weird texture? Would the carrots be done in the middle?
I don't know why I even had those thoughts. These carrots are amazing. If you haven't tried carrots in the air fryer yet, do it and thank me later.
It's so much easier to roast carrots in the air fryer. They are as good (or better) than oven-roasted carrots, and they don't take as long to roast.
It's important to follow this air fryer carrots recipe closely to get the desired outcome. Be sure to check out the recipe card for more tips!
Here Is What You'll Need To Make Air Fryer Carrots (Full Printable Recipe Card Down Below!)
Ingredients:
8-12 Carrots

2 Tbsp Olive Oil

1 Tsp Black Pepper

½ Tsp Salt
Items Needed:
4 Quart or Larger Air Fryer
Frequently Asked Questions About Roasting Carrots In The Air Fryer
How Do You Roast Carrots?
For most methods, it's pretty much the same process. However, as far as specific cook times and methods go, they can vary.
For example, if you air fry carrots, you just dump the coated carrots in the basket and roast them for about 12 minutes at 400 degrees.
You can also get a nice roast on carrots by smoking them, grilling them, using the instant pot, the oven, or even a toaster oven.
Peel your carrots (you don't have to peel, but you do need to clean the carrots)

Toss in oil

Season

Cook
Why are My Roasted Carrots Tough?
When roasted carrots are tough, they are undercooked. If you like a crisp crunch, you can leave the carrots slightly undercooked. If you like your carrots tender (like I do) continue to cook them until fork-tender.
You can also overcook carrots. If your carrots come out wrinkly and rubbery, they are overcooked.
What Spices Are Good on Carrots?
Carrots are extremely versatile. There are many spices that go well on carrots.
If you're serving them as a side dish for the holidays, some fresh thyme or rosemary would be a delicious herb or spice to toss in. You can never go wrong with basic salt and pepper. Here are a few more you might like!
Garlic Powder

Onion Powder

Oregano

Cayenne Pepper

Chili Powder

Season Salt

Italian Seasoning

Cajun Seasoning

Ranch Seasoning

Taco Seasoning
How Long Do Carrots Take to Roast?
It's according to what method you use to roast the carrots. If you go the traditional route (not air fryer), bake carrots for 30 minutes at 400º F.
Cooking time will vary depending on your oven and the size/type of carrots you have.
If your carrots are smaller, you'll want to reduce the time, and if they're larger, up the baking time.
That's why I prefer air fryer carrots. You don't have to wait for an oven to preheat and you can cook them for half the time.
When you air-fry carrots, it takes less time to make a healthy and delicious side dish.
What are 5 Health Benefits of Carrots?
Carrots have many health benefits, which is just another reason to love them.
Plus, they remain an inexpensive vegetable and therefore, one of my favorite choices as a side or snack.
Here are a few of my favorite health benefits when it comes to carrots.
Carrots improve eye health because they're rich in beta-carotene.

They're a safe food for most, if not all diets.

One serving of carrots (½ cup) is around 73% of the suggested daily vitamin A intake.

Carrots are a good source of beta-carotene, fiber, vitamin K1, potassium, and antioxidants. Studies suggest that potassium helps lower blood pressure.

Carrots are high in fiber, which helps keep healthy gut habits regular.
Now that you have countless reasons to roast and eat carrots, you need to try these air fryer carrots.
Easy Steps To Make Air Fryer Carrots
Preheat the air fryer to 400ºF. Clean the carrots and cut off the ends. Blot dry with paper towels or a clean dishcloth.
Peel the carrots (totally optional but I always peel mine.)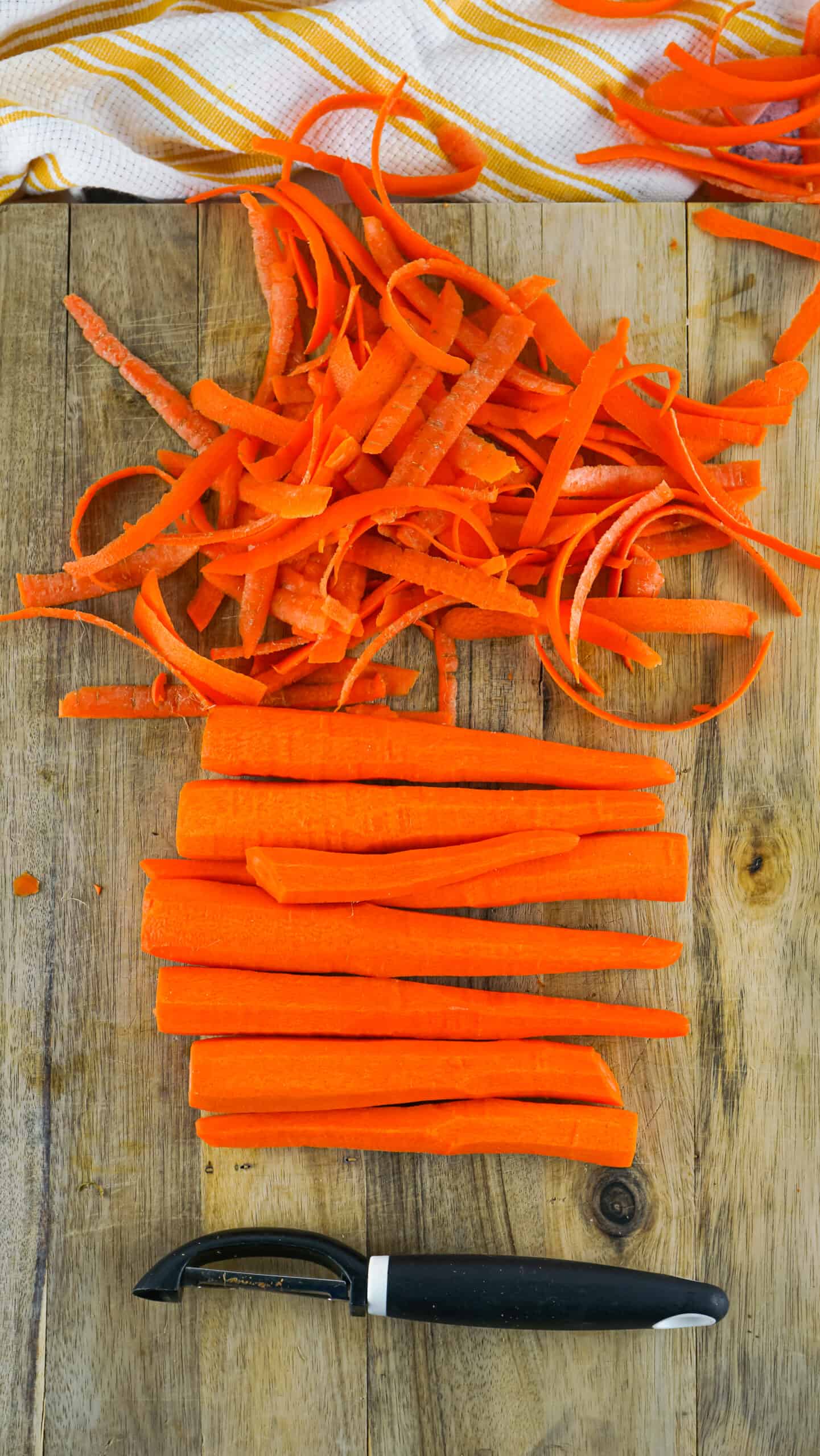 Cut carrots in half. In a mixing bowl, toss carrots with olive oil, salt, and pepper.
Place in the air fryer and cook for 12 minutes or until desired tenderness.
Wasn't that easy?
More Delicious Recipes!
Yield: 2-4 servings
Air Fryer Carrots
Air- Fryer Carrots are quick and easy to make. Peeled carrots are tossed in oil, and lightly seasoned, before being cooked to perfection. 
Ingredients
8-12 Carrots
2 Tablespoons Olive Oil
1 teaspoon Black Pepper
½ teaspoon Salt
Items Needed:
4 Quart or Larger Air Fryer
Instructions
Preheat the air fryer to 400º F.
Wash, peel and cut off the ends of the carrots. Cut the carrots in half.
In a mixing bowl, combine the carrots, salt, pepper, and oil. Toss gently.
Place the carrots in the air fryer, spacing them out evenly.
Cook at 400º for 12-14 minutes, tossing halfway through the cooking time. Serve and enjoy!
Notes
The smaller the carrots, the faster they will cook. So cut them how you want to serve them and change the time accordingly.
For a more tender carrot, cook for an additional 3-5 minutes. As-is, they will have just a touch of crunch left to them, which is my preference, but might not be yours. 
I peel my carrots, but it's not a must. I just prefer them peeled because they look better and absorb the seasonings better. Make sure you wash the carrots even if you don't peel them.
You can add any seasonings you like to this recipe. This recipe is a good base, but you can add more seasonings to better match the main course you're serving. These taste amazing as-is.
You can use baby carrots for this recipe as well. Again, be aware of the size and thickness of carrots. This will adjust your timing as far as cooking goes.
Recommended Products
As an Amazon Associate and member of other affiliate programs, I earn from qualifying purchases.
Nutrition Information
Yield
4
Serving Size
1
Amount Per Serving
Calories

109
Total Fat

7g
Saturated Fat

1g
Trans Fat

0g
Unsaturated Fat

6g
Cholesterol

0mg
Sodium

345mg
Carbohydrates

12g
Fiber

4g
Sugar

5g
Protein

1g