Easy Carrot Cake Sandwich Cookies are perfect for Easter or any time of the year. These crisp sandwich cookies are filled with cream cheese frosting.
Do you like soft, chewy cookies or cookies with a little snap to them? I like cookies that have a tiny bit of snap. I've never cared much for soft cookies.
To me, a soft cookie is just a mini cake with no frosting. These Easy Carrot Cake Sandwich Cookies have a snap and they are delicious.
These Easy Carrot Cake Cookies might not be the most colorful cookies I've ever made. I mean, hello there, you plain-looking cookies. Don't let these cookies fool you. I betcha can't eat just one.
After creating delicious Red Velvet Sandwich Cookies, I decided to try making cutout sandwich cookies with a carrot cake mix and the same cream cheese filling.
Cream cheese is my favorite frosting/filling/whatever. And, you can't have a play on a carrot cake without cream cheese frosting.
Did it work? You better believe it. I always rely on my family for feedback on new recipes. They are brutally honest, in a nice way, of course. We are southern and I did teach them manners.
After tasting these cookies, my grown kids were quick to see who could call dibs the fastest on leftovers.
Ingredients For Easy Carrot Cake Sandwich Cookies
(You can find the full, printable recipe card towards the bottom of this post)
boxed carrot cake mix
egg
softened butter
Frosting
softened cream cheese
softened butter
powdered sugar
How To Make Easy Carrot Cake Sandwich Cookies
Mix the carrot cake mix, egg, and butter well with an electric mixer until the mixture forms a dough. Let the dough rest in the refrigerator for at least 20 minutes.
Roll out the dough 1/8 inch thick and cut with a small round cookie cutter. I also used a rabbit cookie cutter to make a few larger cookies for the grandkids.
If you don't want to take the time to roll out the dough and cut it with a cookie-cutter, you can pinch the dough off and roll them into one-inch balls. Place the dough balls on two parchment-lined baking sheets. Press the cookie dough balls to flatten. You can use the bottom of a measuring cup.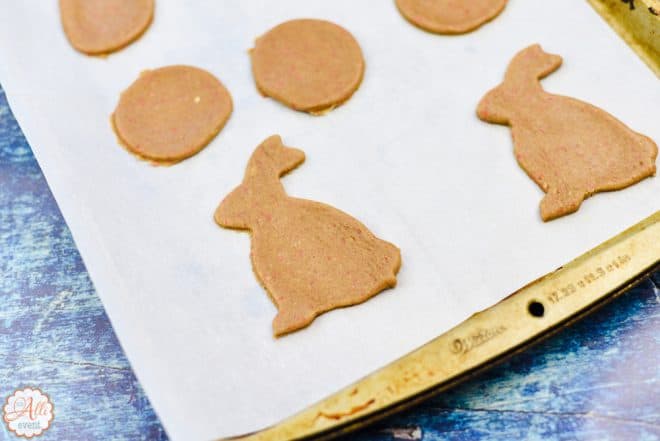 Bake at 350º F for eight minutes. Cool for one minute and remove the cookies from the sheet and place on cookie racks to cool completely.
When the cookies are completely cool, frost 1/2 of the cookies with cream cheese frosting and top with the other half of the cookies.
Helpful Hint: Instead of making a sandwich cookie, you can top each cookie with cream cheese frosting. For me, a sandwich cookie is less messy. If you use a really small cookie cutter, you'll get more cookies, of course.
Yield: Approximately 12 Sandwich Cookies
Easy Carrot Cake Sandwich Cookies
Easy Carrot Cake Cookies are sandwich cookies made with a cake mix and filled with a cream cheese frosting.
Additional Time
5 minutes
Ingredients
1 Boxed Carrot Cake Mix
1 egg
1/2 cup butter, softened
Frosting
1 8-oz. package cream cheese, softened
1/4 cup butter, softened
3-4 cups powdered sugar
Instructions
Combine the Carrot Cake Mix with the egg and butter. Mix with an electric mixer until it forms a dough, about 2 minutes. Refrigerate the dough for at least 20 minutes.
Remove 1/2 of the dough and roll out to 1/8" thick. Cut with a round cookie cutter. Be sure to combine the strips of cookie dough that are left and re-roll.
Place cookies on a parchment-lined cookie sheet and place in the refrigerator while you roll out the remaining dough.
Bake at 350º for 8 minutes. Cool for one minute on the baking sheet placed on a cooling rack. Remove cookies to a cooling rack to cool completely.
Frosting:
Mix the cream cheese and butter on medium until well combined. Add the powdered sugar and mix until light and fluffy, about 2 minutes.
Place about 1-1/2 Tablespoons frosting on the flat side of a cookie. Top with another cookie, flat side down. Store in the refrigerator.
I usually make a
carrot cake
when I have the entire family over for Easter. This time around, I'm thinking of making these cookies again. I don't think I'll get any complaints. These cookies go best with a tall glass of cold milk or a cup of coffee.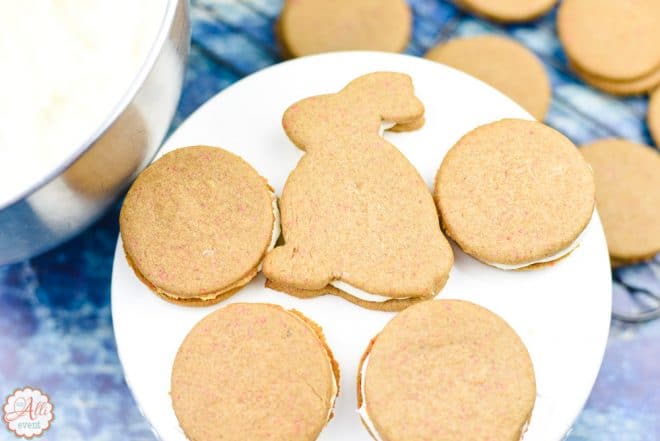 You May Also Like These Delicious Recipes!
Originally published in Feb. 2017 and updated Feb. 2021