This post, Spinach Quesadillas, was compensated by Collective Bias, Inc. and its advertiser. All opinions are mine alone.
Spring has sprung! Gone are the dark, cold days of stews and soups simmering in the slow cooker. Bring on the fresh, bold flavors of spring AND the ease in preparing quick, delicious meals.
I'm ready to spring into flavor with Alexia all-natural fries and onion rings!
Baseball Season Begins
My 4 grandsons kicked off their baseball season this past Saturday and I try to never miss a game. That's 4 boys on 4 different teams.
Sometimes their games overlap or are being played at the same exact time. It takes a little creative scheduling to make sure someone (parent, grandparent, aunt, uncle, etc.) is watching every game.
Good thing planning dinner is not complicated! My go-to meal when I'm in a hurry, yet want a delicious meal, is Alexia Onion Rings & Spinach Quesadillas with Spicy Lime-Cilantro Dipping Sauce.
I do believe this is the best quesadilla recipe I've ever created and my entire family agrees! If there are any leftovers (that's a big IF), my daughter is usually the first to call dibs and packs them away for her lunch the next day.
Alexia Onion Rings & Spinach Quesadillas
Because my Alexia Onion Rings & Spinach Quesadillas are so quick and easy to make, this would be the perfect recipe to let the kids help out with the layering and measuring.
I always throw the ingredients for the dipping sauce (recipe below) into the blender, blend it real good and place it in the fridge to chill while I finish dinner.
After gathering all the ingredients for the quesadillas, I bake the onion rings according to the directions on the package.
While the onion rings are baking, I add a tablespoon of olive oil to a large skillet and slightly wilt the spinach on medium heat. Be careful not to overcook the spinach.
Once the onion rings are golden brown and crispy and the aroma is tempting me to take a bite, the layering process begins.
I layer shredded pepper-jack cheese, spinach, and onion rings onto a large whole-grain tortilla. Then I add another layer of cheese and top it off with a tortilla.
Helpful Hint: I like to live on the wild side by building a large tortilla (serves 2) and seeing how well I can flip it, but you can also layer all the ingredients on one half of the tortilla, fold it and it's much easier to handle.
All About the Grill Marks
I'm all about the grill marks, so I spritz a little cooking spray on my grill pan, heat it to medium, and cook the quesadillas (one at a time) until they are lightly browned and the cheese is melted.
If a little cheese happens to spill out, that's an added bonus. It adds a crispiness to the tortillas.
Helpful Hint: Use a Pizza Cutter to cut Quesadillas
I use my pizza cutter to cut the quesadillas into quarters and I have 4 generous portions. Oh, yeah, while I'm putting the quesadillas together, I have Alexia spicy sweet potato fries baking away in the oven. They're the perfect side dish!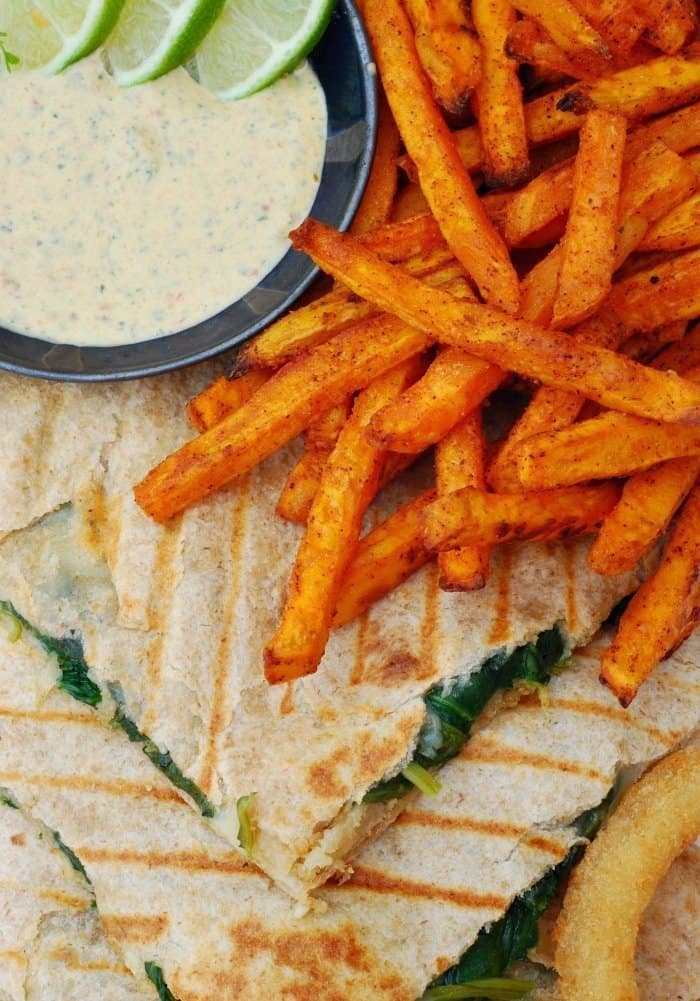 In case you have never thought to add onion rings to your quesadillas before, you have to try it! The crispiness of the panko breading adds the perfect crunch and the flavor of the sea salt and onions are a treat to the taste buds!
Yield: 4-6 servings
Alexia Onion Rings & Spinach Quesadillas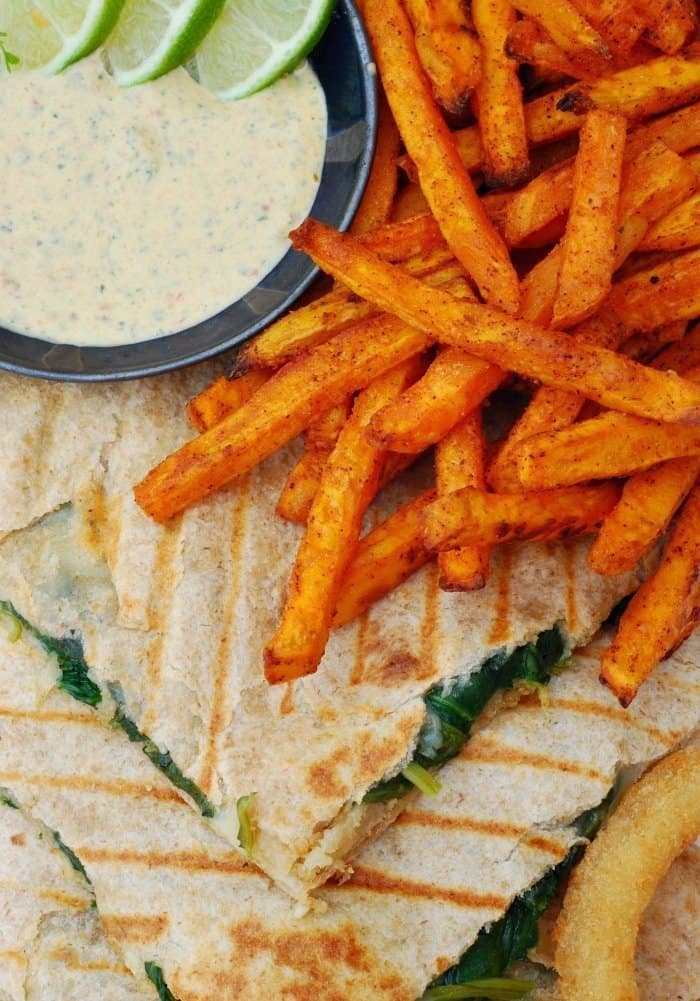 Spinach Quesadillas have even more flavor when you add Alexia Onion Rings. These easy-to-make quesadillas are delicious.
Ingredients
Alexia Onion Rings (baked according to the package directions)
1 bunch fresh baby spinach (about 12 oz.)
4 whole-grain tortillas,
1 Tablespoon olive oil
1 cup shredded pepper-jack cheese
Spicy Lime Cilantro Dipping Sauce
1 cup cilantro leaves
Zest and juice of one lime
1 cup Greek nonfat yogurt
1/2 clove garlic
1 Tablespoon olive oil
1 chipotle pepper in adobe sauce
Salt and pepper to taste
Instructions
Bake Alexia Onion Rings according to the package directions.
Meanwhile, in a large skillet, heat olive oil on medium heat. Add spinach and cook, stirring, for a couple of minutes or until slightly wilted.
For each tortilla: Layer 1/4 cup cheese on a tortilla. Add a layer of wilted spinach and a layer of Alexia Onion Rings, broken into pieces.
Add another 1/4 cup cheese. Top with another tortilla.
Spray skillet (or griddle) with cooking spray and cook tortilla until lightly browned. Carefully flip and cook the other side until light brown. Repeat with the remaining tortilla.
Slice into quarters. Serve with Spicy Lime Cilantro Dipping Sauce.
To make the dipping sauce, place cilantro leaves, lime zest and juice, Greek yogurt, garlic, and chipotle pepper in a blender or food processor. Process until smooth. Add the olive oil and process until combined. Add salt and pepper to taste. Store in the refrigerator.
Check Out More Delicious Recipes!
Latest Post Update: April 2021