I am participating in a Vibrant Influencer network campaign for Marie Callender's. I am receiving a fee for posting; however, the opinions expressed in this post are my own. I am in no way affiliated with Marie Callender's and do not earn a commission or percent of sales.
What's your favorite holiday dessert?  I'm all about the pie!  I'll take pie over cake any day of the week and especially during the holiday season.
At my house, the one dessert we can all agree on is apple pie – Marie Callender's dutch apple pie to be precise.  Since I'm all about the crust, I feel like I'm getting a double dose, with a tender, flaky crust on the bottom and a crispy, crumbly streusel on top.
I also like the fact that Marie Callender's dutch apple pies are made with 100% fuji apples, pure cane sugar and a dash of cinnamon.
Because I'm super duper busy during the holidays (who isn't?) and holidays are all about family and friends (right?) I've found some dessert shortcuts that you're going to love and your home will smell heavenly!
Early in the day, while I'm wrapping presents, cleaning the house or spending time with the family, I make my apple chips. I thinly slice a fuji apple, sprinkle with a teaspoon of cinnamon and arrange the apple slices on a parchment lined baking sheet and place in a 250 degree oven for 2 hours.  After the first hour, flip the apples so that they crisp evenly.  You can bake them an additional hour if they are not crisp enough.
Once the apple slices are done and have permeated my home with the tantalizing smell of apples and cinnamon, I amp that smell up a few notches by baking a Marie Callender's dutch apple pie according to the directions on the package.
When the dutch apple pie has finished baking, I whip up the cinnamon whipped cream.  It's so easy!

Cinnamon Whipped Cream
Ingredients
2 cups heavy cream
¼ cup sugar
1 tsp. ground cinnamon
1 tsp. vanilla extract
Instructions
Pour heavy cream into chilled mixer bowl (place in freezer for a few minutes before using)
Beat on high speed.
Slowly add sugar, cinnamon and vanilla.
Beat until stiff peaks form.
After the pie has cooled a wee bit (we like it warm!), I spoon it into pretty glasses alternately with the cinnamon dusted whipped cream and top it off with an apple chip.  It's the perfect holiday dessert!
Hold on!  I'm not done.  My husband always wants vanilla ice cream with his dutch apple pie.  He likes for it to melt a little into the warm pie so that each bite is perfectly balanced.  So, in addition to the cinnamon whipped cream, I make sure to have vanilla ice cream in the freezer for the hubs.  Men!?!
If you have any leftovers (that's a big if), you've got to try my dutch apple pie milkshake. It's so easy to make and so delicious!

Dutch Apple Pie Milk Shake
Ingredients
1 slice of Marie Callender's Dutch Apple Pie
3 scoops vanilla ice cream
¼ cup milk
2 dashes cinnamon
1 dash of nutmeg
Instructions
Place all ingredients in the blender and blend. Add more ice cream if too thin and more milk if too thick.
Serve in tall, frosty glasses
Be sure and visit Marie Callender's
website
to check out all the delicious fruit pies.  You'll also find cream pies including peanut butter and turtle. Double yum!  You can also visit their 
facebook page
 to see more ways to save time during the busy holiday season.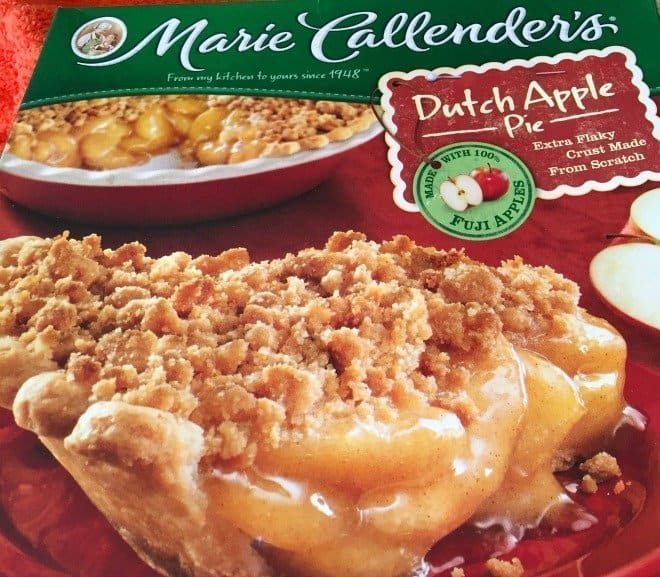 What's your  favorite holiday pie?

Print Friendly