Baked Strawberry Doughnuts is a sponsored post for SheSpeaks/Rubbermaid. All opinions are my own. As an Amazon Associate, I earn from qualifying purchases.
Recently, I took the week off to visit my dad. My sister from Colorado met me there and our week was pure bliss. We'd walk the sidewalks of our small hometown and reminisce about the good ole' days.
Finally, on Friday, we visited the local strawberry farm to pick fresh strawberries. Afterward, we enjoyed homemade strawberry ice cream. It was definitely a stroll down memory lane and a chance to eat my very favorite berry.
Strawberries are now in season here too. My sweet daughter stopped by this week with a basket full of freshly picked berries. Hello, Baked Strawberry Doughnuts!
Thankfully, I have my Rubbermaid® FreshWorks™ Produce Savers on hand. My berries will last much longer.
How To Store Strawberries and Keep Them Fresh
Have you ever shoved fresh produce in the drawer of the fridge and promptly forgot about it? I have! Life happens! I have every intention of using all of my produce before it goes bad. Seriously, I hate throwing out produce that has seen better days. What's a girl to do?
Enter Rubbermaid® FreshWorks! Where have you been all my life? The large container is a perfect fit for zucchini. The medium size is great for storing bell peppers. The smaller one is the right size to keep my leftover berries fresher longer. Guess what? It works!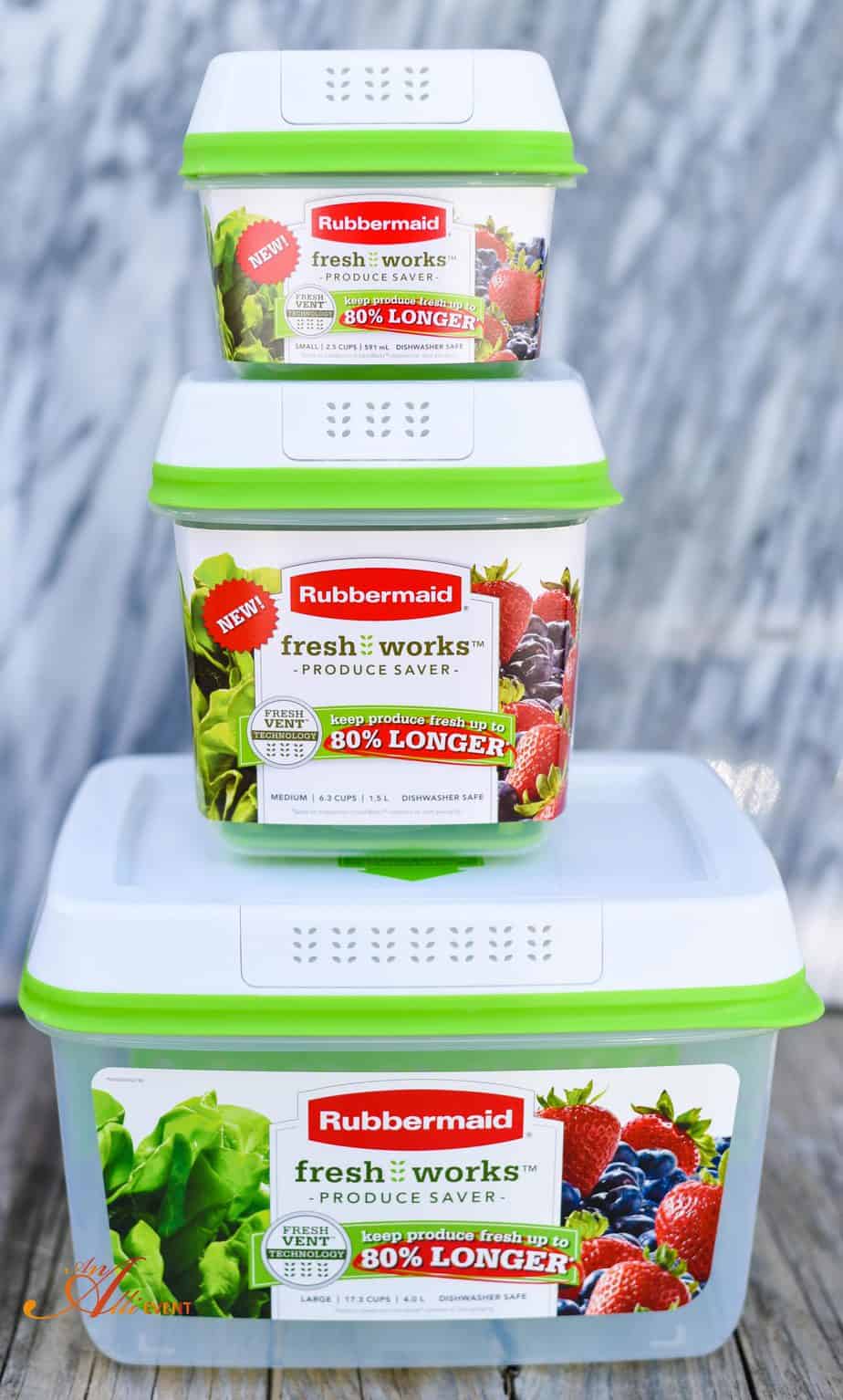 Why I Use FreshWorks Produce Savers
Easy to Use
FreshWorks Produce Savers are so easy to use! You simply transfer your fresh produce from your shopping bag to the FreshWorks container before placing it in the fridge. The lid filter lasts a lifetime and never needs replacing.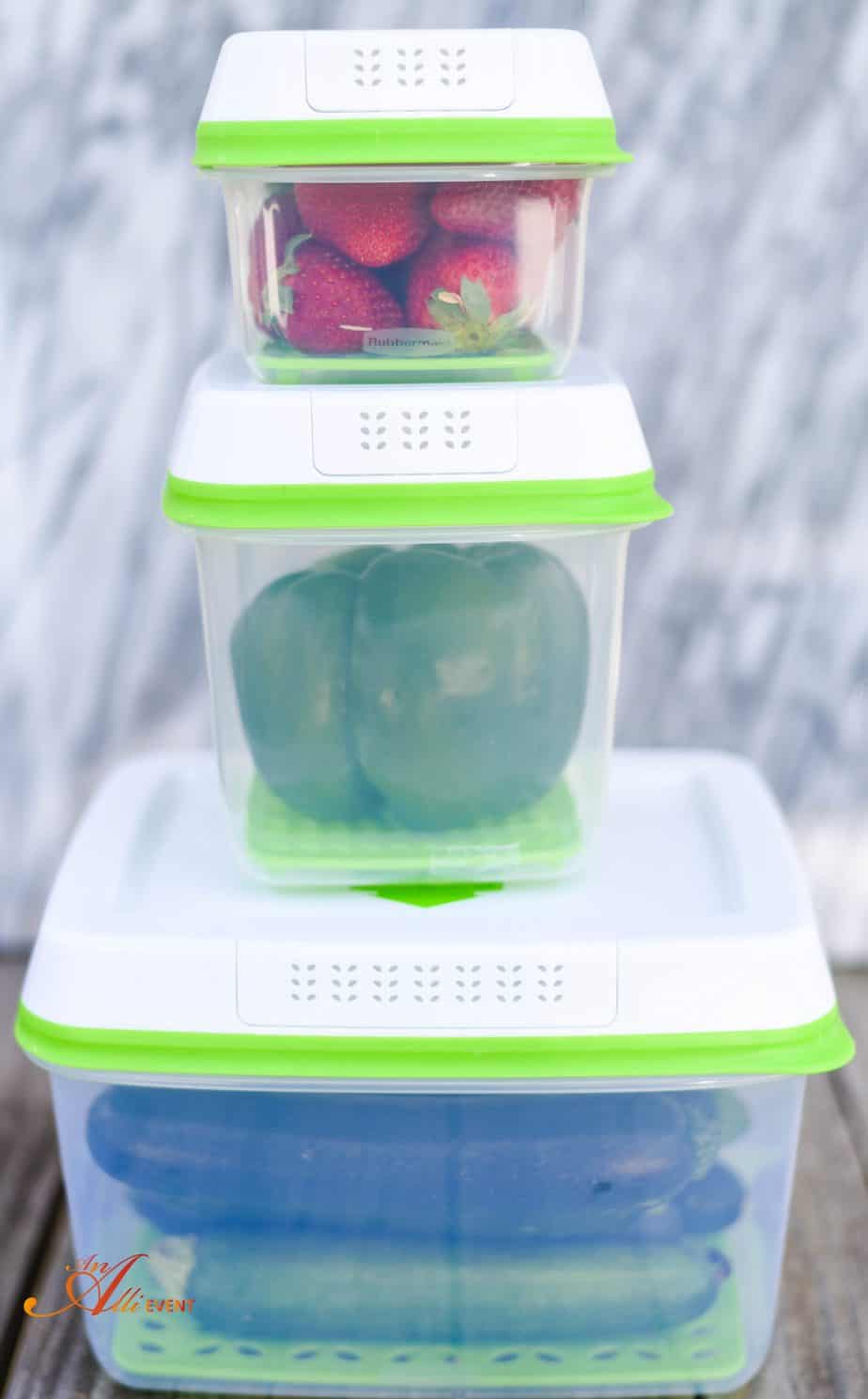 Keeps Produce Fresher, Longer
FreshWorks uses FreshVentTM technology to keep produce fresher up to 80%* longer than traditional produce packaging. That works for me! There's a CrispTray™ that reduces moisture and spoilage. The FreshVent™ regulates the flow of oxygen and carbon dioxide to create an ideal environment to keep my produce fresher, longer.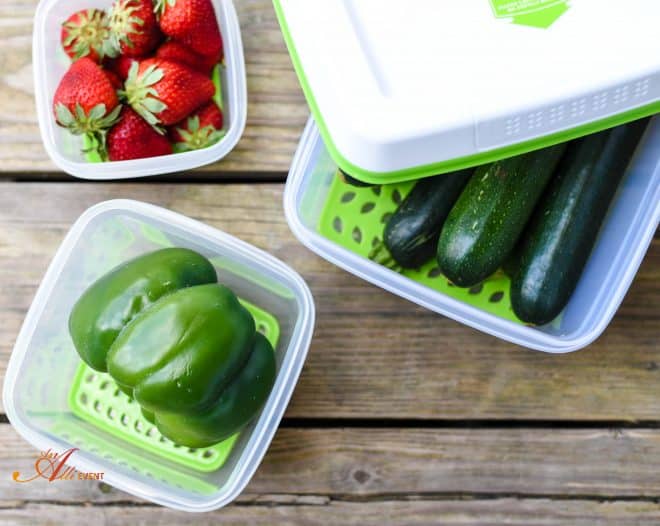 Saves Money
The bottom line is all about the money I save from not having to throw out old, moldy produce. Did you know that Americans waste $24 billion worth of produce a year? See, I'm definitely not the only one who's felt the pain of throwing away produce. That's the equivalent of $192 per household.**
Since my fresh strawberries last much longer, I'm celebrating by making Baked Strawberry Doughnuts with a Strawberry Glaze. Yum! I sure wish you were here to celebrate with me.
Baked Strawberry Doughnuts
Baked doughnuts are so much easier than frying doughnuts. Plus, this recipe doesn't call for yeast so there's no rising time. It's a quick and easy recipe that's delicious and showcases my favorite berry.
Before I start baking the doughnuts, I grab 1/2 cup of still-fresh-after-two-weeks strawberries from the fridge. I add two tablespoons of sugar and mash the berries to release the juice.
After mixing up all the ingredients for the baked doughnuts, they are ready to pop in the oven. I love this doughnut baking pan.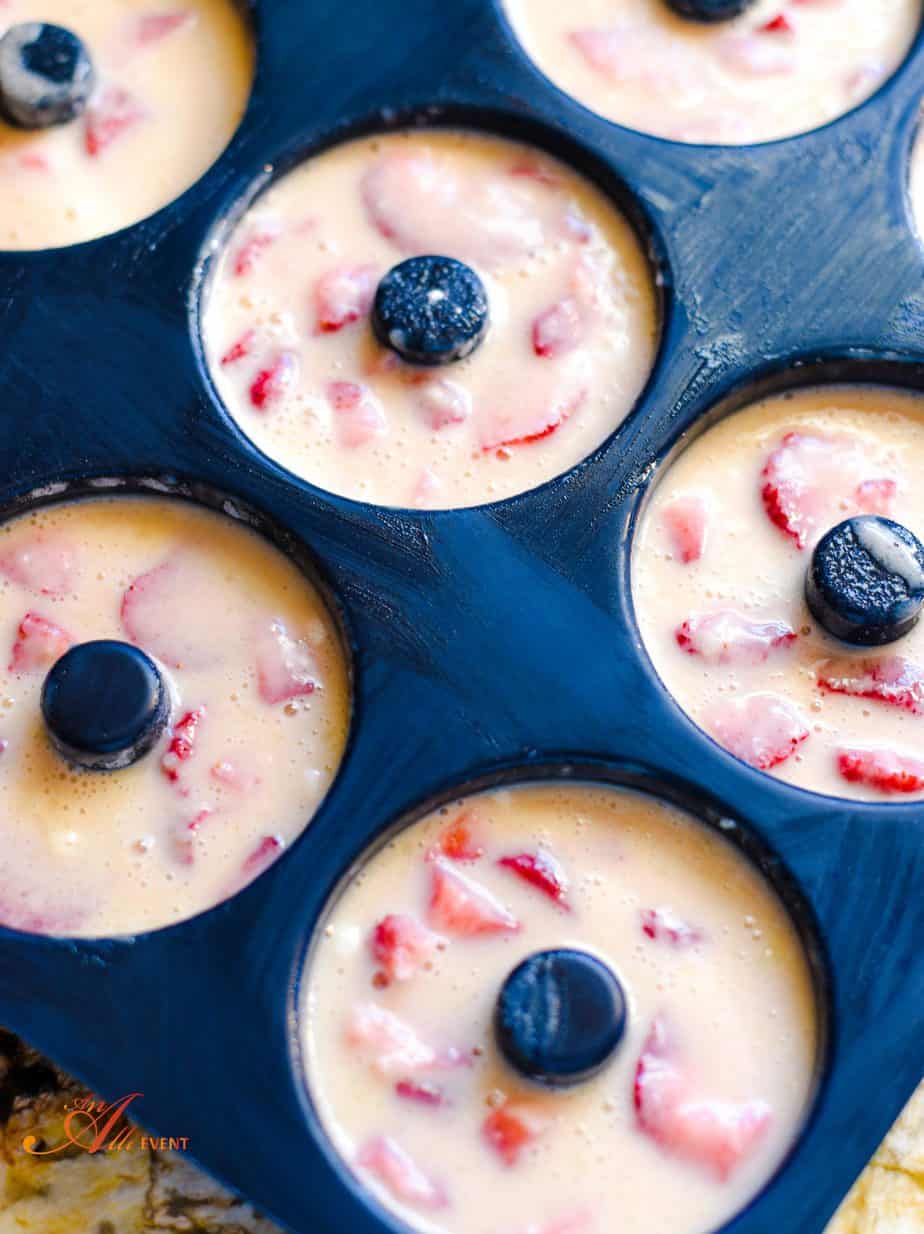 Check Out More Of My Delicious Strawberry Recipes
Yield: 12 doughnuts
Baked Strawberry Doughnuts With Strawberry Glaze
Baked Strawberry Doughnuts are cake-like doughnuts with a fresh strawberry glaze. These doughnuts are easy to make.
Ingredients
2 cups all-purpose flour
1-1/2 cups sugar
2 teaspoons baking powder
1/2 teaspoon salt
2 large eggs, lightly beaten
1-1/4 cups milk
2 Tablespoons unsalted butter, melted
1 teaspoon vanilla extract
1 cup finely diced strawberries
Glaze
1/2 cup diced strawberries and 2 tablespoons sugar, crushed with a fork and allowed to sit at room temperature to release juices.
1/2 teaspoon vanilla extract
1 cup powdered sugar
Instructions
Preheat the oven to 350º F. Spray doughnut pans with a cooking spray with flour.
In a large bowl, sift together the flour, sugar, baking powder and salt.
In a medium bowl, mix together the eggs, milk, melted butter, diced strawberries, and vanilla.
Add the wet ingredients to the dry and stir until just combined.
Spoon batter into the doughnut pans and fill until 3/4 full.
Bake for 20-25 minutes or until a toothpick comes out clean.
Cool in pan for 5 minutes and then tap out onto a wire rack and dip them into the glaze.
Glaze
Add 3 Tablespoons of juice from the crushed strawberries and the vanilla extract to a cup of powdered sugar. Mix well. If the glaze is too thick, add more strawberry juice. If too thin, add more powdered sugar. After the doughnuts have cooled for 5 minutes, dip them into the glaze and return to the wire rack. Enjoy!
Nutrition Information
Yield
12
Serving Size
1
Amount Per Serving
Calories

339
Total Fat

5g
Saturated Fat

2g
Trans Fat

0g
Unsaturated Fat

2g
Cholesterol

43mg
Sodium

237mg
Carbohydrates

69g
Fiber

1g
Sugar

48g
Protein

6g
*Based on strawberries in FreshWorks™ containers vs. store packaging. Results may vary depending upon produce and use.
** Source: USDA 2014