A baseball-themed Easter basket is the perfect basket for a teen!
My oldest grandson is a teen. How can that be when I'm still 29 and holding? He has played baseball ever since he was a toddler.
He started at Wee-Ball. Yes, that's a thing before Tee-Ball. Now that he's in middle school, he had to actually try out for the team. Of course, he made it. He gets his athletic skills from me. Wink!
When Easter rolls around, I always surprise my grandkids with an Easter basket. I can almost see the eye roll if I try to give my oldest grandson a traditional basket.
However, a Baseball-Themed Easter Basket is just the thing for teen boys. It includes his favorite baseball items and his favorite candy. It's a win-win and I'll be the coolest Nana in town.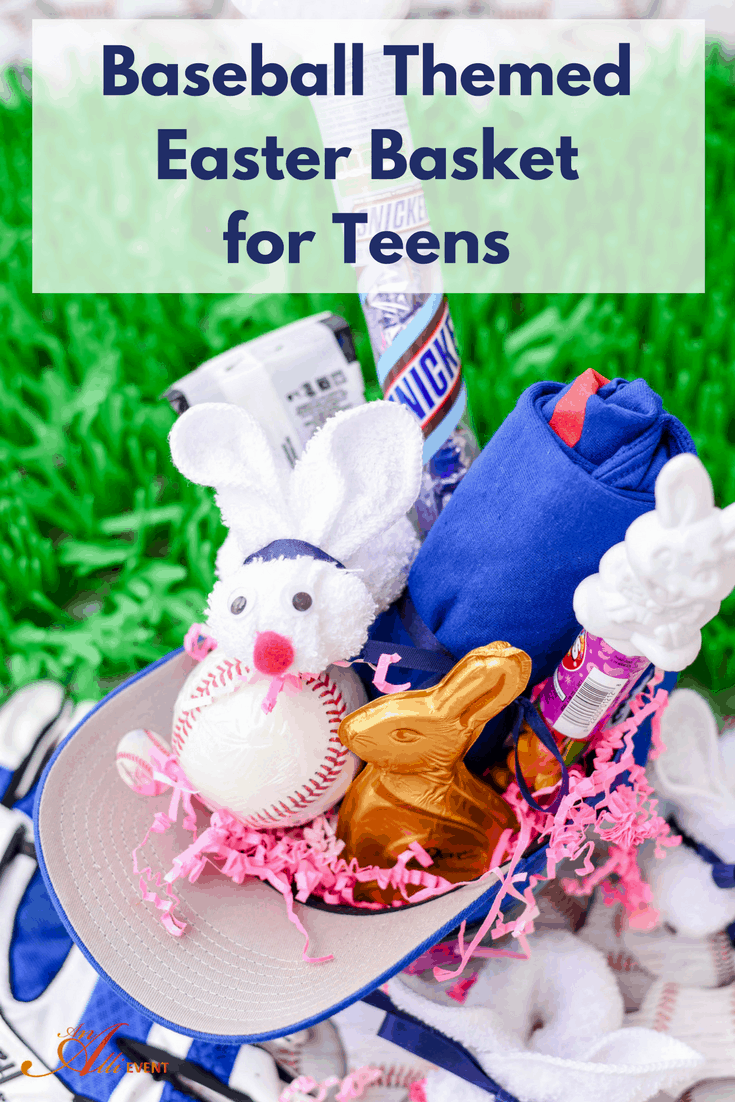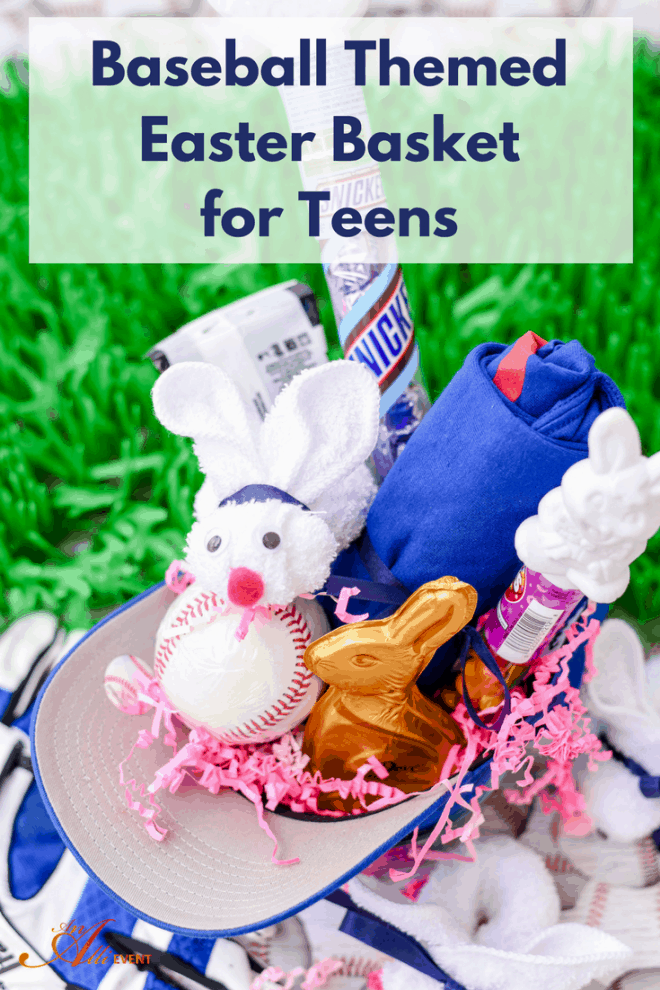 Let's make a Baseball Themed Easter Basket
Instead of a traditional basket, I'm using a baseball hat.
If your teen has a favorite team, that's the hat you want to go with. Add a little Easter grass. Let's face it, every basket needs grass, even if the basket is a hat.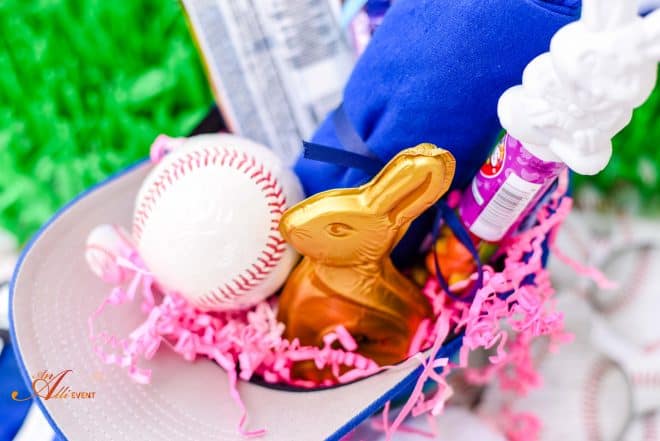 Add your teen's favorite things.
I'm adding a baseball, batting gloves, baseball cards, favorite team t-shirt, and DOVE® Milk Chocolate Bunny because every baseball player needs a chocolate bunny.
I'll also include his absolute favorites, Skittles® Bunny Cane and SNICKERS® Bunny Cane.
Walmart is always my go-to place for all things Easter-related, including everything I need to make a Baseball Themed Easter Basket.
When I'm building an Easter basket, I always add a DIY Washcloth Bunny or three. These bunnies are so easy to make and they are simply adorable. I use a white washcloth but a washcloth with a pretty spring pattern will work perfectly.
DIY Washcloth Bunny
DIY Washcloth bunnies are so much fun to make and everyone needs a little bunny magic in their basket.
Here's what you'll need for one bunny:
washcloth
rubber band
ribbon
one set of googly eyes
one pom-pom
glue gun
Roll the washcloth in half, on the diagonal, to form a triangle. I use my trusty old work table to make my bunnies, but the kitchen counter works great too.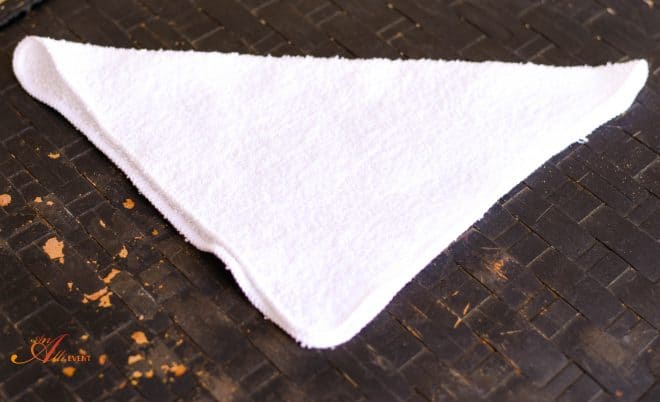 Tightly roll the washcloth from the small side.
Roll tightly until it looks like a snake.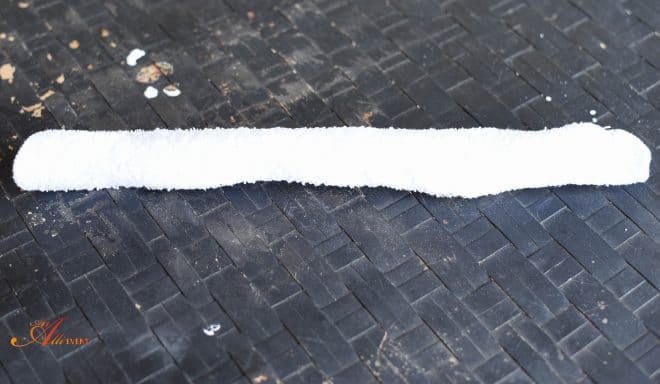 Fold the rolled washcloth in half.
Fold in half again, turning the loose ends back towards the first fold.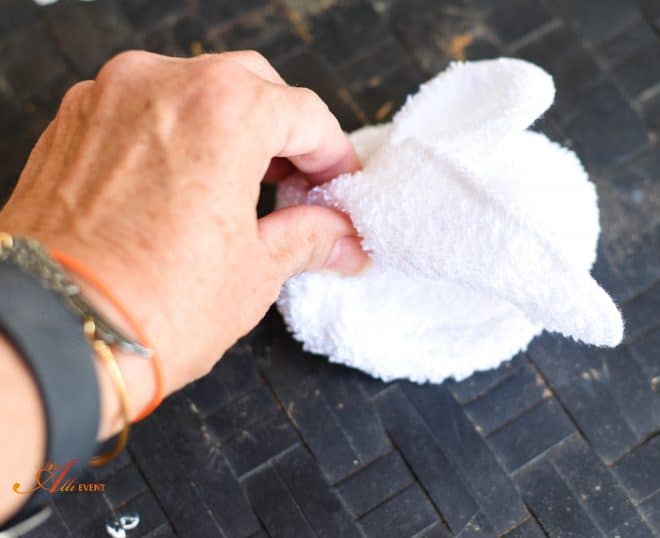 To form the head of the bunny, place a rubber band around the washcloth 2″ from the second fold. If you don't have a rubber band on hand, a thin hair elastic works well.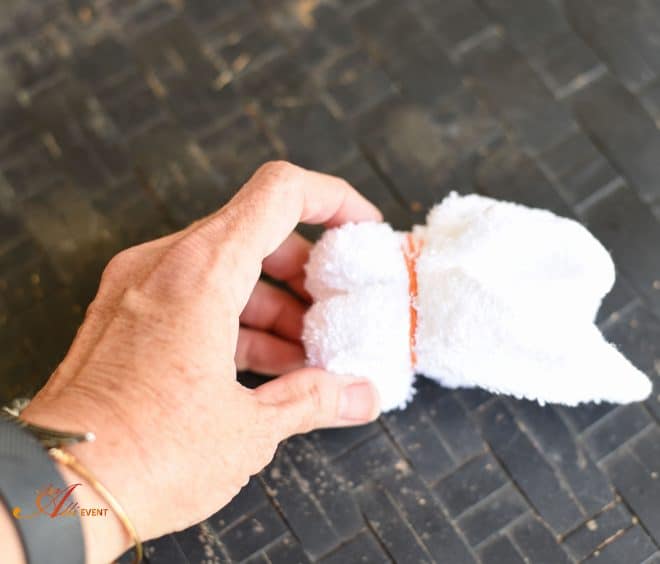 Cut a 12″ length of ribbon and place it over the rubber band. Make a bow. Pull the bunny ears into place, fluffing a little as you go.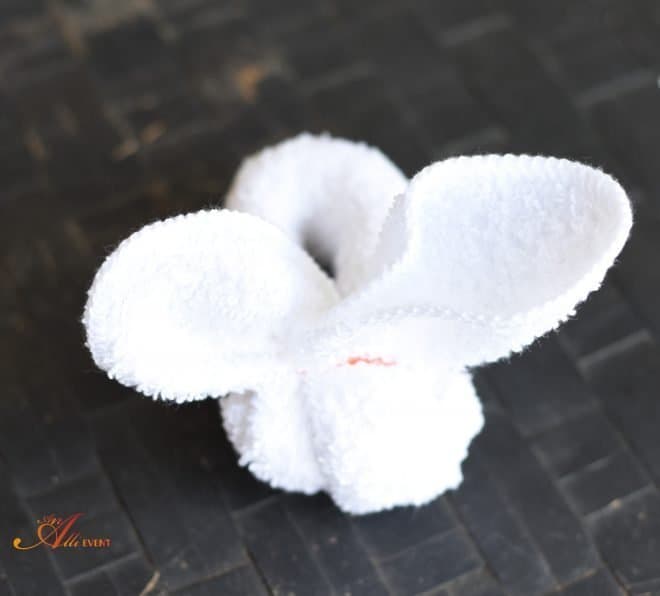 Use a hot glue gun to add the googly eyes and pom-pom to make a bunny face. Ta-da! Isn't he cute?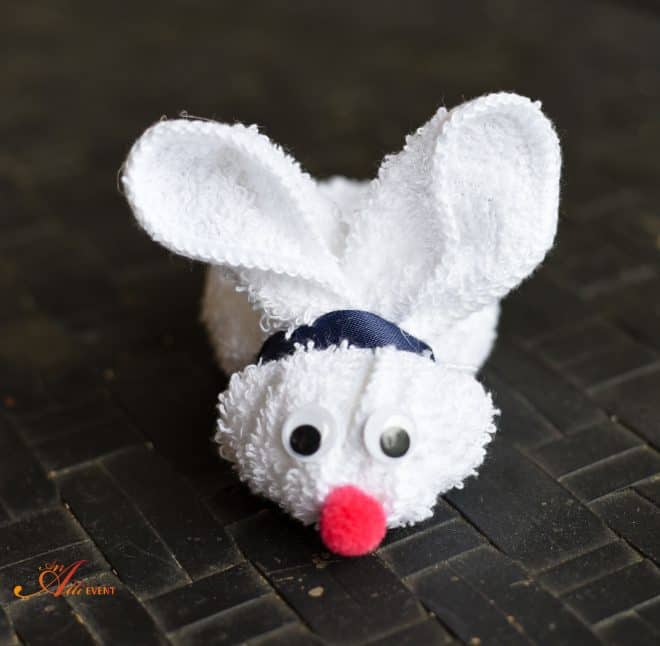 I'll be adding these DIY Washcloth Bunnies to every basket I create during the Easter season. They are so easy to make and are also a great Easter craft for the kids to help with.
Helpful Hint: This Baseball Themed Easter Basket can be personalized for any teen in your life. Think softball, golf, soccer, etc.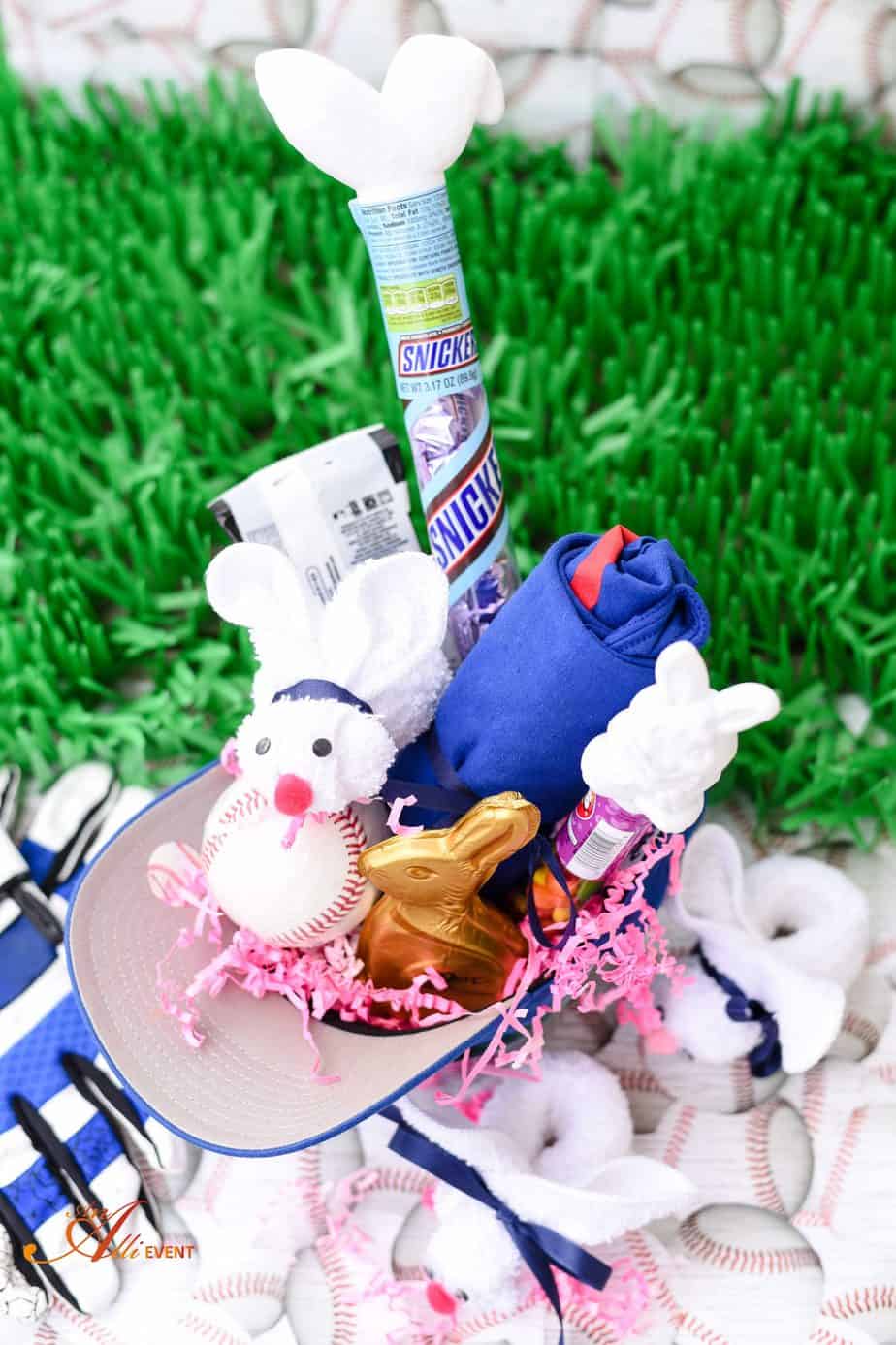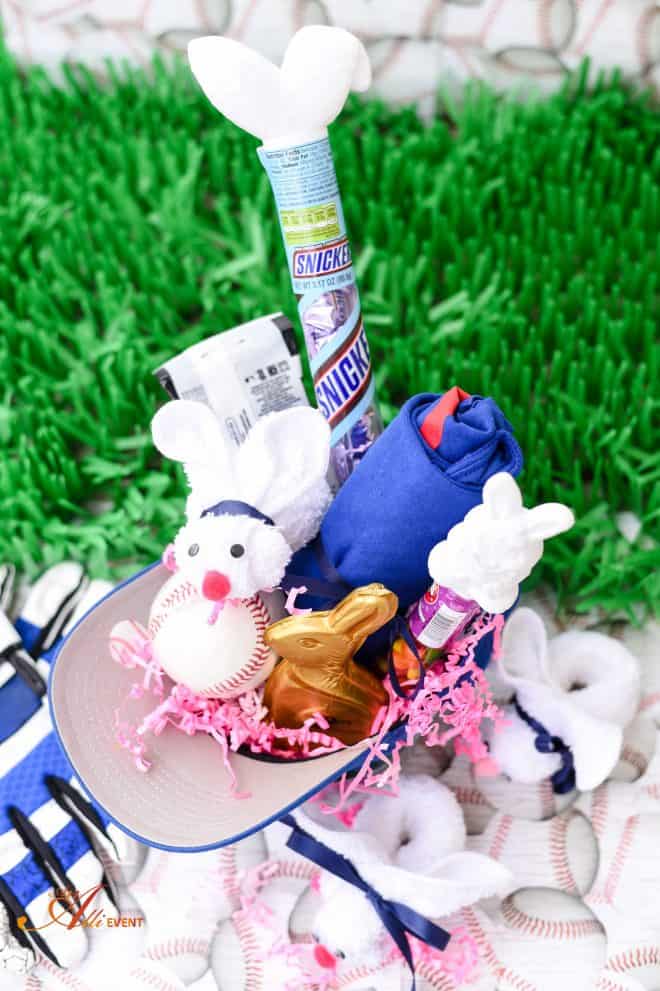 Thankfully, Walmart has everything I need for creating a Baseball Themed Easter Basket for my teen grandson and themed baskets for the entire family. What sports-themed Easter basket will you create?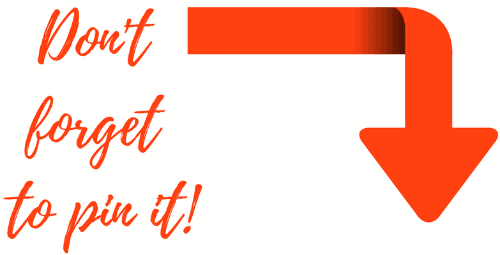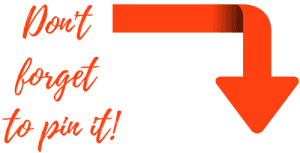 You May Also Love These Posts!