Need an easy meal to serve a crowd? My beef brisket & chocolate ganache is the way to go! Beef Brisket (not to be confused with corned beef brisket) is your man, er, main dish! And no, you don't need a smoker to cook it! Hang on, the Chocolate Ganache is for dessert – although I have been known to toss a little cocoa into the rub for the beef. Yum!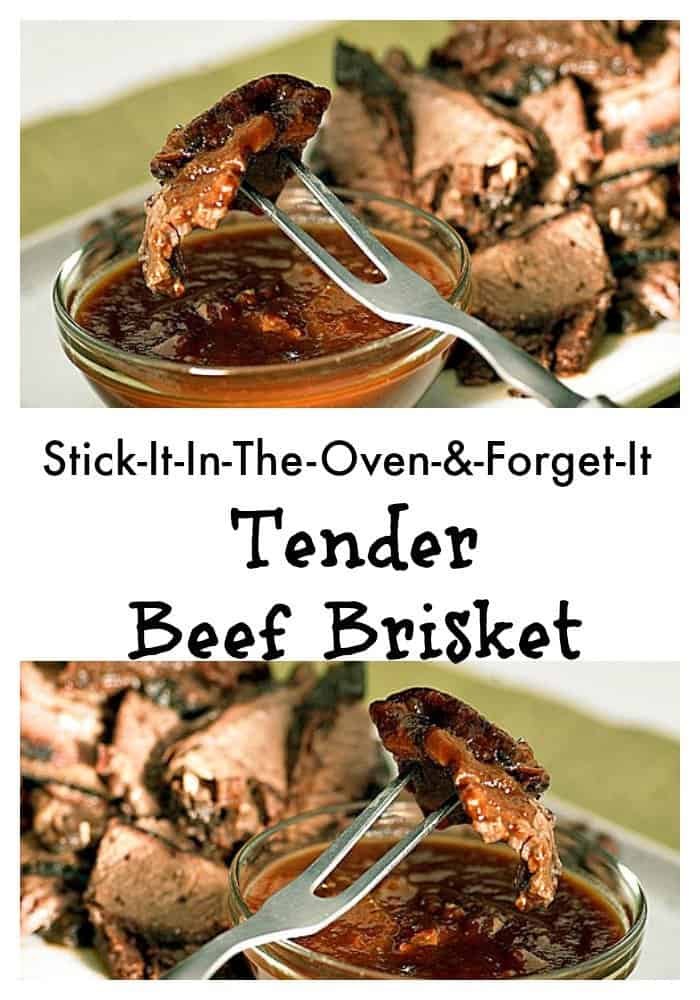 My hubby loves to use his smoker. I think it's a man thing. But sometimes (just between you and me) his beef brisket comes out a little tough. Enter my stick-it-in-the-oven-and-forget-about-it beef brisket – so tender you can cut it with a fork! It's the perfect main dish for a big crowd. Or you can cut it in half – before you cook it – and freeze half for later.
As a matter of fact, I served it this past Sunday and my family devoured it! This brisket serves around 15 with plenty of leftovers for sandwiches.
Beef Brisket for a Crowd

Beef Brisket
Ingredients
1 - 10 lb. Beef Brisket (NOT CORNED BEEF)
16 oz. Beef Stock
2 tsp liquid smoke
2 T. Worcestershire Sauce
Rub:
2 Tablespoons Chili Powder
1 Tablespoon Salt
1 Tablespoon Garlic Powder
1 Tablespoon Onion Powder
1 Tablespoon Black Pepper
2 Tablespoons Brown Sugar
2 tsp. Ground Mustard
Instructions
Preheat oven to 350.
Cut brisket in half horizontally and wash and trim, leaving the layer of fat on the one side.
Pat dry. With your hands, smear the rub over both sides of the brisket.
Place brisket in two roasting pans. Roast for one hour.
Remove from oven and lower temp. to 300.
Pour the mixture of beef stock, liquid smoke and Worcestershire sauce around each brisket. Cover tightly with foil and bake for 4 hours.
Let rest 15 minutes before uncovering and slicing.
This is a big hit at my house. Don't tell, but our children and grandchildren like my version better . . . shhhhh . .
Helpful Hint: A typical 3-lb. brisket needs to roast for about 3 hours. As of May 24, 2011, the USDA recommends cooking whole meats to an internal temperature of 145 degrees F. It's a good thing to invest in an instant-read thermometer. If you leave the 10 lb. brisket whole, you will need to cook for approx. 9-10 hours. That is why I divide and conquer!
Chocolate Ganache
Bake your favorite chocolate cupcakes (or use a cake mix, add a tsp. vanilla and it tastes home made). Let cool. Then swirl each cupcake in Chocolate Ganache and you are done!

Chocolate Ganache
Ingredients
8 oz chopped chocolate of your choice (bittersweet, milk chocolate, semi-sweet)
1/2 cup heavy cream
Instructions
Pour cream into a saucepan and heat on med. until barely simmering (don't boil).
Pour the cream over the chocolate (in a bowl) and stir until melted and well combined.
If you want more of a frosting consistency, let the chocolate ganache cool completely, place in a mixing bowl. Use the whisk attachment and whisk until light and pale.

Print Friendly