Carolina Skillet Cake is a tender coffee cake topped with a crunchy brown sugar/cinnamon topping and finished with a powdered sugar glaze. It's so delicious!
This post contains affiliate links. As an Amazon Associate, I earn from qualifying purchases.
Everything's better when it's cooked it a cast-iron skillet. Don't you agree? I always make my buttermilk cornbread in a skillet and this Carolina Skillet Cake is another excuse to pull out my skillet.
I'm pretty much obsessed with church cookbooks and that's where I found this recipe many years ago. It's funny how you find a recipe, put your own spin on it, and over time, it becomes known as your recipe and you're asked to bring it to every family get together.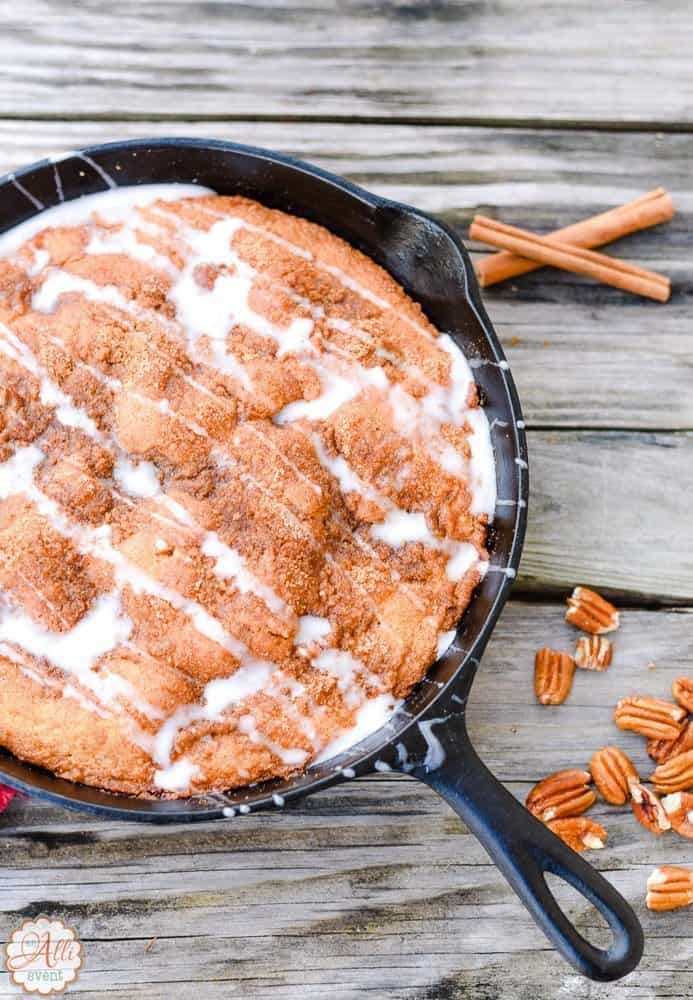 Before we get started baking the Carolina Skillet Cake, let's talk skillets. If you don't have a cast-iron skillet, you can buy this one below using my affiliate link. It comes pre-seasoned and ready to use.
If you've never used a cast-iron skillet before, don't be intimidated. You just have to season it every once in a while to keep the sheen and to keep food from sticking. Click here to learn how to season a cast-iron skillet.
Carolina Skillet Cake
I love the simplicity of this cake. It's the perfect coffee cake.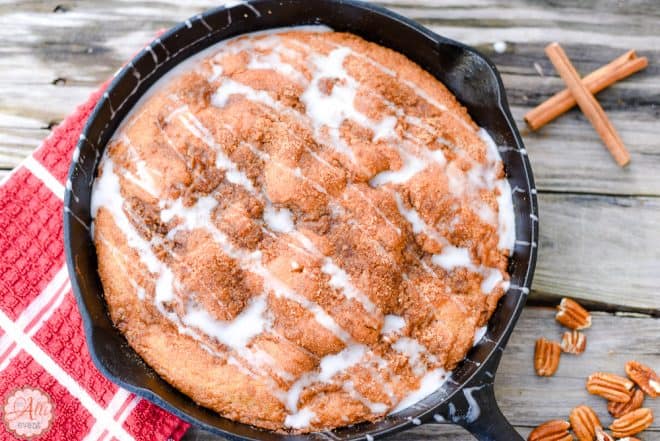 As most of you know, I was born and raised in Georgia (Go Dawgs) and Georgia will always be home.
After getting married, having kids, and moving to Oklahoma to continue my education, my family ended up in South Carolina. We've lived here for over 28 years.
This Carolina Skillet Cake fits me to a tee. And I'm singing Going to Carolina in My Mind by James Taylor. Come on and sing along with me.
Ingredients for Carolina Skillet Cake
For the cake, you'll need these ingredients. You can see the printable recipe card towards the end of the post for the complete recipe.
Shortening
Granulated Sugar
Eggs
Milk
Self-rising flour
Vanilla
Pecans, chopped
For the crumble, you'll need:
Brown sugar
Cinnamon
Butter
Flour
For the glaze, you'll need powdered sugar and milk.
How To Make A Carolina Skillet Cake
Mix the batter ingredients together according to the directions below.
Use a pastry blender (or a fork) to blend the topping ingredients together. Sprinkle the topping over the batter evenly.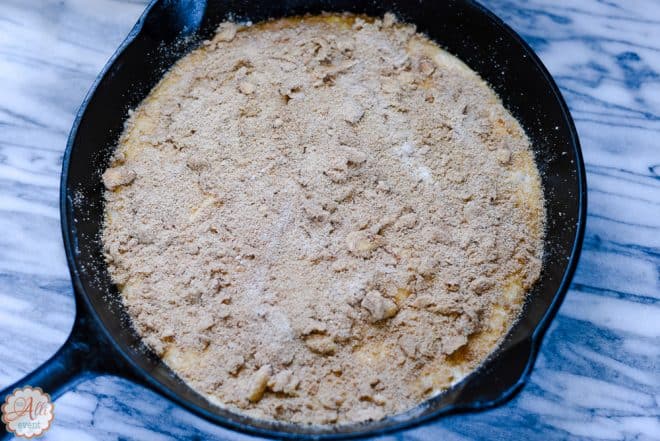 With the rounded end of a wooden spoon or spatula, poke holes in the batter. You want some of the topping to go down deep into the cake batter.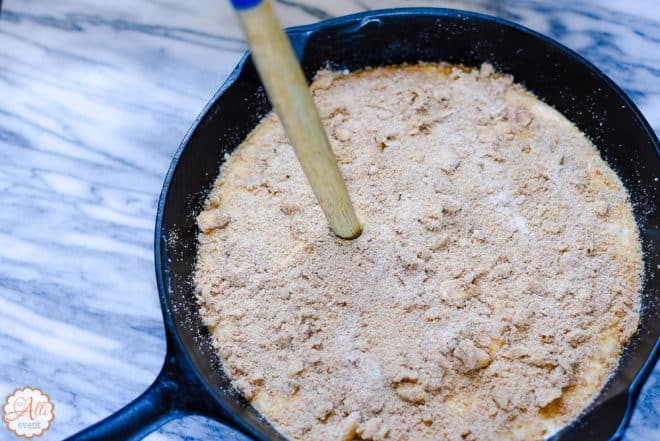 Bake the skillet cake. Cool slightly and drizzle with glaze.
You Will Also Love These Recipes
Yield: 10 servings
Carolina Skillet Cake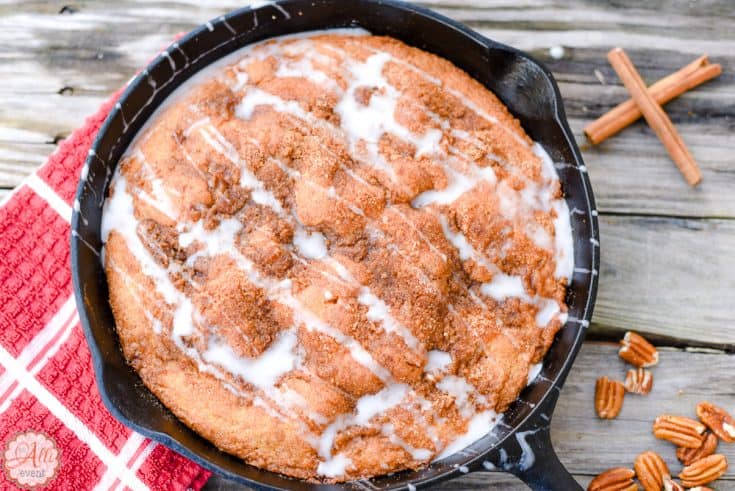 Carolina Skillet Cake has a delicious crumble topping and is drizzled with a powdered sugar glaze. This is my favorite coffee cake.
Ingredients
1/2 cup shortening
3/4 cup granulated sugar
2 eggs
3/4 cup milk
1-3/4 cups self-rising flour
1 teaspoon vanilla
1/3 cup pecans, chopped
Crumble Topping
1/2 cup brown sugar
1 tsp. cinnamon
2 Tablespoons butter, softened
2 Tablespoons flour
Powdered Sugar Glaze
1 cup powdered sugar
2 Tablespoons milk
Instructions
Preheat oven to 375º F.
Grease and flour a 10" cast iron skillet.
Cream shortening, gradually adding sugar, until light and fluffy (about 4-5 minutes).
Add eggs one at a time, beating after each addition.
Add flour and milk alternately, beginning and ending with flour. Stir in vanilla and pecans.
Pour batter into skillet and sprinkle top with Crumble Topping.
With the handle of a wooden spoon, make holes in the batter so that the topping will bake into the cake.
Bake 35 minutes or until a pick inserted into center comes out clean. Cool slightly and drizzle with the sugar glaze.
Crumble Topping
To make the crumble topping, mix all the ingredients together until well blended.
Powdered Sugar Glaze
Place the powdered sugar in a small bowl and gradually add the milk and whisk until well combined. If the glaze is too thick, add another tablespoon of milk. If it's too thin, add a little more powdered sugar.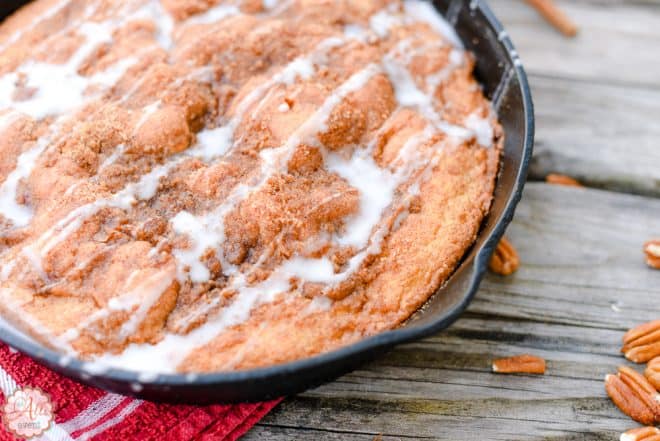 Carolina Skillet Cake one the easiest cakes you'll ever make. Just because it's easy, doesn't mean it's not delicious. This is one cake that you'll want to make again and again. It pairs well with coffee and is the perfect ending to a rustic meal.
Don't wait until you have company over to enjoy this cake. It's also good for Saturday breakfast or brunch.