This shop, Chocolate Bread Pudding, has been compensated by Collective Bias, Inc. and its advertiser. All opinions are mine alone. #EggcellentTreats #CollectiveBias
When I created Chocolate Bread Pudding with Praline Sauce, I had no idea it would go viral . . . with my family. I hit it out of the ball park with this one.
Pralines are Such a Southern Thing
Pralines haven't always been a southern thing. Those delectable confections of almonds and caramelized sugar were brought over to New Orleans by French settlers. Due to almonds being in short supply and the South's beloved pecans in abundance, New Orlean chefs ditched the almonds and added pecans and cream. That's how the south's pralines were born.
I've turned pralines into a sauce that will rival any chef's creation. Keep reading for the easy praline sauce recipe and my delicious Chocolate Bread Pudding.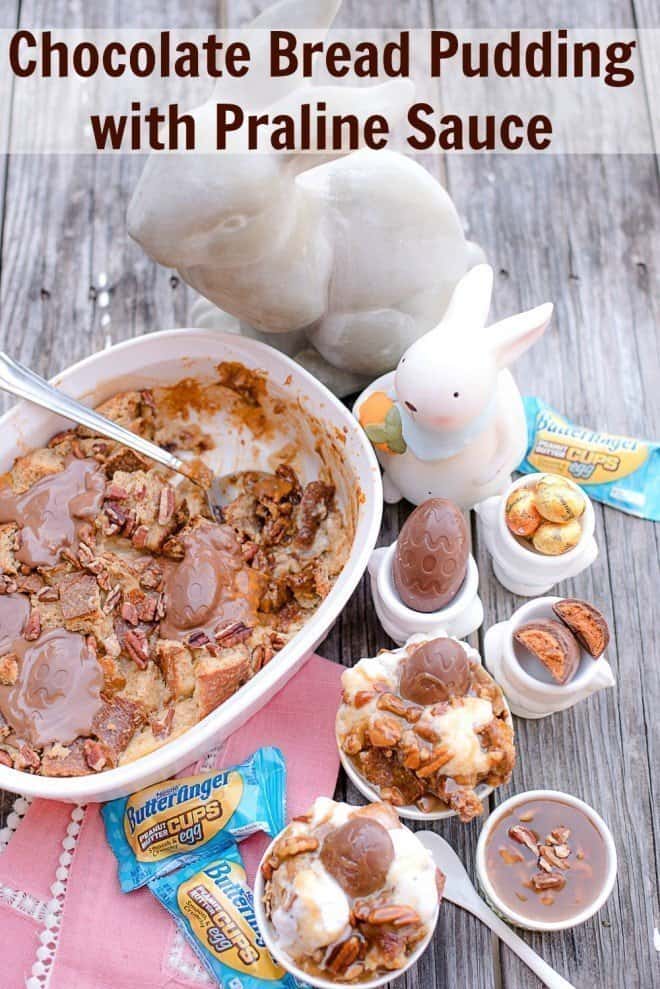 With Easter right around the corner (March 27th) and brunch in high demand, I decided to create a Chocolate Bread Pudding. We won't be making pralines, but we will be making the best praline sauce I've ever tasted. Relax, this entire dish is so easy to make and your family will love it.
The crunchiness of the bread, the chocolate and peanut butter goodness of BUTTERFINGER® Cup Eggs 6pk. slowly melting over the pudding and the smooth, silky deliciousness of the praline sauce takes this bread pudding to the next level.
Time Saver Tip
Helpful Hint: To save time, I make the bread pudding and the praline sauce the night before Easter. But don't wait until Easter to try this. You've got to make it now. It's that good!
How to Make the Bread Pudding
To make the bread pudding, cut a french bread loaf into 1″ cubes. I used whole wheat french bread, but you can use white, too.
In a mixing bowl, whisk together eggs, heavy whipping cream, milk, brown sugar, vanilla, salt and ground nutmeg. Pour over bread crumbs and gently stir to coat all the bread cubes. Let sit for at least an hour or overnight.
On the morning of, I let the bread pudding come to room temperature and sprinkle with toasted pecans before baking at 350º for approximately 45 minutes.
Top with Butterfinger Eggs
As soon as it finishes baking, I add the BUTTERFINGER® Cup Eggs 6pk. It's the perfect topping for my Chocolate Praline Bread Pudding. I'm thrilled that all BUTTERFINGER® products have no artificial colors and flavors, added colors from natural sources.
It's a Masterpiece
Y'all, it has to be said. I've created a masterpiece. I've been patting myself on the back ever since I took the first bite.
My daughter happened to stop by the day I took this recipe for a test drive. I had just taken the bread pudding out of the oven and was placing the BUTTERFINGER® Cup Eggs 6pk. on top. She said it was the best stuff she had ever tasted. I totally agree!

Chocolate Bread Pudding
Ingredients
3 large eggs
1-1/2 cups heavy whipping cream
1-1/2 cups milk
1 cup packed dark brown sugar
1 tablespoons vanilla extract
1/4 teaspoon table salt
1/4 teaspoon ground nutmeg
1 (16-oz.) day-old French bread loaf, cut into 1-inch cubes (about 7 cups)
1 cup coarsely chopped toasted pecans
Instructions
Stir together first 7 ingredients in a large bowl. Add bread cubes, stirring to coat thoroughly. Let stand 1 hour, stirring occasionally to ensure an even coating. Stir in pecans.
Preheat oven to 350°F. Lightly grease a 13- x 9-inch baking dish; pour bread mixture into dish. Bake in preheated oven until bubbly around edges and firm in center, about 45 minutes. Let stand 5 minutes. Serve with Praline Sauce.
Drizzle Bread Pudding with Praline Sauce
After scooping up my yummy bread pudding into pretty bowls, I top it off with a drizzle of praline sauce and whipped cream. It's the star of my brunch buffet!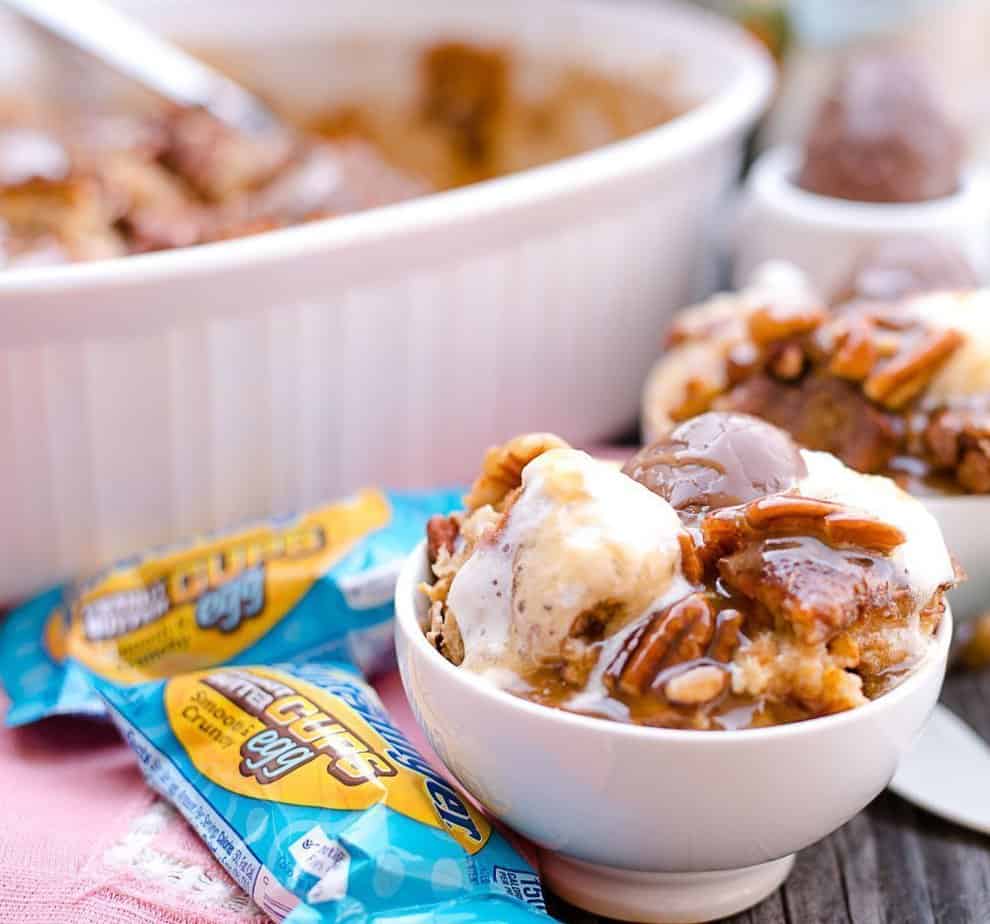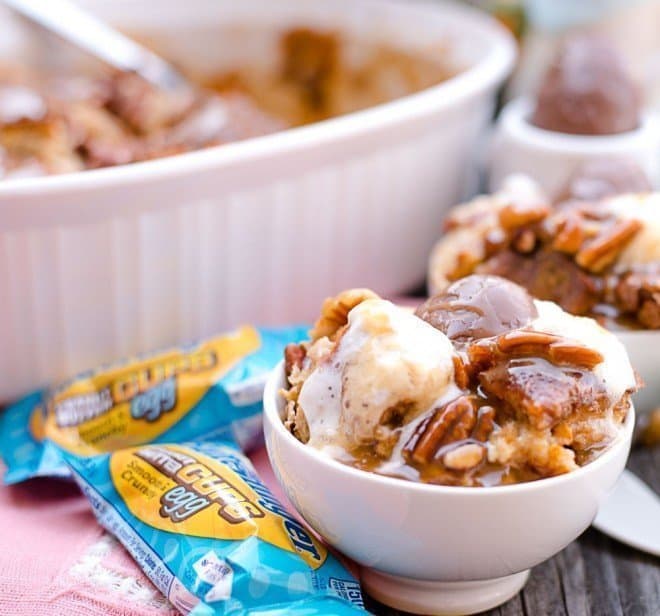 How to Make Praline Sauce
To make my easy no-fail praline sauce, combine brown sugar, half & half and 1/2 cup butter in a medium saucepan. Bring to a boil, stirring constantly and boil for one minute.
Remove from heat, add vanilla and pecans and let cool.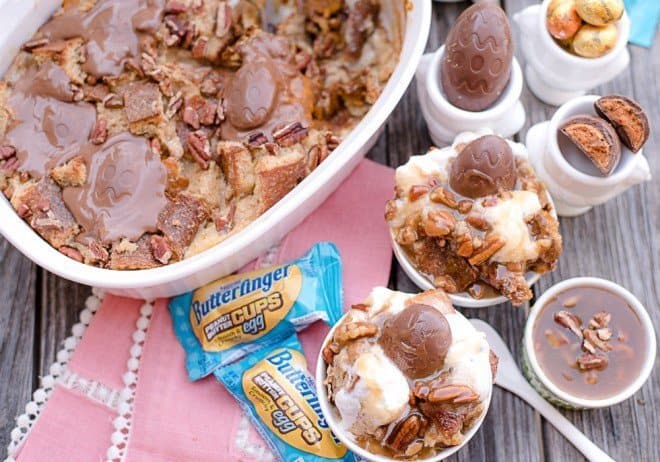 Store leftovers in the fridge. This sauce is also good drizzled over vanilla ice cream and topped with chopped BUTTERFINGER® Cup Eggs 6pk. If the praline sauce gets too thick after being in the fridge, nuke it in the microwave for about 10 seconds. Stir before serving.
How to Toast Pecans
To toast pecans, spread them in a single layer in a baking pan. Bake at 350° until golden brown, stirring often. Watch carefully. Nuts will be toasted in 6-10 minutes.

Praline Sauce
Ingredients
1 cup firmly packed brown sugar
1/2 cup half-and-half
1/2 cup butter
1 teaspoon vanilla extract
1/2 cup toasted pecans
Instructions
Combine first 3 ingredients in a small saucepan over medium heat. Bring to a boil; cook, stirring constantly, 1 minute. Remove from heat; stir in pecans and vanilla.

While shopping at Walmart, I also picked up a few BUTTERFINGER® NestEggs to include in Easter Baskets. My family will be over the moon when they taste the deliciousness.
Do you serve brunch on Easter? I do hope you try my Chocolate Bread Pudding. It's so easy to double or triple the recipe. Be sure and visit the BUTTERFINGER® website to find more amazing recipes. I can't wait to try a few of them this spring.
To find more delicious NESTLÉ® recipes, be sure and join me in following their Flavorful Moments Pinterest Board.