Southern Pineapple Casserole has been compensated by Collective Bias, Inc. and its advertiser.
Southern Pineapple Casserole is my go-to side dish whenever I'm serving a baked ham. You'll find me serving this easy casserole on Easter, Christmas, and Sunday dinners with the family.
If you love casseroles, you need to check out Best Casseroles For Every Occasion!
I always enjoy holiday get-togethers with family and friends. One recipe I can always count on is Southern Pineapple Casserole. If you've never had it, you're in for a treat.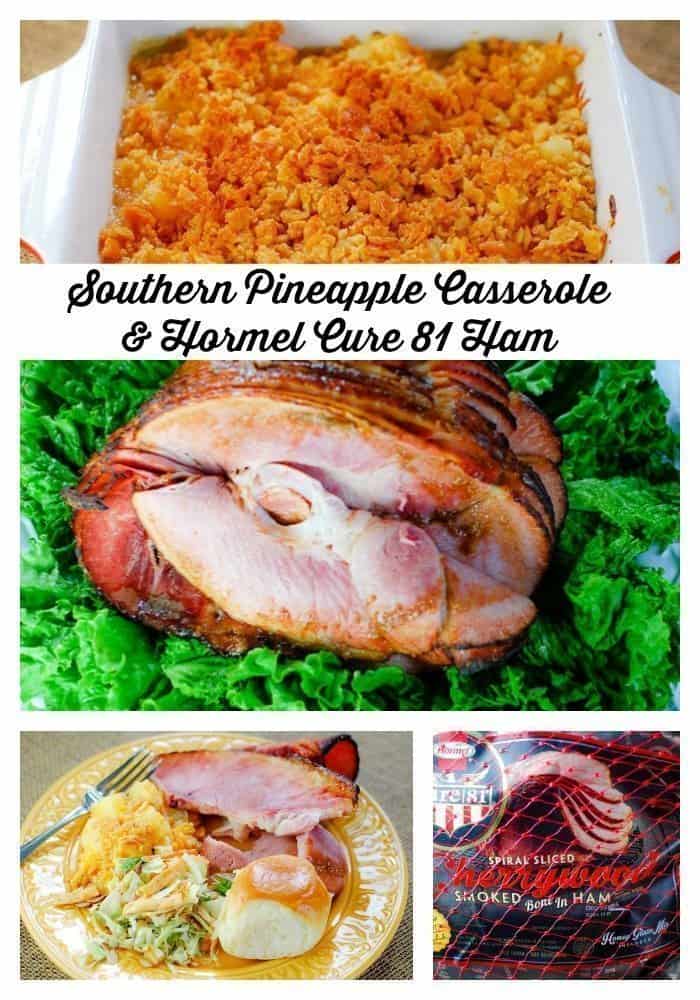 Parties and gatherings are so much easier when they're semi-homemade.
We're a close-knit family (all 16 of us!) and we love to catch up with each other on Sundays over a home-cooked meal. It's even more special during the holidays.
My Family Is Crazy About Ham
The entire family is crazy about ham, so when I was in Walmart with a grocery list in hand, shopping for Sunday lunch, the pretty packaging of Hormel Cure 81 Bone-In Cherrywood Flavor caught my attention. And when I saw that it was fully cooked (heat according to package directions) and spiral-sliced, I was sold.
When I'm buying a ham, I look for a fully cooked spiral-sliced ham. Then I add my easy homemade glaze. My pineapple peach glaze always gets rave reviews.
The one side dish I always serve with ham is Southern Pineapple Casserole. Everyone who's ever had this casserole loves it and wants the recipe. And now, you'll have the recipe, too.
Ingredients For Southern Pineapple Casserole
You can scroll down and find the complete printable recipe card!
pineapple chunks, well-drained
granulated sugar
grated sharp cheddar cheese
all-purpose flour
melted butter
round, buttery crackers (like Ritz)
Steps For Making Southern Pineapple Casserole (full printable recipe card down below!)
Casseroles are always fun and easy to make because all you do is mix the ingredients together and bake. For this particular casserole, I combine the ingredients in one bowl.
Start by combining the granulated sugar and flour. Add cheese and pineapple and mix well. Place in a 9×9 baking pan (or a 1-1/2 quart casserole dish) and top with crushed butter crackers.
Pour melted butter over the crackers and bake at 350º for 30-35 minutes.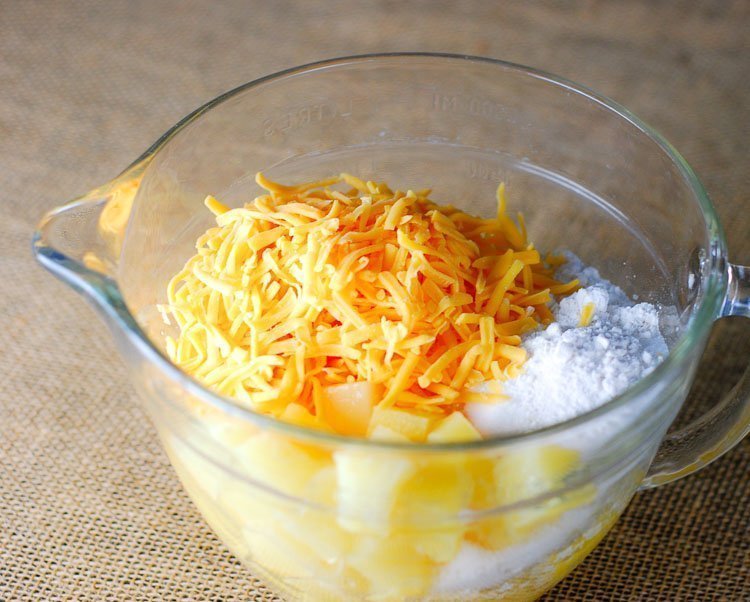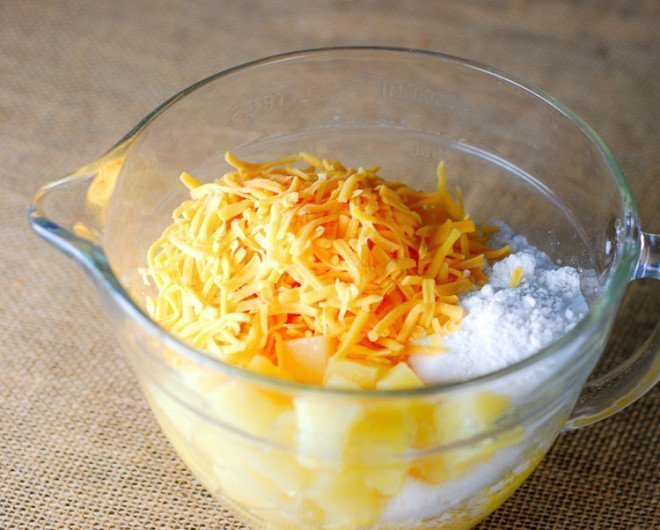 Add a tossed salad and rolls to go alongside the ham and southern pineapple casserole. Dinner is served!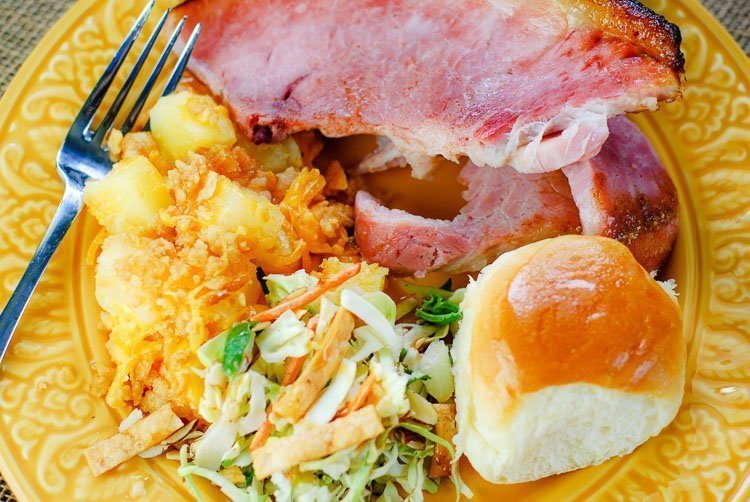 Yield: 8 servings
Southern Pineapple Casserole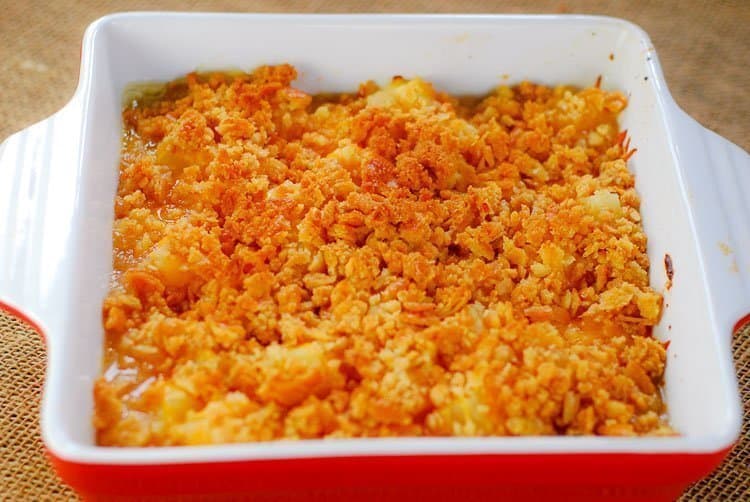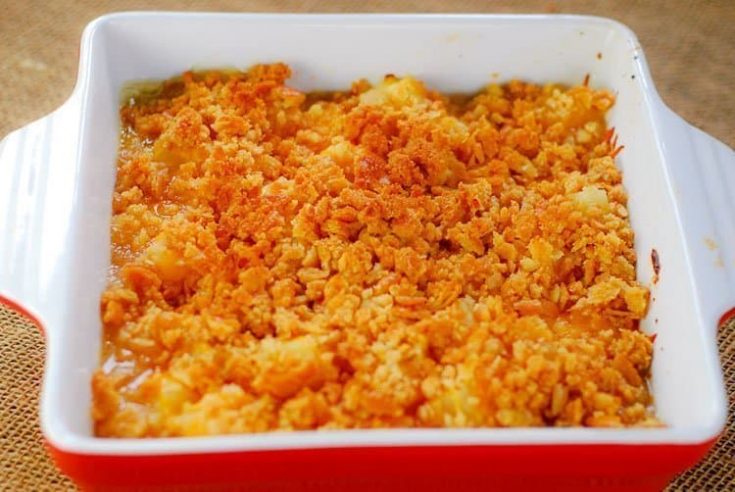 Southern Pineapple Casserole is a slightly sweet side dish that pairs perfectly with baked ham.
Ingredients
2 (20-oz each) cans pineapple chunks, well-drained
1 cup granulated sugar
2 cups grated sharp cheddar cheese
4 teaspoons all-purpose flour
1/2 cup butter, melted
1 sleeve of round, buttery crackers (like Ritz)
Instructions
Preheat oven to 350º. Spray a 9x9 OR a 1-1/2 quart casserole dish lightly with cooking spray.
In a large bowl, combine the sugar and flour. Add cheese and drained pineapple chunks. Mix well and pour into the prepared baking dish.
Top with crushed crackers. Pour the melted butter over the crackers.
Bake for 30-35 minutes until golden brown.
The cracker topping is crunchy and the pineapple/cheese mixture is slightly sweet and tangy. It's a family favorite during the holidays and all year long.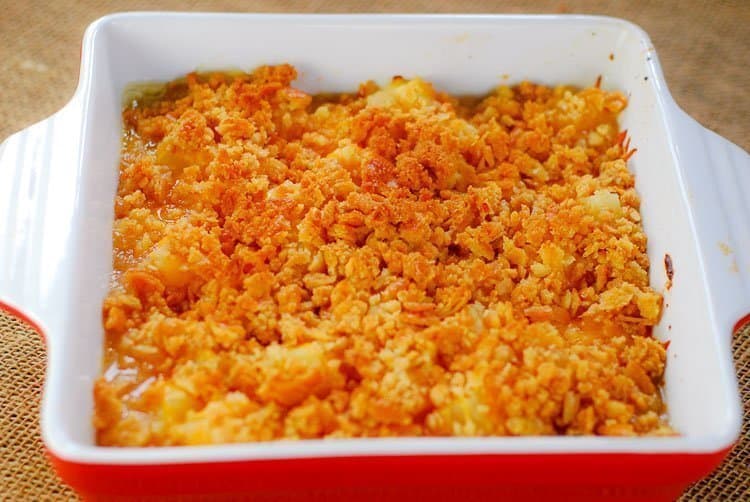 Sunday Gatherings Are Better With Hormel
My Sunday lunch get-together was the first time I served a Hormel Cure 81 Cherrywood Ham. The son-in-law declared it the best ham he had ever tasted.
My husband asked, "What did you do differently with this ham? The entire family agrees that it was the most delicious ham they had ever eaten and immediately requested it for our next get-together.
And all you do is heat it according to the package directions. It's so easy, right?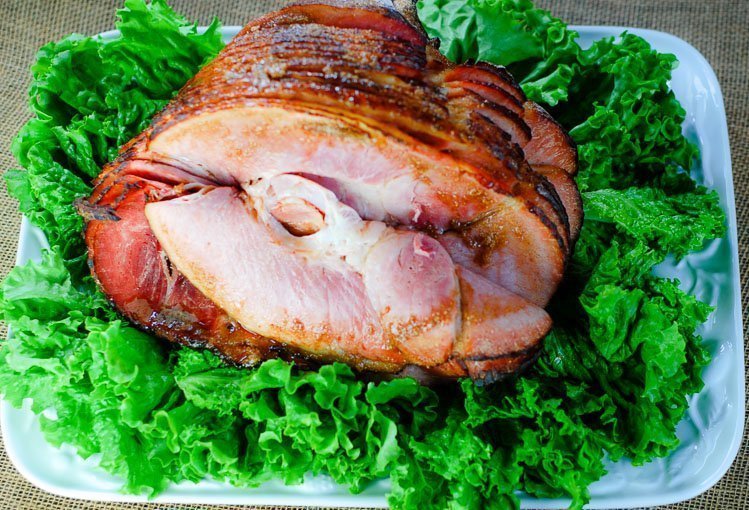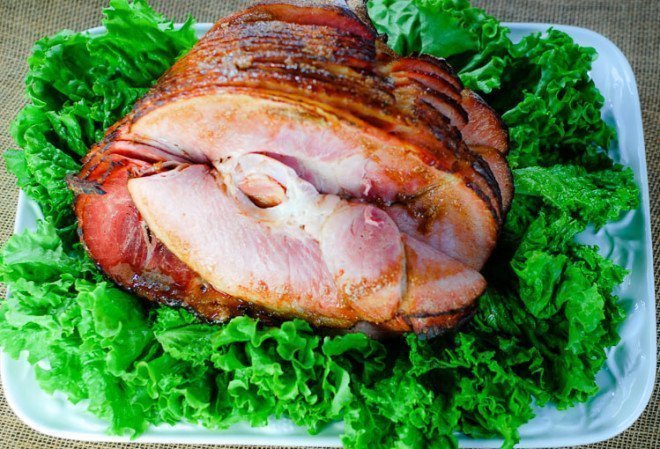 Be sure and try my Southern Pineapple Casserole recipe during the holidays. It's the perfect side dish to your Hormel Cure 81 ham and your dinner guests will be talking about your party long after it's over.
You May Also Like These Holiday Recipes!
Country Ham Grit Cakes With Sweet Mustard Sauce
Pineapple Cheese Ball (A Much Requested Favorite)
Originally posted December 2015 and updated March 2021