Apple Bread With Praline Topping is moist and delicious! It's one of my favorite ways to welcome fall.
I don't know about you, but I'm all about apples during this time of the year. Fall is practically screaming apples. Can you hear it?
I've been making this apple bread with praline topping for years. When it comes to team pumpkin or apple during the fall, I'm all about those apples.
This apple bread is so moist, yet crunchy, with that ooey-gooey caramel topping dripping down the sides. It's more like a dessert than a bread, but whatever you want to call it is fine by me.
Please Note: There is no oil or butter in the batter. The moistness comes from the sour cream. And it was just as moist the next day at breakfast.
Apple Bread With Praline Topping
After having a tiny little piece the day I made it, I was not going to eat anymore. My willpower was strong so I covered it well and walked away – out of sight, out of mind.
I even started the next day off with oatmeal for breakfast. But that bread kept calling my name and I finally gave in and had another tiny slice. Yep, still moist the next day! And that was my treat for the week!
Best Baking Apples
When it comes to the best apples for baking, you want an apple that holds its structure without turning into apple sauce. Honeycrisp is my very favorite apple when it comes to baking desserts.
I used to be a Granny Smith girl (and Granny Smith apples work great in this recipe as well). For the past few years, I've been using Honeycrisp exclusively for baking.
Best baking apples are:
Honeycrisp
Granny Smith
Golden Delicious
Rome
Jonagold
Braeburn
You've just got to make this and tell me what you think!
Doesn't this apple bread look amazing?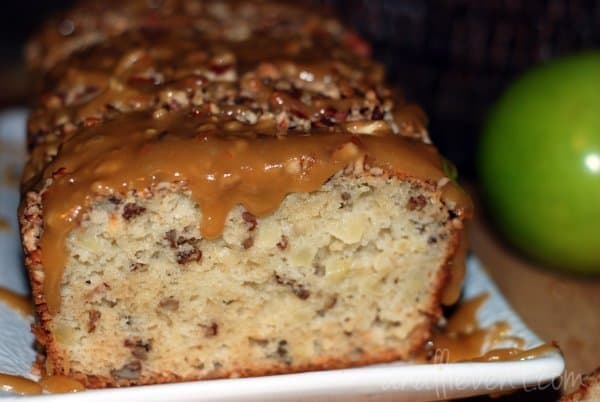 Yield: 12 slices
Apple Bread with Praline Topping
Apple Bread With Praline Topping is moist and delicious. It's my favorite fall bread!
Ingredients
1-1/2 cups chopped pecans, divided
1 (8 oz.) container sour cream
1 cup sugar
2 large eggs
1 Tablespoon vanilla extract
2 cups all-purpose flour
2 tsp. baking powder
1/2 tsp. baking soda
1/2 tsp. salt
1-1/2 cups finely chopped & peeled Honeycrisp OR Granny Smith apples
1/2 cup butter
1/2 cup firmly packed brown sugar
Instructions
Preheat oven to 350º F. Toast 1/2 cup pecans in a single layer in a shallow pan for 6-8 minutes, or until toasted and fragrant, stirring after 4 minutes.
Beat sour cream, sugar, eggs, and vanilla on low speed with an electric mixer for 2 minutes or until blended.
Stir together flour, baking powder, baking soda, and salt. Add to sour cream mixture, beating just until blended. Stir in apples and 1/2 cup toasted pecans.
Spoon batter into a greased and floured 9" x 5" loaf pan. Sprinkle with remaining pecans and lightly press into batter.
Bake at 350º F. for one hour or until a wooden pick inserted into the center comes out clean. If needed, shield with aluminum foil after 50 minutes to prevent excessive browning. Cool in pan on a wire rack for 10 minutes. Remove from pan to wire rack.
To make the praline topping, bring the butter and brown sugar to a boil in a 1-quart heavy saucepan over medium heat, stirring the entire time. Remove from heat and spoon over the top of the bread. Let cool completely.
Note: You'll notice that the directions say to let it cool completely. I don't always do that. I like to eat a small slice while it is still warm. And remember, an apple a day keeps the doctor away! Does this count?
This may be my favorite apple recipe. What's yours?
You May Also Like