If you've been following my blog, you probably know by now that my favorite seasons are spring and summer.  Christmas and boots are about the only things I like about winter.  To hasten spring's arrival, I prepared a tray of butterfly shaped tea sandwiches.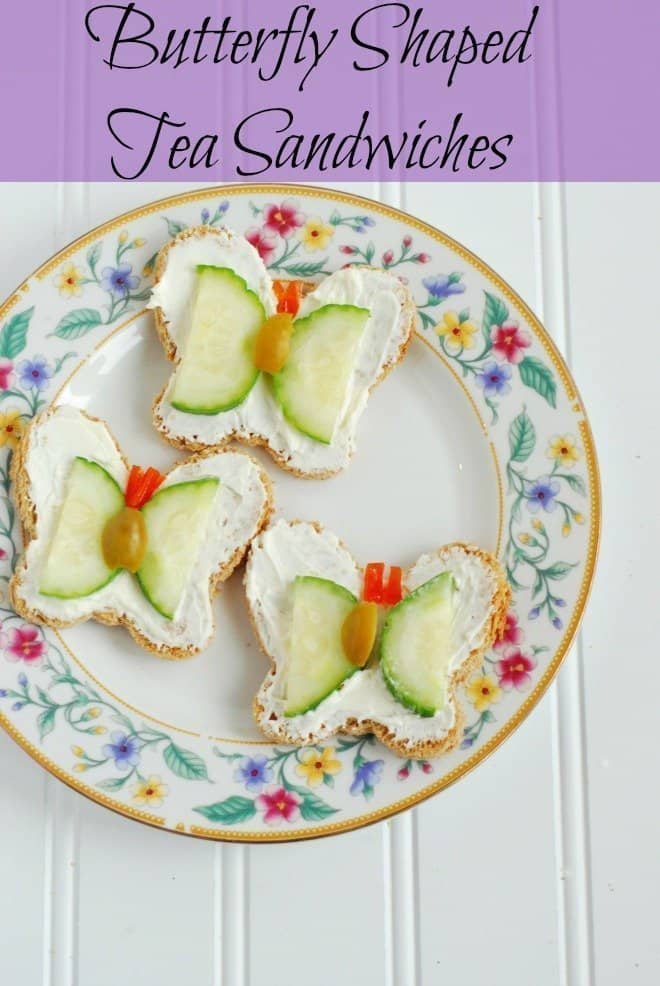 A tea sandwich is a dainty sandwich originally meant to be eaten at afternoon teatime to starve off hunger until the main meal.  They are perfect for garden parties, bridal and baby showers. I actually had a couple (or more) for lunch today.
I decided to make butterfly shaped sandwiches as I was going through my cookie cutter collection looking for a flower shaped cutter.  I'm so glad I found the butterfly first.
Here's how you do it: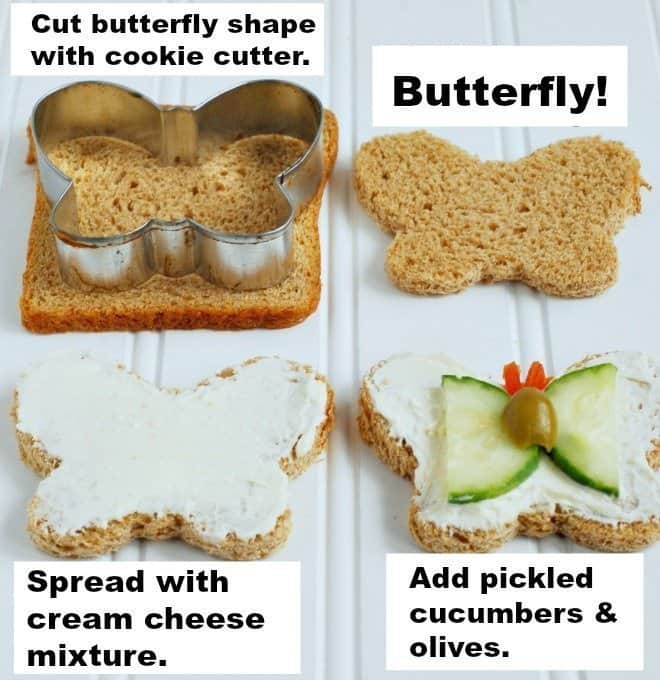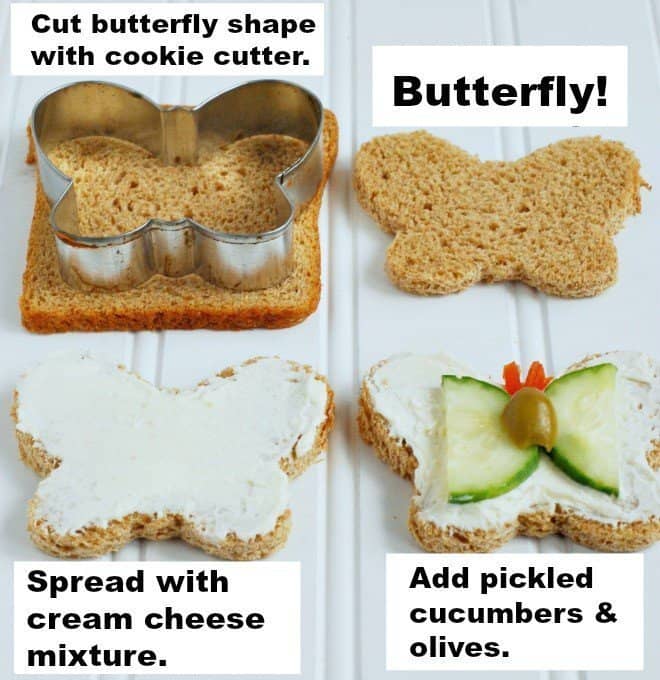 Butterfly Shaped Tea Sandwiches
Ingredients
1 medium cucumber
1 cup water
½ cup cider vinegar
1 package (8 oz.) cream cheese (feel free to use low-fat)
¼ cup mayonnaise (I always use Duke)
¼ tsp. garlic powder
¼ tsp. onion powder
⅛ tsp. Worcestershire sauce
24 thin slices of bread
12 stuffed olives
Instructions
Cut cucumbers into thin slices. Place in a bowl and cover with water and vinegar. Let stand for 30 minutes. Drain.
In a mixing bowl, beat cream cheese, mayo, garlic powder, onion powder and Worcestershire sauce.
Cut bread into butterfly shapes using a butterfly shaped cookie cutter.
Spread each with cream cheese mixture.
Slice one cucumber slice in half to form wings.
Slice an olive in half and use the pimento for the antennae and place ½ olive for the body in between the wings.
When you soak the cucumber slices in the vinegar/water mixture, you're doing a quick pickling of the veggies.  The pickled cucumber adds a crispy zip to the cream cheese mixture.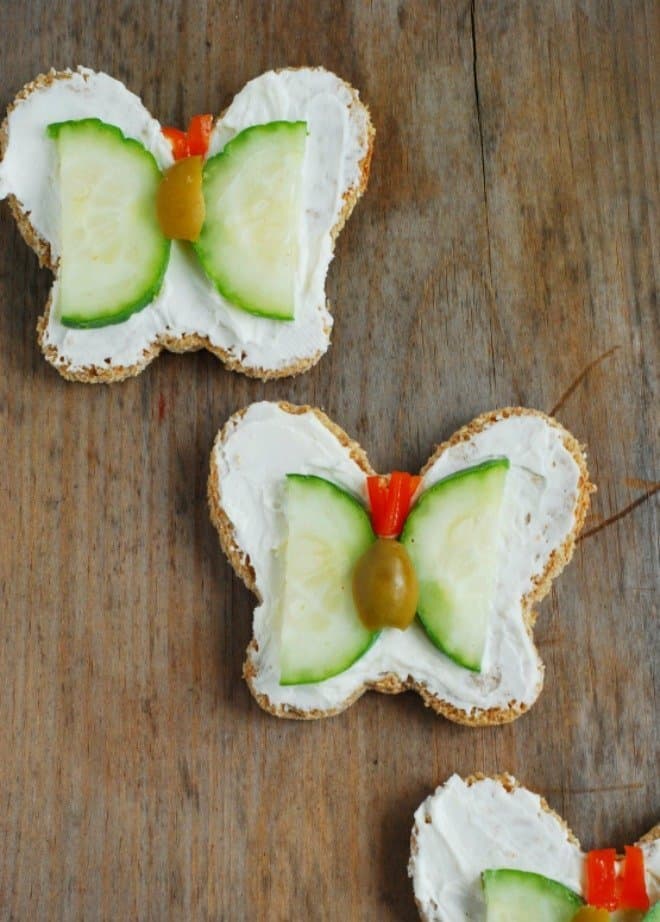 I used Pepperidge Farm very thin 100% whole wheat bread (40 calories a slice), but any thin bread will work.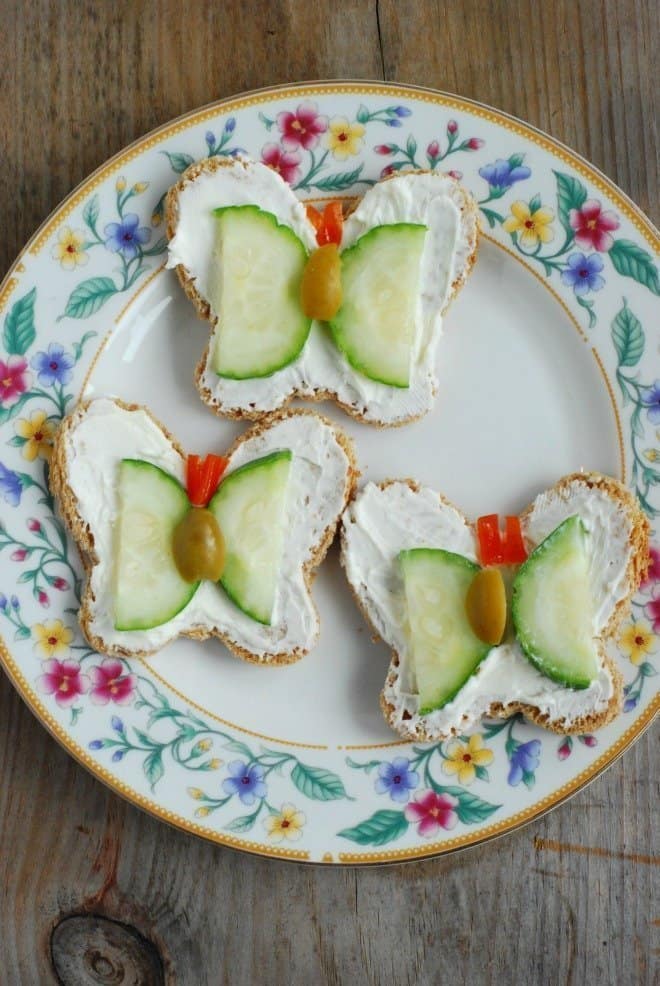 These sandwiches may look dainty, but they pack a powerful punch of flavors. What's your favorite party sandwich?
Print Friendly