Butterfly-Shaped Tea Sandwiches are perfect to make for spring and summer. I make these open-faced sandwiches for tea parties and luncheons.
I'm crazy about butterflies. I purposely plant flowers in my garden to attract them. And to celebrate spring and/or summer, I prepared a tray of tea sandwiches.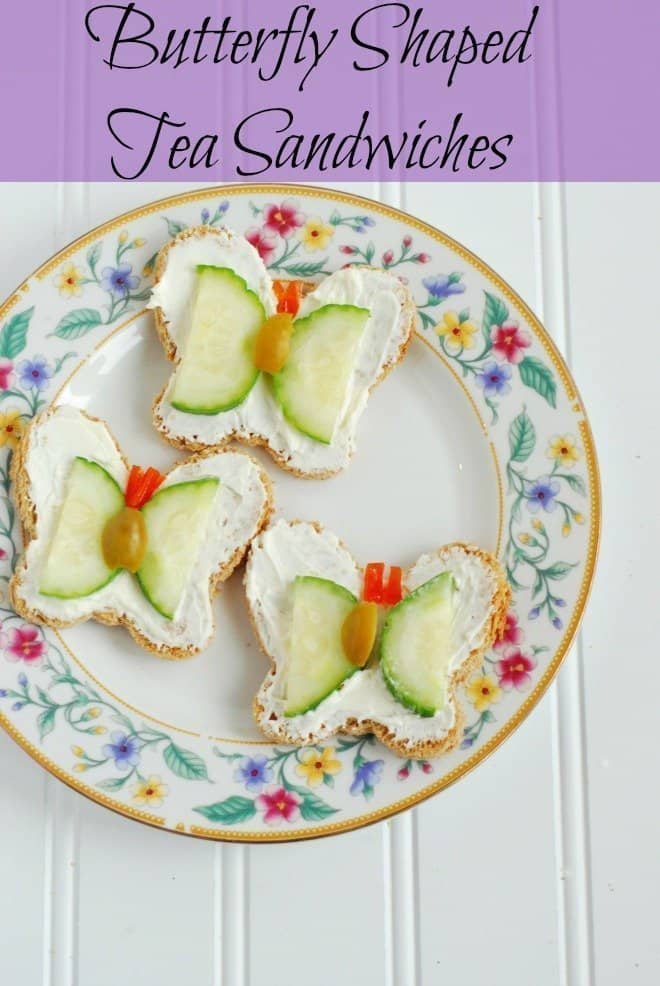 A tea sandwich is a dainty sandwich originally meant to be eaten at afternoon teatime to stave off hunger until the main meal. They are perfect for garden parties, bridal, and baby showers. I actually had a couple (or more) for lunch today.
I decided to make these sandwiches when I was going through my cookie cutter collection looking for a flower-shaped cutter. I'm so glad I found the butterfly first.
I've been collecting cookie cutters for years. I rarely use them to make cookies but they are wonderful when it comes to making tea sandwiches.
Ingredients For Butterfly Shaped Tea Sandwiches
cucumber
1 cup water
1/2 cup cider vinegar (the water and vinegar are used to make a quick pickling juice for the cucumber)
1 package (8 oz.) cream cheese (feel free to use low-fat)
mayonnaise (I always use Duke)
garlic powder
onion powder
Worcestershire sauce
thin bread slices
Pimento stuffed green olives
How to Make Butterfly-Shaped Tea Sandwiches
The first step is soaking the cucumber slices in the vinegar/water mixture for 30 minutes. You're basically quick pickling the veggies. The pickled cucumber adds a crispy zip to the cream cheese mixture.
Cut butterfly shapes with a cookie cutter. Spread with cream cheese mixture and add pickled cucumbers and olives. These open-faced sandwiches are so good and easy to make.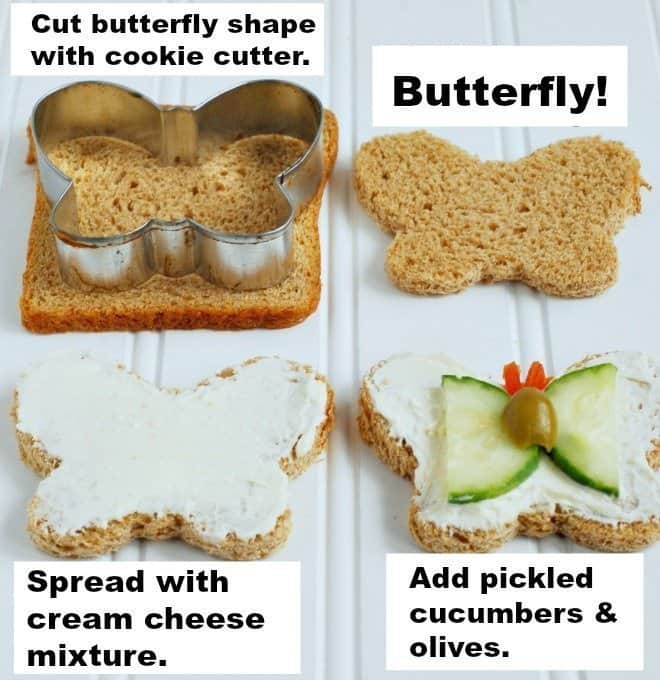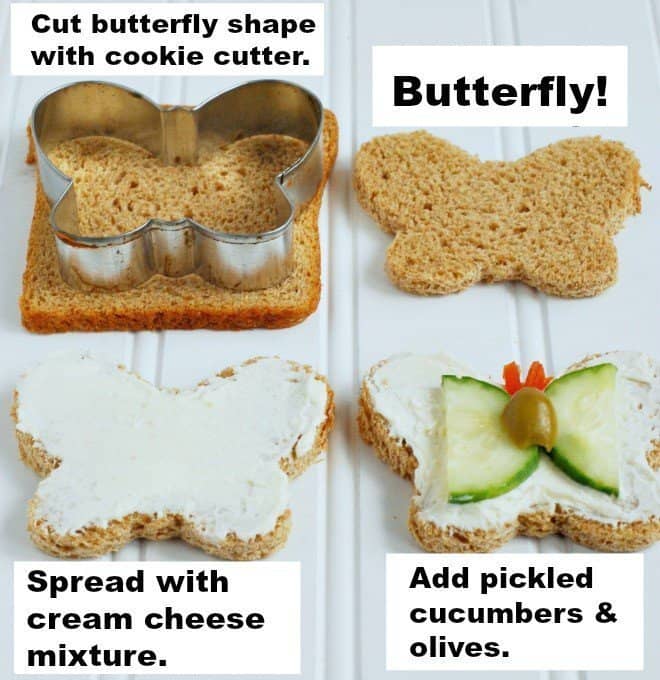 More Ideas for Pretty Cookie Cutter Sandwich
On patriotic holidays I like to make peanut butter and jelly sandwiches for the kids just in case they are in the mood to eat what the grownups are having. I make the sandwiches like I normally do. Then I use a star cookie cutter to cut out a star in the top slice of bread.
The whole sandwiches are pretty and I don't let the stars go to waste. I make tiny peanut butter and jelly sandwiches with the stars.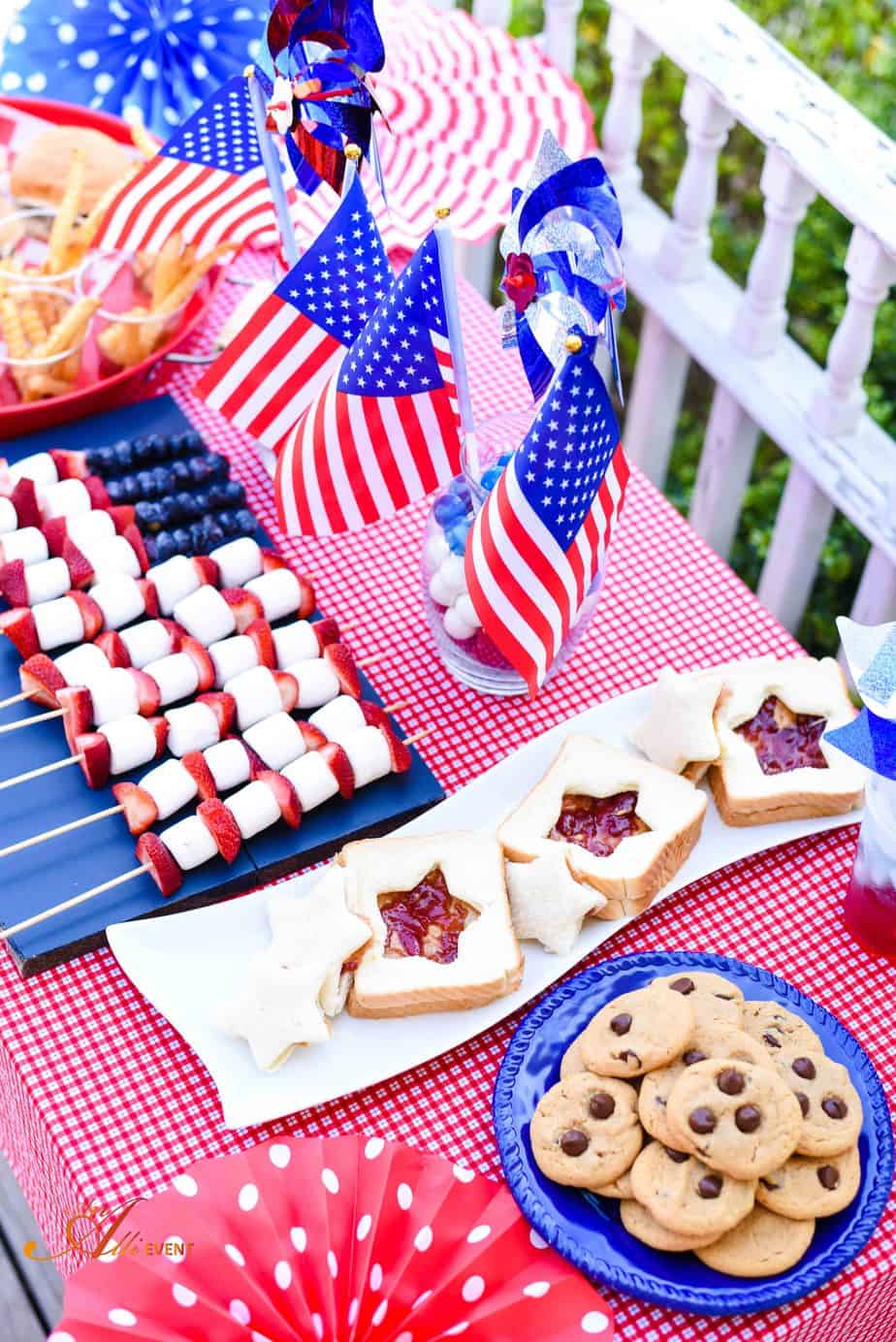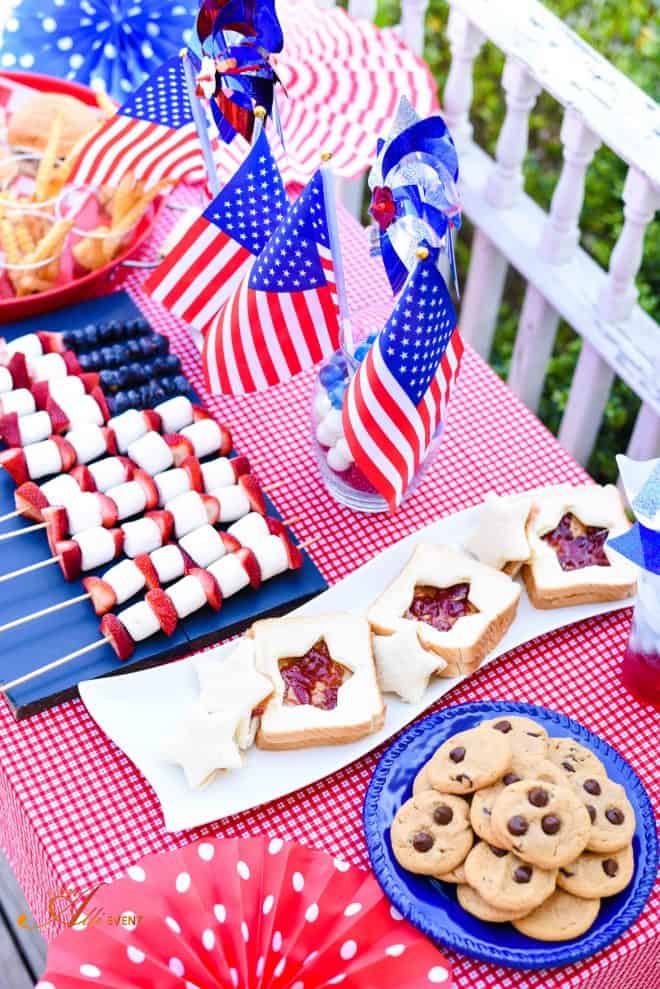 You can use an animal cookie cutter to take a grilled cheese sandwich to the next level. Kids love animal-shaped sandwiches!
How about a teddy bear-shaped sandwich? You only need a round cookie cutter, a drinking glass or clean tuna can to cut the bread out.
Make a peanut butter sandwich. Add sliced bananas for the ears. Cut out a bowtie-shaped apple slice, and add raisins for the eyes. Add Nutella, another banana slice, and another raisin to complete the look.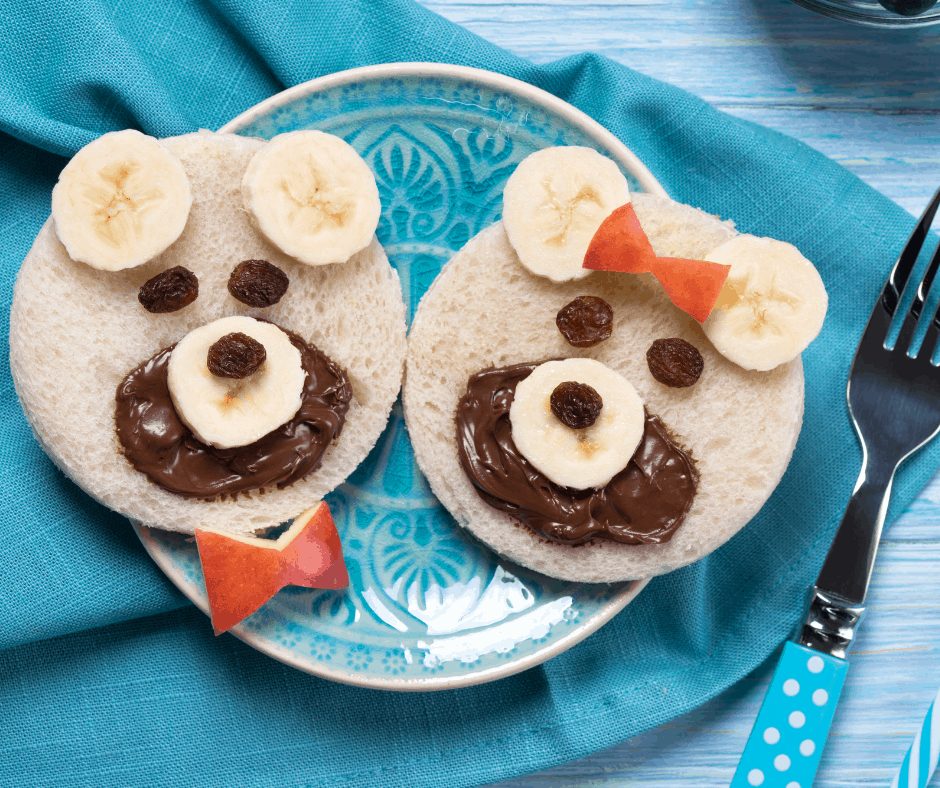 Fish-shaped sandwiches are cute too. You'll need blueberries, strawberries, and a slightly sweetened cream cheese mixture. Mix one 8 oz. package cream cheese with 1/2 cup sugar and teaspoon vanilla. Mix until well combined.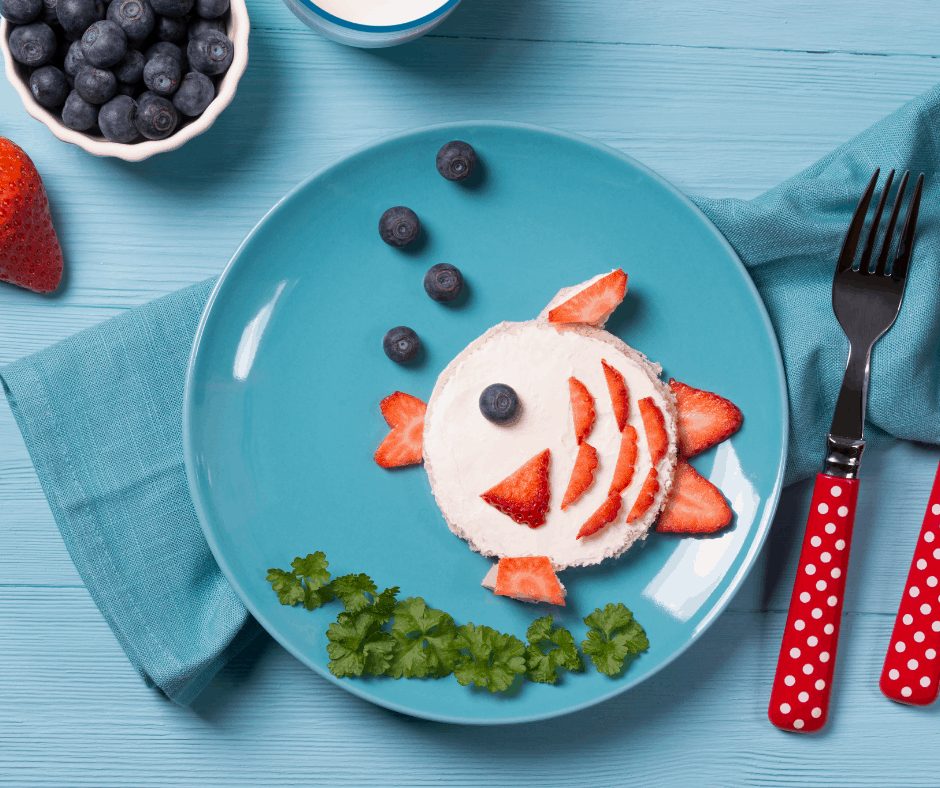 Yield: 24
Butterfly-Shaped Tea Sandwiches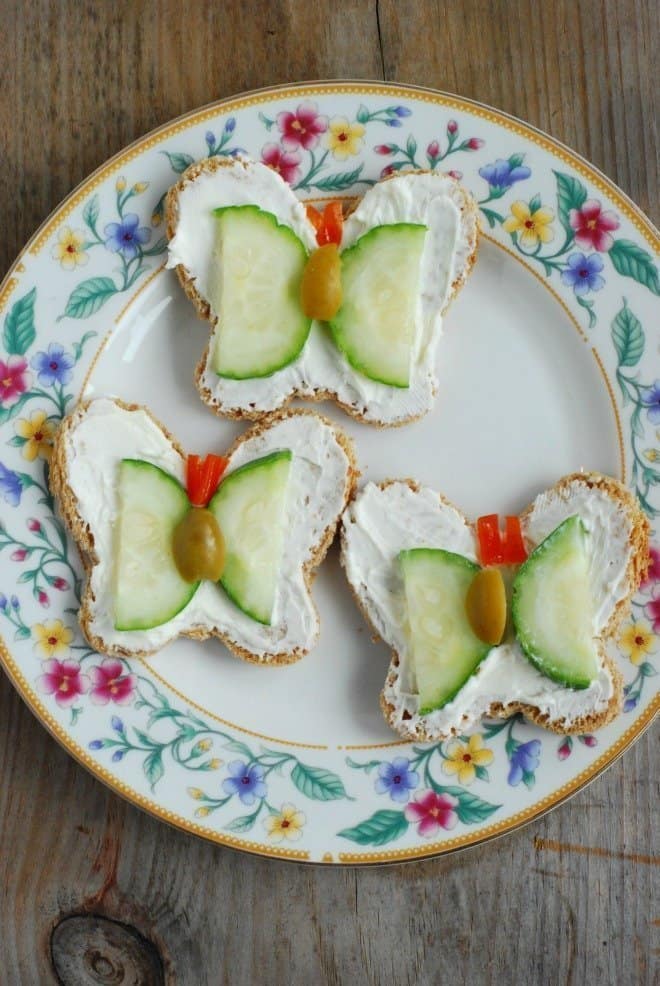 The sliced cucumber adds a nice crunch to these Butterfly-Shaped Tea Sandwiches. These are perfect to serve at a tea party.
Ingredients
1 medium cucumber
1 cup water
1/2 cup apple cider vinegar
1 package (8 oz.) cream cheese, softened
1/4 cup mayonnaise (I always use Duke)
1/4 teaspoon garlic powder
1/8 teaspoon Worcestershire sauce
1/4 teaspoon onion powder
24 thin slices of bread
12 pimento-stuffed olives
Instructions
Cut cucumbers into thin slices. Place in a bowl and cover with water and vinegar. Let stand for 30 minutes. Drain.
In a mixing bowl, beat cream cheese, mayo, garlic powder, onion powder, and Worcestershire sauce.
Cut bread into butterfly shapes using a butterfly-shaped cookie cutter.
Spread each butterfly-shaped bread slice with the cream cheese mixture.
Cut one cucumber slice in half to form wings.
Slice an olive in half and use the pimento for the antennae and place 1/2 olive for the body in between the wings.
Recommended Products
As an Amazon Associate and member of other affiliate programs, I earn from qualifying purchases.
Nutrition Information
Yield
24
Serving Size
1
Amount Per Serving
Calories

113
Total Fat

4g
Saturated Fat

1g
Trans Fat

0g
Unsaturated Fat

2g
Cholesterol

5mg
Sodium

180mg
Carbohydrates

16g
Fiber

1g
Sugar

2g
Protein

3g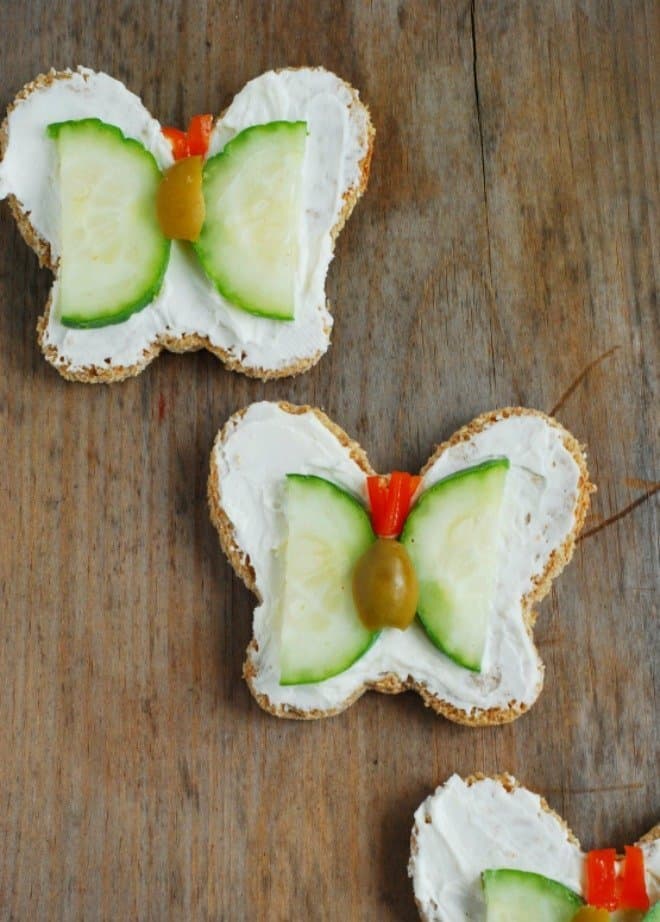 I used Pepperidge Farm very thin 100% whole wheat bread (40 calories a slice), but any thin bread will work.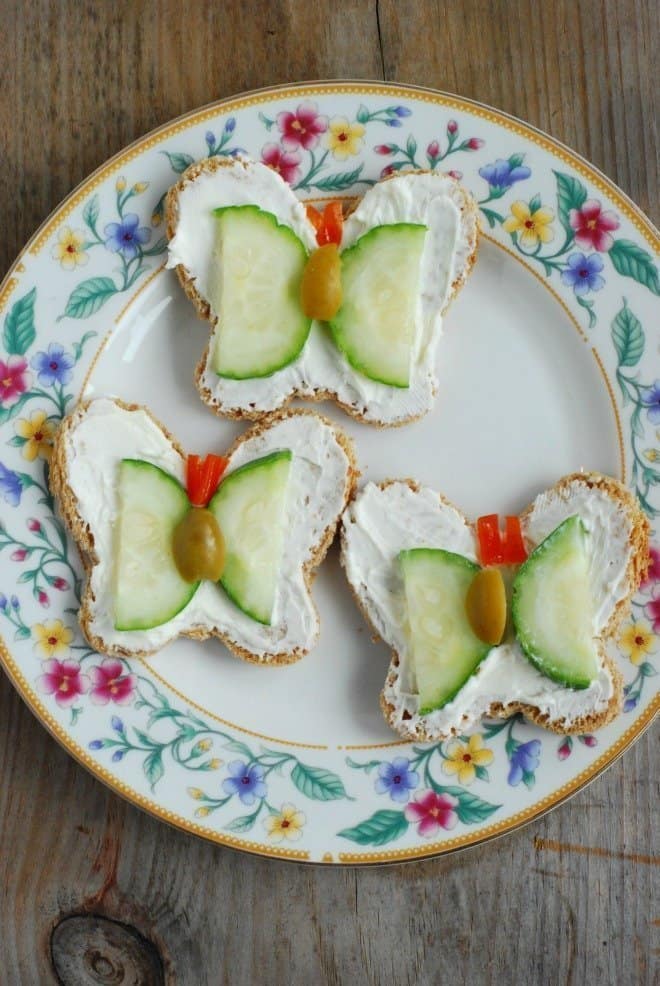 These sandwiches may look dainty, but they pack a powerful punch of flavors. What's your favorite party sandwich?
You May Also Like These Delicious Sandwiches
Pineapple-Shaped Tea Sandwiches with Pineapple Filling
Strawberry Shortcake Sandwiches
Grilled Cheese and Strawberry Chia Fruit Sandwich
Originally Published in March 2015 and updated in March 2021.