Chocolate Chip Cheese Ball is a delicious, dessert cheese ball served with graham crackers. It's amazing!
For even more recipes with pecans, check out Best Recipes Featuring Pecans.
My youngest daughter called a few days ago and asked for my Chocolate Chip Cheese Ball recipe. She had a party to attend that required bringing a favorite party food. I pointed her towards my blog. She called back with, "It's not there." I replied, "It has to be. I remember adding it a while back."
A few days later, my middle daughter asked me (in a group text with all my daughters) for the recipe and my youngest daughter replied, "It's on the blog, but you've got to dig deep." What the heck?
I decided to search for the recipe myself and indeed it's there and the youngest daughter is correct. You've got to dig deep. It was one of my first posts and it's an add-on to another recipe. Jesus, take the wheel! That one lone photo is so small. I thought I would need a magnifying glass to see it. I'm blushing from my nose to my toes!
That's why I had my daughter sneak a few photos with her phone right in the middle of the party. She sent them over to me and here they are. Thanks, Caitlin! You did a great job!
So, don't you think Chocolate Chip Cheese Ball deserves its own page? I mean, let's be real. I posted it back in December 2012 when I was only in my 2nd week of blogging. It ain't pretty!
I've been making Chocolate Chip Cheese Ball for years and it's one of my most requested party recipes. Guests who have never tasted a sweet cheese ball are surprised when they see the graham crackers surrounding it. Most people expect a cheeseball to be savory.
Let's Make Chocolate Chip Cheese Ball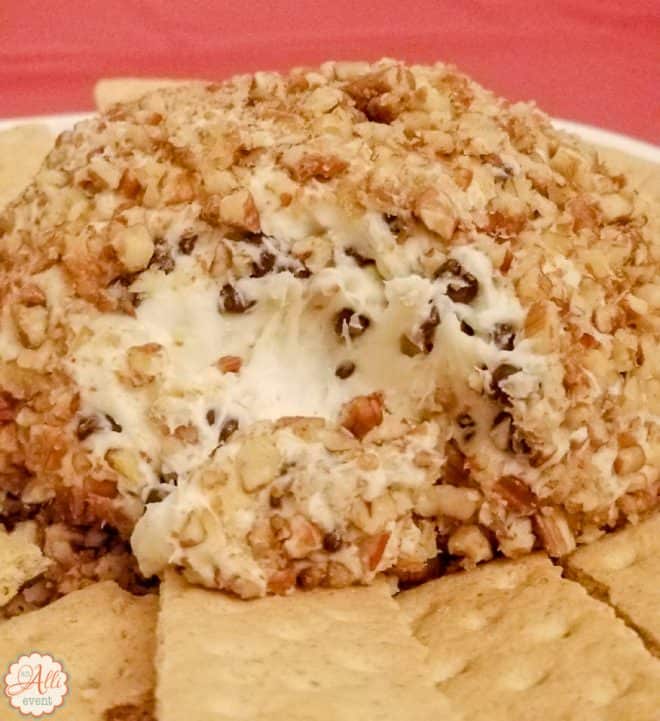 Helpful Hint: I like that I can mix the ingredients the night before and store in the refrigerator. Right before serving, form the mixture into a ball and roll in chopped pecans. Serve with graham crackers.
Chocolate Chip Cheese Ball
Ingredients
1 pkg. cream cheese, softened
1/2 cup butter (not margarine), softened
1/4 tsp. vanilla extract
3/4 cup confectioners' sugar
2 tablespoons brown sugar
3/4 cups miniature semi-sweet chocolate chips
3/4 cup finely chopped pecans
graham crackers (to scoop it all up with)
Instructions
In a mixing bowl, beat the cream cheese, butter and vanilla until fluffy. Gradually add sugars; beat just until combined. Stir in chocolate chips. Cover and refrigerate for 2-3 hours (or overnight). Just before serving, shape into a ball and roll in pecans. Serve with graham crackers.
If you've never had a sweet cheese ball, you've got to try this one.
You May Also Like
Pineapple Cheese Ball (Savory)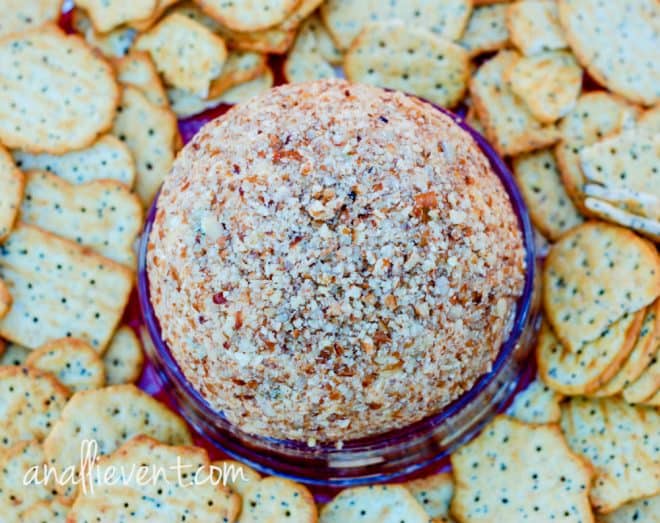 20 Delicious Christmas Balls and Truffles