I adore the stories behind recipes and most of mine have a story or two.  I remember the first time I was offered this Pineapple Cheese Ball.  I was barely twenty-something (not that long ago  – wink, wink) and was at a New Year's Eve party at the home of a good friend.
As I was surveying the food choices, my friend insisted that I try her new cheese ball recipe.  It was on my plate and about to be shoveled into my mouth with the help of a cracker when I asked what was in it (it's not rude when it's your good friend) and she replied, "pineapple."  I could not imagine pineapple being one of the ingredients in a savory cheese ball.  I almost backed out of tasting it, but that cracker, holding that dab of cheese ball, was dangling in mid-air and I couldn't put it back down.  There was only one way to go:  Up.  Gulp.  Chew.  Swallow.
I couldn't believe it!  It is the best cheese ball I have ever tasted.  The flavors mingled and complemented each other so well.  It was the perfect dance!
I left the party that night with the recipe in hand.  Since then, it's become my recipe.  People ask me for "my cheese ball recipe."  And it's the only cheese ball I make.
Did I mention how easy it is to make this cheese ball and that you make it ahead to allow the flavors to meld together?  Did I mention that you must use Sociables?  That's the only cracker I use with mine.  It just goes together.  But I'll let you off the hook.  You could use crudites or whatever you like.  I like Sociables.
Pineapple Cheese Ball
When making this Pineapple Cheese Ball, be sure and drain the pineapple. Before I add the pineapple, I squeeze it a little to get all the liquid out.
Note:  The recipe calls for one tablespoon of seasoning salt (I use the one with no MSG).  Because I like salt to actually compliment the food and not overpower the taste of the food and because I'm not a big salt user, I only use 1/2 tablespoon of the seasoning salt.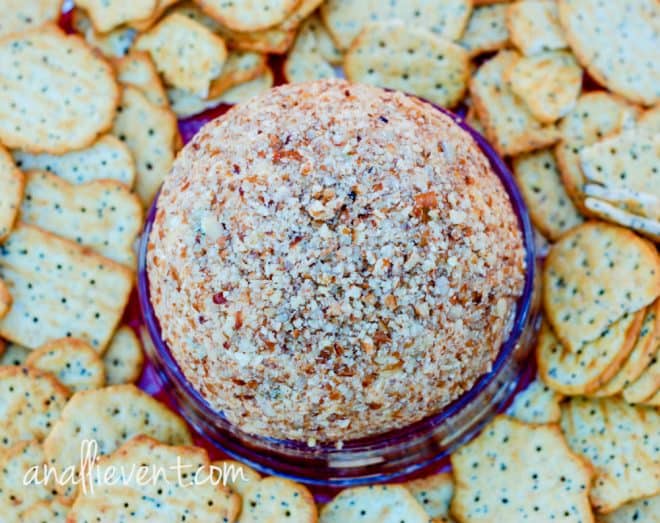 Pineapple Cheese Ball
Ingredients
2 (8 oz. each) packages cream cheese, room temperature
1 (8-1/2 oz.) can crushed pineapple, well drained
2 Tablespoons finely chopped onion
¼ cup finely chopped green pepper
2 cups finely chopped pecans, divided
1 Tablespoon seasoning salt (I use ½ Tablespoon and the one with no MSG)
Instructions
Mix cream cheese, pineapple, onion, pepper, ½ cup of the pecans and the seasoning salt. I use my stand mixer set on the lowest setting or you can do it by hand.
Refrigerate until firm (about one hour).
I usually make it the night before and refrigerate it overnight.
When ready to serve, remove from refrigerator and form into a ball.
Cover with remaining pecans. Serve with crackers.
(To cover with pecans, I place the pecans on a paper plate and roll the cheese ball around in them until well covered.)

Print Friendly