Pineapple Cheese Ball is always a favorite at holiday parties. This delicious recipe includes cream cheese, crushed pineapple, and chopped pecans. What's not to love?
I remember the first time I was offered this Pineapple Cheese Ball. I was barely twenty-something (not that long ago – wink, wink) and was at a New Year's Eve party at the home of a good friend.
As I was surveying the food choices, my friend insisted that I try her new cheese ball recipe. It was on my plate and about to be shoveled into my mouth with the help of a cracker when I asked what was in it (it's not rude when it's your good friend) and she replied, "pineapple."
I could not imagine pineapple being one of the ingredients in a savory cheese ball. I almost backed out of tasting it, but that cracker, holding that dab of cheese ball, was dangling in mid-air and I couldn't put it back down. I found out how amazing this cheese ball is. It's now my favorite party food.
You can find even more cheese ball recipes here!
Pineapple Cheese Ball Is My Favorite
This is the best cheese ball I have ever tasted. The flavors mingled and complemented each other so well. It's the perfect dance of flavors.
I left the party that night with the recipe in hand. Since then, it's become my recipe. People ask me for "my cheese ball recipe." And it's the only cheese ball I make.
Did I mention how easy it is to make this cheese ball and that you make it ahead of time to allow the flavors to meld together? I always pair this cheese ball with sociables or Ritz crackers. Of course, you can use crudites or whatever you like. I like the Sociables.
Pineapple Cheese Ball Ingredients At A Glance
(Scroll down to see the full printable recipe card)
cream cheese
crushed pineapple
finely chopped onion
chopped green pepper
finely chopped pecans, divided
seasoning salt (The kind with no MSG)
Tips on Making Pineapple Cheese Ball
When making this Pineapple Cheese Ball, be sure and drain the pineapple. I let the pineapple drain in a colander. Right before adding it to the other ingredients, I use a paper towel to press down on the pineapple to remove any remaining juice.
Special Note: The original recipe calls for one tablespoon of seasoning salt (I use the one with no MSG). Because I like salt to actually compliment the food and not overpower the taste and because I'm not a big salt user, I use 1/2 tablespoon of the seasoning salt.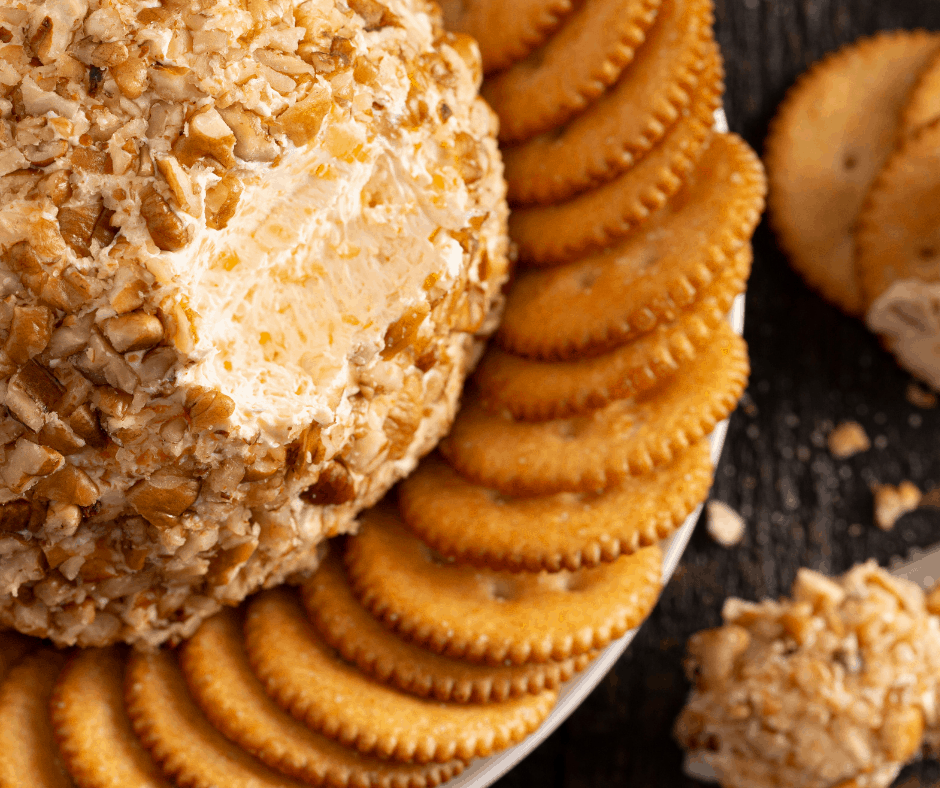 This is an easy recipe that family and friends request time and time again.
More Of My Favorite Holiday Recipes
Yield: 24 servings
Pineapple Cheese Ball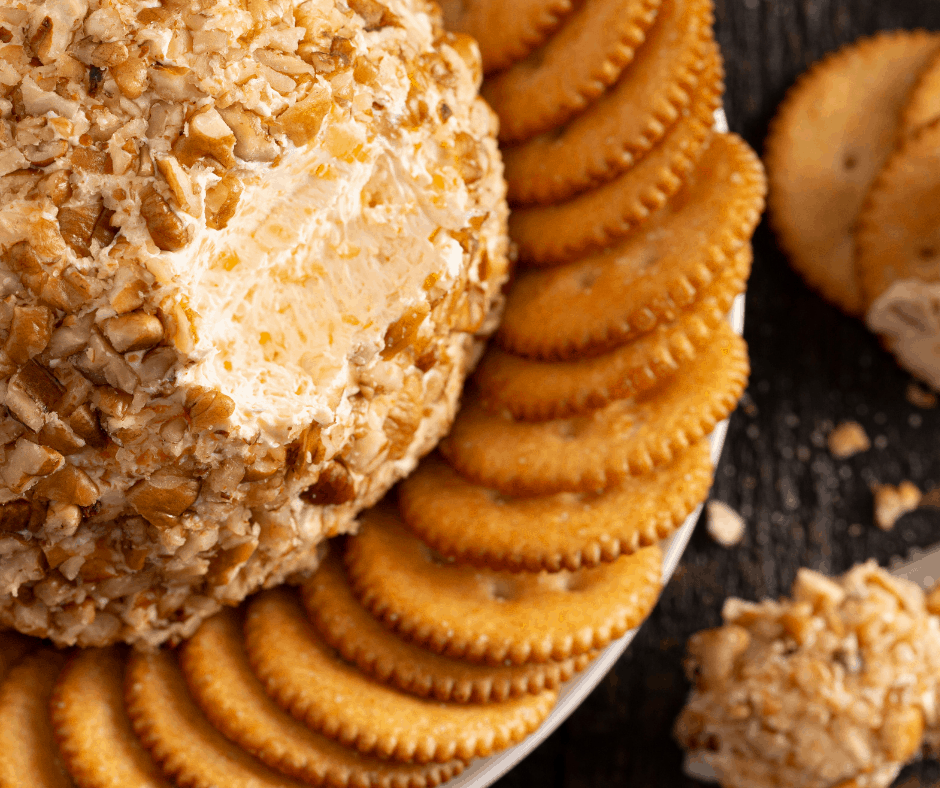 Pineapple Cheese Ball is creamy and filled with finely chopped peppers, onions, pecans, and pineapple. This cheese ball is very popular with friends and family.
Total Time
1 hour
15 minutes
Ingredients
2 (8 oz. each) packages cream cheese, room temperature
1 (8-1/2 oz.) can crushed pineapple, well-drained
2 Tablespoons finely chopped onion
¼ cup finely chopped green pepper
2 cups finely chopped pecans, divided
1/2 Tablespoon seasoning salt (I use the one with no MSG)
Instructions
Mix the cream cheese, pineapple, onion, pepper, ½ cup of the pecans, and the seasoning salt until well combined. I use my stand mixer set on the lowest setting or you can do it by hand.
Refrigerate until firm (about one hour).
I usually make it the night before and refrigerate it overnight.
When ready to serve, remove from refrigerator and form into a ball.
Cover with remaining pecans. Serve with crackers.
(To cover with pecans, I place the pecans on a paper plate and roll the cheese ball around in them until well covered.)
Nutrition Information
Yield
24
Serving Size
1
Amount Per Serving
Calories

74
Total Fat

7g
Saturated Fat

1g
Trans Fat

0g
Unsaturated Fat

6g
Cholesterol

1mg
Sodium

99mg
Carbohydrates

3g
Fiber

1g
Sugar

2g
Protein

1g