CloudPets – The Perfect Gift has been compensated by Collective Bias, Inc. and its advertiser. All opinions are mine alone. #CloudPetsForever #CollectiveBias
My youngest grandson will be turning four in a couple of weeks (yikes – I can't be THAT old)!  I'm thinking hard about what to get him for his birthday.  You know what I'm talking about, the perfect gift. The one where his eyes light up and maybe a squeal (or three) escapes from his lips as he does the happy dance.  Yeah, that kind.
Yes, I'm THAT person who wants to find THE perfect, meaningful gift, and not get him something that will be a complete waste of time and money, played with once and dropped by the wayside.
Here's the birthday boy taking a break from the pool during our vacation a couple of weeks ago.  Isn't he adorable?
OK – you twisted my arm – one more shot of the birthday boy!  You know grandparents can never share just one photo!
CloudPets™ Gift
Whenever I ask Tegan what he wants for his birthday, it's something completely different from the last time. I knew right away that I was on my own when it came to searching for his birthday present.
A few days ago I was headed to the toy department in Walmart to search for that perfect gift when I spotted a colorful display of CloudPets™ in the front of the store near the registers.  Of course, I had to stop and check um' out.  When I realized everything these pets could do, I knew I had hit the jackpot.
Description of CloudPets™ and How It Works
I'm sure you're wondering what CloudPets™ can do, right?  Here's a brief description of how they work:
CloudPets™ friends can record and send messages from anywhere in the world.
A parent (or loved one) receives the message on their free CloudPets™ App, approves it and delivers it wirelessly to the pet.
When the CloudPet™ has a message, it's heart blinks.  Squeeze its paw and the message plays.
You can also record a message by squeezing its paw.  The message is sent to the nearby device and from there, it can be delivered to a CloudsPets™ friend anywhere in the world.
Fun Games, Lullabies and More
My grandson, Tegan, will also be able to play fun learning games and listen to lullabies or stories as he drifts off to sleep.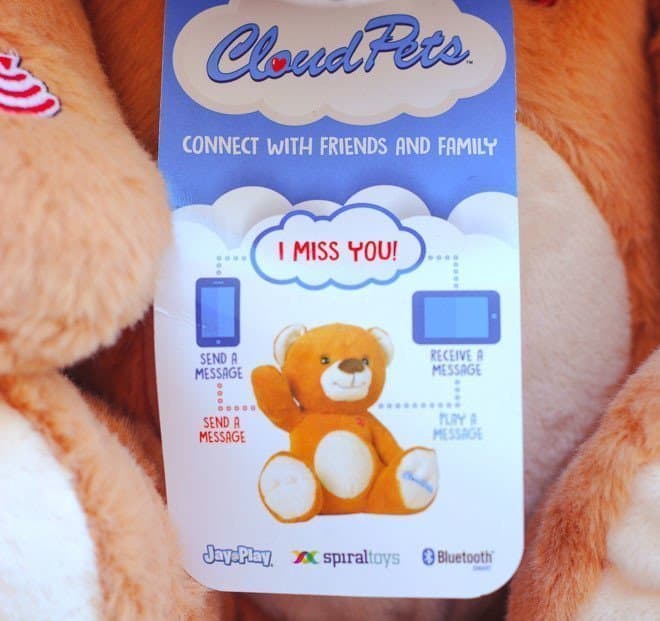 I really like the fact that it has built-in parental security (only invited friends and family can send a message), long battery life (3 AA batteries needed) and works with the devices you love.
Back to my shopping trip at Walmart:  I had found the perfect gift, but then came the hard part.  Which pet would my grandson like the best?
Kitty
Bear
Puppy
Bunny
Unicorn
I finally settled on the puppy AND remembered to get the 3 AA Energizer batteries. As soon as I got home from Walmart I downloaded the CloudPets™ app to my smartphone.  After placing my grandson's new CloudPet™ in a big, colorful gift bag, I hid the gift in my closet to await the birthday party.
Should I sing Happy Birthday as my first message?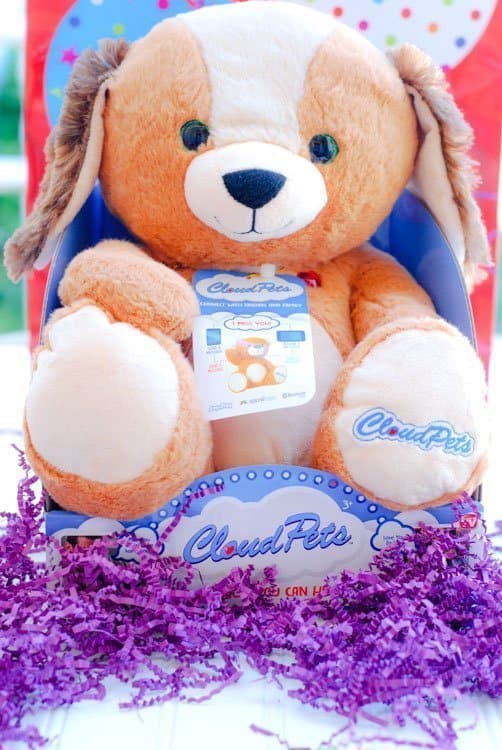 I'll have to ask my daughter to keep Tegan away from this blog post in order to keep his gift a surprise. I'm always amazed that my grandkids LOVE to look at my blog posts, especially when it's all about them.
I'm relieved that I found the perfect gift and am excited that I'll be able to send my grandson a message no matter where I am.  If I'm traveling for work, vacationing or whenever I'm missing him more than usual, I can send him his own personal message.
This new, one-of-a-kind product can be found at select Walmart stores and will soon be available nationwide. It will help you keep in touch with your loved ones if you live far away or just traveling far away. Who would you send messages to using  CloudPets™?
You May Also Like