This post, Corned Beef Hash, has been compensated by Collective Bias, Inc. and its advertiser. All opinions are mine alone. #HowDoYouHash #CollectiveBias
Ah, brunch! It's my favorite meal of the day. I can have breakfast and lunch at the same time. Weekends were made for brunch and I was made for weekends. Do you know what else was made for brunch?Corned Beef Hash & Eggs.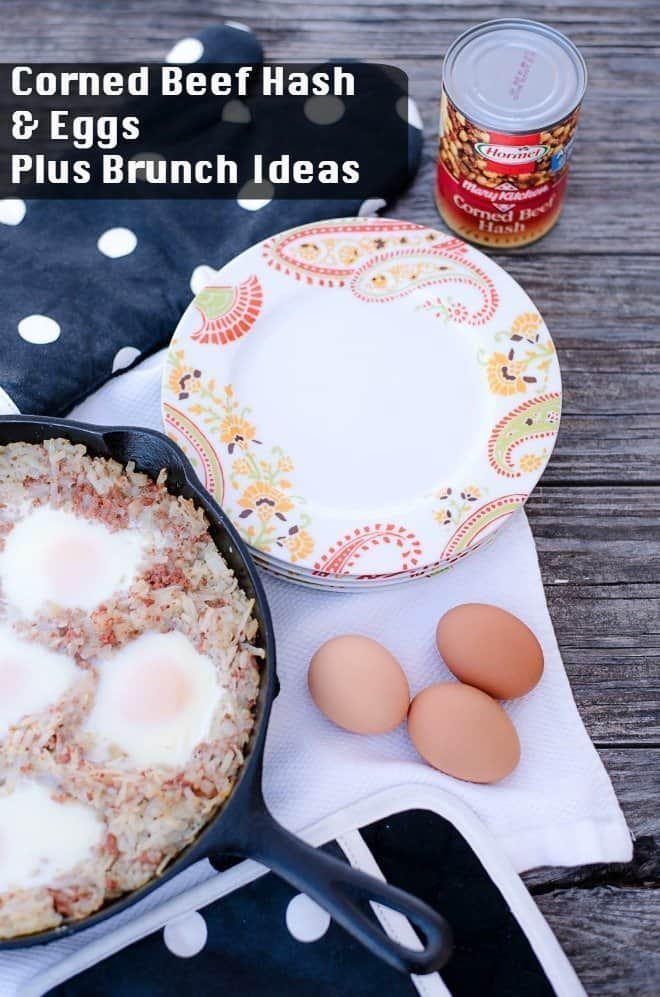 I'm a Morning Person
I admit I never sleep in. If I sleep past 5:30 am, even on weekends, I feel like I've wasted the entire morning. When my kids were little and I was sleep deprived, I made a promise. I promised myself that once my kids were older, I would sleep as late as I wanted to every Saturday morning. No one bothered to warn me that I would become a morning person and never sleep in again.
One of the reasons I love brunch is because I can get up early, go through my morning routine and drink my first cup of coffee all by myself. As the rest of the family slowly awakens, preparations for brunch begins.
You don't need a special occasion to throw a fab brunch including Corned Beef Hash & Eggs. You just need these tips:
1. Plan Your Menu
Duh! This seems like a no-brainer, but you need to find a little balance here. I like to make sure I serve some breakfast and lunch foods. If I'm feeling really festive, I'll add a mocktail. If not, juice and coffee work just fine. Eggs are always on my menu.
In addition to Corned Beef Hash and Eggs, I usually serve fresh fruit, tea sandwiches, a sweet element like muffins, doughnuts or waffles, and a veggie tray. Coffee Cake or Blueberry Scones often make an appearance at brunch.
As I plan my menu, I also jot down my grocery list. Then I head to Food Lion to find everything I need for my brunch, including HORMEL® MARY KITCHEN® Hash. It's in the canned meat aisle and is the key ingredient in my main dish – Corned Beef Hash and Eggs. You can't beat the flavor, the convenience or the hardiness of this hash.
Helpful Hint: Make a fab main dish and keep the rest simple.
2. Pick a Color Scheme
This is not the time to use paper plates. I promise you won't be in the kitchen all day. I have a rule in my house:  The cook does not do the dishes.  Once you sit down to eat, your job is over.
You don't have to plan an elaborate decor. I usually stick to white and add a touch of color – white vases, pretty flowers, etc.  If I'm celebrating a holiday, I'll incorporate those colors into my decor.
Helpful Hint: For a fab centerpiece, make lots of small flower arrangements from one large bouquet of flowers. Gorgeous!
3.  Buffet or Sit-Down Affair?
At my house, brunch is always buffet style. I don't have to set the table and my family and guests fix their own plates. Then we all gather at the table and the fun begins. For me, it's all about relaxing and catching up – and the food, of course.
Helpful Hint:  Brunch is usually served between 10:00 am and 2:00 pm.
I always use my trusty old iron skillet when I'm making Corned Beef Hash and Eggs. I've had this skillet for over 30 years and it just gets better with age. If you don't have an iron skillet, use a casserole dish. It's all good.
Not only is my Corned Beef Hash and Eggs delicious. It's so easy to prepare and the presentation is beautiful. Your guests will think you've been slaving over the stove for hours.
Corned Beef Hash and Eggs
First, I brown frozen hash browns in my iron skillet and cook until tender.
Then I add the corned beef hash and make wells for the eggs.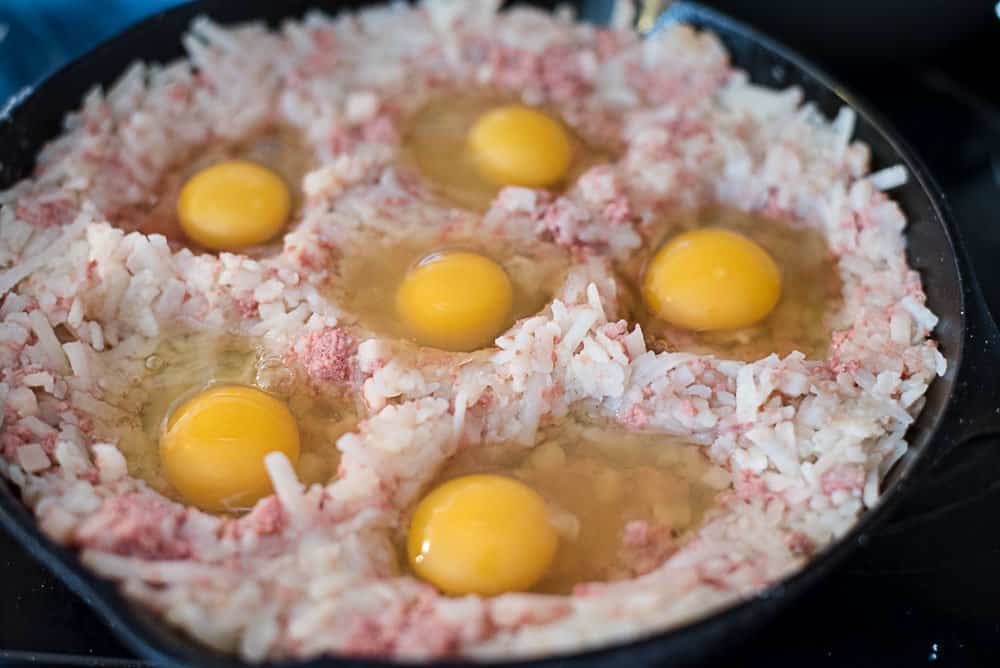 Bake at 350º for 25-30 minutes or until eggs are cooked to your desired taste.
Corned Beef Hash and Eggs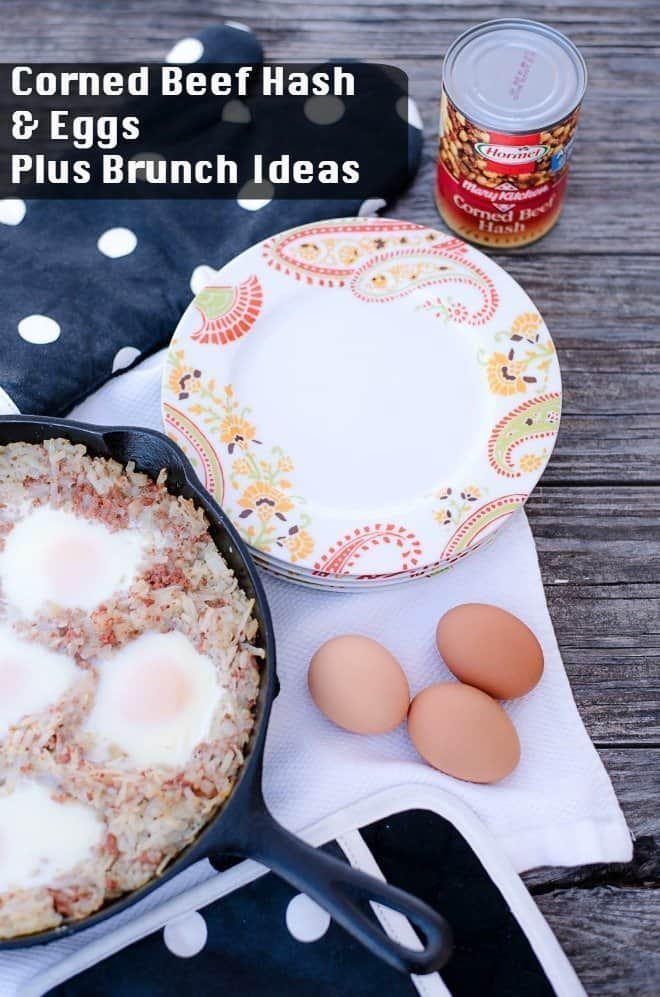 Ingredients
1 can HORMEL® MARY KITCHEN® Hash
1 package frozen hash browns, 16 oz.
4 Tablespoons olive oil
1 small onion, chopped
6 eggs
Instructions
In a skillet, cook potatoes and onion in olive oil 8-10 minutes or until tender.
Stir in HORMEL® MARY KITCHEN® Hash.
Make six wells in the hash and break an egg into each well.
Sprinkle eggs with salt and pepper.
Bake at 350º for 25-30 minutes or until eggs are done to your preference.
If the Corned Beef Hash and Eggs browns too quickly, cover with foil.
Have you ever hosted a brunch? Any tips you'd like to add?
You May Also Like
Avocado Toast with Veggie Bacon & Eggs