I always looked forward to weekly pasta night when I was growing up.  We usually had spaghetti, a salad, and garlic bread. When I close my eyes, I can almost smell the aroma of the sauce simmering on the stove and taste the buttery crunch of mom's garlic bread.
These days, I carry on mom's tradition when I host my own weekly pasta night.  Easy Homestyle Lasagna Rollups may be a little different from the spaghetti mom used to make, but pasta night always takes me back to those homestyle Italian meals mom made for us.
You all know how I like to kick things up a notch in flavor, but that doesn't mean I have to slave over the stove all day in order to serve my family a hearty, delicious meal. That's why I depend on NEW Ragu® Homestyle sauces.
The new homestyle sauces are Ragu's thickest sauces and boldest flavors yet. The ingredients are peeled, chopped, and simmered with a special blend of herbs like basil, fennel, and oregano. I love that there are no artificial colors, artificial flavors or high fructose corn syrup. They take the time to make the sauce hearty and homestyle, just like mom used to do.
Easy Homestyle Lasagna Rollups
My easy homestyle lasagna rollups are so easy to make. Let's get started!
Place the lasagna noodles in a pot of boiling water and cook according to package directions. Brown the ground beef, drain and add 1/2  jar of Ragu® Homestyle Thick and Hearty Traditional. Set aside.
Mix the cheeses and egg together.
Spread cheese mixture on the lasagna noodles and top with 1/2 cup sauce.
Roll up lasagna and place half of the leftover sauce into an 8×8 baking pan. Add the lasagna rollups, seam side down. Cover with remaining sauce and sprinkle with remaining parmesan and mozzarella cheeses.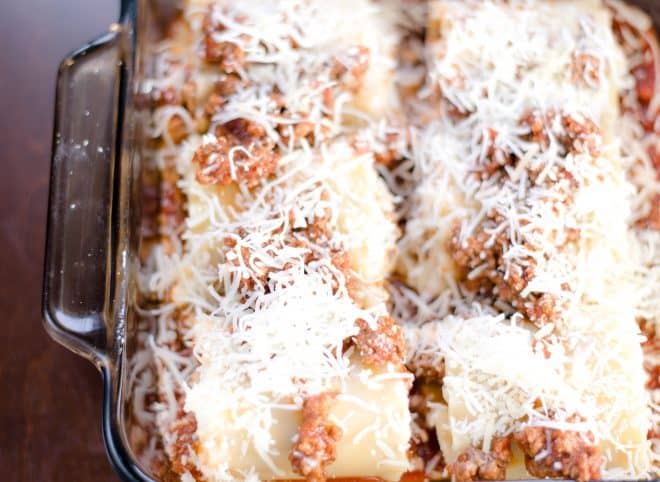 Bake for about 30 minutes or until hot and bubbly.
Easy Homestyle Lasagna Rollups with Ragu Pasta Sauce
Ingredients
Ragu HomeStyle Thick and Hearty Traditional Pasta Sauce
1 lb. ground beef
9 lasagna noodles
1 egg, beaten
½ cup parmesan cheese
1 cup ricotta cheese
1-1/2 cups shredded mozzarella cheese
Instructions
Preheat oven to 350º.
Bring water to a boil and cook lasagna according to package directions. Rinse under hot water and set aside.
Brown ground beef and drain. Add ½ jar Ragu sauce to meat.
Combine the egg, ¼ cup parmesan, and ricotta cheese.
Spread cheese mixture onto each noodle. Top with ¼ cup meat mixture and 2 tablespoons mozzarella cheese and roll up.
Place ½ of the remaining sauce into an 8x8 baking pan. Place rolled up lasagna seam side down on top of pasta sauce.
Top lasagna rolls with the remaining sauce, parmesan, and mozzarella cheese.
Bake for 30 minutes or until bubbly.
Be sure to click here to find more delicious recipes from Ragu.

Print Friendly