Since the 4th of July is right around the corner, Red, White & Blue Ice Cream Cake is the perfect dessert to celebrate Independence Day.
While I was searching high and low, the July edition of Southern Living arrived. I really should get something out of promoting that mag, don't you think?
At the very end of the magazine (page 124) I hit pay dirt! I found the perfect Hit or Miss – Red, White & Blue Ice Cream Cake.
This dessert is beautiful and does take time. But it's very easy to put together – there's absolutely no cooking involved! Everything except the homemade whipped cream (easy peasy) and the raspberry sauce can be made a day (or two) ahead of time.
The dessert consists of a layer of Sara Lee pound cake, a layer of blueberry ice cream (vanilla ice cream and blueberry preserves) and a layer of raspberry sorbet with raspberry preserves mixed in. I couldn't find raspberry sorbet so I substituted raspberry sherbet.
It just so happened that my daughter (#2) and son-in-law was at my house during the photo session. If you are a blogger, you understand the phrase, "photo session." As soon as it was over, the taste testing began.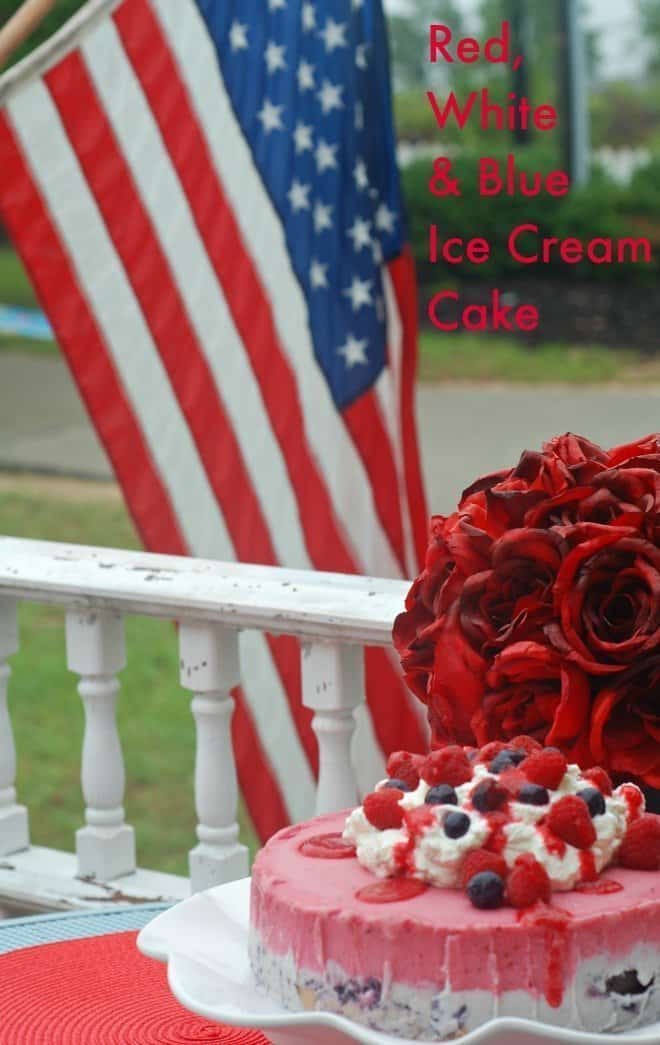 Note: I believe raspberries are another one of those foods that you either love or hate. They are not my favorite berries, but hate is a very strong word. My daughter strongly dislikes raspberries and my son-in-law likes them OK.
Was the Red, White & Blue Ice Cream Cake a Hit or Miss?
We all thought the raspberry sauce was a little bitter (honey is the sweetener used in the sauce). I added a little powdered sugar and it was better.
Daughter #2 did not like the raspberry ice cream layer at all, so she just ate the blueberry layer and the pound cake layer.
My son-in-law (a picky eater, just like his wife) actually really liked it. And I ate a small piece and loved it!
So, it was a big hit with my son-in-law and me! It was a semi-hit with daughter #2. Tonight I'll serve it to daughter #3 and husband #1. Then I'll add their opinion.
Added later: Daughter #3 said this dessert was one of the best she's ever had. She kept saying, "Awesome," so I assume she liked it. The hubs loved it, too. It's a winner!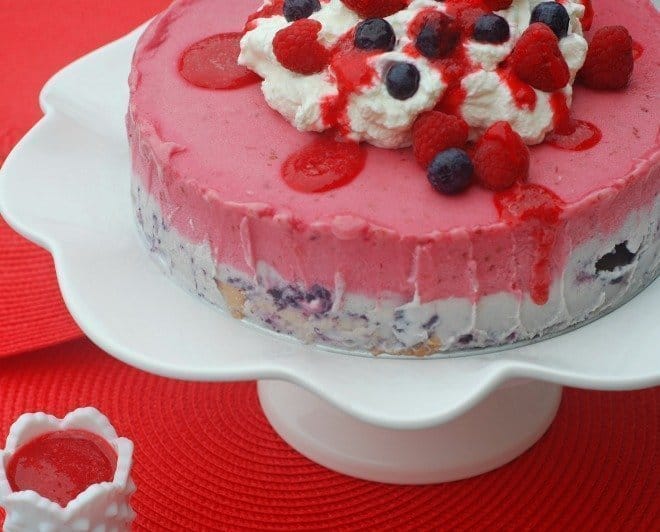 Helpful Hint: I wouldn't serve this outside, because you'll have a hot mess once it starts melting. It's definitely a dessert to serve in the comfort of air conditioning.
Oops, I forgot to address the pink elephant in the room! Did you notice that the raspberry layer is more pink than red?
I'm thinking it's because I couldn't find the raspberry sorbet and had to use sherbet. I even added a few drops of red food coloring. Nope, still a little pink. But the red raspberries and the blueberries make up for the slightly pink layer.
You can find the recipe by clicking here!
What's your favorite summer dessert?