Let me tell you a secret:  I never, ever use imitation vanilla extract when baking.  Pure vanilla extract is so worth the extra cost.
Have you ever wondered how real vanilla extract is made?  And did you know that you can make your own homemade vanilla extract?  It's so easy!
You only need 2 ingredients – Vodka (or brandy, bourbon or rum) and vanilla beans.  That's it!  You didn't know that alcohol was used to make vanilla extract?  Well, now you do!
It does take 2 or 3 weeks for the flavors to infuse, but cooking the alcohol (see recipe note below) speeds up the infusion.  You can omit the cooking part, but let the vanilla extract stand for an extra week before using.
Homemade Vanilla Extract
Ingredients
3 vanilla beans
3 cups vodka, bourbon or rum
3 jars with tight fitting lids
Instructions
Split 1 vanilla bean and scrape seeds into a clean 1/2 pint jar. If desired, cut the bean in half crosswise. Place in jar. Repeat with the remaining beans and jars.
Cook vodka in a large saucepan over medium heat for 5 minutes. Do not cook longer than 5 minutes or it can overheat and ignite! Pour 1 cup vodka into each jar. Cool mixture to room temperature (about 30 minutes).
Cover jars tightly and let stand at room temperature 1-2 weeks before using, shaking jars once a day. For a cleaner look, pour liquid through a fine mesh strainer into clean bottles with tight fitting lids; discard solids. Store in a cool, dry place for up to one year.
Notes
When cooking alcohol, be sure and use a large saucepan to contain the vapors. Do not heat longer than 5 minutes. The vapors can ignite.
If you use bourbon, it will be slightly darker.



Homemade vanilla extract is usually a lot more flavorful and cheaper than store bought.
Helpful Hint:  You don't have to use top shelf alcohol for this.  An inexpensive alcohol will work just fine!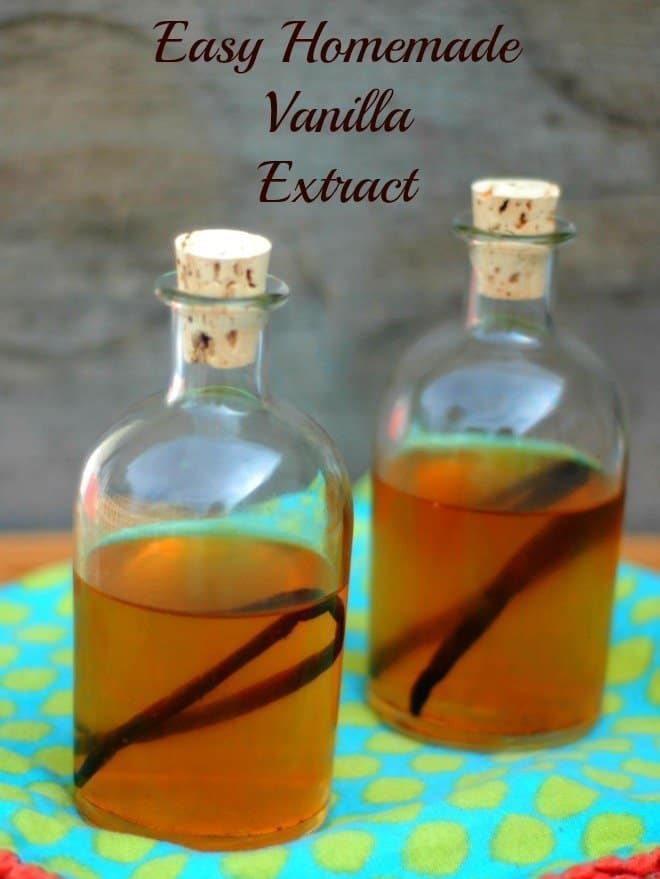 Helpful Hint:  I used vodka in my homemade vanilla extract.  If you want it darker, use bourbon.
I received several comments stating that homemade vanilla extract would make the perfect hostess gift or Christmas present.  I totally agree!  Thanks for the reminder!
You may also like:
Have you ever made your own vanilla extract?

Print Friendly