Pumpkin Spice Cupcakes has been compensated by Collective Bias, Inc. and its advertiser. All opinions are mine alone. #GladeForFall #CollectiveBias
When fall arrives, I'm all about pumpkin spice cupcakes. These cupcakes are also featured in my best cupcake recipes (17 recipes!).
Fall Road Trip
In a few weeks, I'll head out on a road trip to that beloved cabin in my beautiful hometown and I get excited every single time I think about going home. Fall is seen in all its glory and splendor and it's my favorite time to visit.
Every fall when I arrive in the small town I grew up in, my mind goes back to all the activities I enjoyed when I was growing up. From bonfires to hay rides, from horseback riding with my best friends to Friday night high school football games, these are memories that I've always cherished.
When I'm not at the cabin, I've learned to recreate the smell and feel of spending a fall day in the country.
Here's how I capture the joys of fall in my own home:
Pumpkin Spice Cupcakes
The first thing I do is bake pumpkin spice cupcakes. Not only does the house smell wonderful, but my family can hardly wait for the cupcakes to be baked, cooled and frosted.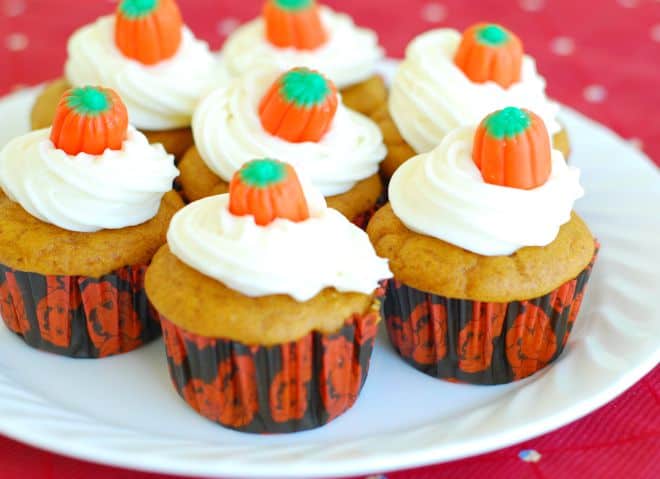 Pumpkin Spice Cupcakes
Yield: 24 cupcakes

Prep Time: 5 minutes

Cook Time: 24 minutes

Additional Time: 15 minutes

Total Time: 44 minutes

Pumpkin Spice Cupcakes are the perfect cupcakes for fall! They begin with a spice cake mix. A cream cheese frosting adds extra flavor to these delicious cupcakes.
Ingredients
1 box spice cake mix
1 (15 oz.) can pumpkin
3 eggs
1 cup water
1/2 cup oil
Cream Cheese Frosting
1 (8 oz.) block cream cheese, softened
2 Tablespoons butter, softened
1 box (1 lb.) powdered sugar
1 tsp. vanilla
Candy corn OR candy pumpkins
Instructions
Preheat oven to 350º. Place cupcake liners in muffin tins.
In a mixing bowl, combine cake mix, pumpkin, oil, eggs and water. Mix according to package directions.
Bake according to the directions on the cake mix. Cool for 10 minutes. Remove from tin and cool completely.
Mix butter and cream cheese until well combined. Add powdered sugar and vanilla.
Mix until well combined. Frost cupcakes. Top with candy corn or candy pumpkins.
Nutrition Information
Yield 24 Serving Size 1
Amount Per Serving Calories 170Total Fat 8gSaturated Fat 2gTrans Fat 0gUnsaturated Fat 5gCholesterol 27mgSodium 183mgCarbohydrates 24gFiber 0gSugar 15gProtein 2g



More Great Fall Smells
Of course, that delicious smell of pumpkin wafting through my home doesn't last forever. That's when I turn to Glade®!
Have you spotted Glade's limited edition fall scents at Kroger? My favorites are Hit the Road™ and Pumpkin Pit Stop™ – perfect names AND scents for fall.
Hit the Road™ reminds me of the winding dirt road I follow to get to the cabin. The orange, red, yellow and gold leaves are always gorgeous. Add a crisp, blue sky, and you've nailed this beautiful fall scent.
An arrangement of fall pumpkins, leaves, and an old, blue truck add a touch of fall to my black, rustic table in the great room. My Hit the Road™ candle completes the look.
Glade® describes Pumpkin Pit Stop™ as "A slice of heaven, fresh from the market." I totally agree. With hints of crystallized caramel and whipped vanilla, Glade® has captured the scent that reminds me of home.
In a couple of weeks, I'll be adding new fall memories when I hit the road to visit friends and family at the cabin. I can hardly wait!
Have you tried the new Glade® Limited Edition Fall Collection? Which scent is your favorite?

Print Friendly