When life hands you overripe bananas, make easy banana bread!  I'm sure you have a favorite banana bread recipe that you always use.  So do I and here's where I shared my amped up banana bread.
And then I made it easier.  I skipped the mixer.  I dumped all the ingredients in one bowl, mixed it all together, threw it in the greased loaf pan and baked it.  When it came out, I had a super-moist banana bread.  My husband said it was better than the recipe I've been using forever.  It's an easy banana bread that is really moist.  Score!
You can see the glaze seeping into the bread in the photo below.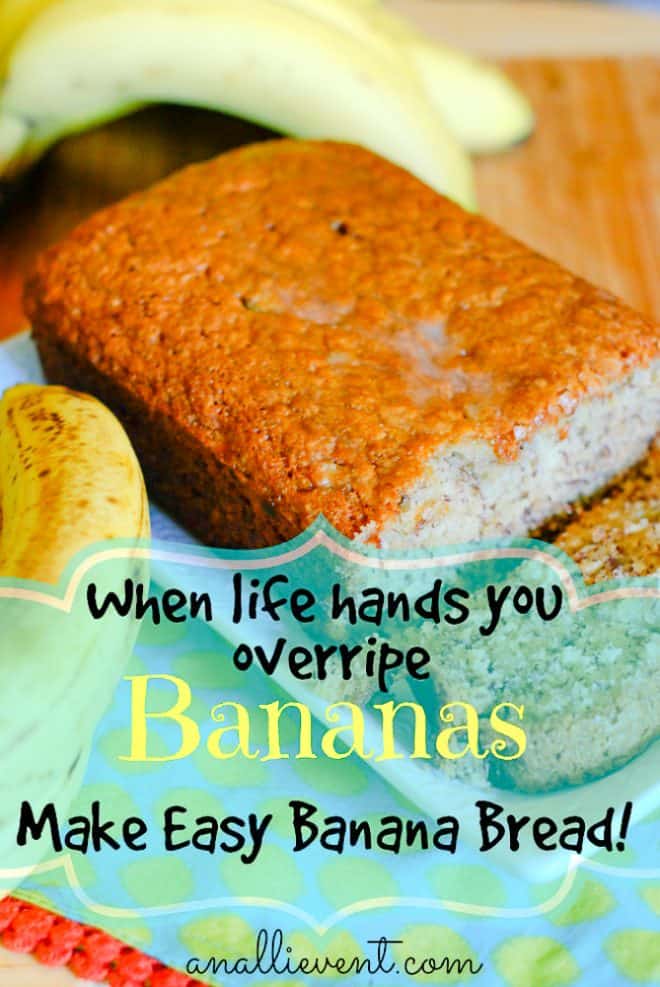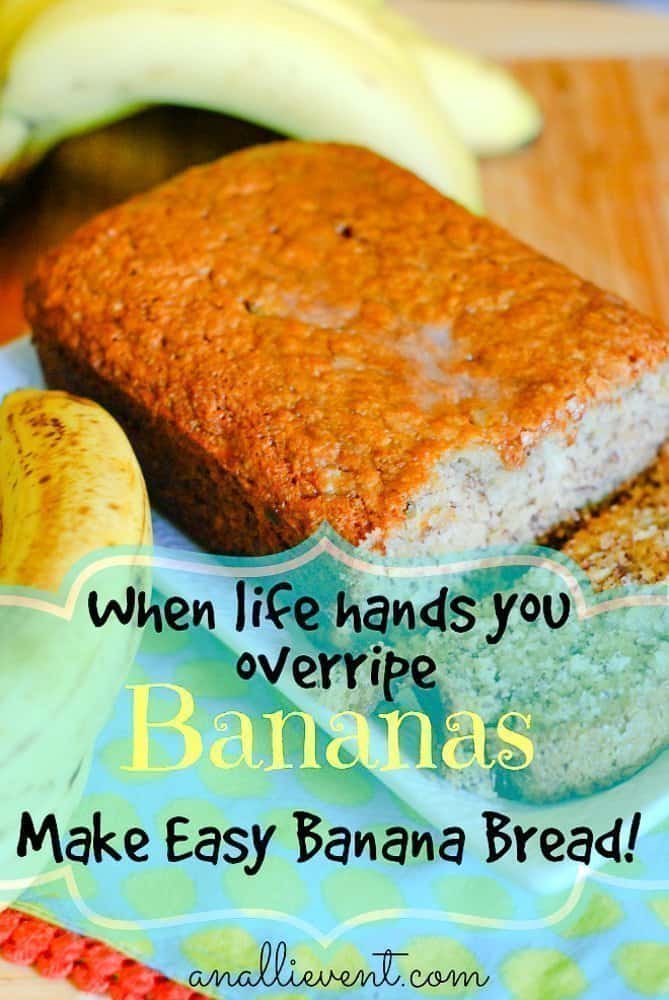 Easy Banana Bread
To take my banana bread over the top, I always top it with a simple lemon glaze.  I was out of lemons when I made this easy banana bread, so I added just a dash of pure lemon extract to a cup (I guesstimated) of powdered sugar and a couple of tablespoons of almond milk and whisked it all together.  If it's too thin, add more powdered sugar.  If it's too thick, add more almond or regular milk.  You can't mess it up.  Trust me.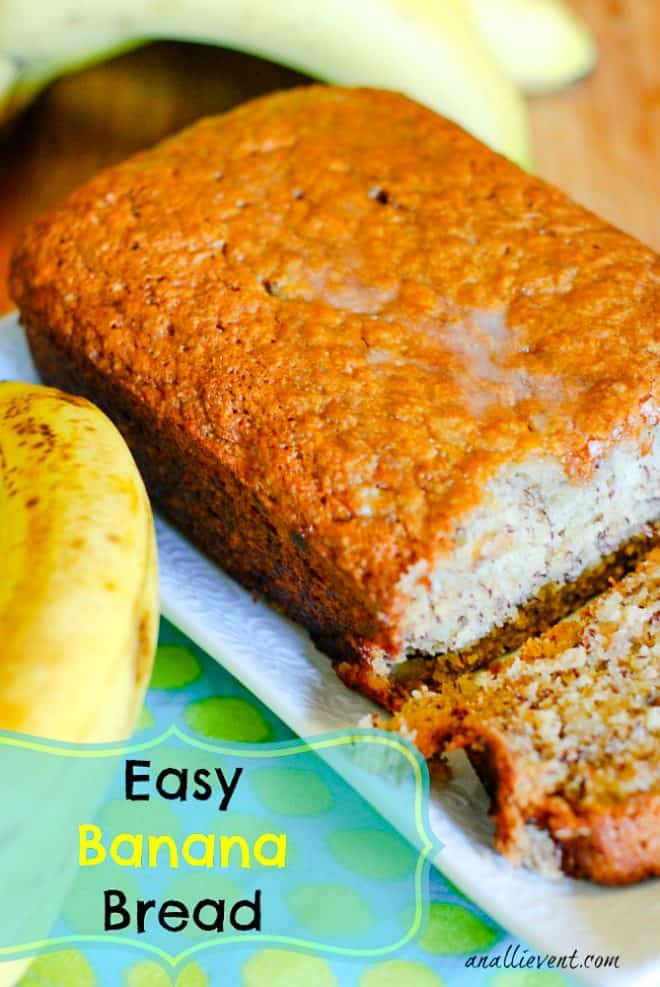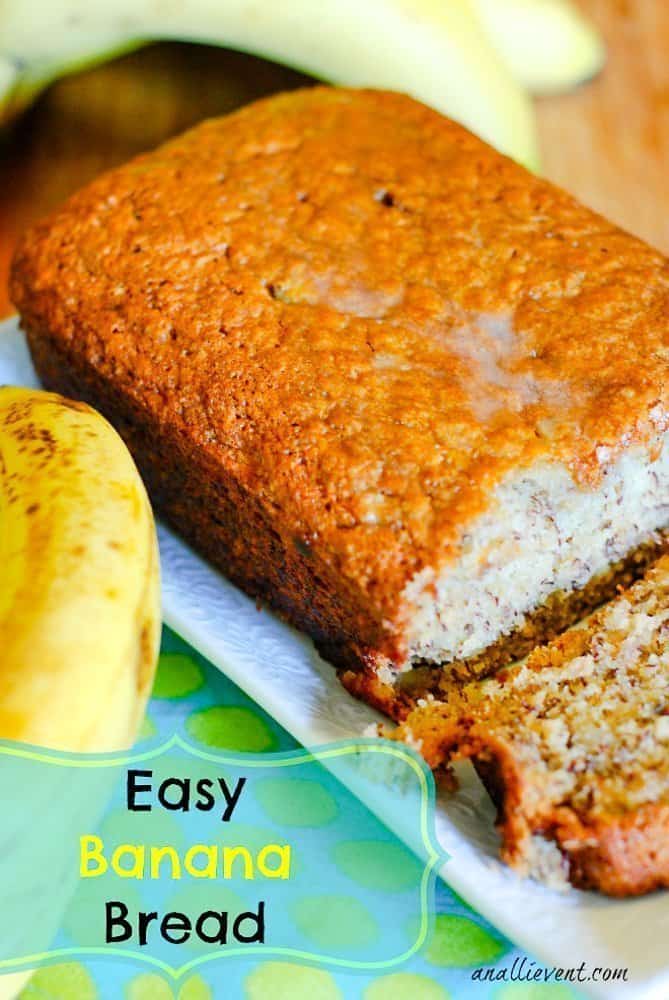 I usually make the glaze because sometimes banana bread comes out a little dry for my liking.  This banana bread doesn't even need the glaze, so skip the glaze and save a few calories. 🙂

Easy, Moist Banana Bread
Prep Time: 10 minutes

Cook Time: 1 hour

Total Time: 1 hour 10 minutes
Ingredients
3 overripe bananas
1/3 cup melted butter
1 cup sugar
1 egg, slightly beaten
1 tsp. vanilla extract
Pinch of salt
1 tsp. baking soda
1-1/2 cups all-purpose flour
Glaze:
1 cup powdered sugar
1 Tablespoon fresh lemon juice OR 1/2 tsp. lemon extract
2-3 Tablespoons almond milk
Instructions
Preheat oven to 350. Grease a loaf pan.
In a large mixing bowl, mash the bananas until almost smooth.
Mix in the baking soda and salt. Stir in the egg, sugar, melted butter and vanilla extract.
Mix in the flour.
Pour the batter into loaf pan and bake for approx. 1 hour. Check at 50 minutes. When a toothpick inserted in the center comes out clean, it's done.
Let rest in the pan on a wire rack for 15-20 minutes. Remove bread from the pan. Serve with lemon glaze, if desired.

Do you have a favorite banana bread recipe?  I dare you to make mine and tell me what you think!  It's so, so easy and so, so good.

Print Friendly