Italian Sausage Rigatoni has been compensated by Collective Bias, Inc. and its advertiser. All opinions are mine alone. #PickedAtPeak #CollectiveBias
When I was growing up, my mom and dad would plant a huge garden every spring. During harvest time, I would walk out to the garden, pick a fresh tomato, rub it on my shorts, and take a big bite. Yum!
My siblings and I knew that once all the produce was picked and put up (canned or frozen), we would go on our annual, summer beach vacation. My Italian Sausage Rigatoni reminds me of the fresh-picked taste of those long ago summers.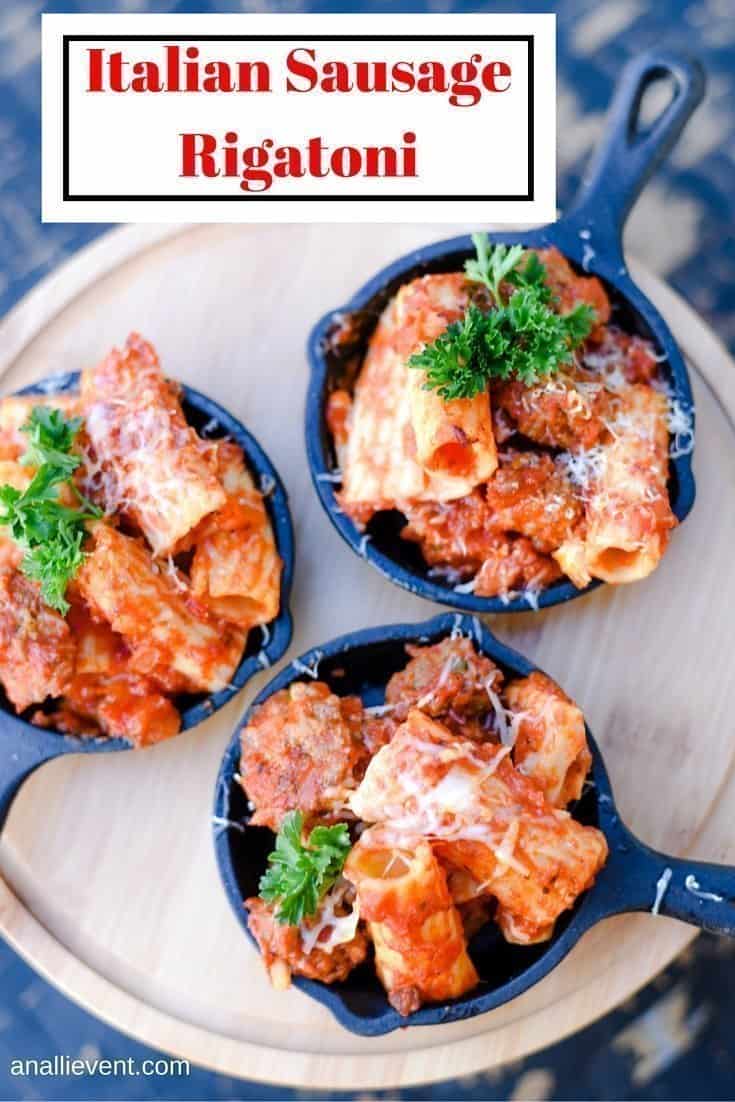 Back then, I thought the garden was way too much work and I'm sure I complained about it often. Sorry, mom! Now that I'm all grown up, I don't have a garden, but I do know where to find fresh ingredients for my Italian Sausage Rigatoni. I head to Walmart.
After stopping by the produce department at Walmart to grab some parsley, onions, and garlic for pasta night, I head to the pasta aisle for Rigatoni and Prego® Farmers' Market Classic Marinara.
Prego® Farmers' Market is a new product at Walmart and it takes my Italian Sausage Rigatoni to a whole new level. The amazing flavor comes from simple, farm fresh ingredients and it reminds me of mama's garden. The vine-ripened tomatoes are picked at the peak of freshness, just like we picked tomatoes when I was a little girl.
My Italian Sausage Rigatoni is so easy to make! It's delicious and makes a great family meal for busy weeknights.
For parties, I serve the pasta in individual iron skillets. Right before serving, I'll run the skillets under the broiler to melt the cheese and give the rigatoni a crispy topping.
Italian Sausage Rigatoni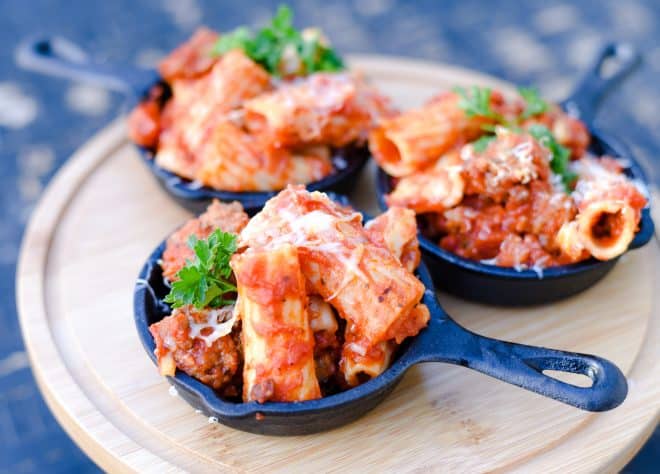 In a large pot of boiling water, cook the rigatoni according to the directions on the package.
Meanwhile, remove the casings from the Italian sausages. It's easy. Just split the casing with a knife and pull it off.
Chop the onions and garlic and set aside. In a skillet, cook the Italian sausages and onions until the sausages are no longer pink. You can break up the sausages with a spoon while you're browning them.
Add the garlic and continue cooking for two minutes. Stir in the drained pasta and the Prego® Farmers' Market Classic Marinara.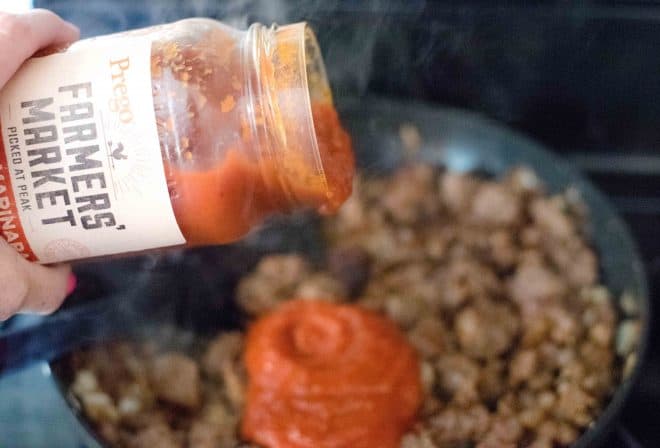 To serve family style, place in a large bowl. Top with grated Parmesan cheese and fresh parsley.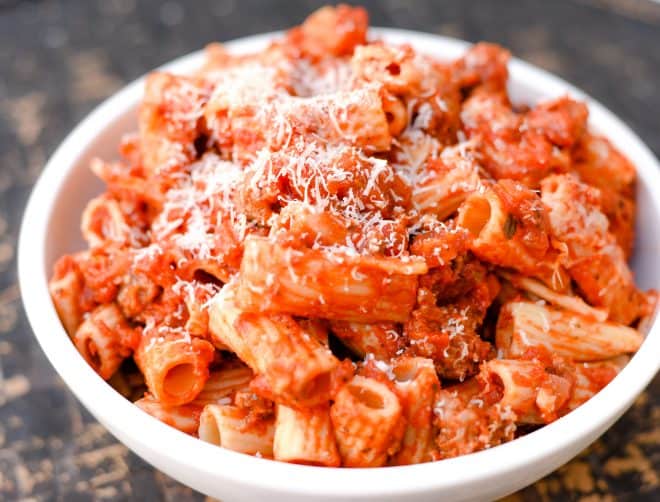 Helpful Hint: If you're serving the Italian Sausage Rigatoni for a party, place the mixture in mini iron skillets or ramekins. Top with Parmesan cheese and place the skillets on a baking pan. Set the oven to broil and broil for 1-2 minutes.
Italian Sausage Rigatoni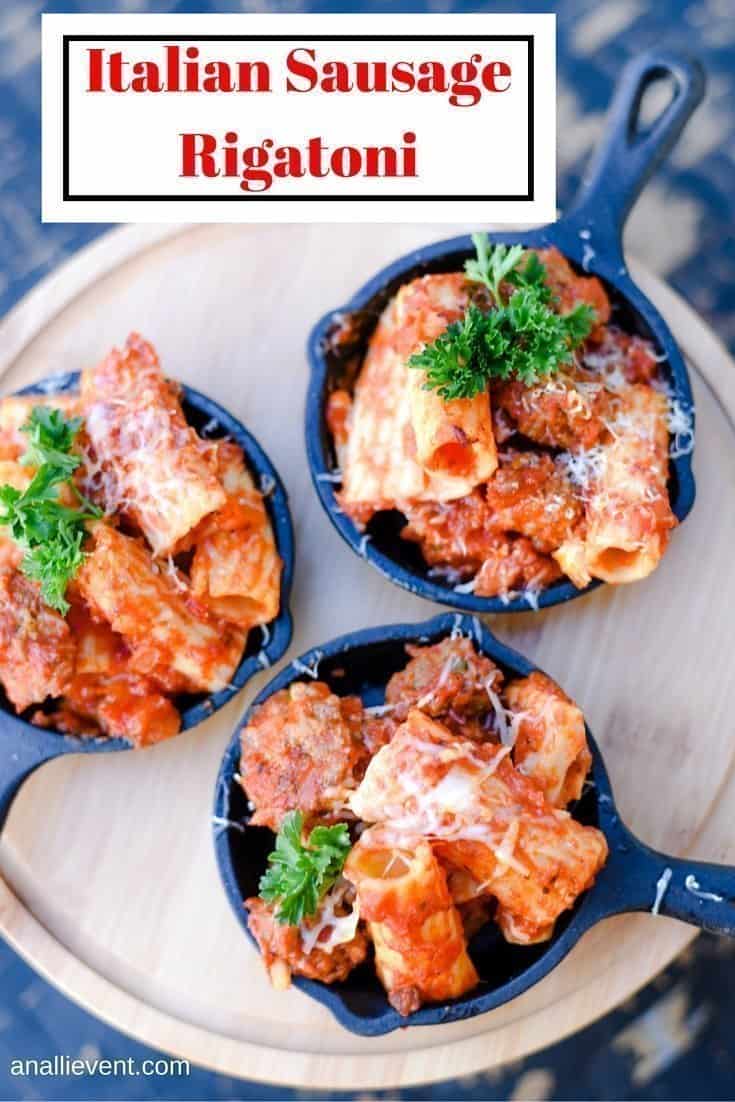 Ingredients
1 jar Prego® Farmers' Market Classic Marinara
1/2 lb. rigatoni
1/2 lb. Italian sausage, casings removed
1 medium onion, chopped
1 clove garlic, minced
Parmesan cheese, grated
Parsley, to garnish
Instructions
Bring a large pot of water to a boil. Cook pasta according to package directions.
Meanwhile, remove casings from Italian sausage. Place the sausage in a large skillet over medium-high heat. Add the chopped onions.
Break the sausage into chunks with a spoon as the sausage browns.
Once the sausage is almost done, stir in the minced garlic. Let cook for 2 minutes, stirring occasionally.
Add the Prego® Farmers' Market Classic Marinara and the pasta. Gently stir until combined.
Top with Parmesan cheese and parsley.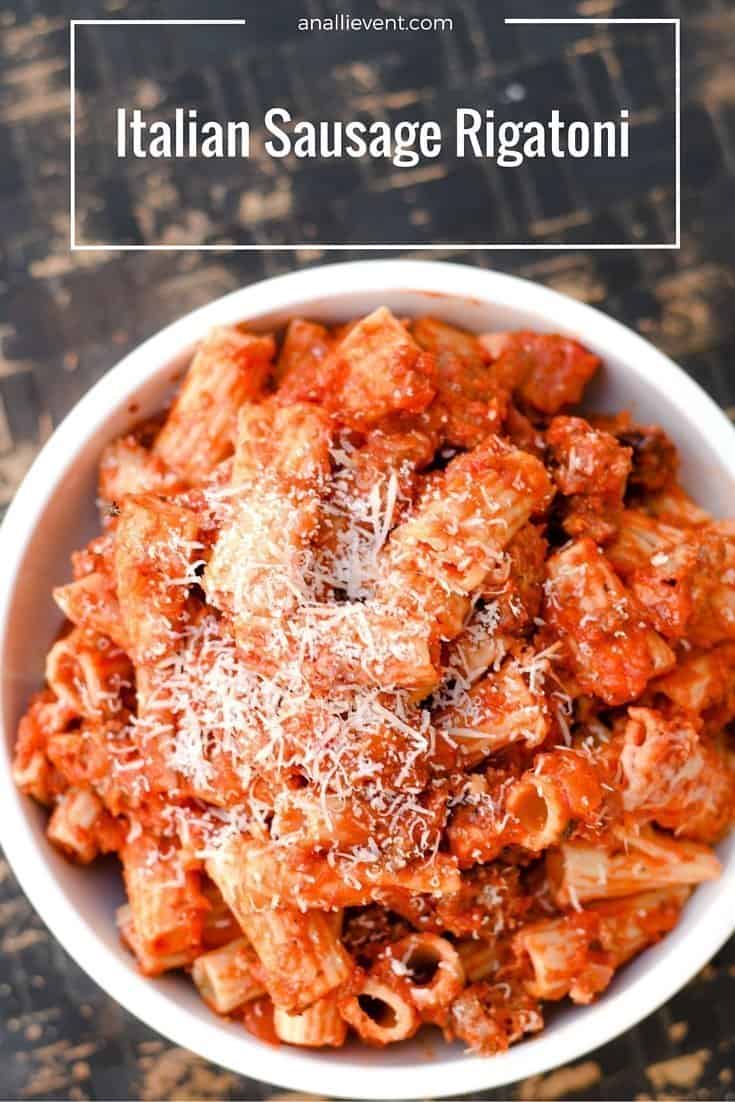 Prego® Farmers' Market is also available in Tomato & Basil and Roasted Garlic. Which farm-fresh flavor will you try first?

Print Friendly