Brownies just happen to be my husband and son #2's favorite dessert of all time – all brownies, any brownies, and especially my macadamia nut brownies.
My husband likes these brownies piping hot with a big scoop (or 2) of vanilla ice cream, so these are a perfect dessert or snack for winter. When he's around the brownies never have time to cool.
The ice cream begins to melt as soon as it hits that hot brownie and creates an explosion of flavor when you bite into it. It's hard to say no to a second helping!
I'm crazy about the macadamia nuts. I'm nuts for nuts – all nuts, any nuts. And I don't think a brownie should ever be left naked. The creamy white frosting is the crowning jewel on these babies and a beautiful contrast to the dark chocolate.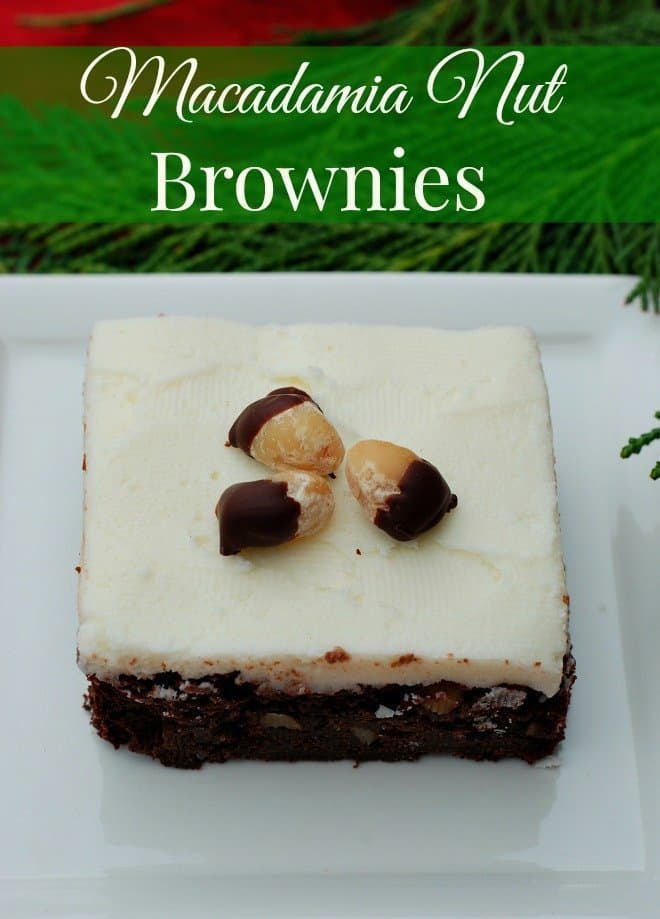 Macadamia Nut Brownies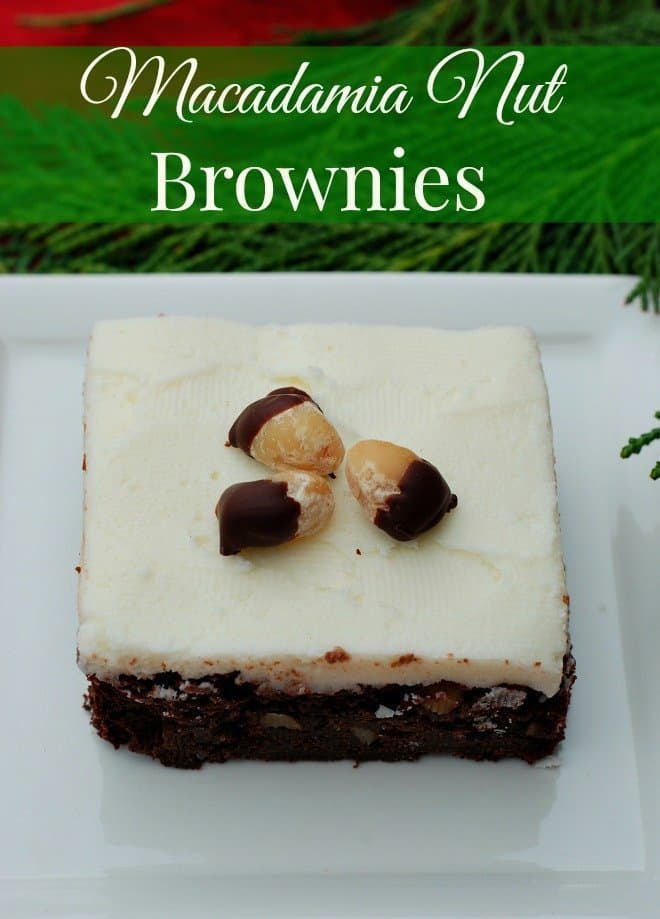 Ingredients
4 oz. unsweetened baking chocolate bar
1/2 cup unsalted butter
1 cup sugar
1 tsp. vanilla
2 eggs
2/3 cup all purpose flour
1/2 tsp. salt
1/2 tsp. baking powder
1/2 cup chopped Macadamia nuts
Creamy Frosting
2 cups sifted powdered sugar
1/4 cup butter, softened
1-1/2 tablespoons milk
Instructions
Preheat oven to 325 degrees.
Line a 9 x 9 baking pan with foil, letting the edges overlap the ends of the pan about 2 inches. Spray with cooking spray.
Melt chocolate and butter in large saucepan on medium/low heat, stirring frequently to keep from burning.
Remove from heat and whisk in sugar and vanilla.
Add eggs, one at a time, whisking until well mixed.
Add flour, salt and baking powder and stir until smooth. Stir in nuts.
Pour into prepared baking pan and bake for approx. 35 minutes or until toothpick inserted near center of brownies comes out clean.
Cool completely on wire rack.
Beat all frosting ingredients with an electric mixer until smooth. Spread on cooled brownies.

Helpful Hint: When you're ready to cut the brownies, use the ends of the foil to lift them out of the pan, remove foil and place on a pretty tray. Cutting the brownies is much easier this way (this coming from a person that can not cut a straight line at all).
What's your favorite brownie of all time?
P.S. I've joined 24 other bloggers for a FULL WEEK of the best winter DIY projects and recipes.
Please click on the Thumbnails below to see all the
projects being shared on:
*{Please note, daily links will not show until 6am EST}
Monday, Jan 19th Celebration of Winter Participants
Tuesday, Jan 20th Celebration of Winter Participants
Wednesday, Jan 21st Celebration of Winter Participants
Thursday, Jan 22nd Celebration of Winter Participants

Friday, Jan 23rd Celebration of Winter Participants



Print Friendly