Pecans are my favorite nuts, hands down, and these Voodoo Pecans (aka Spicy Southern Pecans) are the best. You'll also want to check out my Best Recipes Featuring Pecans.
If you love pecans as much as I do, you'll also love Dixie's Pecan Pie Cobbler.
When my oldest daughter's boyfriend (now husband) lived in NY and was studying for his finals in grad school, she thought it would be a splendid idea to share some love and send him a care package. We (do I have a frog in my pocket?) prepared all kinds of homemade goodies and she FedEx'd them right over.
He was beyond excited! He was in awe of the variety of homemade snacks. But, he couldn't quite wrap his head around the Spicy Southern Pecans. I mean, he is a Yankee, bless his heart!
Andrew had never eaten anything that remotely resembled the sweet, spicy, taste of those nuts. So, he didn't know if he liked them or not. However, he couldn't stop scarfing them down. So he, jokingly, renamed them Voodoo Pecans because they were so addictive and he couldn't stop eating them.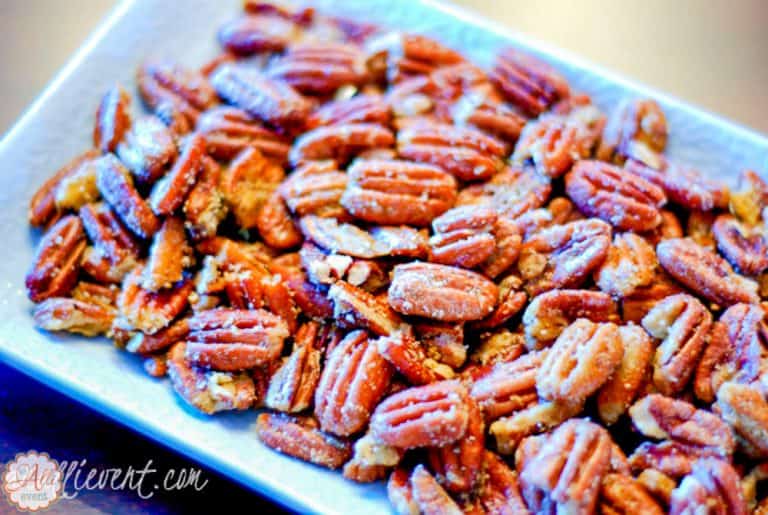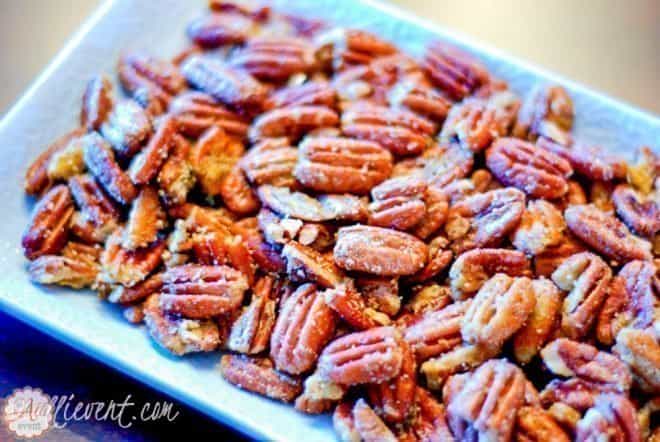 Let's Make Southern Spicy Pecans!
Note: After making these for years, I received a comment from a reader who stated that the pecans were way too salty. I immediately ran to the kitchen to make a batch. That's how much I love y'all!
After munching on a few, I could see where a person who doesn't like salt could kinda, maybe, sorta think they are too salty. So, I edited the recipe and cut the salt from 1 teaspoon to 1/2 teaspoon. (If you like lots of salt, go ahead and add one teaspoon. I won't tell anyone.)
Georgia Pecans Make The Best Voodoo Pecans
I grew up in Georgia, in a subdivision that is located in a huge pecan orchard.
After I grew up and moved away, one of my most precious Christmas gifts just about every year was from my mom and dad; an extra-large Christmas gift bag filled with packs of freshly picked and shelled Georgia pecan. It felt like love from their yard to my freezer!
GA pecans are the best pecans in the world. I can't get pecans like that in the grocery store. No siree!
This past Christmas (2020) dad gave me 20 bags of GA pecans that grew right on the property of my childhood home.
Historically, Georgia is the leading state in pecan production, so I guess that's why pecans are my favorite nuts. I grew up eating them!
I also grew up saying pee-con' (emphasis on the con') instead of pee-can. My mom always said that a pee-can was something you pee in. How do you pronounce pecan?
Be sure and make these Voodoo (Southern Spicy) Pecans! Yes, the entire family calls these VooDoo Pecans now! They will definitely put a spell on you!
How Long Does Southern Spicy Pecans Last?
These pecans will keep for several days on the counter in an airtight container. If you'd like to keep them longer, store them in the refrigerator for up to one month.
Note: Shelled raw pecans can be stored in the freezer (freeze in airtight containers – I use quart-sized freezer bags) for up to two years. Actually, I've stored them longer than that and they were just as good as the day I froze them.
Yield: 16 (1 oz.) servings
Southern Spicy Pecans (aka Voodoo Pecans)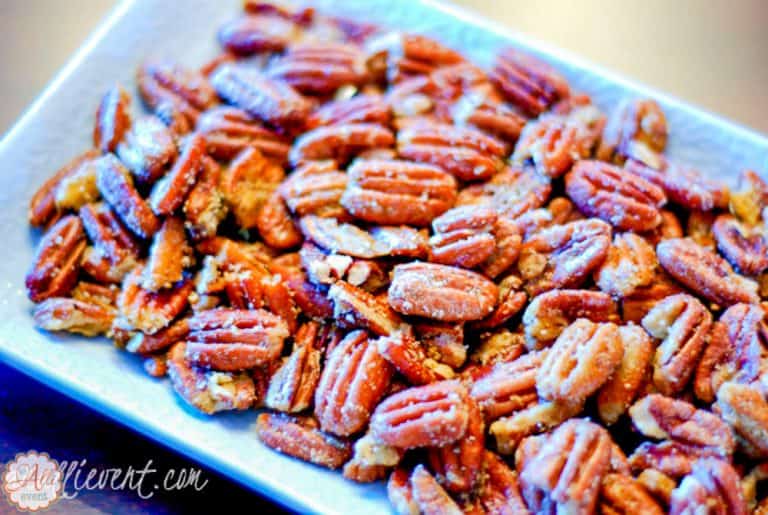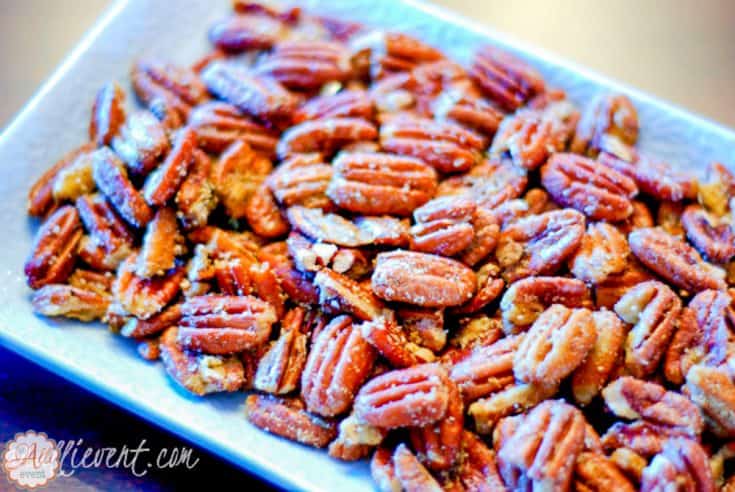 Southern Spicy Pecans have a hint of spice and a hint of sweetness. These pecans are addictive and that's why we call them Voodoo Pecans.
Ingredients
2 T olive oil
1-1/2 teaspoons ground cumin
1/4 teaspoon cayenne pepper
2 cups pecan halves
1 T granulated sugar OR Splenda
1/2 teaspoon salt
Instructions
In a medium-sized bowl, mix together olive oil, ground cumin, cayenne pepper, salt, and sugar (or Splenda). Add pecan halves and stir together until all the pecans are coated with the spice mixture.
Spread in a single layer on an ungreased baking pan. Bake at 300° for 25-30 minutes or until lightly browned, stirring occasionally. Cool.Store in an airtight container.
Nutrition Information
Yield
16
Serving Size
1 ounce
Amount Per Serving
Calories

109
Total Fat

11g
Saturated Fat

1g
Trans Fat

0g
Unsaturated Fat

10g
Cholesterol

0mg
Sodium

133mg
Carbohydrates

3g
Fiber

1g
Sugar

1g
Protein

1g
You May Also Like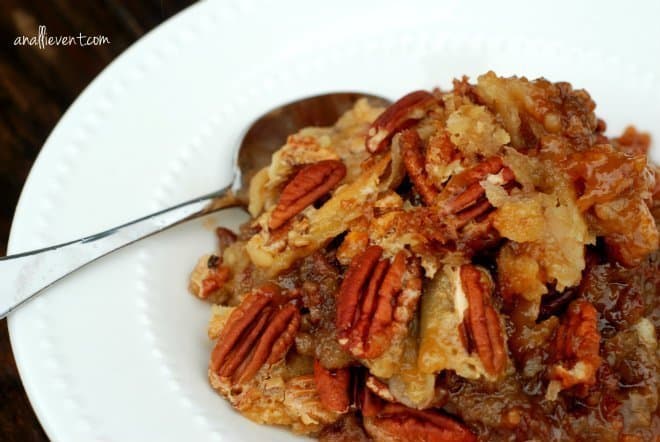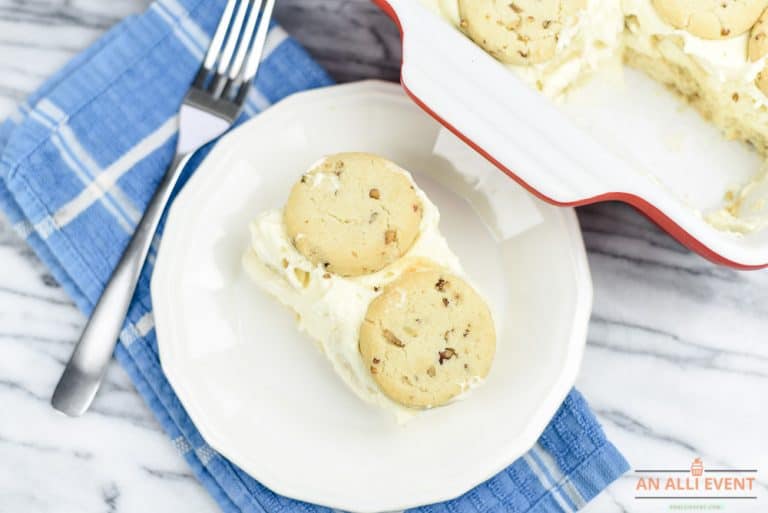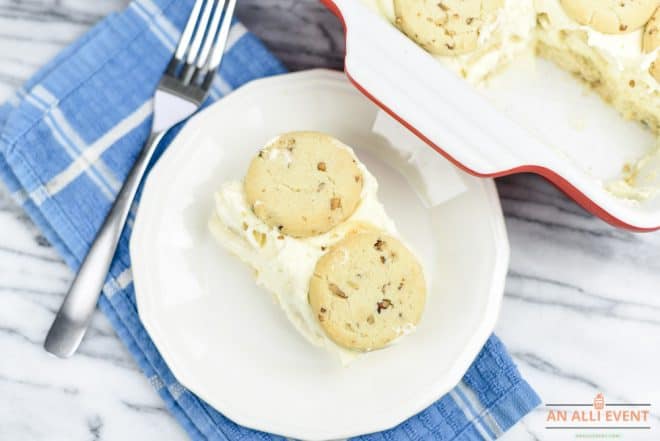 Originally posted in 2013 and updated in January 2021.