Y'all should all know my sister, Melinda, by now, and I'm so excited to share Melinda's Amazing Weight Loss Story! Actually, she's going to share it.  But first . . .
At the beginning of 2013, when I first started blogging, Melinda was my one constant fan.  I don't really like the word fan because it's not like I'm a movie star or anything, but she was (and is) my rock.  When all I heard was crickets, Melinda was there sharing every single post I wrote with her teacher friends in Colorado.  And now my Mocha Punch tradition is their's, too!
Melinda is only 18 months younger than me and she was always skinny when we were growing up while I was always a little on the chunkier side.  When we were teens, as soon as we'd get home from school, she'd begin peeling potatoes to make homemade french fries for an afternoon snack while we watched The Brady Bunch and The Partridge Family.  I was usually on some weirdo diet and would eye those french fries longingly.  She stayed a size 2 (not vanity sizing back then).
After growing up and being whisked away to Colorado to marry the man of her dreams, Melinda later had 2 kids and stayed as slim as ever.  Then it happened, she began experiencing thyroid problems and the weight gain that came along with those problems.
Fast forward a few years and we had returned home from a beach vacation with our mom, dad, and extended family.  Melinda told me that looking at herself in those vacation photos made her rethink her eating/exercise habits and come to terms with her weight gain.
Before Photos
After
Melinda can tell the story so much better than I can. After all, she's lived it. So, I welcome my favorite (and only) sister to the blog.  Please note that these are not professional photos and they have not been edited or filtered.  It is what it is.
Melinda's Amazing Weight Loss Story
Hi, my name is Melinda and I am the attendance secretary at Meridian Ranch Elementary.  I decided in May of 2014 that I would commit to losing weight and become healthier.  I began to decrease my food intake and increase my exercise. 
A group from school started walking two days a week after school and a parent volunteered to host an exercise class one day a week.  I also started hiking and enjoying the outdoors with my family.  Since May, I have lost 72 pounds!
When the D-49 Fitbit challenge started, I was excited to participate.  I felt like I was not losing weight as quickly as I wanted.  So I committed to the 10,000 steps per day.  After I made 10,000, I set a goal of 20,000…after 20,000; I set a goal of 30,000…I really got carried away and some days made it over 50,000!
To get my steps, I literally walk all day.  When I am at my desk, I walk in place.  During lunch, I spend at least 20 minutes walking around the school. When I run errands around the school, I add a lap or three.  Some members of my team walk with me every afternoon after school for at least an hour.  Then when I get home, I walk on the treadmill while I watch TV.
Some people would say I have become obsessed with stepping.  When people see me at work they shake their heads because I am constantly stepping.  My husband wanted to take a weekend getaway, but I made him wait until after the challenge.  Many nights I have been up at midnight on my treadmill…and some mornings I can't sleep and I'm on the treadmill at 4 am.
BUT, I have lost another 7 pounds!  So, I think it's been worth it!  (Melinda won the challenge!)
This is How I'm Doing It!
Typical Eating Plan:  I usually eat oatmeal for breakfast and sometimes I add a boiled egg. Lunch is typically a turkey sandwich with cottage cheese and peaches.  Sometimes I have a salad at night or a chicken breast or fish with a vegetable and a salad. I pay close attention to portion control. I will have a hamburger when I go out to eat with my family, but I order a side salad instead of fries. I eat lots of veggies and fruit. Snacks usually consist of a banana, an apple, and nuts. When I overdo it on the exercise, I will eat a protein bar at night. 
Exercise:  I walk/run 6 miles every morning at 4:00 AM.  I've also added jumping jacks, sit-ups and jumping rope to my exercise routine.
Melinda is still losing because she hasn't made it to her goal yet, but she's close. I think my sister looks great, don't you? I'm so proud of her and she truly is my superhero!  (This photo was taken during Halloween 2015 – Melinda is in the middle)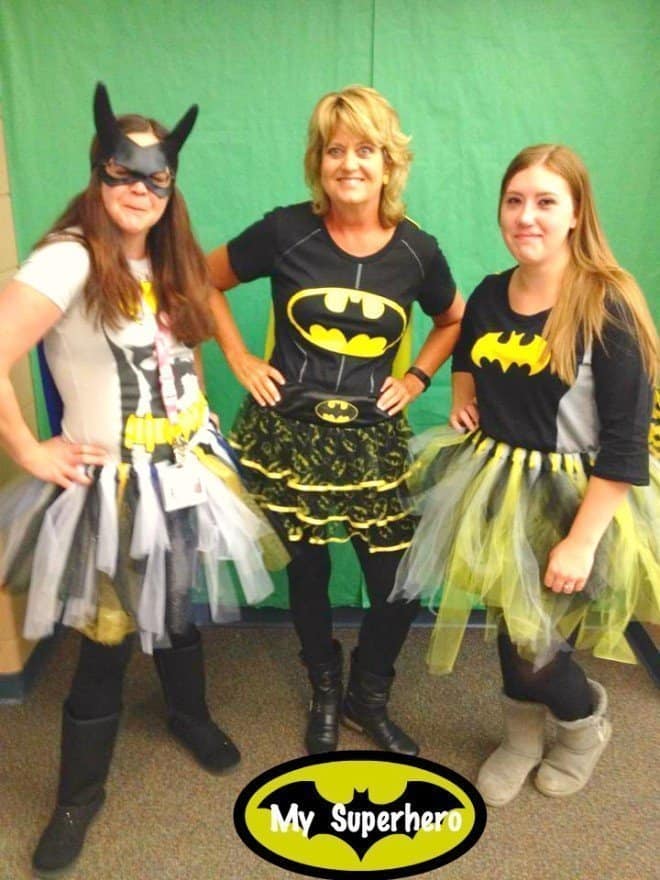 Here's one of my sister's Christmas photos (professional):
Do you have plans to get healthier in 2016?

Print Friendly