Buckeyes are always a big hit at our house during the Christmas season! My sister, Melinda, makes the best Buckeyes!
As you all know by now, for years I didn't get to see my sister as much as I would like to. She lived in Colorado for over 30 years. Thankfully, she recently retired and she and her husband build a new home in GA. I'm in hog heaven.
When Melinda lived in Colorado, we would text, email, and talk as often as possible.
Melinda's Buckeyes Are A Big Hit During the Christmas Season
A few years back, I asked Melinda to share her most requested Christmas candy recipe. You know that one that's always a given and the kids and hubby go ballistic if it's accidentally left off the repertoire. She told me that her Buckeyes were always a big hit at her house. So I told her to send me the recipe.
Before I share Melinda's recipe, I'll tell you a little bit more about her. You've met her several times through my stories, including here.
My sister, Melinda, hasn't always lived in Colorado and approximately 1,400 miles from me. She actually met her future husband when she was living in Atlanta. She moved to Atlanta from South Georgia (yes, that is a place) after I had actually lived in Atlanta for a couple of years, got married, and moved away.
When she got engaged, we all thought she would live in Georgia forever. We were wrong! We're so excited that she's back in the south!
What Are Buckeyes?
Buckeyes are peanut butter balls dipped in chocolate to resemble real buckeyes. Real buckeyes are nuts that have a brown shell and a beige eye (and humans shouldn't eat the real deal).
Ingredients For Melinda's Buckeyes (Full Recipe Card At The End Of This Post)
butter
powdered sugar
peanut butter
vanilla
paraffin
8 oz. chocolate chips
Helpful Hint: When I make buckeyes, I don't use paraffin or chocolate chips. I replace them with a chocolate candy coating such as Candiquik.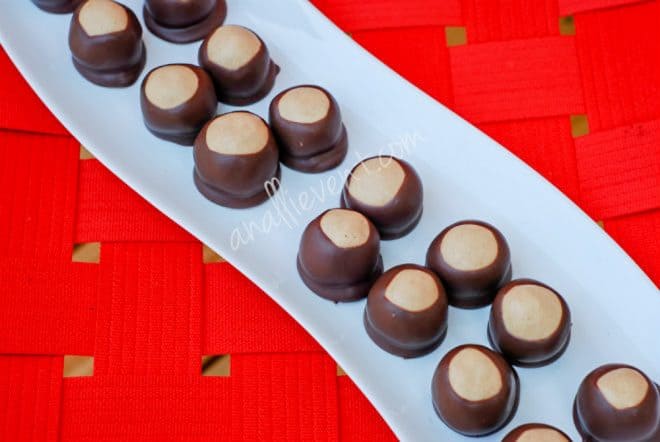 How Long Will Buckeyes Stay Fresh?
Buckeyes (aka peanut butter balls) will keep for at least two weeks stored in an air-tight container in the refrigerator. Of course, at my house, they never last that long.
You May Also Like These Recipes!
Yield: Approximately 40 Buckeyes
Melinda's Buckeyes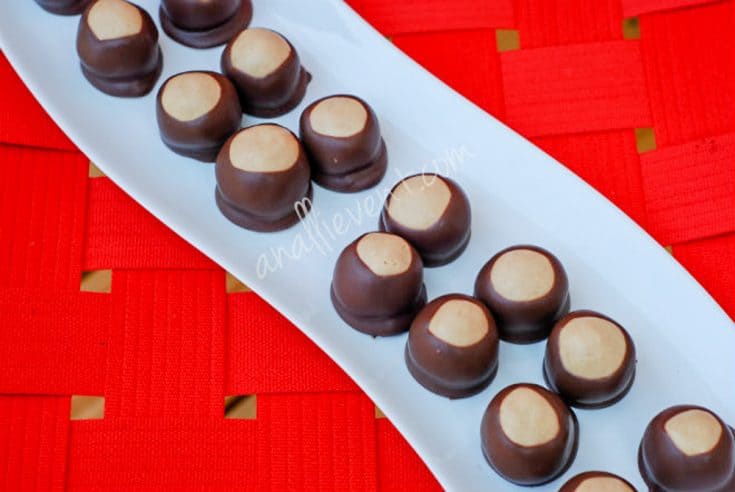 Melinda's Buckeyes are always a big hit at holiday parties. Buckeyes are peanut butter balls dipped in milk chocolate. Yum!
Ingredients
½ cup butter softened
1 lb. powdered sugar (3-1/2 cups)
1-1/4 cups peanut butter
1 tsp. vanilla
¼ block paraffin
8 oz. chocolate chips
Note: If you don't want to use the paraffin, you can replace it and the chocolate chips with 8 oz. chocolate candy coating such as Candiquik.
Instructions
Mix butter, powdered sugar, peanut butter and vanilla until smooth.
Form into 1" balls and place on a cookie sheet. Chill balls for about 15 minutes.
Melt paraffin and chocolate chips together (or skip this step if you are using chocolate candy coating such as Candiquik and melt the chocolate coating according to the instructions on the package.)
Stick a toothpick into a ball and dip into chocolate mixture, coating about ¾ of the ball. Place on wax paper until firm.
These can be stored in an airtight container in the fridge for up to two weeks. Let sit at room temperature for about 15 minutes before eating.
Nutrition Information
Yield
40
Serving Size
1
Amount Per Serving
Calories

186
Total Fat

13g
Saturated Fat

4g
Trans Fat

0g
Unsaturated Fat

7g
Cholesterol

5mg
Sodium

98mg
Carbohydrates

17g
Fiber

1g
Sugar

13g
Protein

4g