Our church loves hosting an annual Trunk or Treat Party. We always have a blast and we've got some new trunk or treat ideas that you will love.
I'm linking some of the costumes and props at the end of this post. As an affiliate, I earn from qualifying purchases.
What Is Trunk Or Treat?
A group of adults get together in a parking lot and decorates their trunks for Halloween. The kids go from trunk to trunk to "trick or treat" and receive candy, small prizes, etc.
At our church, the adults are invited to dress up and we love it. We also serve free hotdog and hamburger plates complete with sides and soft drinks. This is a fun way to give back to our community and have a blast.
I haven't decided if the adults or the kids have the best time. I think it's an even tie!
New Trunk or Treat Ideas
When it comes to Trunk or Treat, we have some very creative participants. We really do! We've been featured in online and print magazines. So, let's get with it!
Scooby-Doo, Where Are You?
This family is always creative and adorable! Grab some poster board. Add a scene from your favorite Scooby-Doo movie and dress the family up as adorable Scooby-Doo characters.
I had to get a closeup of Teddy, the dog! Isn't he the cutest?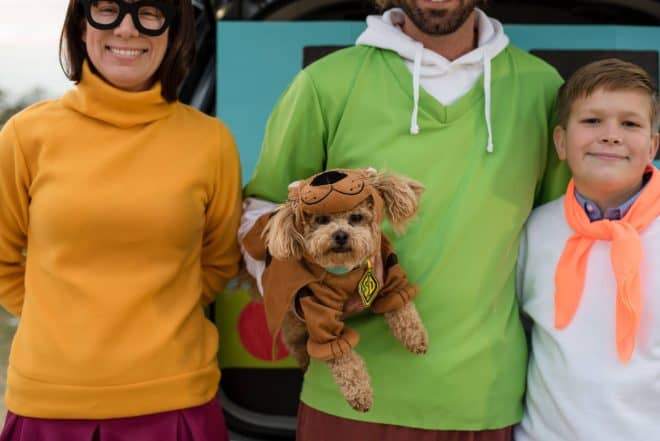 Alice In Wonderland
There is no way I could pick a favorite because all of the new trunk or treat ideas are fabulous. We host this event every year on Halloween night. Every year I'm amazed at the talent and creativity of the participants.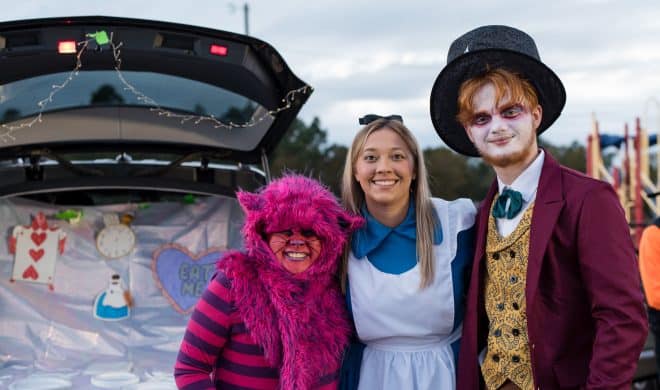 Alice In Wonderland is a genius idea that is executed very well!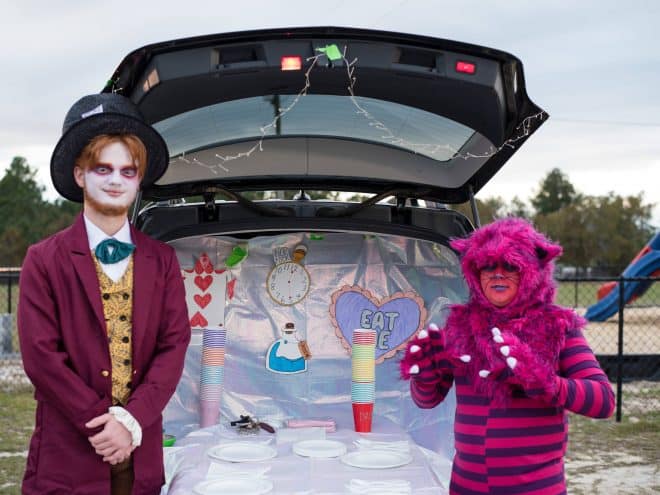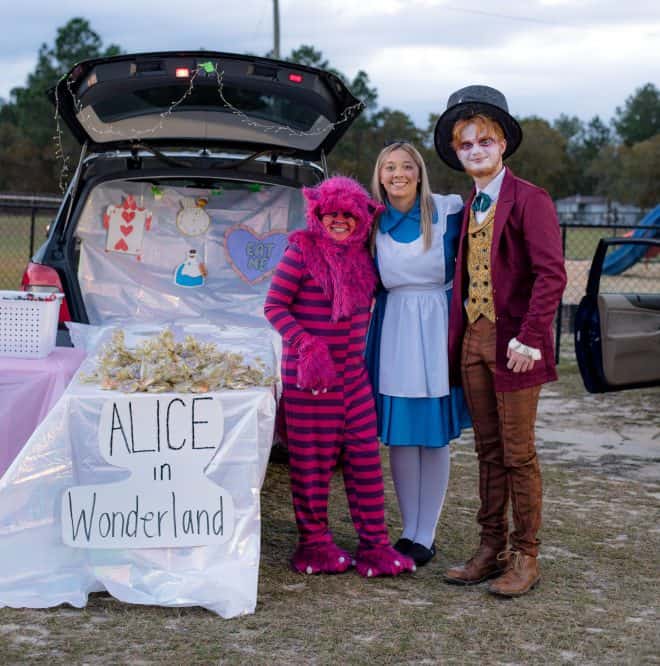 "Fall" In Love With Jesus
This pretty trunk is all about fall and I love the sign that reads, "Fall in love with Jesus. He never leaves you!"
This one is also easy to put together and I love the nod to fall.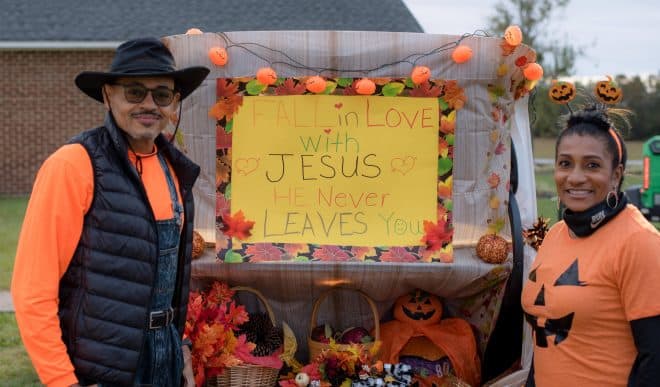 Fall Photo Booth
One couple set up a fall photo booth as their "trunk" and invited guests to take photos in front of their booth. What a great idea!
Bob Ross Painting & Happy Tree – Another New Trunk or Treat Idea
This is another creative idea that I would have never thought of.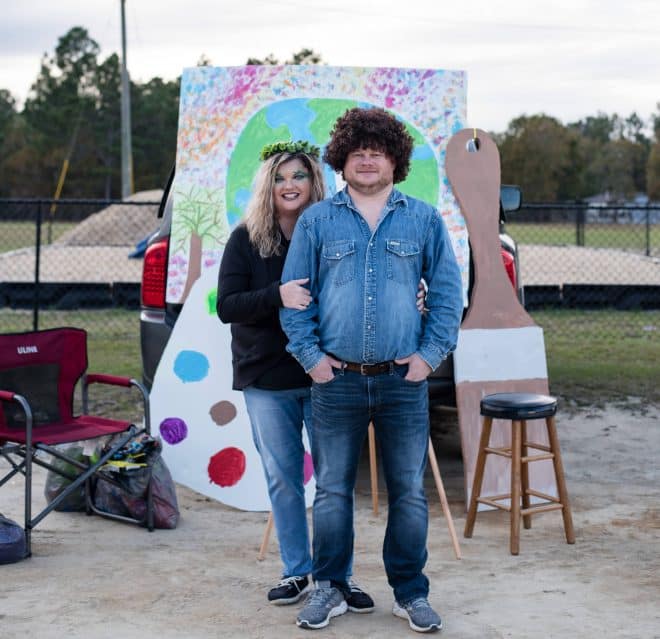 Here is a close-up of the DIY trunk! Paint your world with your words! How about that DIY lifesize paint brush? I love it!
If Live Gives You Lemons . . . Lemonade Stand
Two families went in together for this one and gave out free cups of lemonade! Isn't it adorable?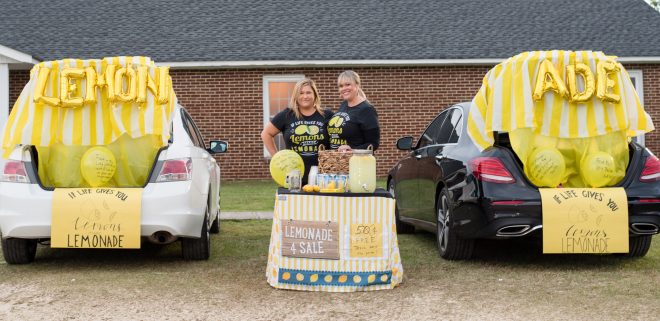 Mickey and Minnie Mouse
My husband is such a good sport to dress up as Mickey and of course, I'm Minnie. A toddler girl came through dressed as Minnie and let out the biggest squeal before screaming, "It's the real Minnie and Mickey." It made her night!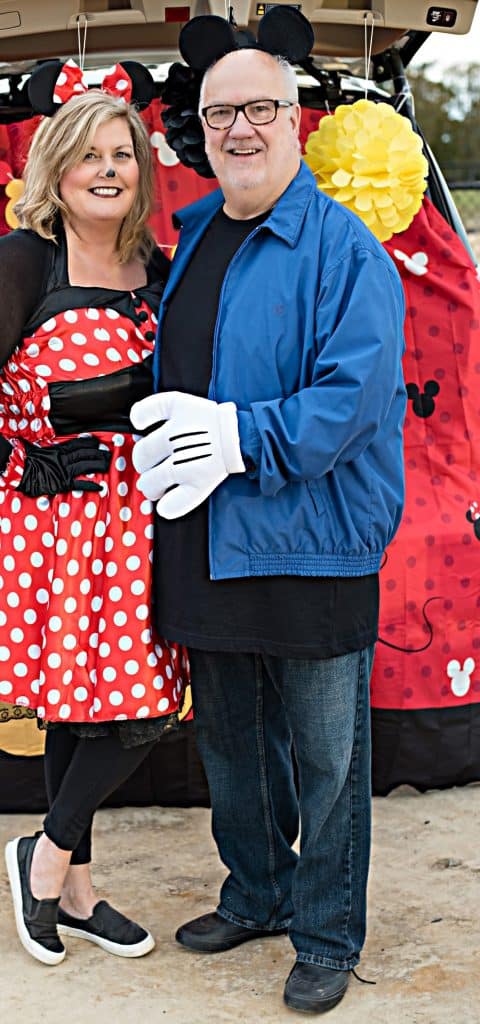 Y'all, this is the easiest trunk or treat ever! A Mickey & Minnie shower curtain is used as the backdrop in the trunk. Add colorful pompoms and garland and you're done.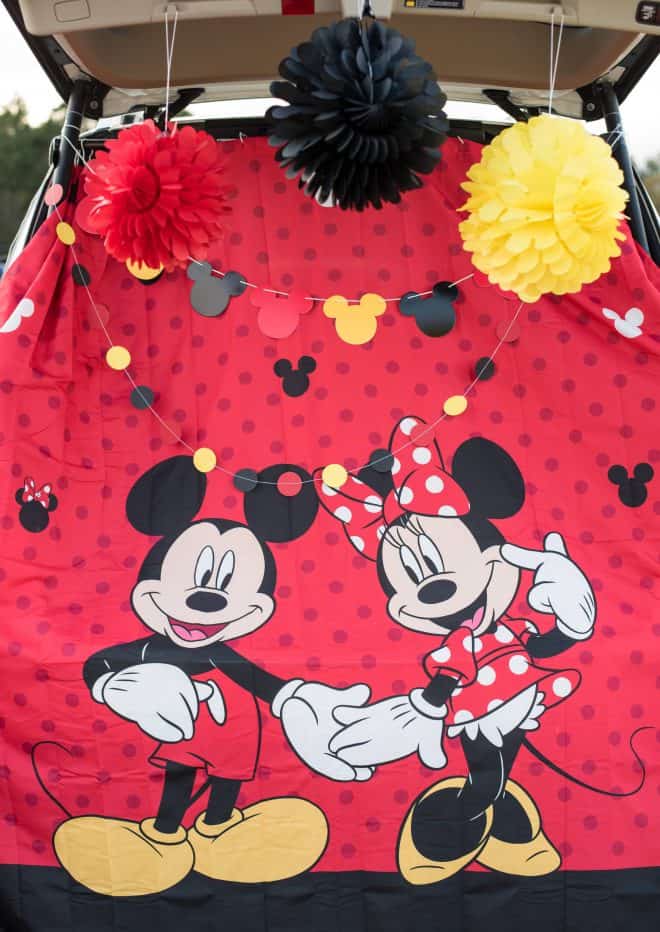 A tension curtain rod is used to hold the shower curtain up. The curtain is attached with regular shower curtain rings.
Bambi
This deer is adorable! This is another easy-to-do trunk and the kids loved it.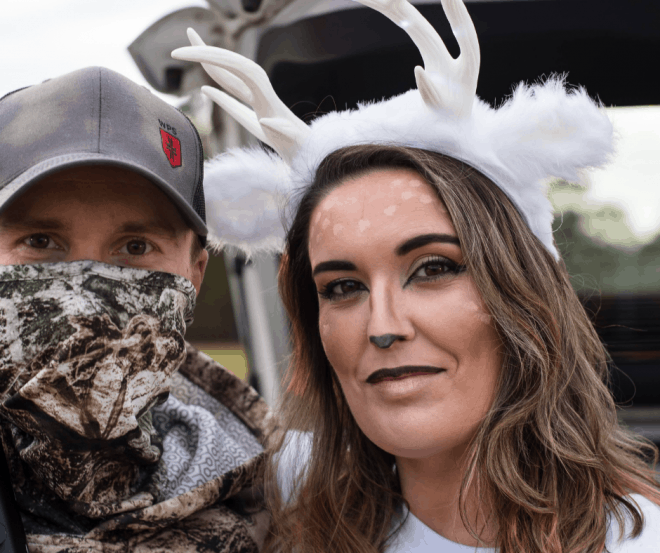 The makeup on the deer is amazing! She's a makeup artist and she outdid herself on this one!
Jesus Thinks I'm A Big Dill Deal!
This one may take the most original award! And I still smile when I think about that dill pickle costume.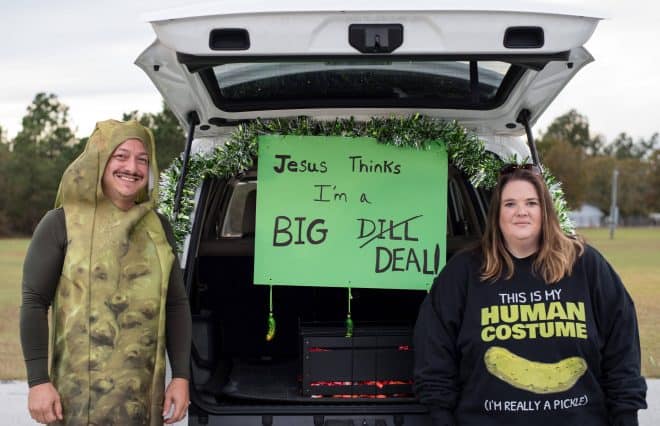 The Junk Man
This is another original idea that is easy to put together. Round up some junk, make a sign and you have a very clever trunk or treat idea. I love it!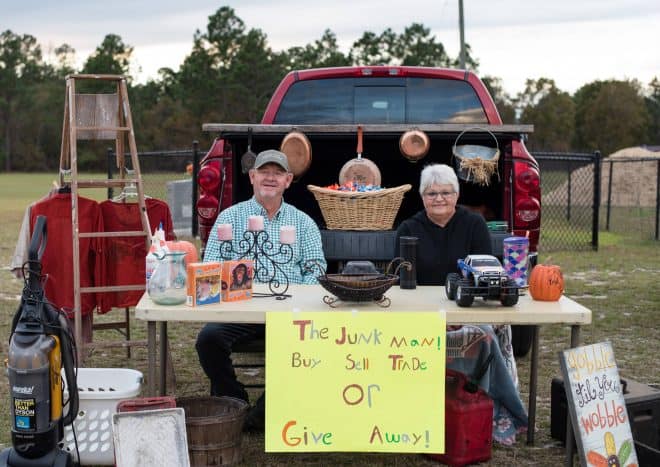 Are you "Fall-O-Ween-Jesus?"
This trunk or treat theme is another great play on words!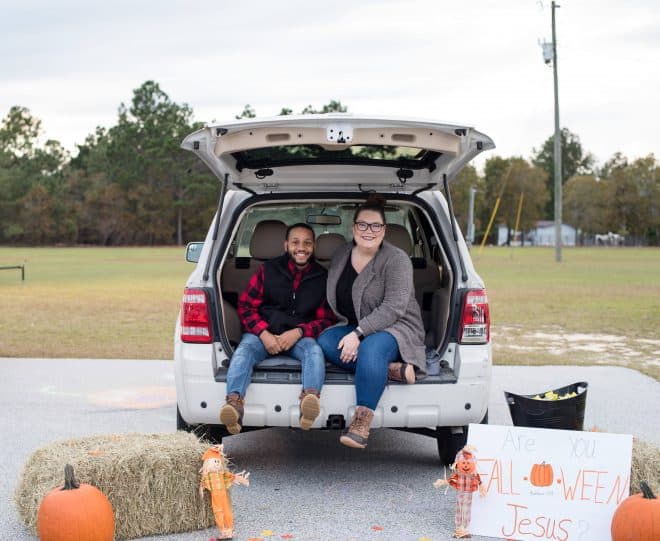 Neighborhood Watch
What a great way to let people know that you're watching out for them!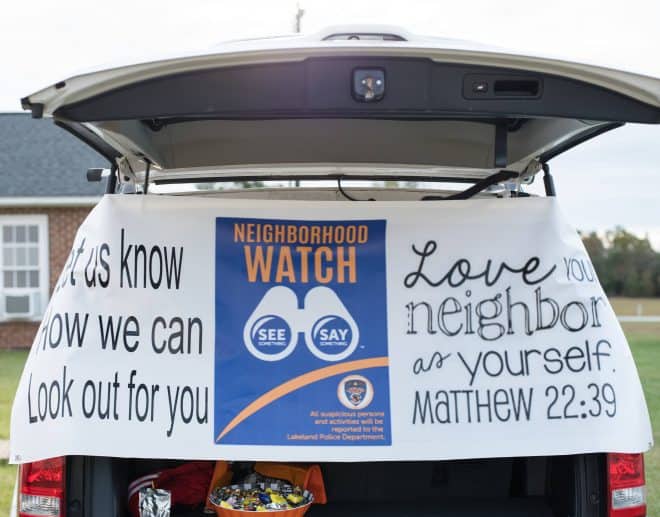 I love these smiling faces!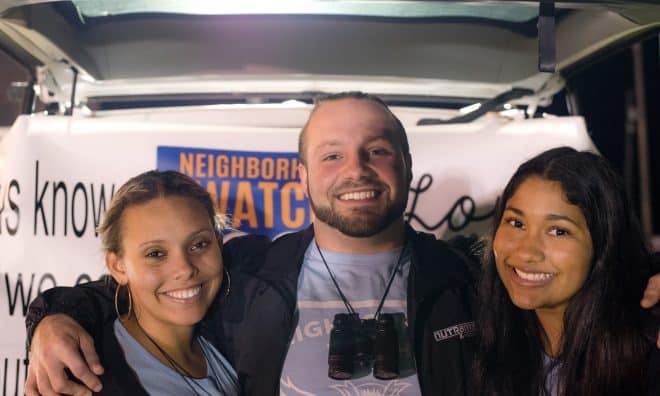 Frozen
Everyone loves frozen and this winter wonderland is beautiful and easy to do.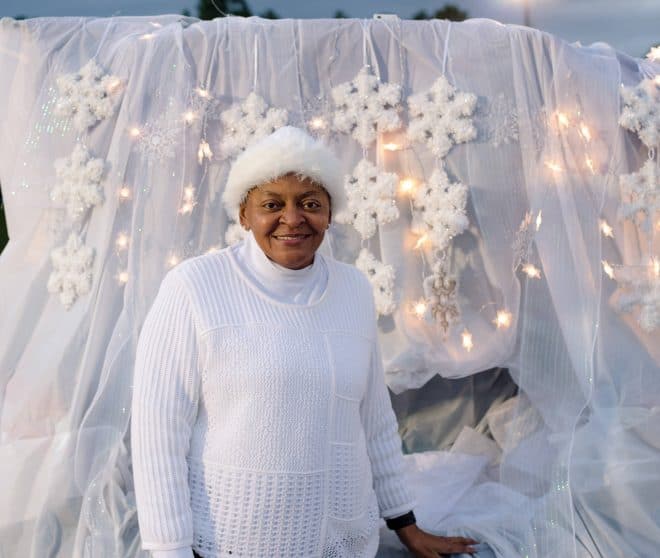 Paw Patrol
If you have a child that loves Paw Patrol, grab their toys and create a cute Paw Patrol trunk!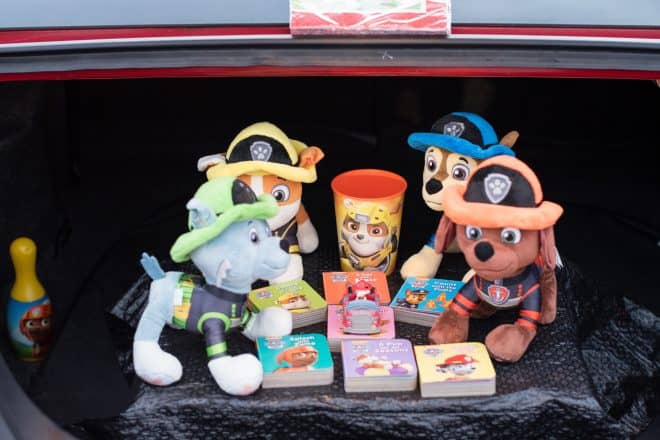 Don't forget the cute child who owns all the toys!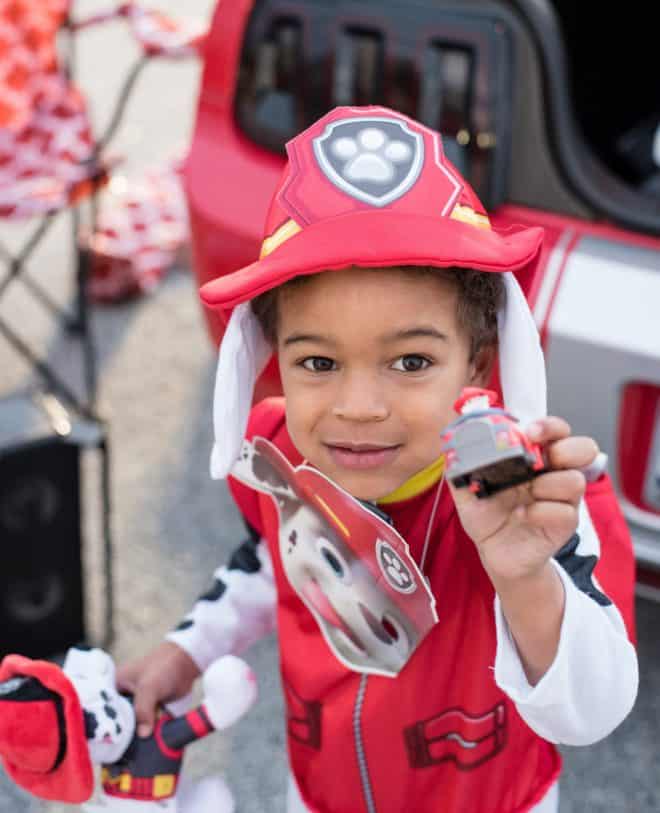 Storm Troopers are always welcome at our Trunk or Treat party!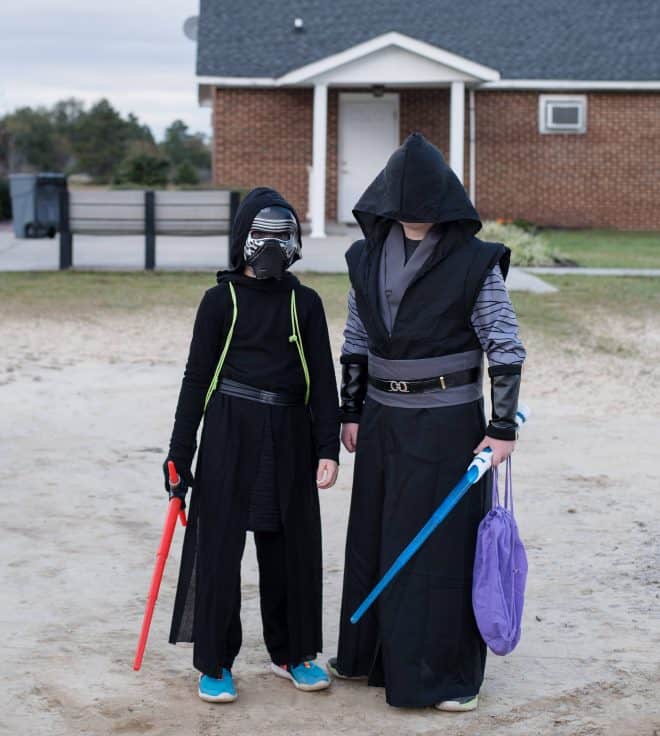 Want more Trunk or Treat Ideas? Check These Out!
Trunk or Treat Costumes & Props
Costumes and Props For Trunk or Treat
Shaggy Trunk or Treat Costume
Fred Jones kid's costume for Trunk or Treat
Teddy (the dog) stole the show in this cute Scooby Doo costume!
The Mad Hatter (Alice in Wonderland Trunk or Treat)
Alice In Wonderland Costume
Chesire Cat Costume for Alice in Wonderland Trunk or Treat
This cute t-shirt is perfect for Trunk or Treat
Bob Ross Wig (wear a denim shirt and jeans and you're done!)
Minnie Mouse Costume for Mickey & Minnie Trunk or Treat
Wear a black t-shirt and grab these ears and gloves and you have an adorable Mickey Mouse!
This shower curtain makes the best Trunk or Treat backdrop. Use a tension rob to hang the shower curtain in your trunk.
These party supplies are a perfect addition to a Mickey Mouse-themed trunk.
Child's Paw Patrol Costume